FISH TACOS WITH SPICY MANGO SALSA.
Gluten and dairy free
Makes roughly 12 (8 inch) tortillas
INGREDIENTS
2¾ Cups of gluten-free all-purpose flour (I use Bob's Red Mill Rice Flour)
2½ teaspoons Baking Powder
1 teaspoon Salt
6 Tablespoons palm shortening (the organic kind I use only has palm oil as an ingredient)/try olive oil.
1 Cup Warm Water
Extra gluten-free flour for rolling or pressing – or tapioca starch (which is less gritty)
INSTRUCTIONS
In your standing mixer, or a bowl using a handheld mixer fitted with the whisk attachment, combine the Gluten Free Flour with Baking Powder, Salt & Palm Shortening.
Mix on a Medium speed until everything is well blended – Your mixture will appear slightly moist, but much like how brown sugar grains look/feel.
Slowly drizzle in the 1 Cup of warm water until the mixture forms a ball – the dough will be moist, but puffy & soft to touch (I used almost 2 cups… Better that the mixture be slightly moist, then too dry.\
Using a spatula, scrape the dough from the whisk back into the bowl and press all of the dough into a ball.
Set the dough aside to rest while you pre-heat your skillet & prepare your work space.
Pre-heat your cast iron skillet or any large skillet on a medium heat (5-6) for about 5-10 minutes, then turn down to a low setting (2-4) when cooking the tortillas.
On a well-floured work surface (I use a cutting board lined with parchment paper) take a small pinch (about 4 Tablespoons or ¼ Cup) rounded ball of tortilla dough and roll it in your floured hands until you make a small disk about 3 inches in diameter
Place the dough on the floured surface and use your rolling pin (or tortilla press if you're using one) to roll the dough out very thinly (maybe an ⅛" thick). You may have to dust the surface or rolling pin again with flour if need be.
Once the tortilla is rolled/pressed out, flip the parchment paper gently over on your hand or directly in the skillet to to release the raw tortilla and transfer it to the pre-heated skillet.
Cook the tortilla approximately 30-45 seconds on each side. You may begin to see little bubbles forming as it cooks – that's ok! Unlike regular tortillas, these shouldn't make large bubbles.
It's important not to over-cook the tortillas (this took me a few tries to figure out) – Otherwise, you'll end up with a very crisp/fried disk that looks nice, but isn't as tasty!
If eating immediately after cooking, stack the tortillas on a plate covered with a kitchen towel to keep them moist & warm until serving. If you are saving some for later, keep the tortillas under the towel until you're all done cooking them – then transfer them to a ziplock bag and keep them on the counter for up to 3-4 days. It may take a few tries to get this just right.
Mango Salsa
1 large mango diced
1/4 red onion minced (I put more because we like it)
2 tbs cilantro minced
5 mint leaves minced
A pinch of cayenne pepper (more or less depending on how spicy you want it)
1/2 lime juiced
The fish,
Any cooked oily fish flacked season with garlic and basil.
Mix with the Mango Salsa
Note: This may not be suitable for all diabetics.
SPINACH ROLLS
(makes 24)…
Ingredients
5 egg whites
250gms (8oz) English Spinach
1 small onion – finely diced
2 cloves of garlic – finely diced
2 teaspoons of Greek Seasoning (Blend of Salt, Garlic powder, Onion Powder, Cinnamon, Nutmeg, Pepper, Oregano & Parsley)
1 teaspoon Dill
ginger
I cup of multigrain bread crumbs (gluten free option can be used)
Multigrain pastry, either bought or home made is more enjoyable
50mls milk
Method
Preheat over to 220C (450F)
In a large bowl beat the egg whites with a little milk, about 3 tablespoon until frothy
Dice Onions and garlic
Finely dice spinach and add to the mix
Add seasoning
Whisk the eggs and add to the mix
Add breadcrumbs
Roll out pastry and cut into two equal halves.
Spoon mix along the long edge of pastry (about 1″ high and 1.5 inches wide)
Brush milk along the opposite long edge
Roll the mix edge of the pastry over towards the other edge and seal
Cut into 3 and place on a well greased baking tray.
Bake for 20 minutes or until Golden Brown
these can be eaten hot or cold!!!!
VEGETARIAN NACHOS WITH TOMATO SALSA AND SPICED CORN, KIDNEY AND BLACK TURTLE BEANS (NB1)
For the Onions
Fry 1 onion and 2 cloves garlic in olive oil.
Add chilli powder to taste, sweet paprika, fresh sage, oregano and rosemary.
Stir for a few minutes then add 1 bottle tomato paste or 2 canned tins of tomato (fresh tomatoes are best) and cook for 10 minutes.
Add juice of 1 lemon. Then the spiced beans and corn
For the Beans
I soaked a cup each of kidney beans and black beans and then pressure cooked in the early evening.
Just sauté onions and 1 clove of garlic in olive oil and then add 1/4 teaspoon hot chilli powder, 1/2 teaspoon Smokey paprika, pinch cayenne, 1 teaspoon cumin seeds and 1 teaspoon dried oregano. Mix in the cooked beans and corn off 2 corn cobs. Stir for about 5 minutes.
I soaked a cup each of kidney beans and black beans and then pressure cooked in the early evening.
For steamed Vegetables
Steam the veg for about an hour, adding crushed garlic half way through and tossing. I used red and green capsicum, sweet potato, onions but you can also use carrots, pumpkin, squash, etc.
For the fried zucchini and eggplant
Slice and fry in olive oil till done
Making up the dish
Layer upon layer build up the nachos dish starting with some sauce on the bottom. Then roast veg, then beans/corn then more sauce etc. Grate fresh garlic in between the layers. End with the corn chips and a little grated cheese. Sprinkle cheese with sweet paprika. Serve with a little yoghurt.
Bake for 15 minutes in 180 degrees oven or when cheese is melted and brown.
NB1 This may not suit all diabetics, if this unsuitable for you do not make it.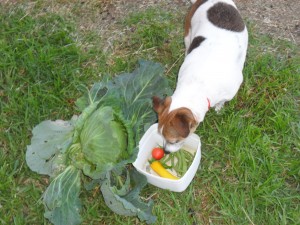 10 greens better than kale.
http://www.alternet.org/food/10-leafy-greens-are-healthier-kale?paging=off&current_page=1#bookmark