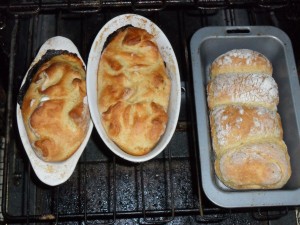 Not as hard as it looks!!
3 Granny Smith Apples – please wash the apples before you start, cut the tops off, and core out. Careful here, don't cut thru the apple skin.
Fill the cored out apples with lemon water, 1 tablespoon lemon juice to a full glass of water ~ keeps them from turning brown.
A small can of Country Apple pie mix, or stewed rhubarb add a little more cinnamon to taste.
Roll out multigrain pastry either bought or home made is more enjoyable. Cut into strips as thin as you can handle.
Basket weaves the strips so that they will cover the top half of the apples.
Remove apples from water; fill the apple with the mixture. Set aside for a few minutes, while you make the lattice top.
Place pastry on top of the apples press the edges hanging to the apple.
Sprinkle with cinnamon on top.
Bake at 375F for 25 minutes, your oven may be different.
An egg white wash on the lattice can be used.
Cook until the tops are nicely browned and the apple look a little transparent. 25 minutes was perfect in my oven.
Kitchen notes: If you have extra pastry and filling roll it out thin and put the rest of the filling mixture in it and rolled it up jelly roll style, cooked it with the apples, sliced it in thin pieces for bit sized treats.
APPLE CRISP
Ingredients:
3 cups old-fashioned oats
2 cups all-purpose flour (Gluten free)
1 teaspoon ground cinnamon
8 cups thinly sliced peeled tart apples
2 cup apple cider, divided
Instructions:
In a large bowl, combine the oats, flour cinnamon and cider until you have a good crumbly dough. Press half of the mixture into a greased large baking boat.
Layer with half of the apples, and 1 cup oat mixture. Repeat layers. Pour 1/2 cup cider over top.
Bake, uncovered, at 350 for 30 minutes. Drizzle with remaining cider; bake 15-20 minutes longer or until apples are tender. Yield: 12-14 servings.
BAKED APPLE PIE ROLL
 Ingredients: 
10 slices multigrain bread (I Use an oat based grain bread)
3 fresh apples for filling
1 teaspoon cinnamon
Instructions
Preheat oven to 350 degrees.
Cut the crusts off your bread and roll each slice flat with a rolling pin. Combine cinnamon and sugar on a small plate.
Chop the cored apples into small pieces.  Put about 2 tablespoons of apple pieces on each slice of bread and roll up. Roll up and use a tooth pick to secure,
Brush each with melted butter (I poured a tiny bit of butter into a "butter dish" and  brush onto the bread,( use as little as possible) and then roll in the ground cinnamon.
Place seam side down on a parchment lined pan and bake 15 minutes or until browned and crispy. Serve warm.
RHUBARB, APPLE AND STRAWBERRY OAT CRUMBLE
If you haven't put these winter fruits together before, you're in for a treat. They pair up beautifully in this warming crumble, with the slightly tart flavour offset perfectly by the sweet, cinnamon-infused topping. This is one of my favourite crumbles and I usually make it in individual dishes, but you can also cook it in a 6-cup ovenproof dish for 50–60 minutes.
Serves 6.
600g (1lb 5oz) granny smith apples
2 teaspoons lemon juice
350g (12oz) trimmed rhubarb
250g (8oz) strawberries, hulled, large berries halved
1 vanilla bean, split lengthways and seeds scraped
Crumble topping
¾ cup rolled oats
½ cup wholemeal flour
½ teaspoon ground cinnamon
Water to make a pastry. (this can vary)
Method
Preheat the oven to 200°C/400°F.
Peel the apples and cut into 1.5–2cm (½–¾in) pieces. Toss the apples and lemon juice together in a large bowl. Cut the rhubarb into 2.5cm (1in) lengths. Add to the apple with the strawberries and vanilla seeds and toss to combine. Transfer to six 1-cup heatproof ramekins or dishes.
To make the crumble topping, put the oats, flour and cinnamon in a medium bowl and mix to combine.
Sprinkle the crumble topping evenly over the fruit in the ramekins or dishes.
Bake for 30–35 minutes, until golden and bubbling. Cover with foil if the topping is browning too quickly.