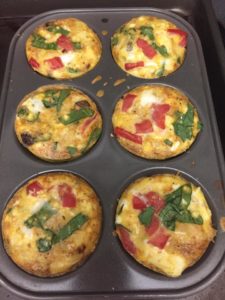 MEDITERRANEAN EGG MUFFINS
INGREDIENTS AND INSTRUCTIONS
Coat muffin tins with olive oil and then put in any veggies you might want/have on hand e.g. spinach, tomatoes, onions, mushrooms, olives.
Added small, cut up pieces of steamed chicken breast and then sprinkled with feta cheese.
In a separate bowl combine 8 eggs, ginger, pepper, 1/4 tsp of turmeric and 1/2 tsp of paprika.
Pour this mixture into your muffin tins filling each a little over 3/4 full.
Cook at 350ºF/185ºC. for 25 minutes.
Remove from oven and let sit for a few minutes before serving. Recipe is for 12 muffins.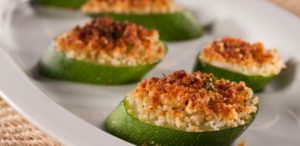 ZUCCHINI BITES
INGREDIENTS
2 zucchinis, cut on the diagonal into 3/4-inch/ 2 cm thick slices
1/2 cup panko (Japanese-style) breadcrumbs (or multigrain breadcrumbs or crushed tree nuts.)
1 tablespoon grated Parmesan cheese
1 tablespoon reduced-fat mayonnaise
1/2 teaspoon garlic powder
1/2 teaspoon onion powder
1/4 teaspoon ginger
1/4 teaspoon black pepper
INSTRUCTIONS
Preheat Grill. Line a baking sheet with aluminium foil.
In a medium saucepan over high heat, bring 1 inch/ 2.5 cm water to boil. Add zucchini slices, reduce heat to low, and simmer 3 to 5 minutes, or until just tender. Drain and pat dry with paper towels.
In a small bowl, mix breadcrumbs, cheese, garlic powder, onion powder, ginger, and black pepper. Spread mayonnaise on one side of each zucchini slice. Coat that side with bread crumb mixture and arrange on prepared baking sheet.
grill 4 to 5 inches/ 10 cm from heat 2 to 3 minutes, or until golden brown. Serve immediately.
Nutritional Information of original
Servings Per Recipe: 6
Amount Per Serving % Daily Value *
Calories 29
Calories from Fat 11
Total Fat 1.2g 2 %
Saturated Fat 0.3g 2 %
Trans Fat 0.0g 0 %
Protein 1.2g 2 %
Amount Per Serving % Daily Value *
Cholesterol 1.6mg 1 %
Sodium 53mg 2 %
Total Carbohydrates 3.9g 1 %
Dietary Fibre 0.5g 2 %
Sugars 1.3g
Adapted from https://www.everydaydiabeticrecipes.com/Appetizers/Hot-n-Crispy-Zucchini-Bites-6940?fbclid=IwAR3GHnUZuqOSHSKw5AvyEP30U-t1eLwX-pANaTZivQsqbXFjgLnc3r7P3R4
http://www.findtex.com.au/diabetic-foods/zucchini-fritters-with-chili-lime-mayo/
CAULIFLOWER NUGGETS
INGREDIENTS
½ head of cauliflower, chopped
1 egg
1¼ cup dry wholemeal breadcrumbs or crushed nuts
1 tsp dried thyme
½ tsp ginger
1 cup reduced-fat tasty cheese, grated
Olive oil spray
INSTRUCTIONS
Preheat oven to 180°C. Line a baking tray with paper.
Steam the cauliflower for 5 minutes until tender. Drain thoroughly and blot with paper towel.
Add all ingredients to a food processor. Process for 10 seconds or until the mixture combines.
Form heaped teaspoon-sized amounts into nuggets. Place on the baking tray. Spray with olive oil. Bake for 10 minutes. Turn and spray with olive oil and bake for a further 10 minutes or until golden brown. Makes 24.
Serve with our tzatziki for dipping.
Tip
Freeze raw or cooked nuggets in freezer bags for up to two months.
Adapted from https://healthylunchbox.com.au/recipes/cauliflower-nuggets-recipe/
http://www.findtex.com.au/diabetic-foods/roasted-turmeric-cauliflower/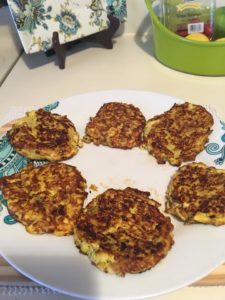 CHICKEN ZUCCHINI POPPERS
INGREDIENTS
18.2 oz/515 g raw minced grass fed chicken breast
2 1/2 cups grated zucchini (leave peel on)
1/2 cup green onions, sliced
1/4 cup cilantro, minced
1 clove garlic, minced
¾ tsp ginger
1/2 tsp pepper
1 tsp olive oil
INSTRUCTIONS
1. Mix ground chicken and remaining ingredients in large mixing bowl.
2. In a fry pan and add the olive oil. From the bowl spoon out 8-10 nugget sized pieces onto the fry pan.
3. Over medium heat cook the chicken poppers for five minutes on each side.
4. You can eat them plain or serve with your favourite dip or sauce.
Find a Dip recipe here.
http://www.findtex.com.au/diabetic-foods/diabetic-friendly-dips/
Find a sauce recipe here.
http://www.findtex.com.au/diabetic-foods/chutney-etc/
http://www.findtex.com.au/diabetic-foods/zucchini-fritters-with-chili-lime-mayo/
%MCEPASTEBIN%
ZUCCHINI GARLIC BITES
INGREDIENTS
1cup zucchini grated and drained well
1egg
1/3cup multigrain or sourdough breadcrumbs optional
1/4cupParmesan cheese grated fine
1clovegarlicgrated fine
2tablespoonsfresh chives chopped
1tablespoonfresh parsley chopped
1teaspoonfresh basil chopped
1teaspoonfresh oregano chopped
pinch of salt and pepper
Dip for dipping find one here http://www.findtex.com.au/diabetic-foods/diabetic-friendly-dips/
INSTRUCTIONS
Preheat oven to 400˚F/200˚C. Lightly coat a baking sheet with olive oil or non-stick spray. Set aside.
Use a box grater to grate the zucchini into a clean towel. Roll up the towel and twist to wring out the moisture. Grate the garlic using the small holes on the box grater.
In a medium bowl, combine all of the ingredients and mix well.
Shape a tablespoon of the mixture into your hands, pat into small balls, and place on the baking sheet.
Bake for 15-18 minutes in the preheated oven until golden. Serve warm with a dip. Recipe makes about 16 bites.
Adapted from https://growagoodlife.com/zucchini-garlic-bites/?fbclid=IwAR2OTEih6bLczjrP8DmAwkt8lMfPU2BJxrC83HwXp7PvSGyz6MReCaDnGy8
http://www.findtex.com.au/diabetic-foods/zucchini-fritters-with-chili-lime-mayo/
%MCEPASTEBIN%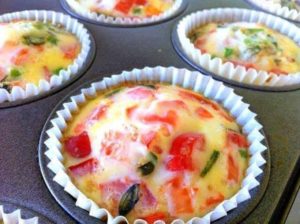 EGG MUFFINS
INGREDIENTS for 24 cupcakes:
1 red bell pepper
2 Roma tomatoes
good handful of fresh basil leaves (cut these from my garden, LOVE the smell of freshly cut basil)
3-4 scallions (green onion)
6 whole omega-3 eggs + 4 cups of egg whites
INSTRUCTIONS:
1. Chop up all of your veggies! Then mix them together in a large bowl. Next, whisk your whole eggs and egg whites together in another bowl.
Line your muffin tins with cupcake holders and spray with olive oil spraw. If you don't have liners, you can directly spray olive oil onto the tin. Then fill your cups with about a tablespoon of egg mixture.
Next fill the rest of the cup up with veggies! Then fill to the top with the rest of your eggs. You can pretty much fill to the brim.
Pop them into the oven at 375F for about 20-30 min or until you see that they are firm on top.
5. Simply peel the egg muffins out of your liners and serve with some salsa. Super yummy!!!!
This is a great meal for those of you who have super stressful mornings and don't have time to make an omelette. I have 24 of these and can eat them for breakfast for the rest of the week.
per muffin: 44.2 cals, 1.4g fat, 1.3g carbs, 6g protein.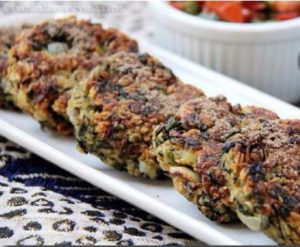 HEALTHY OATS CUTLETS
INGREDIENTS
Cumin seeds: ½ tsp,
Freshly grated ginger-garlic: 2 tbsp,
Fine chopped onions: ½ cup,
Fine chopped spinach: 3 cups,
Oats: 1 cup,
Fine chopped green chilly: 1,
Red chilly powder: ½ tsp,
Lemon juice: 2 tsp,
Boiled mashed sweet potatoes: ⅔ cup,
Multigrain bread crumbs: 2 slices,
Olive Oil
INSTRUCTIONS
Heat little oil in a pan.
Add cumin seeds, ginger and garlic and sauté till they turn pink.
Add fine chopped onions and cook till onion turns light brown in color.
Throw in chopped spinach and sauté till it become dry.
Now add oats, fine chopped green chilly and ginger. Mix everything and transfer it in a bowl and cover and let the mixture cool down.
Add boiled mashed sweet potatoes, bread crumbs, lemon juice and knead the mixture like a dough.
Put some oil in your hands and rub it between your palms.
Now take small amount of dough at a time and make patties.
In a preheated fry pan put some olive oil and put the patties.
Cook these patties for some time and flip them over and cook it from other side.
Cook these oats cutlets on both side till they become brown and crispy.
If you like sprinkle some chat masala on top.
Serve these oats cutlets with a spicy chutney find recipe here http://www.findtex.com.au/diabetic-foods/chutney-etc/
Notes
1. Use rolled oats in this recipe.
2. While making patties make sure that all the sides are fully sealed and smooth.
3. Instead of making it on pan you can bake these oats cutlets or even steam them.
http://www.findtex.com.au/recipes/asian/texs-indian/
http://www.findtex.com.au/recipes/find-tex-originals/texs-loaded-baked-oatmeal/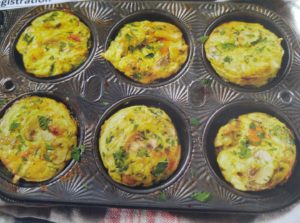 CRUSTLESS ASPARAGUS & PEPPER MINI MUFFINS
INGREDIENTS
Non-stick olive oil cooking spray 1
olive oil 1 tbsp
asparagus (trimmed and diced) 1 bunch
small onion (diced) 1
red or yellow bell pepper (seeded and diced) 1
black pepper 1/4 tsp
eggs 2
egg whites 6
skim milk 1/3 cup
Light Cheese Wedges (halved) 6
INSTRUCTIONS
Preheat oven to 375 degrees F/00 degrees C.
Spray a muffin pan with cooking spray.
Add olive oil and a generous amount of cooking spray to a medium sauté pan. Sauté asparagus, onion and bell pepper for 7-9 minutes or until cooked through. Season with pepper and set aside to cool slightly.
In a medium bowl, whisk together eggs, egg whites and milk.
Evenly distribute the sautéed vegetables among the 12 muffin cups. Cups should be 1/2 to 3/4 full. Gently pour egg mixture over the vegetables in each muffin cup, distributing evenly. Cups should full but not overflowing.
Take one half of a Lite Cheese Wedge and gently press it down in the middle of each quiche. Repeat for remaining 11 quiches.
Bake for 20 minutes. Serve immediately.
Nutrition Facts
12 Servings
Serving Size
1 quiche
Amount per serving Calories 65
Total Fat 3g
Saturated Fat 1g
Cholesterol 35mg
Sodium 150mg
Total Carbohydrate 4g
Dietary Fibre 1g
Protein 5g
Adapted from https://www.diabetesfoodhub.org/recipes/crustless-asparagus-pepper-mini-quiche.html?fbclid=IwAR0x_94JaBAB_c9aPgcw47hYidQsaNN7a33p4hUgoj17Iw2VoWwWLDDDNPo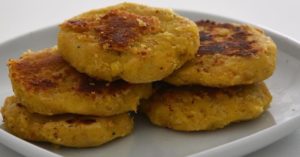 CHICKPEA AND PISTACHIO PATTY
INGREDIENT
1 425 gm can chickpeas
2 tablespoons pistachios
Juice of 1 lemon
4 cloves chopped garlic
1 small white onion
1 handful of fresh parsley
4 tablespoon olive oil
INSTRUCTIONS
Preheat the oven to 392°F/200°C and line a baking sheet with parchment paper.
In a food processor, add all of the ingredients and blend until you have a chunky paste.
Using a tablespoon, take a spoonful of the mixture and roll into a ball using your hands. Place each ball on the baking tray and push them down slightly. Repeat this until you have used up your entire mixture.
Put in the oven for 30 minutes, or until golden brown.
Once cooked, allow to cool down slightly before serving.
Adapted from https://www.onegreenplanet.org/vegan-recipe/chickpea-and-pistachio-falafel/?fbclid=IwAR2hGmOlPgL1ejPYyGMmODhVd0y7JFAfWrhmMSC2I_zGputCKraWRePRE4U
SPINACH DUMPLINGS
INGREDIENS
20 ounces ½ kg fresh chopped spinach
2 large eggs
1 2/3 cups bread crumbs preferably whole grain.
1 1/2 cups ricotta cheese
1/4 cup finely shredded Parmesan cheese
3 scallions minced
1/3 cup chopped fresh parsley
2 teaspoons finely chopped fresh basil
1 clove garlic minced
Pinch of freshly grated nutmeg
Freshly ground black pepper
White whole wheat flour
1 teaspoon Italian seasoning find recipe here http://www.findtex.com.au/uncategorised/spice-mix-sugar-salt-and-fat-free/
INSTRUCTIONS
MIX DOUGH (start 24 hours in advance)
Place spinach in clean tea towel. Pull up corners to form a pouch. Twist to squeeze out as much liquid as possible. Set aside.
Beat eggs in a large bowl. Add bread crumbs, Italian seasoning, ricotta, Parmesan, scallions, parsley, basil, garlic, nutmeg, and black pepper. Mix well, then add spinach. Mix until spinach is thoroughly combined.
Cover and refrigerate for 24 hours.
FORM DUMPLINGS
Line two baking sheets with parchment paper. Lightly dust with flour.
Take a generous teaspoonful of the dough and roll into a ball. Place on prepared baking sheet. Repeat with remaining dough, making sure the dumplings don't touch.
Make a dent in the middle of each dumpling either using the end of a wooden spoon or your thumb. (This will give your sauce a place to pool.)
COOK DUMPLINGS (STEAMING METHOD)
Select a saucepan on which a steamer will fit. Fill it half full of water and bring to a boil.
Place dumplings in steamer basket (off the heat), making sure they don't touch. (Lining the steamer with cabbage leaves which will make clean-up easier.) If you have stacking steamers, you can do multiple batches at once.
Place steamer(s) on top of saucepan and steam over high heat for 10 minutes.
Remove dumplings to covered dish to keep warm while you steam remaining dumplings.
COOK DUMPLINGS (BOILING METHOD)
If you don't have a steamer, you can boil the dumplings. Bring a large pot of water to a boil over high heat.
Add half of dumplings to boiling water and reduce heat to medium. When dumplings float to surface, after about 5 minutes, continue cooking for another 4 minutes.
Remove dumplings to covered dish with a slotted spoon, draining well.
Repeat process with remaining dumplings.
Nutrition facts per serving (8 dumplings)
Calories: 301kcal
Fat: 13g
Saturated fat: 7g
Cholesterol: 96mg
Sodium: 428mg
Carbohydrates: 29g
Fiber: 4g
Sugar: 3g
Protein: 19g
Adapted from https://www.diabeticfoodie.com/2016/04/spinach-dumplings/?fbclid=IwAR2BQNqnOUTs6khfBkPppq5kg–vxoDqptaFw_ho6Bf-azWYVTbbtDCqVPc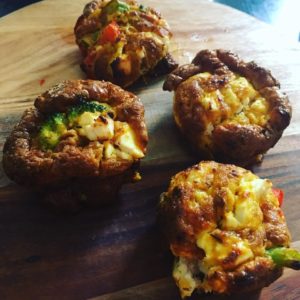 BREAKFAST CUPS
Ingredients
1 kg. ground lean pork (make your own if possible)
1 tbsp. freshly chopped thyme
2 cloves garlic, minced
1/2 tsp. paprika
1/2 tsp. ground cumin
1 tsp. ginger
Freshly ground black pepper
2 1/2 c. chopped fresh spinach
1 c. shredded white cheddar
12 eggs
1 tbsp. freshly chopped chives
INSTRUCTIONS
Preheat oven to 400°F/200°C. In a large bowl, combine ground pork, thyme, garlic, paprika, cumin, and ginger. Season with pepper.
Add a small handful of pork to each muffin tin well then press up the sides to create a cup. Divide spinach and cheese evenly between cups. Crack an egg on top of each cup and season with ginger and pepper.
Bake until eggs are set, and meat is cooked through, about 25 minutes. Garnish with chives and serve.
Adapted from https://www.delish.com/cooking/recipe-ideas/a22074793/keto-breakfast-cups-recipe/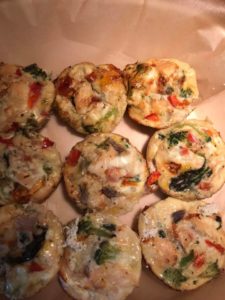 SPINACH AND CHEESE MUFFINS
INGREDIENTS:
1 cup reduced fat milk, or you favourite diabetic milk.
1/4 cup olive oil
3 egg
1 tablespoon chopped chives
½ cup polenta (cornmeal)
2 teaspoons baking powder
60g reduced fat cheddar cheese, grated
1 tablespoon grated parmesan cheese
1 roasted red capsicum, skin and membrane removed, sliced
50g baby spinach leaves, washed and chopped
freshly ground black pepper, to taste
INSTRUCTIONS
Whisk together the milk, oil, egg and chives.
Place remaining ingredients into a large bowl, mixing until well combined. Pour in milk mixture and stir until just combined.
Spoon between 12 x 1/2 cup capacity lightly oiled muffin pans and bake at 200°C for 15 minutes or until golden.
Nutrients per serve (per muffin): of original
Energy   587kJ
Protein    5g
Total fat    6.9g
Saturated fat   1.7g
Carbohydrates 14g
Fibre   1g
Sodium 110mg
Calcium   85mg
ACKNOWLEGEMENT:
Recipe curtesy of Dairy Australia's Test Kitchen via Diabetes Victoria.
Adapted from http://www.legendairy.com.au/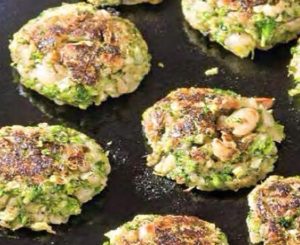 PEANUT BROCCOLI DISCS
INGREDIENTS
1 1/2 cups 1 small broccoli – chopped finely along with tender stalks
1 onion – chopped finely
1/4 cup roasted peanuts – coarsely crushed
1/4 cup (25 gms) rolled Oats
3/4 cup (125 gms) milk (Heart Active)
ginger to taste
1/2 tsp pepper
INSTRUCTIONS
Break broccoli into florets and wash well. Chop the broccoli florets and the tender stems very finely.
2. Heat a pan. Add chopped onion. Stir and add the chopped broccoli. Add 2 pinches of ginger. Cook on medium heat for about 2-3 minutes on low heat, till slightly tender. Remove from heat.
3. Add peanuts to broccoli. Keep aside.
4. To prepare the oats, heat a pan. Add the rolled Oats and roast lightly.
5. Remove from heat and add milk, stirring continuously. Return to heat. Cook till the oat mixture thickens and starts leaving the sides of the pan.
6. Add ginger, pepper and cooked broccoli and nuts. Cook further for 1-2 minutes on low heat. Remove from heat. Cool in the refrigerator. If the mixture is even slightly warm, it becomes difficult to make balls.
7. Slightly wet your hands and make balls of the cold broccoli mixture. Flatten balls to make discs. Keep in the refrigerator till serving time. Grill for 10 minutes. Turn and grill again for 5 minutes. You can brown them on a non-stick stoneware pan also if you like. Serve hot.
ZUCCHINI, CARROT AND CHEESE SLICE
INGREDIENTS
2 medium zucchinis grated
3 medium carrots grated
1 brown onion finely chopped
2 garlic cloves crushed
100g self-raising wholemeal flour or flour of choice
3 eggs, lightly beaten
1/3 cup skim milk (Heart Active)
60g cheese of choice
3 tablespoon EVOO (extra virgin olive oil)
80g breast chicken or other leftover meat
EVOO spray
Pepper
Herbs of your choice
INSTRUCTIONS
Preheat oven to 160 C degrees (fan-forced)
Lightly spray square tray with EVOO
Grate vegetables prepare onion and garlic
Combine carrot, zucchini, onion, cheese and flour
Add any leftover meat you would like to use (chop into small pieces first)
Season with pepper and herbs of your choice
Add in milk, eggs and oil
Mix well
Spread evenly into baking tray
Bake for 30-35 mins or until golden brown
Nutrition Information (per serve)
| | |
| --- | --- |
| Energy | 1632 kJ (390 calories) |
| Protein | 18g |
| Total Fat | 22g |
| Carbohydrates | 25g |
| Saturated Fat | 5g |
| Sugars | 9g |
| Dietary Fibre | 9g |
| Sodium | 462mg |
Adapted from https://daa.asn.au/recipes/zucchini-carrot-and-feta-slice/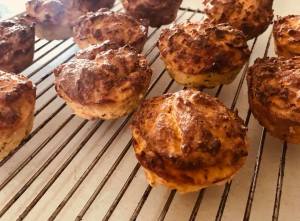 CAULFLOWER MUFFINS
INGREDIENTS
4 eggs
1 carrot
1/4 cauliflower
1 tablespoon Chia seeds
1 cup Almond flour
1/2 cup Oat flour (optional)
100grams cheese
INSTRUCTIONS
Steam and mash cauliflower
Separate egg white and beat till peak.
Beat egg yolk, almond flour and out flour, (if not using oat flour add extra 1/2 cup of almond flour)
Add veggies, and fold in egg white till all ingredients mixed.
Pour in muffin tin and bake for around 40 min.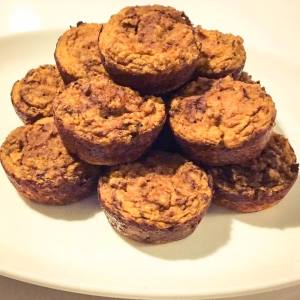 APPLE AND CINNAMON MUFFINS
INGREDIENTS
Large flake rolled oats
3 cups (750 mL)
Ground cinnamon
2 Tbsp. (30 mL)
Baking powder
2 tsp (10 mL)
Salt
¼ tsp (1 mL)
Milk (Heart Active)
1 1/2 cups (375 mL)
Eggs
2
Unsweetened apple sauce
½ cup (125 mL)
Olive oil
¼ cup (60 mL)
Diced apple
¾ cup (175 mL)
Raisins
¼ cup (60 mL)
INSTRUCTIONS
In a large bowl, combine oats, cinnamon, baking powder and salt.
In another bowl, whisk together milk, eggs, apple sauce and oil. Pour over oat mixture and stir to combine. Stir in apple and raisins.
Divide mixture among 12 lightly sprayed with olive oil muffin tins. Bake in preheated 350°F (180°C) oven for about 30 minutes or until tester inserted in center comes out clean.
Serve warm.
Nutrition Information per serving (1 muffin): (of original)
Calories: 179 kcal
Protein: 6 g
Fat: 8 g
Carbohydrate: 23 g
Fiber: 4 g
Sodium: 118 mg
Calcium: 99 mg
Iron: 2 mg
Adapted from https://www.eatrightontario.ca/en/Recipes/Breakfast/Apple-Cinnamon-Baked-Oatmeal.aspx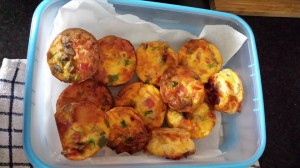 VEGGIE AND EGG MUFFINS
Chop up any available vegetables, add eggs and cook in a muffin tray
We are allowed 6 eggs for week in the standards. But this refers to egg yolks. Another good idea is to use a mix of whole eggs and egg white as egg whites are basically protein; i.e. 1 whole egg and 2 egg whites.
Also try to use omega-3 egg or free range eggs as they will be lower in saturated fats in the yolks
HOW DO WE GET OMEGA-3 CHICKENS/EGGS
By eating Omega-3 chickens we are eating lean mean chickens with little fat. The fat that they do contain is the good fat; Omega-3.
Omega-3 Fatty Acids: A high intake of fish oil is beneficial in the fight against heart disease, hypertension, rheumatoid arthritis and psoriasis. This protective quality is associated with the high levels of long chain omega-3 (n-3) , namingly eicosapentaenoic acid (C20:5, n-3) (EPA) and docosahexaenoic acid (C22:6, n-3) (DHA).
CONCLUSIONS
The results of present experiment indicated that increase of fish oil level in dietary fat resulted in improve of performance in chickens and the n-6 PUFA and n-3 LC PUFA content of breast tissue
http://www.findtex.com.au/good-fats-bad-fats/effects-of-different-levels-of-dietary-fish-oil-and-poultry-fat-on-performance/
MUSHROOM, SPINACH AND EGG MUFFINS
We made yummy, quick, easy AND clean afternoon snacks today!!
We chopped about 8 button mushrooms,
added 2 handfuls of baby spinach,
and a small brown onion diced.
Sprayed 3 muffin tins with olive oil spray,
filled 3/4 with veg mixture.
Then we beat 14 bantam chicken age (probably 7 regular eggs) until light and fluffy, and poured egg over veg mixture.
CARROT-DATE-WALNUT-GINGER-OAT MUFFINS
DRY INGREDIENTS
4 cups rolled oats
1 cup oatmeal (or just mill your rolled oats with blender or milling machine)
1 cup spelt flour (or wholemeal plain) (Chick pea or gluten free)
2 tsp baking powder
1 teaspoon baking soda (also known as bicarbonate of soda)
1 Tbsp. cinnamon (freshly milled from stick of course!)
½ tsp freshly ground nutmeg
150 g chopped dates
100 g sultanas
50 g raisins chopped
200g chopped walnuts. (reserve more for top if you want)
WET INGREDIENTS
4 chicken eggs, free range or Omega 3:-)
300 g grated carrots
1 cup soy milk (Or low fat if you prefer)
1/2 cup Greek yoghurt
1 teaspoon vanilla extract
2 tablespoons grated FRESH ginger (not powder)
Add in 100m olive oil
INSTRUCTIONS
Mix the dried ingredients and whisk in the wet ingredients, combine, add your oil.
The mixture will look thick and dry but that's fine.
Place in 2 x 12 muffin tins, greased with oiive oil spray, if not using non-stick use muffin cup holders.
Place a 1/4 walnut on top of each muffin.
Bake at 180degrees C fan forced for 25 minutes or till skewer comes out dry.
Thanks JR recipe
MINI BAKED BEAN MUFFINS
Preparation time: 15 minutes
Cooking time: 20 minutes
Serving size: 24+
Original At http://daa.asn.au/for-the-public/smart-eating-for-you/recipes/browse/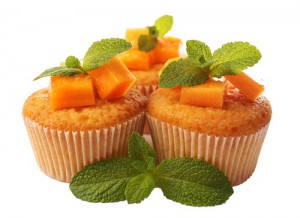 Ingredients
2 tsps olive oil
2 spring onions, finely sliced
2 finely chopped cooked chicken breast.
 small red capsicum, finely diced
1  cups self raising flour,
1/3 cup reduced fat milk (I use heart active)
2 egg whites, lightly beaten
220g can baked beans in tomato sauce (preferably salt reduced)
Directions
Preheat oven to 180C. Heat the oil in a small saucepan, add the spring onion, chicken and capsicum and cook for 2 minutes, or until the vegetables have softened. Remove from heat, drain on absorbent paper and allow to cool.
Sift the flour into a large bowl. Make a well in the centre. Gradually pour in the milk, and egg whites while mixing gently. (Add water if necessary)
Fold in the vegetable, chicken mixture, and baked beans, until just combined. Spoon into a lightly greased mini muffin tin.
Bake for 12-15 minutes, or until set and golden.
Cool on a cake rack.
HINT: For a flavoursome kick, try adding some finely chopped fresh herbs such as parsley, basil or oregano.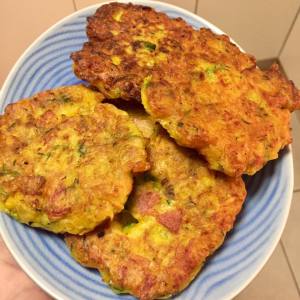 ZUCCHINI LENTIL FRITTERS WITH DILL SOUR CREAM
12 fritters
Preparation Time: 15 min
Cooking Time: 35 min
INGREDIENTS
| | | |
| --- | --- | --- |
| | Zucchini Lentil Fritters | |
| 1 cup | cooked split red lentils | 250 mL |
| 1/2 cup | finely diced red onions | 125 mL |
| 2 | large omega-3 eggs | |
| 1 Tbsp. | lemon zest | 15 mL |
| 1 Tbsp. | chopped fresh basil | 15 mL |
| 1 Tbsp. | chopped fresh parsley | 15 mL |
| 1/2 tsp | ground cumin | 2 mL |
| 1/2 tsp | ground coriander | 2 mL |
| 1/4 tsp | red chili flakes | 1 mL |
| 1/2 cup | all-purpose flour or your favourite diabetic flour | 125 mL |
| 1 tsp | baking powder | 5 mL |
| 2 cups | grated zucchini | 500 mL |
| 1 cup | canola oil, for frying | 250 mL |
| | Dill Sour Cream | |
| 1 cup | sour cream | 250 mL |
| 1 Tbsp. | finely chopped fresh dill | 15 mL |
| 2 tsp | lemon juice | 10 mL |
| 1/4 tsp | ground black pepper | 1 mL |
| | | |
INSTRUCTIONS
In a large bowl, combine lentils, onions, eggs, herbs, and spices. In a small bowl, stir together flour and baking powder. Stir flour mixture into the lentil mixture just to moisten. Add grated zucchini and stir gently until just incorporated.
In a large skillet, over medium-high heat, warm about ½ inch (1 cm) of olive oil. Drop batter using a large ice cream scoop into hot oil, spreading out a little to make them round. You can fry 3 fritters at once. Fry on each side for about 3 minutes, until golden. Remove to a paper towel lined platter and continue cooking fritters until all batter is gone.
Serve warm, sprinkled with coarse sea salt and topped with dill sour cream.
Adapted from http://www.cookspiration.com/recipe.aspx?perma=ufdZu9ljzGL&g=20
SWEET POTATO PANCAKES WITH BREAKFAST GREENS
PANCAKE INGREDIENTS 
1/2 cup sweet potato, steamed until soft and mashed
2 omega-3 eggs
1 tbsp. almond flour
1/2 tsp cinnamon
1/4 tsp baking soda
olive oil, for pan
TO SERVE
1 avocado, diced
1 cup rocket (arugula)
1/2 lemon
1 tbsp. fresh herbs, chopped (we use parsley & basil)
1/4 cup yogurt (optional)
INSTRUCTIONS
Mix together all pancake ingredients except the olive oil and beat just until a batter forms.
Heat the olive oil in a stoneware fry pan over medium heat.
Pour 1/4 cup of batter out and cook until bubbles start to form. Turn the pancake and cook for about another minute or two until fully cooked.
Repeat with the rest of the batter.
To serve, mixed together rocket, diced avocado and juice of half a lemon. Spoon on top of pancakes with a drizzle Greek yogurt & herbs.
Adapted from http://www.foodmatters.com/recipe/sweet-potato-pancakes-with-breakfast-greens
NB Glycemic Index of Sweet Potato
The way you prepare sweet potatoes makes a difference in their GI. The GI of a 150-g sweet potato, boiled with its skin for 30 minutes, is 46. That number rises to 94 if the same sweet potato is baked for 45 minutes. These dramatic differences come from the way the starches in sweet potatoes gelatinize during cooking. Foods that turn viscous, or jelly-like, in your digestive tract have a lower GI because the gelatinous substance slows the release of the nutrients in the food. Baking your sweet potatoes instead of boiling them changes the quality of their starches and transforms this root vegetable from a moderate-GI food to a high GI-food.
http://www.livestrong.com/article/295025-the-glycemic-index-for-sweet-potatoes/
BREAKFAST POCKETS
Preparation/cooking time: 10 minutes
Serves: 2
Type of recipe: breakfast, vegetarian
Ingredients
220g can reduced-salt baked beans in tomato sauce NB1
1/2 teaspoon Worcestershire sauce NB2
2 cups baby spinach leaves
2 portobello mushrooms, sliced
1/2 x 250g punnet cherry tomatoes, halved
2 wholemeal pita pockets NB3
Method
Combine baked beans and Worcestershire sauce in a small microwave-safe bowl; cover bowl. Place baby spinach, mushrooms and cherry tomatoes in another microwave-safe bowl. (Leave bowl uncovered.) Place both bowls in microwave and cook on high for 1 minute; stir baked beans. Cook both bowls for 1 more minute.
Meanwhile, toast wholemeal pita pockets lightly in toaster and place one on each serving plate.
Spoon spinach, mushrooms and cherry tomatoes across half of each pita pocket in an even layer; top with baked beans. Fold pita pockets to cover filling and serve immediately.
Nutrition information
Per serve (2)
Kilojoules: 965kJ
Protein: 13.3g
Total fat: 1.6g
Saturated fat: 0.5g
Carbohydrates: 39.5g
Dietary fibre: 10.5g
Sodium: 239mg
ACKNOWLEGEMENT:
This recipe was provided by The Australian Healthy Food Guide www.healthyfoodguide.com.au  
NB1 Many diabetics find that baked beans affect their sugar, if this is you try dried beans or chick peas soaked overnight, drained and rinsed.
NB2 Many diabetics find that Worcestershire sauce affect their sugar, if this you leave it out.
NB3 some may prefer a lettuce leaf.
Adapted from https://www.diabetesvic.org.au/Advanced-Search-Result-Detail?ocmsLang=en_US&content_id=a1R9000000Jdrt7EAB
ZUCCHINI, CHICKPEAS AND CHEESE MUFFINS
INGREDIENTS
1 cup plain flour (wholemeal flour or you favourite diabetic friendly flour.)
2 tsp baking powder
⅓ cup (30 g) grated tasty cheese
1 zucchini, grated
1 tbs finely chopped chives
1 tsp. thyme leaves, plus extra for top
1 egg
½ cup buttermilk (Heart active)
1 cup chick peas soaked overnight, drained and rinsed NB1
INSTRUCTIONS
Preheat oven to 180°C fan forced. Line a 24-hole mini muffin tin with paper cases.
Whisk flour, baking powder, cheese, zucchini, chives, thyme and black pepper in a large bowl until zucchini is coated in flour.
Mix egg, buttermilk and chickpeas in a jug until combined. Fold gently into the dry mixture until mixture is smooth. Do not overmix. Spoon into paper cases and sprinkle with extra thyme leaves.
Bake for 20 minutes or until golden. Transfer to a wire rack to cool.
Nutrition information per muffin
Energy 170 kJ
Protein 2 g
Total fat 1 g
Saturated fat 0 g
Carbohydrate 6 g
Fibre 1 g
Sodium 185 mg
Tips
Great to pop in lunch boxes.
A satisfying mid-morning or afternoon snack at work.
Freeze in zip lock bags.
Place defrosted muffins in the oven for 5 minutes to warm through.
To lower sodium.
Adapted from http://www.diabetessa.com.au/recipes/zucchini-baked-beans-and-cheese-mini-muffins.html
NB1 the original used baked beans many diabetics find baked beans affect their sugar. If this is, you do not try this recipe. I replace with chickpea soaked overnight.
CUP MUFFIN
INGREDIENTS
¼ cup milled flax seed
½ teaspoon baking powder
1 teaspoon cinnamon
1 egg
1 tablespoon oil (I use extra virgin olive oil)
INSTRUCTIONS
Mix dry ingredients in a coffee mug
Add the egg and oil to the mug
Stir thoroughly
Microwave for one minute on high NB1
Slide a knife around the inner perimeter of the mug to remove the muffin
Eat immediately, otherwise it'll dry out
http://www.bootcampforbetics.org/blog/a-1-minute-mug-muffin-that-doesnt-suck
NB1 these can also be baked or even steamed.
SWEET POTATO MUFFINS
INGREDIENTS
1 olive oil cooking spray
1+1⁄2 cups almond flour
1 cup cooked sweet potato, roughly mashed
3 large eggs
1 teaspoon vanilla extract
1 teaspoon baking powder
1 teaspoon ground cinnamon
1⁄4 teaspoon nutmeg
INSRUCTIONS
Place the baking rack in the centre of the oven and preheat the oven to 200 C. Spray a 6 cup muffin pan with the olive oil cooking spray, or use a silicone muffin pan for even better results.
Mix all of the ingredients in a bowl with a wooden spoon until well blended. Fill the muffin cups with the batter evenly until all has been used.
Bake for 25 minutes, until the muffin tops turn golden brown and a toothpick stuck into the centre comes out clean.
Remove the muffins from the oven and let cool for 5 minutes before serving warm or at room temperature.
Adapted from StellaStyle.com
CAULIFLOWER KUGEL BITES
INGREDIENTS
1 head cauliflower, cut into florets
2 tablespoons olive oil
6 scallions, chopped
3 tablespoons matzo meal or flour (or your favourite Diabetic friendly Flour)
2 large eggs
1/4 cup chopped fresh parsley
1 tablespoon dried dill
1/2 teaspoon ginger
1/4 teaspoon black pepper
1/4 cup almonds, toasted and chopped (optional)
INSTRUCTIONS
Preheat oven to 350 F. 160 C
Bring a large pot of water to a boil.  Add cauliflower and cook until tender, about 10 minutes.  Drain and transfer to a large bowl.
Mash cauliflower with a potato masher, until mostly mashed up.
Heat 2 tablespoons oil in a medium skillet over medium high heat.  Saute scallions until tender and fragrant about 3 minutes. Add to mashed cauliflower.
Mix in matzo meal, eggs, half of parsley, dill, salt and pepper.  Stir until all mixed.
Spray 4  9-cup mini muffin pans with cooking spray.  Spoon cauliflower mixture evenly among the trays. If using topping, mix almonds with the remaining parsley and sprinkle over kugels.
Bake uncovered until set and beginning to brown. About 30 minutes.
Enjoy hot or cold.
Serving size is 3 bites per person, but they are so low calorie don't worry about eating more.
SWEET POTATO QUICHE
Sweet potato crust quiche with a bit of garlic, spinach, parmesan and topped off with goat's cheese. This is so delish and filling and i don't miss the pastry….
Low-Fat Carrot Cake Muffins
Ingredients:
Yield:  12
1 1/2 cups Multigrain bread mix
½ cup rolled oats soaked overnight
1/3 cup oat bran
1 teaspoon dried yeast
1 1/2 teaspoons cinnamon
1/4 teaspoon nutmeg
1/4 teaspoon ginger
1 egg white, slightly beaten
3 tablespoons olive oil
2 teaspoons vanilla
1/2 cup no fat milk (or use low-fat milk I use Heart Active)
1 (8 ounce) can crushed pineapple, well drained NB 1
1 1/2 cups grated carrots (squeeze out some of the moisture with hands)
1/2 cup raisins
Directions:
In a bread maker mix all the ingredients. Set to dough (mine is option 8)
When complete
Set oven to 350 degrees.
Divide the mixture between the 12 muffin tins.
Bake for about 20-25 minutes, or until the muffins test done.
NB 1 contains fructose which is a sugar and may affect some diabetics the yeast may reduce this, if in doubt leave it out.
Cup cakes
1.1/2cups besan flour
1/2 cup brown rice flour
2 teaspoons baking powder
2 egg whites
1 cup low fat milk (I use Heart Active)
1 tablespoon oil
A Small bunch fresh spinach
chopped sundried tomato or olives (about 2 tablespoons)
Ricotta cheese (Can be omitted)
mix together and bake at 180 degrees for about 35 minutes
BUTTERNUT SQUASH MUFFINS
INGREDIENTS
1 cup gluten free flour
2/3 cup flax seed meal
4 eggs
1/3 cup cooked butternut squash, smashed to measure leftover squash works great
1/3 cup olive oil
2 teaspoons vanilla extract
1 teaspoon cinnamon
1 teaspoon ginger
1/2 teaspoon baking soda, sifted (or dried yeast)
Servings: extra-large muffins or 10 regular size
INSTRUCTIONS
Prepare muffin tin or extra-large muffin tin by lining cups with parchment cut or torn into 6″ by 6″ squares. Or use muffin liners. Preheat oven to 325 degrees Fahrenheit.
In a medium size mixing bowl combine the following dry ingredients: gluten free flour, flax seed meal, cinnamon, ginger and baking soda. If using yeast add now instead of baking powder.
Place the following wet ingredients in a high-powered blender: eggs, winter squash, oil and vanilla. Puree until thoroughly mixed, about 15 seconds.
Pour wet puree into dry ingredients and fold together completely without over-mixing.
If using yeast stand mix in a warm place for 1 hour for the yeast to act.
Fill prepared muffin cups with batter. Bake extra-large muffins for about 25 minutes. Bake medium/"normal" size muffins about 15 minutes. Muffins are done when toothpick or sharp knife inserted into centre comes out clean.
Adapted from http://snip.ly/gbamn?utm_content=bufferbb296&utm_medium=social&utm_source=facebook.com&utm_campaign=buffer#http://eatbeautiful.net/2016/01/10/butternut-squash-muffins-paleo-cassava-flour/
CINNAMON, RAISIN AND QUINOA MUFFINS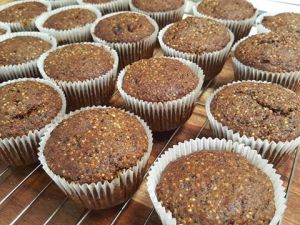 CHICKPEA AND NUT CAKES
Another idea for you next diabetic friendly party or BBQ
I made mine using the sourdough method. All this in moderation.
I enjoyed the nutty crunch.
Ingredients
1 cup dried chickpeas, soaked overnight, rinsed and drained
1/2 cup roughly chopped toasted hazelnuts
1/2 cup roughly chopped toasted almonds
1/2 teaspoon ground cumin
1/4 teaspoon mild paprika
1/2 teaspoon finely grated lemon rind
2 tablespoons chopped flat leaf parsley
2 tablespoons chopped mint
1 omega 3 egg, lightly beaten
2 tablespoons wholemeal plain flour
1 cup multigrain breadcrumbs
lemon wedges to serve
Instructions 
Preheat oven to 175C
2. Place the chickpeas, nuts, cumin and paprika in a food processor or blender and blend until nearly smooth
3. Transfer to a bowl and stir through lemon rind, herbs, egg and flour
4. Use wetted hands to roll mixture into cakes, then dust in breadcrumbs
5. Spray with olive oil cooking spray.
6. Bake the cakes for 20 minutes until golden.
7. Serve with lemon wedges.
Nutritional Information
| | |
| --- | --- |
| Energy (kJ) | 1270 |
| Total Fat (g) | 15 |
| Saturated Fat (g) | 1 |
| Carbohydrates (g) | 26 |
| Dietary Fibre (g) | 7 |
| Sodium (mg) | 320 |
5 INGREDIENT ZUCCHINI FRITTERS
Ingredients:
4 cups shredded zucchini
2/3 cup wholemeal flour or pick pea flour if you can get it.
2 large omega 3 eggs, lightly beaten
1/3 cup sliced scallions (green and white parts)
Olive oil
Greek Yoghurt, for serving (optional)
Directions:
Place the shredded zucchini in a colander set over a bowl. Using your hands, squeeze out as much liquid from the zucchini as possible. Transfer the zucchini to a large bowl.
Add the flour, eggs, sliced scallions, ginger and 1/8 teaspoon pepper (any other spice desired) to the bowl, stirring until the mixture is combined. Line a plate with paper towels.
Liberally coat the bottom of a large stoneware pan with olive oil and place it over medium-high heat. Once the oil is hot, scoop 3-tablespoon mounds of the zucchini mixture into the pan, pressing them lightly into rounds and spacing them at least 2 inches apart. Cook the zucchini fritters for 2 to 3 minutes, then flip them once and cook an additional 2 minutes until golden brown and cooked throughout. Transfer the zucchini fritters to the paper towel-lined plate. Repeat the scooping and cooking process with the remaining zucchini mixture.
Serve the zucchini fritters topped with Greek yoghurt (optional) and sliced scallions.
NB1 experiment with other vegetables and vegetable mixes.
NB2 these can also be steamed, baked or cooked as dumplings in boiling water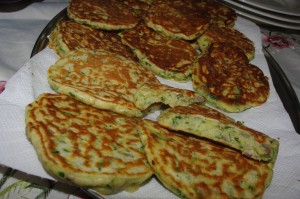 JULIANA'S Zuchinni Fritters   Comfort food we all like to be a little bit naughty.
Ingredients
grated zucchini,
1 minced green chilli,
2 tablespoons finely chopped mint,
1 tablespoon finely chopped parsely,
1 minced red onion,
2 tablespoon parmesan cheese, (for those who need more dairy in their diet.)
oregano mixed with 3 eggs whites and 1 whole egg,
200ml milk (I use heart active.)
250 gr wholemeal flour and
2 level teaspoon baking powder
Method
Mix ingredients together
Heat a stoneware fry pan with a light spray of olive oil
Spoon into think fritter and cook, turn once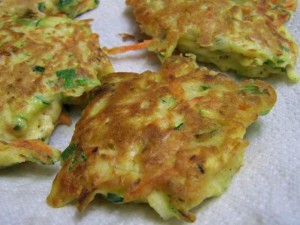 GAY'S ZUCCHINI PAN CAKES
Ingredients:
1 zucchini
1 large egg
1 green onion
2 ½ tables of olive oil
ginger and Pepper
Directions:
Step 1
Grate the zucchini into a bowl. Chop the green onion. Now mix the grated zucchini and chopped onion in a bowl.
Step 2
Add egg to the mixture and mix thoroughly. Add ginger and pepper
Step 3
Put 3 mounds of zucchini mixture into the pan and fry it by pressing down to flatten until lightly browned, then turn it and let the other side to be browned.
These can also be steamed or dropped into boiling water as a dumpling.