Preparation time: 10 minutes minutes
Cooking time: 15 minutes minutes
Serves 6
Ingredients
1 tbsp olive oil
200g lean pork fillet, thinly sliced
3 celery sticks, thinly sliced on the diagonal
4 cups Salt Reduced Beef Stock
3 cups cous cous
1 tsp dried sage or oregano leaves
1/2 cup pitted prunes, roughly chopped
200g baby beans, cut into bite size pieces
200g baby spinach leaves
Method
1. Heat oil in a large saucepan and cook pork until well browned. Stir in celery and cook for 2 minutes.
2. Add stock and bring to the boil. Stir in cous cous, sage, prunes, beans and spinach.
3. Remove from heat and stand 5 minutes. Toss with a fork and serve.
Serve with a side salad. Add a dollop of low fat natural yoghurt if desired.
CHINESE CAULIFLOWER PORK FRIED RICE
INGREDIENTS
5 g olive oil
3 large eggs beaten
1 tablespoon ginger minced
1 clove garlic
22 g pork cooked and diced
55 g green beans chopped
2 small baby carrots chopped
640 g cauliflower rice pre-cooked
1 piece green onion sliced (optional)
INSTRUCTIONS
Heat 2 tablespoons oil in large fry pan or wok. Add beaten egg. Cook and scramble until cooked. Remove cooked egg from pan and set aside.
Add additional 2 tablespoons oil to pan. Stir fry ginger and garlic for a minute or two until fragrant. Add in pork, green beans, and baby carrots. Sauté for 2-5 minutes.
Stir in cauliflower rice. Cook and stir for 5-6 minutes. Toss in egg and stir-fry for an additional minute.
Nutrition of original
Serving: 1 cup | Calories: 123 | Carbohydrates: 7 g | Protein: 7 g | Fat: 8 g | Saturated Fat: 1 g | Cholesterol: 95 mg | Sodium: 610 mg | Potassium: 403 mg | Fiber: 2 g | Sugar: 2 g | Vitamin A: 245 IU | Vitamin C: 52.7 mg | Calcium: 43 mg | Iron: 1.2 mg
Additional Info
Net Carbs: 5 g | % Carbs: 16.7 % | % Protein: 23.3 % | % Fat: 60 % |
Adapted from Chinese Cauliflower Pork Fried Rice Recipe – Keto Paleo – Low Carb Yum
This and other stir fry recipes can be found here.
http://www.findtex.com.au/recipes/stir-frys/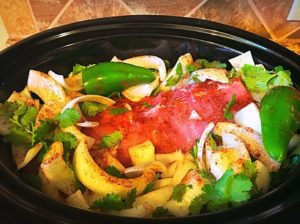 CARNITAS TACOS
INGREDIENTS
• 1.5 KG lean pork shoulder (any lean meat can be used)
• Chopped onions
• Chopped Jalapeños
• Garlic
• Mexican Chili Powder
• Pollo seasoning NB1
• ginger
• Pepper
• Lime Juice
• Orange zest
• Cilantro
INSTRUCTIONS
Place all ingredients in a slow cooker.
Cook for 4 hours on high or 8 hours on low
Serve with steamed vegetables.
NB1 Pollo seasoning
·      ½ Tsp. Black Pepper
·      ½ Tsp. Garlic Powder
·      ½ Tsp. Cumin
·      ¼ Tsp. Oregano
MOROCCAN STLE CHICKEN
Works well with ant lean meat.
Ingredients
½ Kg Skinless chicken
Marinade
1 tbs cumin
1 tbs coriander
1 tbs ground cinnamon
¼ cup Greek yoghurt
2 tbs lemon rind
2 tbs lemon juice
Couscous
1 ½ cups couscous
1 ½ cup boiling water
½ cup dried currants NB1
¼ cup finely cut coriander leaves.
Teamed with home grown cucumber salad.
Instructions.
Marinate the chicken in the ingredients listed above for at least 20 minutes. Overnight is better.
Cook the Couscous in the boiling water as per instructions on the pack.
Add the currents and coriander leaves at the last moment.
Cook the chicken on the BBQ.
NB 1 some diabetics may find these effect their sugar. If so leave them out.