CHEESY SOUR CREAM PORK CHOP
INGREDIENTS
1 1/2 pounds/ 680 g pork chops
1 teaspoon ginger and pepper
1/2 cup sour cream
1/2 cup shredded Cheddar cheese
INSTRUCTIONS
Preheat oven to 180°C (160°C fan)/350°F/gas 4.
Place pork chops on a baking sheet or into a baking dish. Season with ginger and pepper.
Add 2 tablespoons of sour cream to each pork chop. Spread evenly over pork chop to over the meat.
Add a small sprinkle of cheese to the pork chop.
Bake for 20 to 25 minutes.
Nutrition
Calories: 376 kcal | Carbohydrates: 1 g | Protein: 40 g | Fat: 22 g | Saturated Fat: 10 g | Cholesterol: 143 mg | Sodium: 773 mg | Potassium: 688 mg | Sugar: 0 g | Vitamin A: 320 IU | Vitamin C: 0.2 mg | Calcium: 145 mg | Iron: 1 mg
Adapted from Cheesy Sour Cream Baked Pork Chops [Low Carb] | CopyKat Recipes
PARMESAN MEATLOAF
INGREDIENTS
1 lb/ 450 g ground turkey or chicken mince
1 lb/ 450 g grass fed ground beef
2 eggs
1/4 cup multigrain breadcrumbs (Optional)
1/2 teaspoon dried basil
1/2 teaspoon dried thyme
1/2 teaspoon dried oregano
1-2 cloves garlic, finely minced
1 small onion, grated
1/2 teaspoon ginger
1/4 teaspoon ground black pepper
1/2 cup grated Parmesan cheese
1/2 cup marinara pasta sauce find recipe here http://www.findtex.com.au/diabetic-foods/chutney-etc/?fbclid=IwAR3yAjpExQHNFcXmAjcjOB7L4ajNsGdCJ892PLpWqrQEON9jMDKiVTkelfE
1/2 cup shredded Italian cheese blend
minced parsley for garnish
INSTRUCTIONS
Preheat the oven to 350ºF/185ºC. Lightly oil a loaf pan with cooking olive oil spray, set aside.
In a large bowl, combine the ground turkey and beef, eggs, breadcrumbs, thyme, oregano, basil, garlic, onion, ginger, pepper and Parmesan cheese.
Try not over handle the mixture otherwise it will get tough. Place the mixture in the oiled loaf pan and form into a loaf.
Top the meatloaf with pasta sauce.
Place filled loaf pan on a baking sheet and bake in the preheated oven for 45 minutes – 1 hour.
Remove the meatloaf from the oven and sprinkle the top with the remaining shredded cheese.
Place the meatloaf back in the oven and bake until the cheese is melted.
Remove the meatloaf from the oven and allow to rest for 5-10 minutes before serving/slicing.
Garnish with parsley if desired.
Adapted from http://easyrecipes105.com/parmesan-meatloaf/?fbclid=IwAR2YlxPmJY2n3Ajul_pgXB5xcuqHTA76rcDfd2jlJeYHFmoUJUmNhnHwT5Y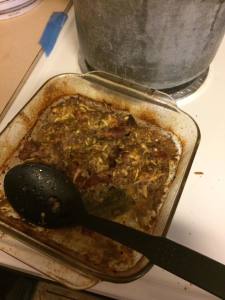 MEAT LOAF
INGREDIENTS
1 1/2 pounds grass fed ground beef NB1
1 egg
1 dash ground black pepper
1 cup multigrain breadcrumbs
1/2 cup milk
1/3 cup no added salt tomato paste
1 onion, chopped
1/2 cup diced green bell pepper
Any available vegetables
INSTRUCTIONS
Preheat oven to 350 degrees F (175 degrees C). Lightly grease a large casserole dish.
In a mixing bowl, combine the ground beef, egg, black pepper and breadcrumbs. Pour in the milk, 3 tablespoons of the tomato paste, onion, green bell pepper and vegetables
Place the mixture into the prepared loaf pan and shape into a loaf. Brush the top with the remaining tomato paste.
Bake in the preheated oven for 1 hour or until done. Allow to stand 5 minutes before slicing.
Nutritional Facts
Servings 6
Calories – 286
Carbohydrates – 9.5g
Total Fat – 17.9g
Protein – 20.9g
Sodium – 805mg
Dietary Fibre – 0.9g
NB1 any grass fed meat can be used, even chicken meat. I prefer to make my own mince as this allows me to control what goes into it e.g. remove any visible fat.
ROLLED BAKED LEAN MEAT
1 Kg. pork tenderloin fat removed (Works with skinned boned chicken, veal or lean game)
3 cloves garlic – crushed
2 tbsp. lemon juice – freshly squeezed
2 tsp. Dijon mustard
1 tsp. olive oil
1/2  tsp. black pepper
2 cups fresh baby spinach – chopped
2 tbsp. sun dried tomatoes – chopped
Ginger and fresh cracked pepper, to taste
Mixed herbs to taste (fresh is best finely chopped)
Basil fresh finely chopped
Combine crushed garlic, lemon juice, mustard, olive oil, and pepper. Mix well.
Cut a lengthwise slit down the centre of the tenderloin to within 1/2- inch of bottom (don't cut all the way through). Open the pork loin so it lies flat. Pound a little with mallet to flatten the edge. On each half – cutting from the centre out – make another lengthwise slit in each direction within 1/2-inch of bottom. Cover with plastic wrap or wax paper and flatten to 1/4-in. thickness with a mallet.
Remove the covering and spread 1/2 of the garlic/Dijon mixture on the inside of the pork. Then layer of spinach, and sun dried tomatoes, cover with herbs.
Roll the pork loin, starting with a long side. Tie the loin at 3 cm intervals with kitchen string.
Season the top of the loin lightly with the remaining garlic/Dijon mixture and a little pepper. Place in a shallow baking pan.
Bake uncovered, at 425 F for 1 hour or until a meat thermometer reads 160. Cover pan with foil and let stand 10 minutes before removing string and slicing.