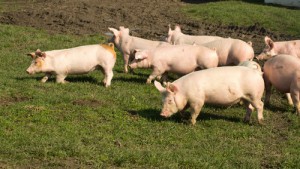 Ingredients:
1 (1/2 Kg) All-Natural Pork Tenderloin fat trimmed
6 Tbsp. Balsamic Vinegar…
2 Tbsp. Extra-Virgin Olive Oil
2 Tsp. Minced Garlic
1 Tbsp. Italian Herb Seasoning
1/2 tsp. Low GI Honey
Ginger, to taste
Pepper, to taste
Directions:
1. Place pork tenderloin in marinating dish. Set aside.
2. Combine vinegar, olive oil, minced garlic, Italian herb seasoning, honey, ginger, and pepper. Whisk until blended.
3. Pour mixture over pork tenderloin. Place the top on the marinating dish and place in refrigerator to marinate. Allow to marinate for a minimum of 3 hours, overnight is better.
4. When ready to cook, preheat oven to 350 degrees.
5. Heat a large stone ware fry pan over high heat. When Hot place tenderloin in pan, searing each side for 2-4 minutes each. Set the frypan dish aside to rest.
6. Place tenderloin in a baking dish with marinade and cook uncovered for 30-35 minutes, or until done.
7. Remove from oven and let rest for 5-10 minutes. Slice and serve.
Makes 4 Servings.
Approximate Nutritional Facts, per 1 serving:
Calories: 196.0, Total Fat: 9.0 g (Saturated: 1.5 g, Polyunsaturated 1.0 g, Monounsaturated 5.0 g), Cholesterol 65.0 mg, Sodium 67.6 mg, Potassium 0.7 mg, Total Carbohydrate 4.1 g (Dietary Fibre: 0.0 g, Sugars 1.1 g), Protein 25.0 g
ITALIAN PORK ROAST
INGREDIENTS
1/2 teaspoon dried oregano
1/2 teaspoon dried basil
1/2 teaspoon onion powder
1/2 teaspoon garlic powder
1/2 teaspoon black pepper
1 (2-pound/ 900 g) boneless center-cut pork loin, well trimmed.
INSTRUCTIONS
Preheat the oven to 180°C (160°C fan)/350°F/gas 4.
Coat a roasting pan with cooking spray.
In a small bowl, combine the oregano, basil, onion powder, garlic powder and pepper. Rub the seasoning mixture into all sides of the pork roast and place in the roasting pan.
Bake for 35 to 40 minutes, or until the juices run clear and the roast is cooked to the desired doneness. Slice and serve.
Notes
To make this a gluten-free recipe, use non-stick cooking spray with no flour added, and seasonings with no added starch from a gluten-containing source.
Nutritional Information
Servings Per Recipe: 6
Amount Per Serving % Daily Value *
Calories 232
Calories from Fat 88
Total Fat 9.8 g 15 %
Saturated Fat 3.4 g 17 %
Trans Fat 0.0 g 0 %
Protein 33 g 66 %
Cholesterol 83 mg 28 %
Sodium 165 mg 7 %
Total Carbohydrates 0.5 g 0 %
Dietary Fiber 0.2 g 1 %
Sugars 0.0 g 0 %
Adapted from Italian Pork Roast | EverydayDiabeticRecipes.com
This and other Mediterranean recipes can be found here.
http://www.findtex.com.au/uncategorised/mediterranean-ii/
And here.
http://www.findtex.com.au/uncategorised/mediterranean/
HERB-RUBBED PORK TENDERLOIN WITH MUSTARD SAUCE
INGREDIENTS
INSTRUCTIONS
Preheat oven to 425° F (220° C). Line baking sheet with foil.
Combine Italian seasoning and pepper in small bowl; mix well. Rub evenly over pork.
Heat 1 tablespoon oil in large fry pan over medium-high heat. Brown pork on all sides, about 10 minutes. Place on prepared baking sheet.
Bake 25 to 30 minutes, or until internal temperature reaches 140°F 60°C. Transfer to cutting board. Tent with foil and let stand 5 minutes. (Internal temperature will continue to rise a few degrees during stand time.)
Meanwhile, heat remaining 1/2 tablespoon oil in same fry pan over medium heat. Add shallot and garlic. Cook and stir 1 minute. Stir in broth, milk, mustard, and salt, if desired; simmer 2 minutes.
Slice pork and serve with mustard sauce. Garnish with oregano.
Nutrition Information: of original
Yield:
6 servings
Serving size:
1/6 of total recipe
Calories: 210 calories, Carbohydrates: 1 g, Protein: 25 g, Fat: 10 g, Saturated Fat: 3 g, Cholesterol: 80 mg, Sodium: 230 mg, Fiber: 0 g
Exchanges per serving: 1 Fat, 3 Meat.
Adapted from Herb-Rubbed Pork Tenderloin With Mustard Sauce – DSM (diabetesselfmanagement.com)
AIR FRIED PORK TENDERLOIN
INGREDIENTS
INSTRUCTIONS
Prep the meat.Dry the pork with a clean paper towel then mix up the dry rub seasoning in a small bowl by combining the garlic powder, Italian seasoning, Chili Powder, onion powder and pepper.
Drizzle the pork tenderloin all over with olive oil then rub the seasoning mixture all around the pork tenderloin on all sides.
Cook the pork tenderloin.Preheat the air fryer to 380 degrees F 380°F/ 190°C. Once the air fryer is ready, spray the air fryer basket with olive oil spray.
Place the seasoned pork tenderloin into the air fryer and cook it for 17-20 minutes. Turn it over halfway through the cooking time. Cook it until cooked through.
Let rest, slice and serve. Once the meat is done, remove it from the air fryer basket and place it onto a rimmed plate or cutting board. Let it rest for at least 10 minutes. Then slice and serve it.
Nutrition
Serves 5
Serving Size: 4 oz/ 113 g
Calories Per Serving: 152
% DAILY VALUE
7% Total Fat 5.3 g
Saturated Fat 1.2 g
25% Cholesterol 73.7 mg
13% Sodium 293.4 mg
0% Total Carbohydrate 1 g
1% Dietary Fiber 0.2 g
Sugars 0.1 g
48% Protein 23.9 g
0% Vitamin A 0.2 µg
0% Vitamin C 0.1 mg
1% Calcium 11.3 mg
7% Iron 1.2 mg
Nutritional information is only an estimate. Any nutritional info on this site is not guaranteed.
Adapted from Easy Juicy Air Fryer Pork Tenderloin – Pinch Me Good
This and other air fried recipes can be found here.
http://www.findtex.com.au/uncategorised/air-fryer-recipes/
ITALIAN STUFFED PORK TENDERLOIN
INGREDIENTS
2 pork tenderloins, trimmed.
3 cloves of garlic, finely chopped.
6 fresh sage leaves, chopped.
1 tsp of fresh rosemary, finely chopped.
1 tsp of ginger
1 tsp of fresh ground black pepper
8 slices of Prosciutto di Parma
1 cup of fresh grated Parmigiano-Reggiano cheese
4 Tbls of extra virgin olive oil
INSTRUCTIONS
Pre-heat the oven to 450°F/ 220 -230°C.
Butterfly the pork tenderloin by sliding a sharp knife lengthwise down the tenderloin without cutting through. Then roll the tenderloin out while cutting to make a flat piece of meat around 1/2 inch 1.25 cm thick.
Pound the meat slightly with a meat mallet.
Place the prosciutto on top of the meat.
Sprinkle the cheese evenly over the top of the prosciutto.
Roll the meat up and tie with butcher's twine.
In a small bowl mix together the garlic, sage, rosemary, ginger and pepper.
Rub the spice mixture on all sides of the tenderloin.
In a large fry pan, fry the tenderloin in the olive oil until browned on all sides.
Transfer the tenderloin to a shallow roasting pan and roast for 15 to 20 minutes.
Adapted from https://www.mangiamagna.com/italian-stuffed-pork-tenderloin-rosa-di-parma/?fbclid=IwAR0NkFClWtNVfLNq2SlDfdtHviPUdRky68t3oAKaEKjOA62UHmBypNz9jOM
PORK TENDERLOIN
INGREDIENTS
5 lbs/ 680 g pork tenderloin
4 tablespoons olive oil divided
1 teaspoon ginger
½ teaspoon pepper
1 teaspoon Italian herbs
6 cloves garlic
1 medium onion
1 head broccoli
INSTRUCTIONS
Preheat oven to 400° F (204° C). Using a fork poke holes all over the pork tenderloin and stuff them with minced garlic. Then season the outside of the tenderloin with 1 tablespoon oil, ginger, pepper, and herbs.
Heat 1 tablespoon oil over medium-high heat on the stovetop and brown the tenderloin on all sides, about 6 minutes total.
Add in the broccoli and onions and drizzle with 2 tablespoons of oil.
Bake for 15-20, until the pork has reached an internal temperature of 150℉/66° C
Allow the tenderloin to rest after taking it out of the oven for 10 minutes before slicing and serving.
Nutrition Facts
Amount Per Serving
Calories 378 Calories from Fat 180
% Daily Value*
Fat 20 g 31%
Saturated Fat 4 g 25%
Cholesterol 111 mg 37%
Sodium 702 mg 31%
Potassium 1014 mg 29%
Carbohydrates 11 g 4%
Fiber 3 g 13%
Sugar 3 g 3%
Protein 38 g 76%
Vitamin A 567 IU 11%
Vitamin C 85 mg 103%
Calcium 75 mg 8%
Iron 3 mg 17%
Adapted from https://www.castironketo.net/blog/keto-pork-tenderloin-skillet-dinner/?fbclid=IwAR271_XrSty3fRZcI8W39nhCnr3WXEu_v_d7k0iZNnR4tY-xk2oYcxT7a4A
PORK WITH CUCUMBER PICO DE GALLO
INGREDIENTS
1/2 of a medium unpeeled cucumber, seeded* and finely chopped (4 ounces / 113 g total)
2 medium tomatillos, papery skin removed, rinsed and chopped
2 tablespoons chopped cilantro leaves
1/8 teaspoon red pepper flakes
1-2 tablespoons lime juice
1/4 teaspoon coarsely ground black pepper
4 boneless center cut pork cutlets, trimmed of fat (about 1 / 450 g pound)
Nonstick olive oil cooking spray
INSTRUCTIONS
Combine cucumber, tomatillos, cilantro, red pepper flakes and lime juice in a mixing bowl. Toss gently to blend. Set aside.
Coat pork chops evenly with the black pepper.
Place a 12-inch / 30 cm nonstick fry pan over medium high heat until hot. Coat fry pan with olive oil cooking spray. Add pork and immediately reduce heat to medium. Cook 5 minutes. Turn and cook 4 to 5 minutes longer, or until barely pink in center.
Serve with cucumber mixture.
*Note: To seed a cucumber easily, split cucumber in half lengthwise. Run the tip of a teaspoon down the center to remove seeds. This prevents the dish from being too watery and diluting the flavours.
Nutrition Information:
Calories: 231 calories, Carbohydrates: 2 g, Protein: 23 g, Fat: 13 g, Saturated Fat: 5 g, Cholesterol: 75 mg, Sodium: 201 mg, Fiber: 1 g
Exchanges per serving: 1 Fat, 1 Vegetable, 3 Meat.
Adapted from Pork With Cucumber Pico De Gallo – Diabetes Self-Management (diabetesselfmanagement.com)
GRILLED PORK CHOP
INGREDIENTS
2 tablespoons balsamic vinegar
2 tablespoons reduced-sodium soy sauce
1 teaspoon Dijon mustard
1/8 teaspoon red pepper flakes
2 boneless pork chops, trimmed of fat (8 ounces/ 142 g total)
INSTRUCTIONS
Combine vinegar, soy sauce, mustard and red pepper flakes in small bowl. Stir until well blended. Reserve 1 tablespoon marinade; refrigerate until needed.
Place pork in large resealable food storage bag. Pour remaining over pork. Seal bag; turn to coat. Refrigerate 2 hours or up to 24 hours.
Spray fry pan with non-stick olive oil spray; heat over medium-high heat. Remove pork from marinade, discard marinade. Cook pork 4 minutes on each side or until just slightly pink in centre. Place on plates; top with reserved 1 tablespoon marinade.
Nutrition Information: of original
Calories: 196 calories, Carbohydrates: 8 g, Protein: 26 g, Fat: 5 g, Saturated Fat: 2 g, Cholesterol: 63 mg, Sodium: 653 mg, Fiber: 1 g
Exchanges per serving: 1 1/2 Bread/Starch, 3 Meat.
Adapted from https://www.diabetesselfmanagement.com/recipes/main-dishes/balsamic-grilled-pork-chops/?fbclid=IwAR0JxT-3xqPJMH1y4FmZBe5CxbSaZGFTgtsWJp3dVUoQNXDb-YLwSXDU97w
SPICY PORK TENDERLOINS WITH CHILI AND BLACK VINEGAR
INGREDIENTS
soy sauce (reduced-sodium) 1/8 cup
sesame oil (1 tbsp)
Chinese black vinegar or rice vinegar 2 tbsp (NB 1)
fresh chili pepper, such as serrano, jalapeño, or Thai bird peppers (seeded and minced) 1
garlic (minced) 2 clove
ginger root (minced) 1 tbsp
pork tenderloin (trimmed of fat) 907 g
INSTRUCTIONS
Combine soy sauce, sesame oil, vinegar, pepper, garlic, and ginger root in a medium bowl and put into a large, tightly sealed plastic bag. Marinate the pork tenderloins at least 15 minutes at room temperature or overnight in the refrigerator for best results.
Preheat grill to medium-high heat and place on grill grate. Cook over direct heat for 15–18 minutes, turning occasionally until cooked through and crusted on the outside.
Nutrition in original
Adapted from https://www.diabetesfoodhub.org/recipes/spicy-pork-tenderloins-with-chili-and-black-vinegar.html?fbclid=IwAR2L8JJfTj1h3VuTtFcG4hxLCoFDFF5_s0MnYYS0CSMZY0SPvTRnplFxcAA
NB1 What is Chinese black vinegar?
Chinese black vinegar is a dark complex, mild vinegar made of glutinous rice and malt somewhat similar to a balsamic used in Chinese stir-frys, braises, and sauces. Black vinegar is from the Chinkiang Province of China. This is a traditional ingredient in sharks fin soup.
Sweetened Black Vinegar
There are two types of Chinese black vinegar sold.  One will be labelled "Black Vinegar" and the other is "Sweetened Black Vinegar".  Sweetened black vinegar is very different and has added sugar and flavourings, usually including ginger. This ingredient is used primarily for braised pork dishes.  Do not use the sweetened vinegar to replace regular black vinegar.
https://www.gourmetsleuth.com/ingredients/detail/chinese-black-vinegar
PORK SOUVLAKI (KABABS) WITH TZATZIKI SAUCE
INGREDIENTS
For the pork souvlaki
800 g pork tenderloin or pork neck (boneless), cut in 2cm chunks (28 ounces)
100 ml good-quality olive oil (1/3 of a cup and 1 tbsp)
juice of 1/2 lemon
1 tbsp vinegar
1 tbsp dried oregano
ginger and freshly ground pepper
8 wooden skewers
For the tzatziki sauce
1 cucumber
2 cloves of garlic
1/4 of a cup olive oil
500 g of yogurt (18 ounces)
1–2 tbsps of red wine vinegar
1–2 tbsps chopped dill (optional)
ginger and freshly ground pepper to taste
To serve
8 pita breads optional.
2 red onions, sliced
1 tomato sliced
INSTRUCTIONS
To prepare the pork souvlaki (kababs), cut the pork into 2 cm pieces and place them in a large bowl, along with all the marinade ingredients. Use your hands to mix really well, cover with plastic wrap and put in the fridge for 20 minutes.
In the meantime, prepare the tzatziki sauce for the pork souvlaki. Pour into a food processor the olive oil and 2 cloves of garlic; blend until the garlic is diluted (don't leave any large pieces of garlic). Into a large bowl, grate the cucumber, season with ginger and pepper and leave it aside for 10 minutes. Wrap the grated cucumber into a towel and squeeze, to get rid of most of the water. Add the cucumber to the bowl, the blended garlic and oil, the yogurt, 1-2 tbsps of chopped dill, 1-2 of red wine vinegar, ginger and pepper and mix. Tore in the fridge and serve cold.
Cut the wooden skewers to fit your grill pan and soak them in water for 10 minutes. (This will prevent them from burning.) Thread the pieces of pork, comfortably, on the skewers.
Preheat a grill to a high heat. Cook the pork skewers for about 10 minutes, turning occasionally, until nicely coloured and cooked through.
While your pork is cooking, prepare the pita breads, if using. Preheat the oven to 250 C. Use a cooking brush to oil the pita breads on both sides and season with ginger and oregano. Place a large oven tray (upside down) at the bottom of the oven and place the pita breads on top of the tray. Bake for 1-2 minutes.
To serve the pork souvlaki (kababs), slice 2 red onions and place on a platter, top with the pork kababs, drizzle with some extra virgin olive oil and a good squeeze of lemon juice. Serve while still warm with some pita breads and tzatziki sauce or wrap them up like a sandwich, adding some tzatziki, sliced onions and tomatoes. Enjoy!
Adapted from https://www.mygreekdish.com/recipe/pork-souvlaki-skewers-with-tzatziki/?fbclid=IwAR2ezJgmyjjdrSwX0MK_3EzEXGqGFUMs4aYkhONNNa1hA387IkDOEMV1EbI
http://www.findtex.com.au/uncategorised/mediterranean/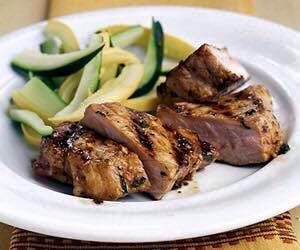 ADOBO PORK CHOPS
INGREDIENTS
6 boneless pork loin chops, cut 3/4 inch/ 2 cm thick (1 1/2 to 1 3/4 pounds/ 680 g total)
2 tablespoons olive oil
2 tablespoons orange juice
2 tablespoons snipped fresh cilantro
1 tablespoon red wine vinegar or cider vinegar
2 teaspoons hot chili powder
1 teaspoon ground cumin
1 teaspoon dried oregano, crushed
1/2 teaspoon ginger
1/4 teaspoon ground red pepper (optional)
1/4 teaspoon ground cinnamon
3 cloves garlic, minced
INSTRUCTIONS
Trim fat from chops. Place chops in a plastic bag set in a shallow dish. For marinade, in a small bowl combine oil, orange juice, cilantro, vinegar, chili powder, cumin, oregano, ginger, red pepper (if desired), cinnamon, and garlic. Pour over chops, seal bag. Marinate in the refrigerator for 2 hours to 24 hours, turning occasionally.
Drain chops, discarding marinade. For a charcoal grill, grill chops on the rack of an uncovered grill directly over medium coals for 12 to 15 minutes or until chops are done, turning once halfway through grilling. (For a gas grill, preheat grill. Reduce heat to medium. Place chops on grill rack over heat, cover and grill as above.)
Servings Per Recipe: 6
PER SERVING of original: 189 cal., 7 g total fat (2 g sat. fat), 71 mg chol., 171 mg sodium, 3 g carb. 25 g protein.
MEDITERRANEAN BONELESS PORK CHOPS WITH JULIENNED VEGETABLES
INGREDIENTS
8 thin sliced center cut boneless pork chops
1 small zucchini, ends trimmed off
1 small yellow squash, ends trimmed off
1 cup halved grape tomatoes
1 tablespoon extra-virgin olive oil
¼ tsp ginger and fresh cracked pepper
¼ teaspoon oregano
3 garlic cloves, sliced thin
Olive oil cooking spray
1/4 cup of pitted and sliced Kalamata olives
1/4 cup of crumbled Feta cheese
fresh juice from 1/2 large lemon
1 tsp grated Lemon rind
INSTRUCTIONS
Preheat oven to 450°F /230°C degrees.
To Julienne the Zucchini and Yellow Squash: Use a mandolin fitted with a julienne blade or slice the zucchini into thin slices. Cut the slices lengthwise into strips. (Or you can use a spiralizer)
Toss the tomatoes with 1/2 tbsp of the olive oil, 1/8 tsp ginger, pepper, and oregano.  Place tomatoes cut side up, on a baking sheet lightly sprayed with cooking spray; roast for 10 minutes.
Add sliced garlic and roast for another 5 minutes (this will prevent the garlic from burning).
Transfer to a large work bowl and set aside.
Reduce oven to 200°F/100°C.
Heat a large non-stick fry pan over medium-high heat, add remaining 1/2 tablespoon of olive oil and zucchini with 1/8 tsp ginger and sauté until tender, about 5 minutes.
Add to bowl with tomatoes and place in the warm oven.
Working in two batches, spray the fry pan with cooking spray and cook half of the pork chops on medium-high heat for about 1 1/2 to 2 minutes on each side.  The pork chops are thin so you don't want to over cook them, or they will be tough.  Set aside on a platter.
Remove the vegetables from the oven toss with Kalamata olives, juice of lemon and lemon rind.
Serve the vegetables over the pork chops and top with Feta cheese.
Nutrition Information or original
Yield: 4 Servings, Serving Size: 2 chops, 3/4c veggies
Amount Per Serving:
Freestyle Points: 6
Points +: 6
Calories: 230 calories
Total Fat: 9g
Saturated Fat: g
Cholesterol: 72mg
Sodium: 502mg
Carbohydrates: 9g
Fiber: 2g
Sugar: 2g
Protein: 28g
Adapted from https://www.skinnytaste.com/mediterranean-boneless-pork-chops/#eXpO9E2vD7AdCPBG.99
PORK TENDERLOIN WITH MUSHROOMS AND ONIONS
INGREDIENTS
2 tablespoons olive oil
1 (1-lb/450 g.) pork tenderloin, trimmed (any lean meat can be used)
1 teaspoon ginger, divided
3/4 teaspoon black pepper, divided
12 ounces/340 g sliced shiitake mushroom caps
3 cups pearl onions
2 tablespoons chopped fresh thyme
INSTRUCTIONS
Heat oil in a large high-sided stoneware fry pan over medium. Sprinkle pork with 1/2 teaspoon ginger and 1/2 teaspoon pepper. Add pork to pan; cook, turning occasionally, until browned on all sides, about 15 minutes. Remove pork from pan; keep warm.
Add mushrooms, onions, thyme, remaining 1/2 teaspoon ginger, and remaining 1/4 teaspoon pepper to pan; cook, stirring and scraping pan to loosen browned bits from bottom of pan, until vegetables are soft, about 7 minutes. Cut pork crosswise into thin slices; serve with mushrooms and onions
Nutritional Information
Calories 243
Fat 9.8g
Satfat 1.4g
Monofat 5.3g
Polyfat 2.5g
Protein 27g
Carbohydrate 12g
Fiber 2g
Cholesterol 74mg
Iron 2mg
Sodium 560mg
Calcium 25mg
Sugars 6g
Est. added sugars 0g
Adapted from https://www.cookinglight.com/recipes/pork-tenderloin-mushrooms-onions?fbclid=IwAR1RG6wnV56kQutDxWjxozskESrqKNM5vfBInTHaN3IWDjXm-GLQ5C4HhGk
PORK CHOPS IN CREAMY IRISH WHISKEY
INGREDIENTS
Pork Chops:
1lb/450 g.boneless pork chops(4 pieces)
3tablespoons olive oil(divided)
1 teaspoon garlic powder
1 teaspoon 

Italian seasoning

NB1
ginger and pepper (to taste)
8mushrooms(sliced)
Creamy Whiskey Sauce:
1tbspflour
1/3cupIrish whiskey
2/3cup beef broth or water
1/2cupheavy cream
1 teaspoon Italian seasoning NB1
INSTRUCTIONS
Seasoning Pork Chops: Season generously with ginger, pepper, garlic powder and Italian seasoning to prepare them for searing.
Cooking Pork Chops: Heat 1 tablespoons olive oil in a large stoneware fry pan over medium-high heat.
Once hot, add seasoned pork chops from Step 1 and sear them by cooking for 4-5 minutes per side for a total of 8-10 minutes. Remove pork from heat and transfer to a plate. If the pork chops are thick, they may take longer to cook through.
Cooking Mushrooms: Return fry pan to the heat, add 1 tablespoon olive oil, wait until it melts and then add mushrooms. Cook them for 5-6 minutes on medium heat. Remove them from the fry pan and transfer to a plate.
Creamy Irish Whiskey Sauce: Add 3rd tablespoon olive oil to the fry pan, wait until hot and next add flour. Cook for about 1 minute on medium heat until well incorporated into the oil mixture. Next start pouring in whiskey while still on medium heat – about 1 minute. Next add beef broth/water and heavy cream, followed by Italian seasoning. Add ginger to taste and taste it to make sure it's to your liking. Simmer the sauce for 2-3 minutes only.
Final Assembly: Return pork chops to the pan with sauce. Add mushrooms, spreading some of them on top of the pork chops. Spoon some of the sauce on top of the pork and mushrooms. If the pork chops are not too thick, heat them up with a lid on, to keep the heat in, on the stove top to make sure they are warm and done.
Any in season vegetables can be added.
Nutrition of original
Calories: 433kcal | Carbohydrates: 6g | Protein: 27g | Fat: 27g | Saturated Fat: 15g | Cholesterol: 139mg | Sodium: 334mg | Potassium: 690mg | Fibre: 1g | Sugar: 1g | Vitamin A: 14% | Vitamin C: 2.1% | Calcium: 5% | Iron: 8.9%
NB1
Recipe for Italian seasoning can be found recipe here http://www.findtex.com.au/uncategorised/spice-mix-sugar-salt-and-fat-free/?fbclid=IwAR1ZB8nSk9-myitQibjJ-ug6N3Z1Tvj5GbBHGzcrQ3PXrsqcyd4tidWh0xA
Adapted from https://whatsinthepan.com/boneless-pork-chops-in-creamy-irish-whiskey-sauce/?fbclid=IwAR1m_nisN5CqkKYW5Mj_0b9dG7qLPnvwC_FSRWoHkSaEThJ7m7-gpTgWMuk
LOW-CARB, LOW-FAT PORK
IINGREDIENTS
2 lb/ 1 Kg. boneless pork loin roast, any visible fat removed.
1 tsp. cumin 1 tsp. onion powder
1 tsp. ginger
3/4 tsp. red pepper flakes
1/2 cup water
1 cup diced capsaicin divided
1 clove minced garlic
INSTRUCTIONS
Mix cumin, onion powder, ginger and red pepper flakes. Rub the mixture on the pork roast and place it in a crockpot.
In the bottom of the crock pot, water, 1/2 of the red capsaicin and the minced garlic. Cook on high heat for 3-4 hours.
Shred the pork. Add in the other half of the capsaicin
Turn the crockpot to low and cook another 4 hours or until ready to serve.
Adapted from  https://diathrive.com/blog/post/low-carb-sweet-pork?fbclid=IwAR1RU_vm1ltcKIL502Ub4iLPJaGwHsPTvSNEoJ6VIWaJCrZtB3f9Lgr4cNI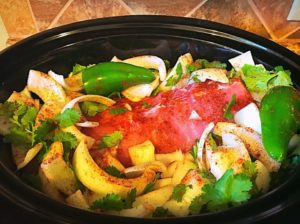 SLOW COOKED PORK
INGREDIENTS
• 1.5 kg pork shoulder any visible fay removed (Any lean meat can be used.)
• Chopped onions
• Chopped Jalapeños
• Garlic
• Mexican Chili Powder
• Ginger
• Pepper
• Lime Juice
• Orange zest
• Cilantro
INTRUCTIONS
Place all ingredients in a slow cooker.
Cook for 4 hours on high or 8 hours on low
CINNAMON AND APPLE PORK LOIN
INGREDIENTS
2 pounds pork loin remove any visible fat
1/2 teaspoon black pepper, divided
1 tablespoon olive oil
1 large sweet potato, and carrot ½ per person peeled and diced
1 apple, peeled and diced
1 onion, diced
2 teaspoons ground cinnamon
1/2 cup water
INSTRUCTIONS
Sprinkle pork loin with 1/4 teaspoon black pepper. In a large fry pan over medium-high heat, heat oil. Sear pork 2 to 3 minutes per side until browned.
Place sweet potato, carrots, apple, and onion in bottom of slow cooker. Sprinkle with cinnamon, remaining 1/4 tsp black pepper,
Place pork on top of vegetables. Pour water over pork and vegetables. Cover and cook on LOW 4 to 5 hours or HIGH 2 to 2-1/2 hours or until meat registers 165 degrees F. Serve with steamed green vegetables or a salad.
Nutritional Information
Servings Per Recipe: 7
Amount Per Serving% Daily Value *
Calories 265
Calories from Fat 94
Total Fat 10g 16 %
Saturated Fat 3.1g 15 %
Trans Fat 0.0g 0 %
Protein 29g 58 %
Amount Per Serving% Daily Value *
Cholesterol 71mg 24 %
Sodium 236mg 10 %
Total Carbohydrates 13g 4 %
Dietary Fiber 1.5g 6 %
Sugars 7.5g 0 %
Adapted from https://www.everydaydiabeticrecipes.com/Pork/Pork-Loin-Pork-Chops-Pulled-Pork-Healthy-Pork-Recipes
PORK MEDALLIONS WITH CHARGRILLED SWEET POTATO SALAD
INGREDIENTS
3/4 cup freshly squeezed orange juice
1 1/2 tbs. balsamic vinegar
1 tbs. wholegrain mustard
500 g pork loin medallions, fat trimmed (any lean meat can be used.)
olive oil spray
500 g sweet potatoes
150 g mixed salad or baby spinach leaves
1 red capsicum, seeded and sliced into strips
1/2 red onion, thinly sliced
250 g punnet cherry tomatoes, halved
420 g can no-added-salt cannelini or butter beans, drained (dried if possible soaked overnight, rinsed and drained)
INSTRUCTIONS
Combine orange juice, vinegar and mustard together in a cup. Pour half the mixture into a non-metal dish, add pork and turn to coat with the marinade.  Cover, refrigerate and marinate for as long as time permits, anywhere between 30 minutes to over night.
Steam the sweet potatoes until almost soft. Allow to cool slightly then cut each in half.
Spray a barbecue, char-grill or griddle with olive oil and heat to medium-high heat.  Cook sweet potatoes on grill for 4-5 minutes each side until lightly charred, set aside.
Drain pork well and discard marinade.  Grill pork for 5-7 minutes each side or until cooked to your liking.  Remove from heat, cover and set aside to rest for 5 minutes.
Place salad leaves, capsicum, onion, tomatoes, beans and potatoes in a large bowl. Pour over remaining orange dressing and toss to combine.
Divide salad among serving plates, add pork and serve immediately.
Adapted from http://diabetesnsw.com.au/recipe/pork-medallions-with-chargrilled-potato-salad/
NB Glycemic Index of Sweet Potato
The way you prepare sweet potatoes makes a difference in their GI. The GI of a 150-g sweet potato, boiled with its skin for 30 minutes, is 46. That number rises to 94 if the same sweet potato is baked for 45 minutes. These dramatic differences come from the way the starches in sweet potatoes gelatinize during cooking. Foods that turn viscous, or jelly-like, in your digestive tract have a lower GI because the gelatinous substance slows the release of the nutrients in the food. Baking your sweet potatoes instead of boiling them changes the quality of their starches and transforms this root vegetable from a moderate-GI food to a high GI-food.
http://www.livestrong.com/article/295025-the-glycemic-index-for-sweet-potatoes/
Pork & Plum Cous Cous
Preparation time: 10 minutes minutes
Cooking time: 15 minutes minutes
Serves 6
Ingredients
1 tbsp olive oil (or use a olive oil spray)
200g lean pork fillet, thinly sliced
3 celery sticks, thinly sliced on the diagonal
4 cups Salt Reduced Beef Stock (I prefer just water)
3 cups cous cous (basmati rice can be used here NB 1)
1 tsp dried sage or oregano leaves
½ cup pitted prunes, roughly chopped
200g baby beans, cut into bite size pieces
200g baby spinach leaves
Method
Heat oil in a large saucepan and cook pork until well browned. Stir in celery and cook for 2 minutes.
Add stock and bring to the boil. Stir in cous cous, sage, prunes, beans and spinach.
Remove from heat and stand 5 minutes. Toss with a fork and serve.
Serve with a side salad. Add a dollop of low fat natural yoghurt if desired.
NB 1. Basmati can be improved if soaked overnight . Cook for 5 minutes, stir only with a metal fork and cook for a further 5 minutes.
Pork and String Beans
Ingredients
½ kg string beans , cut in 2 inch length
Other vegetables at hand, carrots, sweet potato etc.
250g lean pork, thinly sliced (Any lean meat works well)
⅓ cup vinegar
1 medium-sized onion, thinly sliced lengthwise
4 to 6 cloves garlic, crushed
½ teaspoon ground black pepper
1 cup water
1 tbs olive oil
Instructions
Heat a frying pan or wok then sear the pork with the olive oil
When oil and juice comes out of the pork, add garlic and onions then cook for 2 minutes.
Pour-in the vinegar, and water then bring to a boil.
Shake-in the ground black pepper and stir.
Cover and simmer for 15 minutes or until the pork is tender.
Add the string beans, other vegetables and cook for 3 to 5 minutes.
Turn off the heat and transfer to a serving bowl.
Serve hot with steamed rice.
Share and enjoy!
 Catherine's Mexican Slow Cooker Pulled Pork
This recipe should be prepared 24 hours in advance for marinading and then needs around 8 hours cooking time in the slow cooker.
Ingredients
Dry rub
2 tbsp sweet paprika
2 tbsp chipotle powder / OR. smoked paprika
2 teaspoons ground cumin
2 teaspoon dried oregano flakes
2 teaspoon onion powder
2 teaspoon garlic powder
1/8 teaspoon cinnamon
1/8 teaspoon cayenne pepper
1/2 tbsp ginger
Roast
1.5kg roasting pork leg, Skin and fat removed (ask your butcher to do this). Any lean meat can be used
2 Tbsp olive oil
Slow Cooker Method
Add dry rub ingredients to mixer bowl, mill for 10 sec/speed 8. Pour in to your slow cooker bowl remove and place in the fridge.
Pat dry your pork with a paper towel.
Put your pork in the slow cooker bowl and cover liberally with the dry spice rub. Don't throw away any excess just keep it in the bottom of the bowl.
Refrigerate covered over night or at least 1 hour.
Heat oil up in a large frying pan to medium heat. Take roast out of bowl, leaving excess dry spice rub behind. Brown all sides of the roast.
Return roast to the slow cooker bowl with enough water to cover the bottom of the bowl; cook on low for 8 hours.
Once roast is tender, remove from slow cooker and chop roughly. Return to slow cooker bowl with retained juices and shred with two forks, mix well and serve.
This can also be cooked in an oven at 150°C fan forced bake for 6 hours or until tender.
Serve with steamed greens and Basmati rice.
JERK PORK CHOPS WITH BLACK BEAN SALAD
Jerking refers to the traditional Jamaican method of spicing and cooking meat over a fire. This fiery marinade benefits from the unique flavour of allspice, which is a key ingredient in Jerk Seasoning, amongst the heat. Prep: 20 mins • Cook: 15 mins • Serves: 4.
INGREDIENTS
4 pork chops (about 140g/5oz) each), bone in Skin removed
Marinade
1 brown onion, roughly chopped
2 cloves garlic, roughly chopped
2 tbsp jerk seasoning
2 tbsp (30 ml) dark rum
1 tbsp (30 ml) lime juice
1 tsp ginger
Salad
250g (9oz) rainbow cherry tomatoes, quartered
400g (14oz) can black beans, drained and rinsed (Or dried soaked overnight)
4 spring (green) onions, finely sliced
¼ cup coriander leaves, roughly chopped
2 tbsp (30ml) lime juice
2 tbsp (30ml) olive oil
INSTRUCTIONS
For marinade, blitz ingredients together in a small blender to make a paste then cover pork generously. Marinade for 2–24 hours in the fridge.
Combine salad ingredients and season to taste.
To cook pork, heat a barbecue or grill to medium-high and cook chops for 5–6 minutes per side, until outside is blackened and pork is just cooked through.
Per serve
Energy: 1855kJ/445 cals; protein: 40g; fat: 14g; saturated fat: 3.5 g (saturated : unsaturated fat ratio 0.33); available carbohydrate: 27.5g; fibre: 15g; 725mg sodium; 1380mg potassium (sodium : potassium ratio 0.53).
http://www.gisymbol.com/in-the-gi-news-kitchen-this-month-nov-2016/