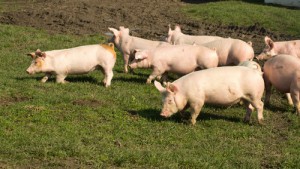 Ingredients:
1 (1/2 Kg) All-Natural Pork Tenderloin fat trimmed
6 Tbsp. Balsamic Vinegar…
2 Tbsp. Extra-Virgin Olive Oil
2 Tsp. Minced Garlic
1 Tbsp. Italian Herb Seasoning
1/2 tsp. Low GI Honey
Ginger, to taste
Pepper, to taste
Directions:
1. Place pork tenderloin in marinating dish. Set aside.
2. Combine vinegar, olive oil, minced garlic, Italian herb seasoning, honey, ginger, and pepper. Whisk until blended.
3. Pour mixture over pork tenderloin. Place the top on the marinating dish and place in refrigerator to marinate. Allow to marinate for a minimum of 3 hours, overnight is better.
4. When ready to cook, preheat oven to 350 degrees.
5. Heat a large stone ware fry pan over high heat. When Hot place tenderloin in pan, searing each side for 2-4 minutes each. Set the frypan dish aside to rest.
6. Place tenderloin in a baking dish with marinade and cook uncovered for 30-35 minutes, or until done.
7. Remove from oven and let rest for 5-10 minutes. Slice and serve.
Makes 4 Servings.
Approximate Nutritional Facts, per 1 serving:
Calories: 196.0, Total Fat: 9.0g (Saturated: 1.5g, Polyunsaturated 1.0g, Monounsaturated 5.0g), Cholesterol 65.0mg, Sodium 67.6mg, Potassium 0.7mg, Total Carbohydrate 4.1g (Dietary Fibre: 0.0g, Sugars 1.1g), Protein 25.0g
PORK CHOPS IN CREAMY IRISH WHISKEY
INGREDIENTS
Pork Chops:
1lb/450 g.boneless pork chops(4 pieces)
3tablespoons olive oil(divided)
1 teaspoon garlic powder
1 teaspoon 

Italian seasoning

NB1
ginger and pepper (to taste)
8mushrooms(sliced)
Creamy Whiskey Sauce:
1tbspflour
1/3cupIrish whiskey
2/3cup beef broth or water
1/2cupheavy cream
1 teaspoon Italian seasoning NB1
INSTRUCTIONS
Seasoning Pork Chops: Season generously with ginger, pepper, garlic powder and Italian seasoning to prepare them for searing.
Cooking Pork Chops: Heat 1 tablespoons olive oil in a large stoneware fry pan over medium-high heat.
Once hot, add seasoned pork chops from Step 1 and sear them by cooking for 4-5 minutes per side for a total of 8-10 minutes. Remove pork from heat and transfer to a plate. If the pork chops are thick, they may take longer to cook through.
Cooking Mushrooms: Return fry pan to the heat, add 1 tablespoon olive oil, wait until it melts and then add mushrooms. Cook them for 5-6 minutes on medium heat. Remove them from the fry pan and transfer to a plate.
Creamy Irish Whiskey Sauce: Add 3rd tablespoon olive oil to the fry pan, wait until hot and next add flour. Cook for about 1 minute on medium heat until well incorporated into the oil mixture. Next start pouring in whiskey while still on medium heat – about 1 minute. Next add beef broth/water and heavy cream, followed by Italian seasoning. Add ginger to taste and taste it to make sure it's to your liking. Simmer the sauce for 2-3 minutes only.
Final Assembly: Return pork chops to the pan with sauce. Add mushrooms, spreading some of them on top of the pork chops. Spoon some of the sauce on top of the pork and mushrooms. If the pork chops are not too thick, heat them up with a lid on, to keep the heat in, on the stove top to make sure they are warm and done.
Any in season vegetables can be added.
Nutrition of original
Calories: 433kcal | Carbohydrates: 6g | Protein: 27g | Fat: 27g | Saturated Fat: 15g | Cholesterol: 139mg | Sodium: 334mg | Potassium: 690mg | Fibre: 1g | Sugar: 1g | Vitamin A: 14% | Vitamin C: 2.1% | Calcium: 5% | Iron: 8.9%
NB1
Recipe for Italian seasoning can be found recipe here http://www.findtex.com.au/uncategorised/spice-mix-sugar-salt-and-fat-free/?fbclid=IwAR1ZB8nSk9-myitQibjJ-ug6N3Z1Tvj5GbBHGzcrQ3PXrsqcyd4tidWh0xA
Adapted from https://whatsinthepan.com/boneless-pork-chops-in-creamy-irish-whiskey-sauce/?fbclid=IwAR1m_nisN5CqkKYW5Mj_0b9dG7qLPnvwC_FSRWoHkSaEThJ7m7-gpTgWMuk
LOW-CARB, LOW-FAT PORK
IINGREDIENTS
2 lb/ 1 Kg. boneless pork loin roast, any visible fat removed.
1 tsp. cumin 1 tsp. onion powder
1 tsp. ginger
3/4 tsp. red pepper flakes
1/2 cup water
1 cup diced capsaicin divided
1 clove minced garlic
INSTRUCTIONS
Mix cumin, onion powder, ginger and red pepper flakes. Rub the mixture on the pork roast and place it in a crockpot.
In the bottom of the crock pot, water, 1/2 of the red capsaicin and the minced garlic. Cook on high heat for 3-4 hours.
Shred the pork. Add in the other half of the capsaicin
Turn the crockpot to low and cook another 4 hours or until ready to serve.
Adapted from  https://diathrive.com/blog/post/low-carb-sweet-pork?fbclid=IwAR1RU_vm1ltcKIL502Ub4iLPJaGwHsPTvSNEoJ6VIWaJCrZtB3f9Lgr4cNI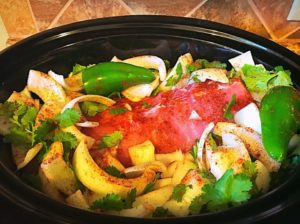 SLOW COOKED PORK
INGREDIENTS
• 1.5 kg pork shoulder any visible fay removed (Any lean meat can be used.)
• Chopped onions
• Chopped Jalapeños
• Garlic
• Mexican Chili Powder
• Ginger
• Pepper
• Lime Juice
• Orange zest
• Cilantro
INTRUCTIONS
Place all ingredients in a slow cooker.
Cook for 4 hours on high or 8 hours on low
CINNAMON AND APPLE PORK LOIN
INGREDIENTS
2 pounds pork loin remove any visible fat
1/2 teaspoon black pepper, divided
1 tablespoon olive oil
1 large sweet potato, and carrot ½ per person peeled and diced
1 apple, peeled and diced
1 onion, diced
2 teaspoons ground cinnamon
1/2 cup water
INSTRUCTIONS
Sprinkle pork loin with 1/4 teaspoon black pepper. In a large fry pan over medium-high heat, heat oil. Sear pork 2 to 3 minutes per side until browned.
Place sweet potato, carrots, apple, and onion in bottom of slow cooker. Sprinkle with cinnamon, remaining 1/4 tsp black pepper,
Place pork on top of vegetables. Pour water over pork and vegetables. Cover and cook on LOW 4 to 5 hours or HIGH 2 to 2-1/2 hours or until meat registers 165 degrees F. Serve with steamed green vegetables or a salad.
Nutritional Information
Servings Per Recipe: 7
Amount Per Serving% Daily Value *
Calories 265
Calories from Fat 94
Total Fat 10g 16 %
Saturated Fat 3.1g 15 %
Trans Fat 0.0g 0 %
Protein 29g 58 %
Amount Per Serving% Daily Value *
Cholesterol 71mg 24 %
Sodium 236mg 10 %
Total Carbohydrates 13g 4 %
Dietary Fiber 1.5g 6 %
Sugars 7.5g 0 %
Adapted from https://www.everydaydiabeticrecipes.com/Pork/Pork-Loin-Pork-Chops-Pulled-Pork-Healthy-Pork-Recipes
PORK MEDALLIONS WITH CHARGRILLED SWEET POTATO SALAD
INGREDIENTS
3/4 cup freshly squeezed orange juice
1 1/2 tbs. balsamic vinegar
1 tbs. wholegrain mustard
500 g pork loin medallions, fat trimmed (any lean meat can be used.)
olive oil spray
500 g sweet potatoes
150 g mixed salad or baby spinach leaves
1 red capsicum, seeded and sliced into strips
1/2 red onion, thinly sliced
250 g punnet cherry tomatoes, halved
420 g can no-added-salt cannelini or butter beans, drained (dried if possible soaked overnight, rinsed and drained)
INSTRUCTIONS
Combine orange juice, vinegar and mustard together in a cup. Pour half the mixture into a non-metal dish, add pork and turn to coat with the marinade.  Cover, refrigerate and marinate for as long as time permits, anywhere between 30 minutes to over night.
Steam the sweet potatoes until almost soft. Allow to cool slightly then cut each in half.
Spray a barbecue, char-grill or griddle with olive oil and heat to medium-high heat.  Cook sweet potatoes on grill for 4-5 minutes each side until lightly charred, set aside.
Drain pork well and discard marinade.  Grill pork for 5-7 minutes each side or until cooked to your liking.  Remove from heat, cover and set aside to rest for 5 minutes.
Place salad leaves, capsicum, onion, tomatoes, beans and potatoes in a large bowl. Pour over remaining orange dressing and toss to combine.
Divide salad among serving plates, add pork and serve immediately.
Adapted from http://diabetesnsw.com.au/recipe/pork-medallions-with-chargrilled-potato-salad/
NB Glycemic Index of Sweet Potato
The way you prepare sweet potatoes makes a difference in their GI. The GI of a 150-g sweet potato, boiled with its skin for 30 minutes, is 46. That number rises to 94 if the same sweet potato is baked for 45 minutes. These dramatic differences come from the way the starches in sweet potatoes gelatinize during cooking. Foods that turn viscous, or jelly-like, in your digestive tract have a lower GI because the gelatinous substance slows the release of the nutrients in the food. Baking your sweet potatoes instead of boiling them changes the quality of their starches and transforms this root vegetable from a moderate-GI food to a high GI-food.
http://www.livestrong.com/article/295025-the-glycemic-index-for-sweet-potatoes/
Pork & Plum Cous Cous
Preparation time: 10 minutes minutes
Cooking time: 15 minutes minutes
Serves 6
Ingredients
1 tbsp olive oil (or use a olive oil spray)
200g lean pork fillet, thinly sliced
3 celery sticks, thinly sliced on the diagonal
4 cups Salt Reduced Beef Stock (I prefer just water)
3 cups cous cous (basmati rice can be used here NB 1)
1 tsp dried sage or oregano leaves
½ cup pitted prunes, roughly chopped
200g baby beans, cut into bite size pieces
200g baby spinach leaves
Method
Heat oil in a large saucepan and cook pork until well browned. Stir in celery and cook for 2 minutes.
Add stock and bring to the boil. Stir in cous cous, sage, prunes, beans and spinach.
Remove from heat and stand 5 minutes. Toss with a fork and serve.
Serve with a side salad. Add a dollop of low fat natural yoghurt if desired.
NB 1. Basmati can be improved if soaked overnight . Cook for 5 minutes, stir only with a metal fork and cook for a further 5 minutes.
Pork and String Beans
Ingredients
½ kg string beans , cut in 2 inch length
Other vegetables at hand, carrots, sweet potato etc.
250g lean pork, thinly sliced (Any lean meat works well)
⅓ cup vinegar
1 medium-sized onion, thinly sliced lengthwise
4 to 6 cloves garlic, crushed
½ teaspoon ground black pepper
1 cup water
1 tbs olive oil
Instructions
Heat a frying pan or wok then sear the pork with the olive oil
When oil and juice comes out of the pork, add garlic and onions then cook for 2 minutes.
Pour-in the vinegar, and water then bring to a boil.
Shake-in the ground black pepper and stir.
Cover and simmer for 15 minutes or until the pork is tender.
Add the string beans, other vegetables and cook for 3 to 5 minutes.
Turn off the heat and transfer to a serving bowl.
Serve hot with steamed rice.
Share and enjoy!
 Catherine's Mexican Slow Cooker Pulled Pork
This recipe should be prepared 24 hours in advance for marinading and then needs around 8 hours cooking time in the slow cooker.
Ingredients
Dry rub
2 tbsp sweet paprika
2 tbsp chipotle powder / OR. smoked paprika
2 teaspoons ground cumin
2 teaspoon dried oregano flakes
2 teaspoon onion powder
2 teaspoon garlic powder
1/8 teaspoon cinnamon
1/8 teaspoon cayenne pepper
1/2 tbsp ginger
Roast
1.5kg roasting pork leg, Skin and fat removed (ask your butcher to do this). Any lean meat can be used
2 Tbsp olive oil
Slow Cooker Method
Add dry rub ingredients to mixer bowl, mill for 10 sec/speed 8. Pour in to your slow cooker bowl remove and place in the fridge.
Pat dry your pork with a paper towel.
Put your pork in the slow cooker bowl and cover liberally with the dry spice rub. Don't throw away any excess just keep it in the bottom of the bowl.
Refrigerate covered over night or at least 1 hour.
Heat oil up in a large frying pan to medium heat. Take roast out of bowl, leaving excess dry spice rub behind. Brown all sides of the roast.
Return roast to the slow cooker bowl with enough water to cover the bottom of the bowl; cook on low for 8 hours.
Once roast is tender, remove from slow cooker and chop roughly. Return to slow cooker bowl with retained juices and shred with two forks, mix well and serve.
This can also be cooked in an oven at 150°C fan forced bake for 6 hours or until tender.
Serve with steamed greens and Basmati rice.
JERK PORK CHOPS WITH BLACK BEAN SALAD
Jerking refers to the traditional Jamaican method of spicing and cooking meat over a fire. This fiery marinade benefits from the unique flavour of allspice, which is a key ingredient in Jerk Seasoning, amongst the heat. Prep: 20 mins • Cook: 15 mins • Serves: 4.
INGREDIENTS
4 pork chops (about 140g/5oz) each), bone in Skin removed
Marinade
1 brown onion, roughly chopped
2 cloves garlic, roughly chopped
2 tbsp jerk seasoning
2 tbsp (30 ml) dark rum
1 tbsp (30 ml) lime juice
1 tsp ginger
Salad
250g (9oz) rainbow cherry tomatoes, quartered
400g (14oz) can black beans, drained and rinsed (Or dried soaked overnight)
4 spring (green) onions, finely sliced
¼ cup coriander leaves, roughly chopped
2 tbsp (30ml) lime juice
2 tbsp (30ml) olive oil
INSTRUCTIONS
For marinade, blitz ingredients together in a small blender to make a paste then cover pork generously. Marinade for 2–24 hours in the fridge.
Combine salad ingredients and season to taste.
To cook pork, heat a barbecue or grill to medium-high and cook chops for 5–6 minutes per side, until outside is blackened and pork is just cooked through.
Per serve
Energy: 1855kJ/445 cals; protein: 40g; fat: 14g; saturated fat: 3.5 g (saturated : unsaturated fat ratio 0.33); available carbohydrate: 27.5g; fibre: 15g; 725mg sodium; 1380mg potassium (sodium : potassium ratio 0.53).
http://www.gisymbol.com/in-the-gi-news-kitchen-this-month-nov-2016/