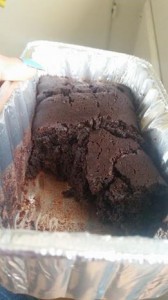 GLUTEN FREE CARBO CAKE
While I would not recommend chocolate cake for diabetics pure Coco powder is actually healthy. Here is a gluten free version that you might enjoy and share at your next diabetic party or get together it uses Carbo.
What is Carob?
Carob is native to the eastern Mediterranean, probably the Middle East, where it has been in cultivation for at least 4000 years. The plant was well known to the ancient Greeks, who planted seeds of this plant in Greece and Italy.
This plant is also called St. John's bread or locust bean because the pods were once thought to have been the "locusts" that were eaten by John the Baptist in the Wilderness.
http://www.carobana.com.au/carob.html
Ingredients
¾ cup gluten-free flour (I use Bob's Red Mill Rice Flour)
⅓ cup raw carob powder (Coco Powder)
½ tsp baking powder
½ tsp salt
¾ cup almond milk (or any other non-dairy milk)
¼ cup olive oil, melted
1 tsp vanilla extract
Instructions
Preheat the oven to 350 degrees F/ 180C.
In a large bowl, combine the flour, carob powder, baking powder and salt.
In another bowl, mix the almond milk, oil, and vanilla extract.
Pour the liquid mixture into the dry and mix well.
Oil a mini-brownie pan or mini-muffin tin with oil.
Dollop about two tablespoons of the batter for each brownie. I just put it into a bread pan.
Bake for 15 minutes. Makes 20-24 brownies, depending on the size of your pan. Since I used a bread pan, mine took roughly an hr to bake.
KELLY'S CHOCOLATE CAKE
Kelly made this for as a desert last Christmas, I found it tasty and did not affect my sugar.
Melted reduced-fat dairy spread, to grease
50g (1/2 cup) cocoa powder
80ml (1/3 cup) hot water
2 teaspoons instant coffee powder
2 teaspoons boiling water
1 x 100g pkt almond meal
100g (1/2 cup) sugar substitute e.g. Splenda  NB 1
3 eggs, separated
Strawberries, washed, sliced, to serve
Step 1 Preheat oven to 180°C. Brush a round 22cm (base measurement) cake pan with melted dairy spread to lightly grease. Line the base with non-stick baking paper.
Step 2 Combine the cocoa powder and hot water in a medium bowl. Combine the instant coffee powder and boiling water in a cup. Add the coffee to the cocoa mixture and stir until combined.
Step 3 Add almond meal, Splenda and egg yolks to cocoa mixture, and stir until well combined.
Step 4 Use an electric beater to whisk egg whites in a clean, dry bowl until soft peaks form. Use a metal spoon to fold a spoonful of egg whites into cocoa mixture until combined. Gently fold in remaining egg whites until just combined.
Step 5 Pour mixture into prepared pan. Place cake pan in a roasting pan. Pour enough boiling water into the roasting pan to reach two-thirds of the way up the side of the cake pan. Bake in preheated oven for 40 minutes or until a skewer inserted into the centre of the cake comes out clean. Remove from oven. Remove cake pan from water bath and set aside for 20 minutes to cool. Turn cake onto a wire rack and remove paper. Set aside for a further 20 minutes or until cooled to room temperature.
Step 6 Cut cake into wedges and carefully transfer to serving plates. Serve with strawberries.
NB 1 I usually do not add sugar or sugar substitute to my recipes but this is not too sweet and needs to sweetness to counter act the bitterness of the Coco powder and the coffee