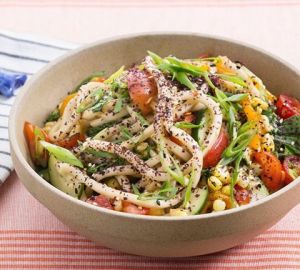 ZESTY THAI NOODLES SALAD
INGREDIENTS
1/2 cup edamame beans (fresh or frozen)
1 packet of vermicelli rice noodles NB1
1 Coleslaw mix from supermarket, leave out the dressing.
1 packet mixed leaves
1 cup snow peas, sliced on an angle
1 red capsicum, sliced
2 spring onion stems, chopped
1 avocado, sliced
1 large handful coriander, chopped with stalks
1 large handful of mint, removed from stem
½ cup of bean shoots
Salad dressing
1 tsp sesame oil
1 tsp rice wine vinegar
juice of 1/2 lemon
1/4 cup extra virgin olive oil
1/2 tsp fish sauce (Check sugar and salt content)
Method
In a bowl, pour boiling hot water over rice noodles and edamame. Sit for 5 minutes or until cooked. Drain well.
In a separate serving bowl, add noodles, edamame, coleslaw mix, leaves, capsicum, avocado, spring onion, mint, coriander and snow peas and toss ingredients.
Mix salad ingredients in a jar and pour over salad. Toss well.
Finish by laying bean shoots on top of salad. Serve with dressing.
Adapted from https://daa.asn.au/recipes/zesty-Thai-noodle-salad/
NB1
Try Konjac noodles
Konjac Foods for People with Diabetes (Noodles. Pasta.)

As medical research has demonstrated, the higher the viscosity of soluble fiber, the better the ability to control blood sugar level. The glucomannan fiber is the most viscous soluble fiber in nature, making it the best way to control the blood sugar level of diabetic people. At the same time, it is a very efficient way to control blood sugar level when you take it before each meal. Simply consume as a beverage before each meal.

As stated, Konjac fiber is the most viscous fiber in nature. This allows the Konjac to move through the digestive tract very slowly which can slow down carbohydrate absorption. This slowed absorption will keep the blood sugar at a moderate level during the digestion process. Konjac also acts to trap food and waste residues as it moves through the digestive system. Konjac fiber can block substances that are easily reabsorbed such as excess bile acids. The digestive regulatory quality of Konjac fiber makes it a natural agent in the treatment and regulation of diabetes and high cholesterol.

Glucomannan is known to show hypoglycemic effects by inhibiting the uptake of glucose by the body. It is believed that it does this by preventing contact of the glucose with the intestinal walls for absorption. By reducing the amount of blood sugar, glucomannan can help patients with type II diabetes. Konjac fiber when absorbs lots water, it will form soft gel, the glucomannan will delays gastric emptying and slows the release of sugar into the bloodstream, which helps to lower levels of insulin and blood glucose. Additionally, glucomannan improves blood-lipid profiles and can lower systolic blood pressure. Because of these effects, glucomannan can greatly benefit individuals with metabolic syndrome or diabetes.
http://www.konjacfoods.com/noodles/19.htm
Also Try Kelp Noodles Asian Salad
http://www.furtherfood.com/recipe/kelp-noodles-asian-salad-recipe-mango-macadamia-nuts-lime-zest-diabetes-diet/
New Research Reveals the Better Way to Eat Pasta
About 2.5 percent of the adult American population currently consumes pasta in this "Healthy Mediterranean Style" pattern. Simultaneously, almost eight percent of the adult American population is consuming pasta in ways that are associated with poorer diet quality.
https://foodtank.com/news/2017/10/better-pasta-better-diet/
Association of Pasta Consumption with Diet Quality and Nutrients of Public Health Concern in Adults: National Health and Nutrition Examination Survey 2009-2012
Abstract
Background Pasta is a commonly consumed food in the United States; however, little is known about pasta consumption and nutrient intake and diet quality. Objective This study examined the association between pasta consumption and diet quality. Design and participants Cross-sectional data analysis of 10,697 U.S. adults from the National Health and Nutrition Examination Survey (NHANES) 2009-2012, a nationally representative survey. Main outcome measures Diet quality as assessed by the Healthy Eating Index-2010 (HEI-2010), nutrient intakes, and dietary patterns. Statistical analyses Cluster analyses was used among pasta consumers to characterize dietary patterns. Regression analyses determined differences between groups. Results Overall mean diet quality was similar between pasta consumers and non-consumers. However, consumers of "pasta, noodles" had a 5.6% higher HEI-2010 scores; HEI-2010 was 7.9% lower in those who ate "macaroni and cheese (."All pasta, "pasta/noodles", and "pasta mixed dishes, excluding macaroni and cheese" ("pasta mixed dishes") had higher dietary fiber intakes by 11.0-13.6% (range 1.89-2.35 g/day). "Pasta mixed dishes" was associated with a 5% increase in both potassium and sodium intake (about 150 and 190 mg/d, respectively). Cluster analyses identified pasta eating patterns that are associated with both increased and decreased diet quality as compared to non-consumers. Conclusions Different dietary patterns exist with regard to pasta consumption. These pasta patterns contribute in different ways to diet quality and intakes of fiber, sodium, and potassium. Therefore, it is critical to separate types of pasta/pasta dishes before relating to dietary intakes.
http://cdn.nutrition.org/content/early/2017/09/19/cdn.117.001271
a range of Mediterranean diet-friendly recipes
http://passionforpasta.com/search/med+diet
Ingredients
4 cups uncooked macaroni…
1 green bell pepper, diced
2 stalks celery, diced
1/4 cup grated carrot
1 large onion, diced
1 fresh tomato diced
any other fresh vegetables available from the garden
Sauce:
1/4 cup vinegar (distilled white)
2 1/2 tablespoons mustard seeds
1 1/2 teaspoons ginger
1/2 teaspoon pepper
Directions:
Cook macaroni, rinse and drain well. Meanwhile dice up the veggies, place in a large bowl. In a separate bowl make the sauce. Add macaroni to veggies, fold in the sauce.
Pasta Bows, Tuna Zucchini and Bock Choy
350g pasta bows
2 x 95g can tuna in srpingwater
100g baby bock choy, roughly torn
4 medium cloves garlic, crushed
¼ cup extra virgin olive oil
3 small zucchini (or 2 medium zucchini), very finely sliced
6 fillets anchovy, chopped
1 pinch chilli flakes (optional)
¼ cup loosely packed basil leaves, torn
ginger and freshly ground black pepper
Method
Cook the pasta following the manufacturer's instructions for al dente. Drain and reserve ½ cup of the pasta cooking liquid.
Using the same pan, on medium low heat add the olive oil, garlic and anchovy and cook gently 1-2 minutes till the anchovy starts to break down and the garlic smells fragrant.
Add the sliced zucchini cook lightly for a further 1 minute, add the basil, chilli flakes and season with ginger and pepper to taste.
Toss through the cooked pasta (use a little of the reserve pasta cooking water to loosen the pasta if required). Serve immediately scattered with a few extra basil leaves.
Serves 4.
Try pasta alternatives
http://www.findtex.com.au/diabetic-foods/zucchini-fritters-with-chili-lime-mayo/
Pasta substitutes which are gluten free and for diabetics.
The author loves all kinds of pasta, but in recent years I have had to modify my diet to account for a sensitivity to gluten.  As a result, I have developed some great ideas that are also helpful for diabetics looking for a pasta substitute!  I have compiled my top 5 for you.  Some substitutes are healthier for diabetics because they are higher in protein and/or fiber than pasta is.  (The higher protein and fiber content helps with regulating blood sugar).  Some of my suggestions are lower than pasta in carbohydrate and calories, allowing you to have a larger portion size!
http://diabetes.about.com/od/dieticiansadvice/tp/Pasta_Substitutes.htm?utm_term=is%20pasta%20good%20for%20diabetics&utm_content=p1-main-1-title&utm_medium=sem&utm_source=google&utm_campaign=adid-612ccbeb-4e87-48a4-afce-aa6456030ebb-0-ab_gsb_ocode-5950&ad=semD&an=google_s&am=broad&q=is%20pasta%20good%20for%20diabetics&dqi=&o=5950&l=sem&qsrc=999&askid=612ccbeb-4e87-48a4-afce-aa6456030ebb-0-ab_gsb
Kelp Noodles Asian Salad
http://www.furtherfood.com/recipe/kelp-noodles-asian-salad-recipe-mango-macadamia-nuts-lime-zest-diabetes-diet/