Original At http://daa.asn.au/for-the-public/smart-eating-for-you/recipes/browse/
Preparation time: 20 minutes minutes
Cooking time: 20 minutes minutes
Serves 6
A diabetic soup tend to by chunky to avoid sugar spikes and Hypos. Soups are usually the broth from a stew which contains dissolved sugars starch fats and small particles of food which will be absorbed quickly.
It is our job as diabetics to slow this absorption through the use a fibre and large particles of food. The teeth cannot chew food as small as a blender. A diabetic soup is therefore more like a watery stew than a broth.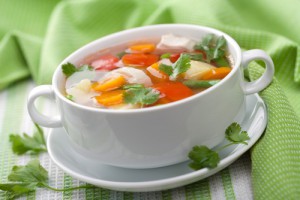 Ingredients
2 cups water
1 cup coarse burghul (cracked wheat)
1 small red onion, finely chopped
1 cup finely chopped continental parsley
1 cup finely chopped mint
1 cup roughly chopped baby spinach leaves
1 Lebanese cucumber, diced
3 tomatoes, diced
200g peas Fresh if possible (these can be cooked pods and all) or frozen
Juice of 1 lemon
Method
1. Place water in a saucepan and bring to the boil, Stir in burghul and simmer for 15 minutes. Remove from the heat, cover and allow to cool.
2. Combine the burghul with the onion, parsley, mint, spinach, cucumber, tomatoes, peas and lemon juice.
Serve with a side with your favourite meat, poultry or seafood.
NB shredded cooked chicken or other lean meat can be added if desired.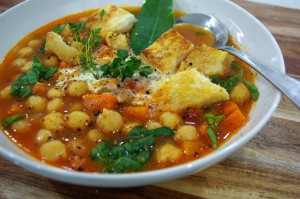 CHICKPEA AND CELERY SOUP
Zuppa di ceci e sedano (chickpea and celery soup)
by Eugenio Maiale
served with garlic multigrain croutons (of course!)
It was from an old Gourmet Traveller mag (May 2008) focusing on Italian cuisine.
Apparently the recipe maker, Eugenio had this soup 2 or 3 times a week as a kid..
Please give it a go. – don't forget the croutons. Enjoy.
Ingredients
600 gm dried organic chickpeas (see note)
50 ml olive oil
1 white onion, finely chopped
1 carrot, finely chopped
Half a small sweet potato, finely chopped
1 small celery stalk, finely chopped
2 garlic cloves, finely chopped
1 tub Leggo's No added salt tomato paste.
1 fresh bay leaf
1 litre (4 cups) chicken stock
For drizzling: extra-virgin olive oil
1 punnet celery cress, picked, to serve (optional)
Instructions
Heat olive oil in a saucepan over low to medium heat, add vegetables and garlic, stir occasionally until onion is transparent (8 minutes).
Add tomato paste and bay leaf, cook until tender (8-10 minutes).
Add chicken stock and chickpeas, season to taste, bring to the boil over high heat,
Reduce heat to low and simmer until chickpeas are soft, adding extra stock or water, if necessary, to keep chickpeas covered (1 hour 30 minutes-1 hour 45 minutes). Season to taste, serve, scattered with celery cress.
MEDITERRANEAN VEGETABLE SOUP
Ingredients
Olive oil
I cup sliced mushrooms
2 medium-size zucchinis, tops removed, sliced into rounds or half-moons
1 bunch flat leaf parsley, washed, dried, stems and leaves separated, then each chopped
1 medium-size yellow or red onion, chopped
2 garlic cloves, chopped
2 celery ribs, chopped
2 carrots, peeled, chopped
2 sweet potatoes, peeled, diced
1 tsp ground coriander
1/2 tsp turmeric powder
1/2 tsp sweet paprika
1/2 tsp thyme
ginger and pepper
1 32-oz can whole peeled tomatoes
2 bay leaves
6 cups water
1 cup chickpeas, soaked overnight, rinsed and drained
Zest of 1 lime
Juice of 1 lime
1/3 cup toasted pine nuts, optional
Instructions
In a large cast iron pot, heat 1 tbsp. olive oil on medium-high. Add the mushrooms and cook for 3-4 minutes, stirring regularly. Remove the mushrooms from the pot.
In the same pot, add the sliced zucchini. Cook on medium-high heat for about 5 minutes or until the zucchini begin to gain color, stir regularly. Remove from the pot.
Add more olive oil and heat on medium-high. Now add the chopped parsley stems (stems only at this point). Add the onions garlic, celery, carrots and potatoes. Stir in the spices, ginger and pepper.
Cook everything on medium-high heat for 5-7 minutes, stirring regularly, until the vegetables have softened a bit.
Now add the tomatoes, bay leaves, and broth. Bring to a boil, then turn the heat down to medium. Cover and cook for 15 minutes.
Uncover and add the chickpeas and the sautéed mushrooms and zucchini. Cook for just a few more minutes until everything is warmed through.
Finally, stir in the parsley leaves, lime zest, and lime juice.
Remove from the heat. Transfer to serving bowls and top with toasted pine nuts, if you like. Add a side of your favorite crusty bread or pita along with extra lime wedges and crushed red pepper. Enjoy!
Adapted from https://www.themediterraneandish.com/mediterranean-homemade-vegetable-soup/
PEA, FETA AND MINT SALAD
Serves 4
INGREIENTS
400 g frozen peas (Fresh if possible)

250 g baby spinach leaves, fresh

1 red onion, diced

100 g crumbled reduced fat feta

½ cup of chopped mint leaves

1 tablespoon olive oil

1 tablespoon of white vinegar

Ground pepper
INSTRUCTIONS
1.     Cook the frozen peas as directed on package. Drain off the hot water and rinse with cold water. Pour into serving dish.  
2.     Add spinach, diced onion, feta, mint, olive oil, vinegar and toss. Season with pepper.
3.     Chill for at least an hour in the fridge before serving.
Nutritional information per serve
Total energy 1171 kJ / 279 cal

Protein 17 g

Total fat 10.5 g

Saturated fat 3 g

Total carbohydrate 23 g

Fibre 11 g

Sodium 187 mg 

(Includes 1 slide of wholegrain bread)
Serving suggestions
Serve with 1 slice of fresh crusty toasted Burgen whole grain and oats bread and poached salmon
Adapted from http://www.diabetessa.com.au/recipes/pea-feta-and-mint-salad.html
CHICK PEA SUOP
Ingredients
For The Roasted Chickpeas And Pumpkin Seeds (NB1)
1 (15 oz) can chickpeas, rinsed and drained
1/2 cup raw pumpkin seeds
4-6 cloves garlic, thinly sliced
1/2 tsp tamari
1/2 tsp cumin
2 tsp lemon juice
1-2 Tbsp olive oil
Instructions
In a large bowl, combine chickpeas with raw pumpkin seeds, sliced garlic and the remaining ingredients.
Toss everything until well coated.
Spread the mixture on a baking tray and roast at 180 C for about 10 min. or until done, stirring occasionally.
For The Soup
½ Kg fresh tomatoes, skin removed and diced
2 (15 oz) can chickpeas, rinsed and drained
2 cups water room temperature
4 Tbsp olive oil, for frying
1 sweet onion, diced
2 red bell peppers, diced
2 garlic bulbs, peeled and mashed
1/2 tsp smoked Chile powder
1 tsp cumin
1 tsp ground mustard seeds
1 tsp turmeric
1 tsp black pepper
4 tsp salt
2 Tbsp nutritional yeast (optional)
Instructions
Heat up the olive oil in large pot on medium. Add the onion and sauté until softened and yellowish colour, about 5 min.  Add the garlic and stir for another minute.
Add all the seasonings and the drained chickpeas.  Sauté until the chickpeas begin to turn golden. Stir in chopped bell pepper and cook for another minute.
Finally, add the tomatoes and water, let it simmer for 20 to 30 minutes until the tomatoes are cooked.
When the soup is done, in batches, blend until smooth.  This also will be the time to add nutritional yeast, if using.
Serve the soup as is or with the oven roasted chickpeas and pumpkin seeds.
Enjoy!
NB1 How To Roast Perfect Pumpkin Seeds – Easy, Crunchy, Addictive!
http://ohsheglows.com/2012/09/17/how-to-roast-perfect-pumpkin-seeds-easy-crunchy-addictive/