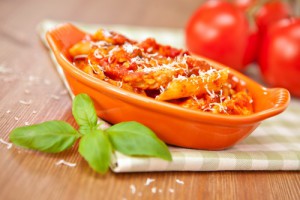 1/2 Kg skinned chicken breast cut into cubes
2 cup of pasta of your choice
1/2 small yellow onion chopped
1/2 cup chopped assorted bell peppers
1 cup greens e.g. broccoli
1 16 oz. Can Italian stewed tomatoes (fresh stewed whole until they mash)
1 24 oz. can your choice of pasta sauce (Best to make my own if not I use leggo no added salt)
1-2 TBSP Italian seasoning
1/2 cup Multigrain bread crumbs
Any fresh vegetables from the garden can be added
Brown chicken in pan, add onion and peppers and simmer for about 5 minutes.
Cook pasta.
Add all ingredients to a 9 X 13. baking tray.
Top with breadcrumbs.
bake for 20 minutes.
TUNA CASSEROLE
INGREDIENTS
1/4 cup olive oil
10 ounces/ 300 g canned tuna in spring water or fresh steamed
1 clove garlic (minced)
1 cup heavy cream
1/2 cup unsweetened almond milk
1 1/2 cups Parmesan cheese
1 Tablespoon dried parsley
9 ounces/ 250 g frozen spinach (drained) or fresh if possible
4 slices provolone (or mozzarella cheese)
INSTRUCTIONS
Heat olive oil in medium saucepan over medium low heat with garlic.
When garlic is golden, add cream and almond milk.
Stir over the heat for 5 minutes then whisk in parmesan cheese.
Stir in parsley, tuna and spinach.
Cook over medium-high heat until bubbly, stirring frequently.
Spoon into lightly greased or sprayed with olive oil casserole dish.
Top with sliced cheese, if desired.
Bake at 375°F/ 190°C for 20 to 30 minutes or until bubbly.
Nutrition Facts of original
Per 1 (4)
Amount% Daily Value*
Calories 638
Total Fat 52 g 80%
Saturated Fat 32 g 160%
Cholesterol 182 mg 61%
Sodium 1235 mg 51%
Potassium 478 mg 10%
Total Carbohydrate 6 g 2%
Dietary Fiber 2 g 8%
Sugars 1 g
Protein 38 g 76%
*Percent Daily Values are based on a 2,000 calorie diet. Your daily values may be higher or lower depending on your calorie needs.
Adapted from Keto Tuna Casserole – Recommended Tips
LAMB MOU-SSAKA: eggplant Greek Style. And a great way to use leftover cooked pasta.
Ingredients
You will need a 6cm-deep, 20cm x 28cm (base), 10-cup capacity baking dish or similar
1 tbs cup extra virgin olive oil
1 large eggplant, cut into 2cm cubes
1 large brown onion, finely chopped
2 garlic cloves, crushed
600g lean grass fed lamb roughly chopped. (Any lean meat can be used)
1 teaspoon ground allspice
1/2 teaspoon ground nutmeg
200g dried tubular spaghetti (Some diabetics may find gluten free pasta is better)
1/3 cup parmesan, finely grated
2 fresh tomatoes roughly chopped
Béchamel
1/3 cup wholemeal flour or chick pea flour if you can get it
2 cups milk (I use heart active)
Instructions
Cook the pasta in boiling water for 8-10 minutes until just al dente, then drain. (Left over can be used)
Heat half the oil in a large stone ware frying pan and sauté the diced eggplant for 4-5 minutes until slightly coloured and softened. Set aside. Add the remaining oil to the pan and add onion, garlic, lamb, spices and rosemary. Cook for 5-8 minutes until browned and fragrant. Set aside.
Add the eggplant and tomatoes to the fry pan and cook for 5 minutes.
In a bowl make the Béchamel by adding the milk and heat, gradually add the flour stirring constantly until thick and smooth. Simmer for about 3-4 minutes. Remove from heat. After 5 minutes, beat in cheese, and nutmeg and other seasoning.
Preheat the oven to 190C. In a large ovenproof dish (about 28cm x 22cm), smooth half the mince over the base, top with half the precooked pasta, and then spoon over one third of the cheese sauce. Continue with remaining mince, pasta, and eggplant and lastly the cheese sauce, trying to cover the pasta. Sprinkle with a little extra cheese if desired. Bake for 20-30 minutes until golden.
Serve the bake with a salad of basil, tomato, cucumber, red onion and olives.
Tomato Basil Pasta
Ingredients
12 ounces pasta (I use wholemeal) or try a pasta alternative.
1 can (15 ounces) diced tomatoes with liquid (You can use fresh if you like as well)
1 large sweet onion, cut in julienne strips
4 cloves garlic, thinly sliced
1/2 teaspoon red pepper flakes
2 teaspoons dried oregano leaves
2 large sprigs basil, chopped
4 1/2 cups vegetable broth ( low sodium or use water)
2 tablespoons extra virgin olive oil
Directions
Place pasta, tomatoes, onion, garlic, basil, in a large stock pot. Pour in vegetable broth (water). Sprinkle on top the pepper flakes and oregano. Drizzle top with oil.
Cover pot and bring to a boil. Reduce to a low simmer and keep covered and cook for about 10 minutes, stirring every 2 minutes or so. Cook until almost all liquid has evaporated – I left about an inch of liquid in the bottom of the pot – but you can reduce as desired.
Season to taste with ginger and pepper, stirring pasta several times to distribute the liquid in the bottom of the pot.
Pasta substitutes which are gluten free and for diabetics.
The author loves all kinds of pasta, but in recent years I have had to modify my diet to account for a sensitivity to gluten.  As a result, I have developed some great ideas that are also helpful for diabetics looking for a pasta substitute!  I have compiled my top 5 for you.  Some substitutes are healthier for diabetics because they are higher in protein and/or fiber than pasta is.  (The higher protein and fiber content helps with regulating blood sugar).  Some of my suggestions are lower than pasta in carbohydrate and calories, allowing you to have a larger portion size!
http://diabetes.about.com/od/dieticiansadvice/tp/Pasta_Substitutes.htm?utm_term=is%20pasta%20good%20for%20diabetics&utm_content=p1-main-1-title&utm_medium=sem&utm_source=google&utm_campaign=adid-612ccbeb-4e87-48a4-afce-aa6456030ebb-0-ab_gsb_ocode-5950&ad=semD&an=google_s&am=broad&q=is%20pasta%20good%20for%20diabetics&dqi=&o=5950&l=sem&qsrc=999&askid=612ccbeb-4e87-48a4-afce-aa6456030ebb-0-ab_gsb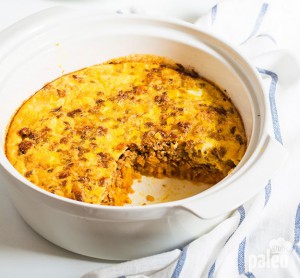 TEX SWEET POTATO HASH BROWN CASSEROLE.
Ingredients
1 medium (1 pound) sweet potato, grated
½ Kg Grass fed beef roughly chopped (any lean meat including game can be used)
1 medium onion
1 Omegsa-3 whole eggs and 3 omega3 egg whites
3 tbsp olive oil
½ tsp ground ginger
½ tsp paprika
For Enchilada sauce
1 large tomato
¼ cup water
1 garlic clove
½ jalapeño, deseeded
1 tbsp homemade taco seasoning
1 red pepper, diced
¼ cup chopped fresh cilantro
1 tbsp lime juice
½ cayenne pepper
Instructions
Prepare a steamer.
In a large bowl, mix shredded sweet potatoes, ginger, 2 tablespoons of olive oil and paprika. Add the sweet potato mixture into a round dish and press gently. Steam for 20 minutes.
Meantime, make enchilada sauce. Place all the ingredients in a blender and pulse until smooth. Set aside.
In a large stoneware fry pan heat 1 tbsp olive oil over medium heat. Add onion and cook for 5 minutes. Add the beef and stir for 10 minutes or until well browned and all liquid has evaporated.
Remove from the heat, add the sweet potoatos and mix. Spread enchilada sauce mixture evenly over potato/ beef mixture.
In an oven preheated to 120 C and bake for 15 minutes. Pour over the lightly beaten egg and egg whites and bake for 10 minutes more. Remove from oven, let cool slightly, slice, and serve.