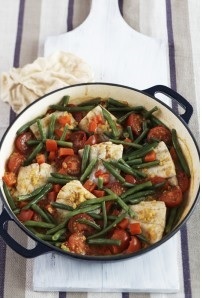 FISH HOT POT
INGREDIENTS:
6 cups home-made fish stock or water
2 kaffir lime leaves, torn
250g snapper fillets, cut into cubes any fin fish can be used.
2 bunches of broccolini
100g green beans
1 red capsicum, thinly sliced
150g rice noodles or Konjac or zucchini noodles NB1
Any in season vegetables
1/4 cup fresh coriander leaves
Lime wedges, to serve
INSTRUCTIONS
Combine stock/water and lime leaves in a large saucepan and bring to the boil over high heat. Once boiling, reduce heat to low and simmer for 10 mins. Add the snapper and cook for a further 5 mins.
Add all the other vegetables for and cook for 2-3 mins.
Cook rice/ Konjac noodles/ zucchini noodles according to the packet instructions and divide among bowls, ladle broth over noodles, sprinkle with coriander and serve with lime.
Adapted from http://www.shapeme.com.au/weight-loss-recipes/468/Seafood-Hot-Pot
NB1
Try Konjac noodles
Konjac Foods for People with Diabetes (Noodles. Pasta.)As medical research has demonstrated, the higher the viscosity of soluble fiber, the better the ability to control blood sugar level. The glucomannan fiber is the most viscous soluble fiber in nature, making it the best way to control the blood sugar level of diabetic people. At the same time, it is a very efficient way to control blood sugar level when you take it before each meal. Simply consume as a beverage before each meal.

As stated, Konjac fiber is the most viscous fiber in nature. This allows the Konjac to move through the digestive tract very slowly which can slow down carbohydrate absorption. This slowed absorption will keep the blood sugar at a moderate level during the digestion process. Konjac also acts to trap food and waste residues as it moves through the digestive system. Konjac fiber can block substances that are easily reabsorbed such as excess bile acids. The digestive regulatory quality of Konjac fiber makes it a natural agent in the treatment and regulation of diabetes and high cholesterol.

Glucomannan is known to show hypoglycemic effects by inhibiting the uptake of glucose by the body. It is believed that it does this by preventing contact of the glucose with the intestinal walls for absorption. By reducing the amount of blood sugar, glucomannan can help patients with type II diabetes. Konjac fiber when absorbs lots water, it will form soft gel, the glucomannan will delays gastric emptying and slows the release of sugar into the bloodstream, which helps to lower levels of insulin and blood glucose. Additionally, glucomannan improves blood-lipid profiles and can lower systolic blood pressure. Because of these effects, glucomannan can greatly benefit individuals with metabolic syndrome or diabetes.
http://www.konjacfoods.com/noodles/19.htm
Also Try
Kelp Noodles Asian Salad
http://www.furtherfood.com/recipe/kelp-noodles-asian-salad-recipe-mango-macadamia-nuts-lime-zest-diabetes-diet/
Also try one from this page:-
http://www.findtex.com.au/diabetic-foods/zucchini-fritters-with-chili-lime-mayo/
http://www.findtex.com.au/recipes/soups/texs-weight-loss-soup/
http://www.findtex.com.au/diabetic-foods/kidney-bean-soup/
STEAMED WHITE FISH
INGREDIENTS
4 whitefish steaks or fillets, skin on or off
Freshly ground black pepper
1 tablespoon rice vinegar
1 teaspoon chopped ginger
1 small jalapeño pepper seeded and thinly sliced
1/4 cup fresh cilantro chopped
INSTRUCTIONS
Prepare a steamer.
In a small bowl, prepare the sauce by mixing together the rice vinegar, ginger, jalapeño, and cilantro. Set aside.
Steam the fish until opaque throughout, about 5 minutes per side.
Spoon the sauce over the fish and serve.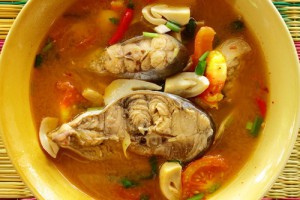 This is a really quick and easy meal for you busy mum.
Leather Jacket or butter fish appear along the Australian east coast in plague proportion, usually in late spring. They are in fact a pest and a by-catch in large quantities. As a result they are also cheap.
They have a firm tasty flesh which holds up well to boiling. Were other, more expensive, fish will flake away into a soup these fish will hold together so that they can be enjoyed in this meal.
They are usually sold whole with skin on which can put some people off this fish.
They are difficult to fillet. In fact I know many experienced fisherman who cannot fillet Leather Jacket.
Most fish merchant will do this for you if you don't feel confident. I asked my local Woolworth Fish Merchant if he would do this for someone who asked.
If they asked politely I would have a go,  he replied.
If you find a friendly merchant who will fillet them for you ensure that you get the bones as these can be used to make a soup or fish stock.
Image If however you end up with, or maybe you caught your own, a whole leather jacket here are some simple cleaning instruction.
Just behind their spin make a cut, just enough to cut the spinal chord.
Image While holding the body pull down on the head, this should separate with little effort. (If it still contains the guts most of the guts will come away with the head. Remove any remaining guts and brush out as much of the lining as you can. This may require an additional cut to the anal vent.)
The skin can be pulled off reasonably easily. Loosen a section of the skin around the cut used to remove the head and pull back towards the tail. Repeat on the other side if required.
Image Care is required when filleting. One hint when filleting fish. I find you need a sharp knife but not razor sharp.
Look at your fish carefully; you will note a shield of bones that extend over the top of the fish from their dorsal fins. Your first cut is along and under these bones.
Image You can now fillet as normal except these fish have large bulbous vertebra especially towards the tail. Carefully move your knife over and around these enlargements.
Most fish have a line of bones down the middle of the fillet. Feel for and remove these bones. I prefer to cut them out.
Image Tex loves raw fish and these off cuts make a good snack for him.Cut the flesh into 3cm cubes. (Your fish merchant may do this for you if you ask nicely)
Image I season this with a little season-all (spicy) and set aside in the fridge for at least 20 minutes
Cooking
Place your leather jacket cubes in a stock pot large enough for your purpose. This depends on the number of people you are feeding.
Cover with water.
Bring to boil.
Turn back to simmer for one or two minutes until the fish turns white.
Add one pack of 2 minute noodles per person and control the heat so that the noodles become soft.
I add the contents of the spice bag now and stir in.
If necessary strain off and excess fluid and serve and enjoy.
The strained juice can be enjoyed as a soup latter.
If you want to boost the meal value of this dish the following can be added either individually or as mixture depending on your taste. Sweet corn, Grated carrot, Grated sweet potato, Grated Jerusalem artichokes, Peas, Beans, Brussels sprouts, cut fine Broccoli, cut fine Silver beet, cut fine Cabbage, cut fine Chopped onion, Herbs – individual or mixed to taste, Capsicum, Chilli. It can be cooked with any fish including canned fish but you will find that soft fish will flake easily and tends to disappear into the noodles.
Chicken or any left over lean meat can also be used and works well
POCHED FLATEHEAD.
My Garden is producing much more than we can eat at the moment so it is time to stew up and preserve. As a diabetic I do not use sugar or salt as a preservative, therefore I freeze my sauce.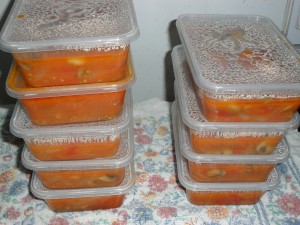 This sauce can be used instead of commercial sauces used elsewhere.
SAUCE
Onions, including spring onions, from the garden.
Tomatoes, almost a bucket full from the garden
Mushrooms (bought)
Chili to taste, from the garden.
Olive oil to fry the onions.
DIRECTIONS
Heat enough Olive Oil to cover the bottom of a large stock pot, heat until almost smoking.
Add the onions and cook until translucent. Stir to prevent sticking and to cover all the onions with oil. Stir occasionally.
Add the mushroom and stir until mushrooms soften.
Add the tomatoes and chili, stir occasionally and simmer for 20 minutes.
Place excess in containers and allow to cool before putting in the freezer.
FLATHEAD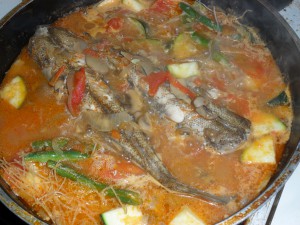 For 2 serves
2 flatheads
Greens from the garden.
3 cup of sauce
1 cup of rice noodles (gluten free).
DIRECTIONS
In a large frying pan place 2 cups of the sauce above and bring to the simmer.
Add fresh garden greens.
Add flathead.
Simmer for about 10 minutes and carefully turn over.
With 3 minutes to go add the rice noodles and cook until noodles are soft.
Serve and enjoy.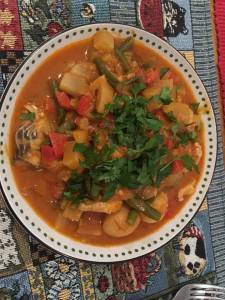 FISH CURRY WITH ROASTED CAULIFLOWER
INGREDIENTS
2 teaspoons ground turmeric
2 teaspoons ground coriander
½ head cauliflower, broken into florets
4 x 180 g snapper fillets (or any firm white fish such as cod, sea bass, or bream) skin on or skinned and pin-boned
Juice of 2 limes
4 tablespoons olive oil, melted
1 onion, sliced
1-inch piece of ginger, finely grated
4 cloves garlic, minced
5 cardamom pods
1 teaspoon dried chili flakes
1 pinch freshly cracked pepper
1 cinnamon stick
12 fresh curry leaves
1 cup water
140 ml fish stock or addition water water. (Check is fish stock contains sugar and or salt.
8 okras, halved
1 large handful baby spinach leaves
1 handful coriander leaves
Any other cooked vegetables available
INSTRUCTIONS
Preheat the oven to 200°C.
Mix the turmeric and ground coriander together in a small bowl and set aside.
Place the cauliflower florets, one tablespoon of olive oil, and half of the spice mix into a bowl and toss to combine.
Transfer the cauliflower mixed with the spices onto a lightly oiled oven tray with a little olive oil and spread as a single layer. Season with a little ginger and roast in the oven for 15 minutes, until golden. Set aside.
Rub the remaining turmeric into the flesh side of the snapper fillets, then squeeze over the juice of one lime. Leave to marinate for 10 minutes, covered with cling film in the refrigerator.
Meanwhile, heat the remaining olive oil in a large frying pan over medium heat.  Add the onion and sauté gently for five minutes until softened and translucent. Add the ginger and garlic and sauté for a further 30 seconds, then add the cardamom pods, cinnamon stick, chili flakes, a pinch of freshly cracked pepper, curry leaves and other vegetables and cook for a further one minute.
Add the roasted cauliflower, okra, water and fish stock. Mix to combine, then place the fish flesh side down and gently simmer for 8 to 10 minutes until the fish is nearly cooked through.
When the fish is almost cooked, add the spinach leaves and gently mix them through.
To finish, squeeze over the remaining lime juice, and garnish with fresh coriander.
adapted from  http://recipes.mercola.com/fish-curry-with-roasted-cauliflower-okra.aspx?utm_source=facebook.com&utm_medium=referral&utm_content=facebookmercola_recipe&utm_campaign=20170629_fish-curry-with-roasted-cauliflower-okra
Pesang Bangus Fish Soup
A light fish flavored soup that will keep you satisfied.
Ingredients for 4 servings:
1 medium size fish; Any oily fin fish would do. I have friends who use Trevally, Tuna or albacore (if you can afford it.) Leather Jacket is cheap. Australian Salmon works well but you have to cook it the day you catch it, It freezers well once cooked. (cleaned and sliced into 4)
1/2 kilo cabbage (any vegetables at hand can be used, some may require a longer cooking time.)
3 cloves garlic
1onion
Thumb size ginger ( strips)
1/2 teaspoon peppercorns ( pamintang buo)
4 cups water ( add if needed)
Procedure:
Saute the garlic, ginger and onion, then add the water and peppercorns,  bring to a boil, when boiling add the fish and continue to boil until cooked.
Add the cabbage then simmer for 2 minutes, simmer until done
Serve it hot and enjoy.
Adapted from:-
http://melyskitchen.blogspot.com.br/2014/11/a-light-fish-flavored-soup-that-will.html
FISH BIRYANI
Ingredients
1 kg fish fillets-cut into 1.5 " cubes (Leather jacket is perfect but any oily fish will do)
2 Tbsp. oil
1 cup onions-grated
1 tsp. ginger paste
1 tsp. garlic paste
1 tsp. cumin seeds
1 tsp. garam masala
1 Tbsp. coriander powder
1 tsp. chilli powder
1 tsp. turmeric powder
1.5 tsp. ginger
1 cup Greek yogurt
1 cup coriander leaves-chopped
Green chillies to taste-finely chopped
1 tsp. biryani masala
1/3 cup browned onions
For the Rice:
2 cup Basmati rice and Quinoa (50:50 mix) soaked overnight, cleaned and washed
2 tsp. oil
4 cloves
4 peppercorns
1 cinnamon-broken
4 green cardamoms
1 tsp. ginger
3 cups hot water
Saffron or colour mixed in 1 cup warm Heart Active milk
Method
Heat oil and add cumin seeds to a fry pan.
When they splutter, add onions and ginger-garlic pastes.
Stir fry till colour is good.
Add the garam masala, coriander powder, chilli powder, turmeric powder, ginger and yogurt and sauté.
Mix in the fish and cook over high heat till opaque.
Mix in the browned onions, coriander, green chillies and biryani masala.
To make the rice, heat oil and add cloves, peppercorns, cinnamon and cardamoms.
When they darken a bit, add rice, water and ginger.
Mix well and cook till rice is tender but still holds its shape.
To serve, put the fish layer at the bottom of the dish, cover with the rice and sprinkle the saffron-milk mixture.
Keep in an oven or over low heat, or cover with a second fry pan for about 15 minutes.
Mix to break up the layers and serve.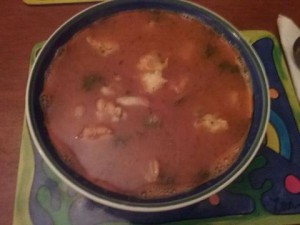 Tex checks our catch on the fishing boat.