PORTOBELLO MUSHROOM FAFITAS
INGREDIENCE
1 tablespoon of olive oil
1 finely chopped garlic clove
1 teaspoon of cumin
½ teaspoon of ginger
6 cups thinly sliced fresh portobello mushrooms
2 cups frozen stir-fry bell peppers and onions or freshly cut
¼ cup chopped fresh cilantro or parsley
2 tablespoons of lime juice
6 fat-free & whole wheat flour tortillas
INSTRUCTIONS
Heat oil, garlic, cumin and ginger in a stoneware fry pan over medium-high heat. Cook the mushrooms and bell pepper mixture in oil for 5-7 minutes, stirring frequently until the veggies are crisp-tender. Sprinkle with cilantro or parsley and lime juice.
Add about ½ cup of the mixture onto each tortilla, roll up, and enjoy!
Nutrition per Serving (without salsa and/or avocado)
Calories: 230
Protein: 10 g
Total Fat: 6 g
Saturated Fat: <1 g
Carbohydrate: 37 g
Fiber: 9 g
Adapted from https://umassmed.edu/dcoe/diabetic-recipes/diabetic-recipe-portobello-fajitas/?fbclid=IwAR3262ztZ1ZE2ZZ5D0ShHnSsCbYgnQnR79SmyFzhbTo8VC5BZx-hMVsMv9w
SPICY MEXICAN CABBAGE RICE
INGREDIENTS
1 head green cabbage
2 tablespoons olive oil
1/2 cup chopped onion
1 jalapeno seeded and diced
1/2 chopped tomato
1 teaspoon minced garlic
2 teaspoons tomato paste
1/2 teaspoon ground cumin
1/2 teaspoon ginger
1 tablespoon fresh lime juice
Cilantro for garnish
INSTRUCTIONS
Chop the cabbage into pieces small enough to fit in a food processor. Pulse until it resembles rice.
Heat the oil in a large stoneware fry pan. Add the cabbage, onion, jalapeno, tomato, and garlic. Cook for 5 minutes.
Add the tomato paste, cumin, ginger, and 1/4 cup of water. Cover and cook for about 12 minutes.
Stir in lime juice and garnish with cilantro.
Nutrition
Calories: 70.92 kcal | Carbohydrates: 9.28 g | Protein: 1.9 g | Fat: 3.7 g | Saturated
Fat: 0.46 g | Sodium:  | Potassium: 271.05 mg | Fiber: 3.37 g | Sugar: 4.96 g | Vitamin A: 183.03 IU | Vitamin C: 47.75 mg | Calcium: 55.66 mg | Iron: 0.91 mg
Adapted from https://kicking-carbs.com/cabbage-rice/?fbclid=IwAR3uNmxo_V8Wi3UajCssSLld0vaIPSKVqlKWrVTYQrpo1eCQ0spR_X1kSMQ
AIR FRIED SWEET POTATO NACHOS NB1
INGREDIENTS
INSTRUCTIONS
Place the sweet potato slices evenly in the air fryer basket. Spray with non-stick olive oil cooking spray for 1 second. Spoon the frozen vegetables evenly over the potatoes. Place the jalapeño over the vegetables, skin side up. Spray with non-stick olive oil cooking spray for 1 second.
Set the temperature to 375°F/ 190°C and air fry for 20 minutes, or until the potatoes are cooked. They should be tender but crisp, not soft. Remove the jalapeño pepper and place it in a bowl; cover loosely with a kitchen towel and let stand for 5 minutes.
Sprinkle the cheese evenly over the vegetables. Air fry for 2 minutes, or until the cheese is melted.
Using the tip of a sharp knife, remove the browned or charred skin from the jalapeño pepper. Finely chop the pepper.
Using a spatula, lift the potatoes and vegetables out of the air fryer basket and arrange in an even layer on a serving platter. Sprinkle the chopped jalapeño over the vegetables. Top with the salsa, radishes, tomatoes, and lettuce. Add a dollop of sour cream and sprinkle of cilantro. Serve immediately.
Nutrition values in original
Adapted from https://www.diabetesfoodhub.org/recipes/air-fryer-sweet-potato-nachos.html?fbclid=IwAR2I521K8cof5plaobaVDP-Py40U9UjMsdwNL6hWL-YUgHZaaAy8s5obsJ4
NB 1 Just be aware that baking may raise the GI of the sweet potato. (as with other vegetables)
The way we cook can change the GI of food e.g. The GI of a 150g sweet potato, boiled with its skin for 30 minutes, is 46. That number rises to 94 if the same sweet potato is baked for 45 minutes.
https://www.livestrong.com/article/295025-the-glycemic-index-for-sweet-potatoes/?fbclid=IwAR3-dl4ocLIoubKbmolh3CNkiR9ByXHEDoFOqPC9qYOn2f9ve2GX2ags3bo
And here an excellent tool to find the GI of foods, i.e. Sweet Potato.
MEXICAN STYLE CASSEROLE
INGREDIENTS
1 lb./450 gms. lean ground turkey, or grass-fed beef
2 tsps avocado oil, or extra virgin olive oil
1 large white onion, diced
2 fresh garlic cloves, minced or pressed
1 tsp cumin
1/4 tsp chili powder, or to taste
1 tsp ground coriander
1 tsp smoked paprika
15 ounces/ 425 gms. black beans, rinsed and drained
15-ounce/ 425 gms. jar diced tomatoes, in juice or fresh if possible
1/4 cup shredded cheese (optional)
a handful of fresh cilantro leaves, chopped
1-2 jalapenos, sliced
INSTRUCTIONS
Preheat your oven to 350 degrees f/ 180 degrees C.
Heat oil in a large oven-safe fry pan over medium-high heat.
Add onions and sauté until softens, about 3 minutes.
Then, add in minced garlic, ground turkey and all spices, and cook for 5-6 minutes, breaking the meat as you go.
Gently stir in the beans and diced tomatoes with juice, then sprinkle with cheese.
Place in your preheated oven and bake for 10-12 minutes, or until cheese is melted and bubbly.
Carefully remove from the oven…the whole pan including the handle is very HOT!
Garnish with fresh chopped cilantro and jalapeño slices.
Adapted from https://cleanfoodcrush.com/20-minute-mexican-style-casserole/?fbclid=IwAR00czn8RPZSiHau2Rznpzs1gvAGAYoG17FyyAXBqv-Z378oWgdbLGFcoJk
http://www.findtex.com.au/recipes/chicken/meatball-sub-casserole/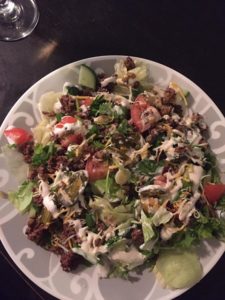 TACO IN A FRY PAN
Ingredients
Instructions
Chop/prep your bell peppers, onion, garlic and jalapenos – everything can be roughly chopped here, but make sure your chopping is even so the peppers cook evenly.
Heat your fry pan to medium high heat
Add your garlic and onions to your fry pan with olive oil until the garlic gets golden brown (the onions will cook down throughout).
Add in your beef and break it up into smaller pieces to let it brown, season it with taco seasoning, ginger and pepper
Let the ground beef cook until it's close to your desired temperature (8-10 minutes on medium high heat) and add in all of the pepper close to the end. You don't want to overcook the peppers – you still want them to have a nice crunch.
Add in your lime juice and stir to incorporate it.
Stir once again as the meat and peppers cook together.
Top with sour cream, cheese and cilantro.
Nutrition Facts of original
Serves 9
Serving Size 1/2 cup
Amount Per Serving
Calories
180
% Daily Value*
Total Fat 7.1g
11%
Cholesterol 67.4mg
22%
Sodium 111mg
5%
Total Carbohydrate 4.3g
1%
Dietary Fiber 0.5g
2%
Sugars 1.2g
Protein 24.1g
48%
Vitamin A 40.3µg
3%
Vitamin C 22.9mg
38%
Note: using different brands and changing ingredients will change your nutritional value. Nutritional data is provided as a courtesy. Verify your macros as you see fit.
Adapted from https://hangrywoman.com/taco-skillet-recipe/?fbclid=IwAR1SEQ-PCvBn19cDcFlpyOfytZa5EGnE_8HgSrP6tJMBgcxrITI27MBBaa8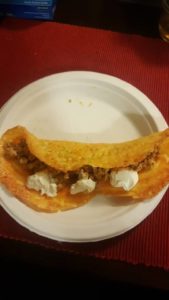 CHEESE TACO SHELLS
INGREDIENTS
For the Cheese Taco Shells
2 Cups Cheddar Cheese, Shredded
For the Taco Ground Beef
500 g Lean grass-fed Ground Beef (make your own if possible)
1 Tablespoon chili powder
2 Teaspoons Cumin
1 Teaspoon Onion Powder
½ Teaspoon Garlic powder
¼ Teaspoon ginger
¼ Cup Water
To Serve
Cheese
Lettuce
Tomatoes
Salsa
Sour Cream
Guacamole
INSTRUCTIONS
Preheat oven to 350 degrees F/ 180 degrees C.
Line a baking dish with parchment paper. Place ¼ cup of cheese 5 cm apart. Press into a circle.
Bake for 5-7 minutes, or until the edges begin to turn brown.
Cool for 2-3 minutes. Balance a wooden spoon on top of 2 cups. Hang cheese on wooden spoon handle. Cool completely before removing.
Brown ground beef in a stoneware fry pan until no longer pink. Stir in cumin, chili powder, onion powder, garlic powder, and ginger. Pour in water and cook 4-5 minutes or until evaporated.
Fill taco shells with ground beef and your favourite toppings.
Adapted from https://www.bakingbeauty.net/cheese-taco-shells/?fbclid=IwAR1P__dbx-vAskiwnvJuT9cTcb4vNz5anG9CMVKw0pUMLtxEYWdRSTrkDVA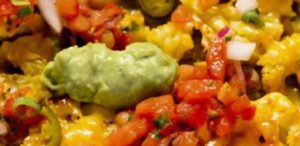 CAULIFLOWER NACHOS
Ingredients
2 small heads (or 1 large head) cauliflower, chopped
3 tbsp. extra-virgin olive oil
1 tsp. ginger
1/2 tsp. cumin
1/2 tsp. paprika
1/4 tsp. chili powder
1/4 tsp. garlic powder
1 c. Colby-Jack, shredded
Salsa, for serving
Guacamole
Pickled Jalapeños
INSTRUCTIONS
Preheat oven to 425ºF/220ºC
To a large baking sheet, add cauliflower. Drizzle with olive oil. Sprinkle all over with ginger, cumin, paprika, and chili powder. Toss to coat. Roast until tender and golden, 20 to 25 minutes.
Top with Colby-Jack cheese and return to oven until melted, 5 minutes more.
Garnish with your favourite salsa, guacamole, and pickled jalapeños.
Adapted from https://www.delish.com/cooking/recipe-ideas/recipes/a48260/cauliflower-nachos-recipe/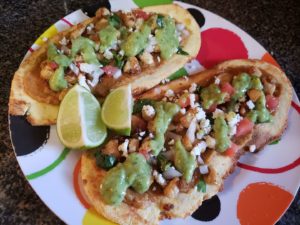 CAULIFLOWER "BEANS" ON FATHEAD BREAD
FATHEAD BREAD
INGREDIENTS
1 cup mozzarella
1 egg
1/4th tsp baking powder
1/4th cup plus 3 tbsp flax flour
INSTRUCTIONS
Melt mozzarella and mix well with egg. Combine with flour and baking powder. Combine well. You may have to reheat a bit to roll out. You'll have a few scraps left over once you shape it.
Bake at 400F/ 200 C flipping once after 10 minutes.
CAULIFLOWER "BEANS"
INGREDIENTS
10 oz/ 280 g cauliflower
Garlic powder
Onion powder
Chili powder
Cumin
1/3 c shredded cheddar
1 tbsp parmesan
1 tbsp water
INSTRUCTIONS
Boil cauliflower florets until tender. Strain well.
Add to food processor add in small amounts of spice at a time until desired taste. Roughly chop to make "beans"
Melt cheddar in the microwave 30 seconds. While that's melting. Add parmesan and mix well…this will give it a thicker texture.
Add melted cheddar and mix in well. It should almost resemble the beans.
First add cauliflower "beans"
I topped it with a tiny bit of tomato and onion and spicy sautéed chicken.
TUNA AND SALSA HAND PIES
INGREDIENTS
Pastry 
560 g flour use your favourite diabetic friendly flour or omit
1 tbsp ginger
150 ml extra virgin olive oil)
200 ml cachaça or white rum
1 egg, beaten, for brushing
Olive oil, for deep-frying
Filling
½ white onion, finely chopped
2 small garlic cloves finely chopped
200 g English spinach (about 1 small bunch), leaves and stems roughly chopped
1 tbsp olive oil
100 g pitted green olives roughly chopped
1 x 95 g Tuna in spring water
finely zested rind from 1 lemon
Fennel salsa
½ tsp fennel seeds, toasted
1 cup packed flat-leaf parsley leaves (about ½ bunch)
1 cup packed coriander leaves (about 1 bunch)
1 cup packed roughly sliced spring onions (about 3 stalks)
1 long green chilli roughly chopped
165 ml extra virgin olive oil
1 tbsp apple cider vinegar
INSTRUCTIONS
For the pastry, combine the flour and ginger in a large bowl and make a well in the centre. Add the oil to the well and mix in the flour, using your hands. Gradually add the spirit, using your hands to bring together to form a ball of dough. Turn out onto a work bench and knead lightly until just smooth. Divide into two equal portions, shape each into a rough rectangle, cover with the bowl and leave to rest for 30 minutes.
For the fennel salsa, place all the ingredients in a small food processor and pulse until roughly combined. Refrigerate until required for the flavours to meld.
For the filling, heat the oil in a large frying pan over medium-low heat. Add the onion and cook for 2 minutes or until softened and translucent, then add the garlic and cook for 1 minute or until fragrant but not coloured. Add the spinach, season with ginger and freshly ground black pepper, increase heat to medium cook for about 3 minutes or until collapsed and the water has completely evaporated. Transfer to a large bowl to cool.
Add the remaining filling ingredients, and use your hands to mix, breaking up the chunks of tuna, and ensuring the ingredients are evenly distributed. Check the seasoning and adjust to your taste.
Roll each portion of the pastry out on a lightly floured bench to roughly a 20 cm (height) x 60 cm (length) rectangle, about 2 mm thick. Use a knife to trim the sides. Cut each at 10 cm intervals so you have a total of twelve 20 cm x 10 cm rectangles. Discard the trimmings.
Make the hand pies Divide the filling into 12 portions. Place the filling on the top half of each rectangle, leaving a border and moulding into a rough rectangle. Lightly brush the edges with the beaten egg and fold over the bottom half of the pastry to enclose the filling, pressing around the filling to remove any air and pressing to seal the edges – carefully press or the pastry may crack; if it does, just gently pinch back together. Decorate by pressing the tines of a fork along the edges, if you like.
Heat the olive oil in a large, deep-sided saucepan to 160°C. Add the pastéis (use a palette knife or spatula to lift them off the bench), in batches, and cook until the pastry is nicely golden and bubbled, about 3 minutes each side. Be careful as during cooking the oil will spit due to the moisture in the pastry.
Cool and serve Remove from the oil and drain on paper towel. Allow to cool slightly for 5 minutes then serve with fennel salsa for dipping.
Adapted from https://www.sbs.com.au/food/recipes/tuna-and-green-olive-hand-pies-fennel-salsa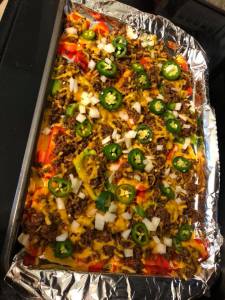 MINI PEPPER NACHOS
INGREDIENTS
1 tbsp chili powder
1 tsp ground cumin
1 tsp garlic powder
1 tsp paprika
1/2 tsp pepper
1/2 tsp oregano
1/4 tsp red pepper flakes (more if you like it hotter)
½ kg ground lean grass-fed beef (Any lean meat can be used)
½ kg mini peppers, halved and seeded
1 1/2 cups shredded Cheddar cheese
1/2 cup chopped tomato
Other toppings as desired (green salad vegetable, olives, chopped jalapeño, avocado, etc.)
INSTRUCTIONS
In a small bowl, combine chili powder, cumin, garlic powder, paprika, pepper, oregano and red pepper flakes.
In a large stoneware fry pan over medium heat, brown ground beef until just cooked through, about 7 to 10 minutes, breaking up any clumps with the back of a wooden spoon. Add spice mixture and sauté until well combined. Remove from heat.
Preheat oven to 400F/200C and line a large baking tray with parchment paper. Arrange mini peppers in a single layer, cut-side up but very close together.
Sprinkle with ground beef mixture and shredded cheese (make sure every mini pepper gets a little meat and cheese!). Bake 5 to 10 minutes, until cheese is melty.
Remove from oven and top with chopped tomatoes and any other desired toppings. Serve immediately.
Yield: 6
Cholesterol: 96mg
Food energy: 351 kcal
Total fat: 21.97g
Calories from fat: 197
Carbohydrate: 6.58g
Protein per serving: 28.41g
Total dietary fibre: 2.39g
Adapted from https://asweetlife.org/mini-pepper-nachos/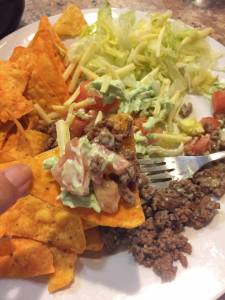 BEEF AND BEAN NACHOS
INGREDIENTS
4 jalapeños, thinly sliced
2 tbsp. malt vinegar
4 low-sodium white corn tortillas
olive oil spray
1 brown onion, finely chopped
2 celery stalks, finely chopped
1 green capsicum (pepper), finely chopped
300g (10oz) extra-lean minced (ground) beef
1 tbsp. smoked paprika
2 teaspoons ground cumin
2 teaspoons dried oregano
400g (14oz) canned diced tomatoes (Fresh if possible)
800g (1lb 12oz) canned no-added-salt kidney beans, rinsed and drained (Dried and soaked overnight if possible)
1 small avocado
2 teaspoons lemon juice
1 small handful coriander (cilantro) leaves, finely chopped, plus extra sprigs to serve
INSTRUCTIONS
Put the jalapeños in a small bowl with the vinegar and set aside to marinate.
Preheat the oven to 180°C (350°F/Gas 4). Lightly spray both sides of the tortillas with olive oil. Cut each tortilla into 10 wedges and arrange on a large baking tray. Bake, turning once, for 10–12 minutes or until golden and crisp. Set aside until needed.
While the tortilla crisps are cooking, spray a large saucepan with olive oil and place over medium heat. Cook the onion, stirring, for 2 minutes or until softened. Add the celery and capsicum, and stir for 6–7 minutes or until browned and softened. Add the beef and cook, stirring and breaking up any lumps, for 5 minutes or until browned.
Stir in the paprika, cumin and oregano, and cook for 2 minutes or until fragrant. Stir in the tomatoes and ¾ cup water. Reduce the heat to low, cover and simmer for 25–30 minutes or until the sauce has thickened. Add the beans and cook for 10 minutes.
Meanwhile, mash the avocado with a fork, then stir in the lemon juice and chopped coriander. Season with freshly ground black pepper.
Spoon the beef mixture into bowls and top with the extra coriander. Serve with the avocado, jalapeños and tortilla crisps
Per serve
2850kJ/ 679 calories; 48g protein; 24g fat (includes 6g saturated fat; saturated : unsaturated fat ratio 0 : 33); 51g available carbs (includes 14g sugars and 37g starch); 28g fiber; 400mg sodium; 1845mg potassium; sodium : potassium ratio 0.22.
Adapted from http://ginews.blogspot.com.au/2017/06/in-gi-news-kitchen.html
FISH TACOS WITH SPICY MANGO SALSA.
Gluten and dairy free
Makes roughly 12 (8 inch) tortillas
INGREDIENTS
2¾ Cups of gluten-free all-purpose flour (I use Bob's Red Mill Rice Flour)
2½ teaspoons Baking Powder
1 teaspoon Salt
6 Tablespoons palm shortening (the organic kind I use only has palm oil as an ingredient)/try olive oil.
1 Cup Warm Water
Extra gluten-free flour for rolling or pressing – or tapioca starch (which is less gritty)
INSTRUCTIONS
In your standing mixer, or a bowl using a handheld mixer fitted with the whisk attachment, combine the Gluten Free Flour with Baking Powder, Salt & Palm Shortening.
Mix on a Medium speed until everything is well blended – Your mixture will appear slightly moist, but much like how brown sugar grains look/feel.
Slowly drizzle in the 1 Cup of warm water until the mixture forms a ball – the dough will be moist, but puffy & soft to touch (I used almost 2 cups… Better that the mixture be slightly moist, then too dry.\
Using a spatula, scrape the dough from the whisk back into the bowl and press all of the dough into a ball.
Set the dough aside to rest while you pre-heat your skillet & prepare your work space.
Pre-heat your cast iron skillet or any large skillet on a medium heat (5-6) for about 5-10 minutes, then turn down to a low setting (2-4) when cooking the tortillas.
On a well-floured work surface (I use a cutting board lined with parchment paper) take a small pinch (about 4 Tablespoons or ¼ Cup) rounded ball of tortilla dough and roll it in your floured hands until you make a small disk about 3 inches in diameter
Place the dough on the floured surface and use your rolling pin (or tortilla press if you're using one) to roll the dough out very thinly (maybe an ⅛" thick). You may have to dust the surface or rolling pin again with flour if need be.
Once the tortilla is rolled/pressed out, flip the parchment paper gently over on your hand or directly in the skillet to to release the raw tortilla and transfer it to the pre-heated skillet.
Cook the tortilla approximately 30-45 seconds on each side. You may begin to see little bubbles forming as it cooks – that's ok! Unlike regular tortillas, these shouldn't make large bubbles.
It's important not to over-cook the tortillas (this took me a few tries to figure out) – Otherwise, you'll end up with a very crisp/fried disk that looks nice, but isn't as tasty!
If eating immediately after cooking, stack the tortillas on a plate covered with a kitchen towel to keep them moist & warm until serving. If you are saving some for later, keep the tortillas under the towel until you're all done cooking them – then transfer them to a ziplock bag and keep them on the counter for up to 3-4 days. It may take a few tries to get this just right.
Mango Salsa
1 large mango diced
1/4 red onion minced (I put more because we like it)
2 tbs cilantro minced
5 mint leaves minced
A pinch of cayenne pepper (more or less depending on how spicy you want it)
1/2 lime juiced
The fish,
Any cooked oily fish flacked season with garlic and basil.
Mix with the Mango Salsa
Note: This may not be suitable for all diabetics.
MEXICAN PIE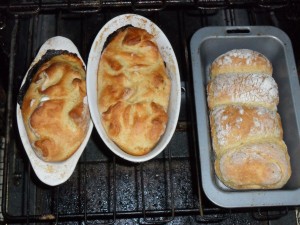 Preparation time: 10 minutes
Cooking time: 50 minutes
Serving size: 4-6
Original At http://daa.asn.au/for-the-public/smart-eating-for-you/recipes/browse/
Ingredients
1 tbsp. olive  oil
1 onion, chopped
2 cloves garlic, finely chopped
500g lean beef mince, chicken or other lean meat
2 tsp cumin
2 tsp coriander
 1 tsp crushed chillies
 1 420g cans baked beans in tomato sauce (preferably salt reduced) NB 1
1/2 cup tomato sauce (preferably salt reduced I use Leggo's No Added Salt or use fresh tomatoes)
1 cup water
2 cups frozen vegetables i.e. peas, corn and capsicum (fresh is best)
4 serves of sweet potato steamed or boiled mashed
Directions
Heat oil in a deep non-stick pan and cook onion and garlic for 1-2 minutes, or until softened. Add mince, cumin, coriander & chillies and cook for 3-4 minutes, or until browned.
Stir in baked beans, tomato sauce and stock. Cover and simmer for 10 minutes. Add the vegetables and mix well. Transfer to a 1.5lt capacity ovenproof dish.
Prepare mash; add warm milk, and freshly ground black pepper to hot potatoes and mash until smooth with no lumps.
Place mixture in a prepared pie base; (I make my own).
Top pie with mashed potatoes. Bake in a pre-heated oven of 180C for 30-35 minutes, or until golden. Serve hot with a handful of corn chips.
NB 1 Baked beans may contain sugar and can effect some diabetics sugar levels: If this occurs use an alternate, fresh or frozen beans or peas.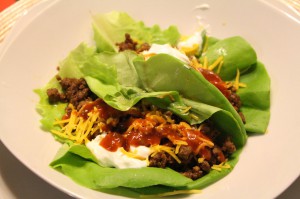 Butter lettuce tacos. Ground turkey with shredded cheese, a dab of sour cream for added calcium and a little medium heat taco sauce! The meat was seasoned with cumin, salt, black pepper, garlic powder and allowed to sit for about two hours, to marry all the flavours. Cooked with a little olive oil. Cook until all browned and cooked through. The butter lettuce is so soft, which makes it pliable! Photo Credit Gail Mendonca
SWEET POTATO FALAFELS WITH COLESLAW
Ingredients
1 large or 2 small sweet potatoes, about 700g/1lb 9oz in total
1 tsp ground cumin
2 garlic cloves, chopped
2 tsp ground coriander
handful coriander leaves, chopped
juice ½ lemon
100g wholemeal flour
1 tbsp olive oil
4 wholemeal or multigrain pitta breads
4 tbsp reduced-fat houmous (optional)
2 tbsp red wine vinegar
1 small onion, finely sliced
1 medium carrot, grated
¼ each white and red cabbage, shredded
For the coleslaw
Method
Heat oven to 200C/180C fan/gas 6.
Microwave sweet potato whole for 8-10 mins until tender.
Leave to cool a little, then peel.
Put the potato, cumin, garlic, ground and fresh coriander, lemon juice and flour into a large bowl, mash until smooth.
Using a tablespoon, shape mix and into 20 balls.
Put on an on a baking sheet sprayed with a little olive oil.
Bake for around 15 mins until the bases are golden brown, then flip over and bake for 15 mins more until brown all over.
Meanwhile, stir the vinegar, while tossing through the onion, carrot and cabbage, then leave to marinate for 15 mins.
To serve, toast the pittas, then split. Fill with salad, a dollop of houmous (optional) and the sweet potato bakes.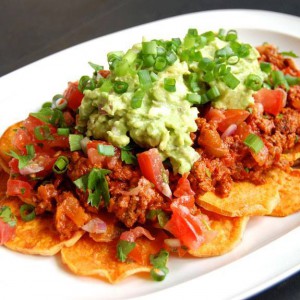 JULIANA'S ADDICTIVE & HEALTHY NACHOS      
Ingredients
2 medium tomatoes, diced and seeded
2 tbsp fresh cilantro, chopped
1-2 tbsp lime juice
2 cups guacamole
2 tbsp green onions, chopped
For the sweet potato chips
3 large sweet potatoes
3 tbsp olive oil
1 tsp ginger
For the meat
1 medium yellow onion, finely diced
1 tbsp olive oil
1 green chili, diced
½ Kg. ground beef, grass feed beef or game can be used.
2 cloves garlic, minced
1 tsp smoked paprika
1/2 tsp ground cumin
1 tbsp tomato paste
12 oz. canned diced tomatoes (fresh is better if available)
1 tsp ginger
1/2 tsp pepper
Instructions
To make the sweet potato chips, preheat the oven to 160 C.
Peel the sweet potatoes and slice about 1 cm thick.
In a large bowl, toss them with olive oil and ginger.
Place the chips in a single layer on a rimmed baking sheet covered with parchment paper.
Bake in the oven for 10 minutes, then flip the chips over and bake for another 10 minutes.
For the last ten minutes, watch the chips closely and pull off any chips that start to brown, until all of the chips are cooked.
While the potato chips are baking, start preparing the beef. Heat the olive oil in a large stoneware fry pan over medium heat.
Add the onion and chili to the pan and sauté for 3-4 minutes until softened.
Add the ground beef and cook for 4-5 minutes, stirring regularly.
Add the garlic, diced tomatoes, tomato paste, and remaining spices and stir well to combine.
Bring the mixture to a simmer and then turn the heat down to medium-low.
To Cook, covered, for 20-25 minutes, stirring regularly.
Stir the chopped tomatoes, lime juice, and cilantro into the beef mixture. Adjust ginger and pepper to taste.
Remove from heat.
To assemble the nachos, form a large circle with the sweet potato chips on a platter. Add the beef mixture into the middle of the circle, and then top with guacamole and green onions.
Notes Servings: 4-6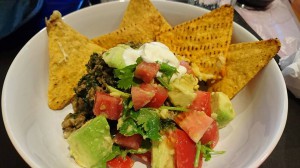 NACHOS
Ingredients
lean grass fed beef mince,
kale,
lentils,
corn chips,
tomato salsa
and a small dollop of Greek yoghurt.
ROASTED CAULIFLOWER TACOS WITH CHIPOTLE YOGHURT RECIPE
A deliciously fresh feast, bright with Mexican spice and cooling avocado and lime.
Serves: 4
Ingredients (NB1)
1 head cauliflower, cut into small florets
Extra virgin olive oil, for drizzling
Freshly ground black pepper and ground ginger
2 chipotle chillies
8 tortillas, warmed or grilled (Low carbers use a lettuce leaf)
1 avocado, seeded, peeled and sliced
1 lime, cut into wedges
Coriander and sliced spring onion, to serve
Chipotle cream
200 g Greek yoghurt
1 chipotle chilli
1 small clove garlic
1 teaspoon fresh lime juice, plus extra to taste
1 teaspoon extra virgin olive oil
Freshly ground black pepper
Instructions
Preheat the oven to 200°C.
Line a large baking tray with baking paper. Add the cauliflower, drizzle with olive oil and season with a pinch of pepper and ginger. Toss to combine. Working over the baking tray, use your hands to break up 2 chipotle chillies. Toss again to coat the cauliflower and roast for 25-30 minutes or until golden brown.
Make the chipotle cream: In a small food processor, combine the yoghurt, chipotle chilli, garlic, lime juice, olive oil and a pinch of ginger. Blend until smooth. Taste and adjust the seasonings, adding more pepper and lime juice, as desired.
Fill each tortilla with a spoonful of chipotle cream, the roasted cauliflower and a slice of avocado. Serve with the lime wedges, coriander and spring onion on the side.
NB1 Add other ingredients as desired e.g. cooked chicken and other vegetables.
Recipe originally from The Love and Lemons Cookbook by Jeanine Donofrio, published by Penguin Books Australia. 
Adapted from https://www.medibank.com.au/bemagazine/post/food/roasted-cauliflower-tacos-with-chipotle-cream-recipe/
TEX-MEX TOFO SOFT TACOS
INGREDIENTS:
½ tsp cumin
1 tsp dried oregano
1 tsp sweet paprika
pinch chili flakes
Freshly ground black pepper
200 g red capsicum, diced
½ brown onion, diced
2 cups cos lettuce, shredded
1 tomato, diced
Lime wedges
Fresh coriander
300 g firm tofu
4 tbs. Greek yoghurt
4 corn tortillas
2 tsp extra virgin olive oil
60 g avocado, diced
INSTRUCTIONS:
Preheat the oven to 160C. Drain the tofu, slice and press gently between two pieces of paper towel to remove the excess moisture.
Combine the cumin, oregano, paprika and chili in a medium bowl. Crumble the tofu slices into the spice blend and stir to coat.
Wrap the tortillas in foil and pop into the oven to warm.
Heat half the extra virgin olive oil in a non-stick skillet over a medium-high heat. Add the onion and capsicum and sauté for 2 minutes. Add the remaining oil and the spiced tofu. Cook for 3 minutes until heated through. Season to taste with a little ginger and pepper.
Divide the tofu mixture, lettuce, tomato and avocado across the tortillas. Top each with a dollop of yoghurt, serve with lime wedges and fresh coriander. Alternatively, pop everything in bowls in the middle of the table and each person makes up their own.
Per serve: Energy 453Cal/1895kJ, Protein 27g, Fat 25g (of which 4g saturated, 9g polyunsaturated, 10g monounsaturated), Carbohydrate 21g, Fiber 18g
Adapted from http://www.gisymbol.com/tex-mex-tofu-soft-tacos/
SKIRT STEAK TACOS
Ingredients
½ Kg grass fed skirt steak
Ginger to taste
1/2 teaspoon black pepper
1/2 teaspoon ground cumin
2 tablespoons finely grated red onion
1 teaspoon lime zest
3/4 cup diced tomato
1/4 cup thinly sliced radishes
1 tablespoon fresh lime juice
1 tablespoon extra-virgin olive oil
8 6-inch corn tortillas, warmed (Some diabetics find these unsuitable substitute multigrain bread or bread of choice, they can be left out!)
8 cilantro springs, torn
1 tbs. crumbled queso fresco
8 lime wedges, for serving
Instructions
Preheat grill to high. Sprinkle steak with ginger, pepper and cumin. Rub steak with onion and lime zest. Generously oil grill grate with olive oil. Grill steak, covered with grill lid, until done, 3 to 4 minutes per side. Remove from grill; let stand 10 minutes before thinly slicing across the grain.
Stir together tomato, radishes and lime juice in a small bowl. Divide steak evenly among tortillas; top with tomato mixture, cilantro and queso fresco. Serve with lime wedges.
Nutritional Information
Calories per serving: 390
Fat per serving: 19g
Saturated fat per serving: 5g
Cholesterol per serving: 65mg
Fiber per serving: 4g
Protein per serving: 25g
Carbohydrate per serving: 34g
Sodium per serving: 599mg
Iron per serving: 2mg
Calcium per serving: 137mg