GUACAMOLE DEVILED EGGS
INGREDIENTS
6 large eggs, hard boiled
1 medium haas avocado, about 5 oz
2-3 tsp fresh lime juice
1 tsp red onion,
1 tbsp minced jalapeno
1 tbsp fresh cilantro,
ginger and fresh ground pepper, to taste
1 tbsp diced tomato
pinch of chile powder, for garnish
INSTRUCTIONS
Peel the cooled hard boiled eggs.
Cut the eggs in half horizontally and set the yolks aside.
In a bowl, mash the avocado and 2 whole egg yolks; discard the rest.
Mix in lime juice, red onion, jalapeño, cilantro, ginger and pepper and adjust to taste. Gently fold in tomato.
Scoop heaping spoon full of the guacamole into the 12 halved eggs.
Sprinkle with a little chile powder for colour and arrange on a platter.
Serving: 2halves, Calories: 88kcal, Carbohydrates: 3g, Protein: 5g, Fat: 6g, Saturated Fat: 1g, Cholesterol: 62mg, Sodium: 60mg, Fiber: 2g, Sugar: 0.5g
Guacamole Deviled Eggs Recipe (skinnytaste.com)
EGGS WITH OLIVES
INGREDIENTS
4 eggs
Ginger and freshly cracked black pepper
2 tablespoons heavy cream
¼ cup Castlvetrano Olives, chopped
1 tablespoon chopped fresh parsley
1 sprig fresh thyme leaves
Extra Virgin Olive Oil, for drizzling
INSTRUCTIONS
Preheat oven to 375°F/ 190°C.
Crack 2 eggs into 2 individual-sized baking dishes. Season with ginger and pepper.
Drizzle a tablespoon of heavy cream into each dish, and distribute the olives and herbs into each dish.
Bake about 6 minutes, until the whites are set, and yolks are very loose. Once removed from the oven, the eggs will continue to cook for a few minutes.
Drizzle eggs with olive oil and serve hot.
Adapted from Fresh New Year's Day Brunch Menu Ideas | Jeff's Garden Foods
MEDITERRANEAN BREAKFAST SANDWICHES
INGREDIENTS
4 multigrain sandwich thins
4 teaspoons olive oil
1 tablespoon snipped fresh rosemary or 1/2 teaspoon dried rosemary, crushed
4 eggs
2 cups fresh baby spinach leaves
1 medium tomato, cut into 8 thin slices
4 tablespoons reduced-fat feta cheese
Freshly ground black pepper
INSTRUCTIONS
Preheat oven to 375°F/ 190°C. Split sandwich thins; brush cut sides with 2 teaspoons of the olive oil. Place on baking sheet; toast in oven about 5 minutes or until edges are light brown and crisp.
Meanwhile, in a large stoneware fry pan heat the remaining 2 teaspoons olive oil and the rosemary over medium-high heat. Break eggs, one at a time, into fry pan. Cook about 1 minute or until whites are set but yolks are still runny. Break yolks with spatula. Flip eggs; cook on other side until done. Remove from heat.
Place the bottom halves of the toasted sandwich thins on four serving plates. Divide spinach among sandwich thins on plates. Top each with two of the tomato slices, an egg and 1 tablespoon of the feta cheese. Sprinkle with pepper. Top with the remaining sandwich thin halves.
Nutrition Facts
Serving Size: 1 sandwich
Per Serving:
242 calories; 11.7 g total fat; 2.9 g saturated fat; 214 mg cholesterol; 501 mg sodium. 144 mg potassium; 25 g carbohydrates; 6.2 g fibre; 3 g sugar; 13 g protein; 2448 IU vitamin a iu; 12 mg vitamin c; 29 mcg folate; 123 mg calcium; 3 mg iron; 10 mg magnesium;
Exchanges:
1 1/2 starch, 1 fat, 1 medium-fat protein, 1/2 vegetables
Adapted from http://www.eatingwell.com/recipe/262836/mediterranean-breakfast-sandwiches/?fbclid=IwAR0AA5-ph0FimGFEO5sWdoTSX1uIC-za2F8-o1zockBy35HJpImDNDXa7Gs
www.findtex.com.au/uncategorised/mediterranean/
FRESH ASPARAGUS TOPPED WITH SUNNY SIDE UP EGG
INGREDIENTS
1 bunch asparagus, woody ends trimmed
Olive oil Cooking spray
2 omega-3 large eggs
1 tablespoon olive oil (optional)
1 teaspoon Parmesan cheese (optional)
1 teaspoon multigrain breadcrumbs (optional)
1/4 cup chopped red peppers (optional)
INSTRUCTIONS
Fill medium saucepan with water and bring to a boil. Submerge asparagus and cook for approximately 2 minutes, maintaining a bright green colour and slight crunch. Immediately remove asparagus and shock it in a bowl of ice water. Reserve.
Coat medium size fry pan with olive oil cooking spray. Crack two eggs into pan and cook over medium heat until the whites set and the edges of the eggs are cooked.
Place asparagus on plate, making an even layer. Remove eggs from the pan using a slotted spatula and place on top of asparagus. Top with a drizzle of olive oil and garnish with Parmesan cheese, breadcrumbs or red peppers, if desired.
Recipe Yield: Yield: 2 servings
Nutritional Information Per Serving: of original
Calories: 135
Fat: 11 grams
Saturated Fat: 5 grams
Fibre: 1 grams
Sodium: 86 milligrams
Cholesterol: 176 milligrams
Protein: 7 grams
Carbohydrates: 2 grams
Adapted from https://diabeticgourmet.com/diabetic-recipes/fresh-asparagus-topped-with-sunny-side-up-eggs?fbclid=IwAR2a37UeVoG7b7ORP7IoVauv_GZA8U2OCzVXW4lPrIDASMar5XH8-WKsWg8
%MCEPASTEBIN%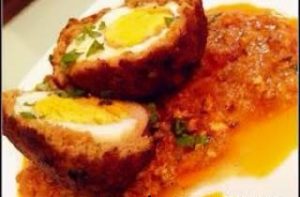 SPICY SCOTCH EGG
INGREDIENTS
4 Eggs, Hard boiled
1 kg Lamb/Beef /Chicken Mince
1 tbsp Ginger Garlic paste
1 tbsp Red chilli powder
1/4 tbsp Turmeric powder
1 tbsp masala find recipe here http://www.findtex.com.au/diabetic-foods/sugar-free-masala/
1 tbsp lemon juice
2- 3 Green Chilli (finely chopped)
Coriander leaves (finely chopped)
Mint Leaves (finely chopped)
2 cup Olive Oil
For Garvey
2 Onions (finely chopped)
2 tbsp Almonds paste
1 tbsp Tomato puree
1 cup Plain Yogurt beaten
1 tbsp Ginger Garlic Paste
1 tbsp Masala find recipe here http://www.findtex.com.au/diabetic-foods/sugar-free-masala/
1 tbsp Red chili powder
1/2 tbsp Turmeric Powder
1 inch Cinnamon stick
2 Cloves
2 Green Cardamom
4 Black Peppercorns
1 tbsp Caraway seeds
1/4 cup Olive oil
For Garnishing
Coriander leaves, Mint Leaves and Green chillies washed and fine chopped.
INSTRUCTIONS
In a large non-stick saucepan add Eggs on medium heat, add enough water to cover the eggs.
Bring the water to boil, then remove from the heat.
Cover it with a lid and let the eggs sit in the hot water for 3 minutes.
Crack and Peel the Eggs and keep aside.
Meanwhile
Wash Mince and drain thoroughly.
In a Mixer/ Blender add raw mince, ginger garlic paste, red chilli powder, turmeric powder, green chili, Garam masala powder, lemon juice, coriander leaves, mint leaves and grind to a smooth paste.
Take a piece of cling film place on to your work surface, then take one portion of mince.
Place in the centre of the cling film and flatten and then place the egg in the middle.
Use the cling film to shape the egg, Gently slide up with your palm the plastic wrap and bring in the edges and enclose the egg in the patty.
Then remove the cling film and use your hands to shape into form of Egg.
Make sure the egg is completely wrapped and patch any holes.
Repeat same with the remaining eggs.
Meanwhile, In a non-stick pan add oil at medium heat.
Then fry them in hot oil.
Let it fry until it is golden brown, about 3-5 minutes.
For the Garvey:
In a large non-stick saucepan add oil at medium heat, add cinnamon stick, cardamom, black peppercorns, cloves and caraway seeds Let it splutter and fry.
Then add onions and fry till they change colour.
Add ginger garlic pastes, fry for 1 minute.
Add red chilli powder, turmeric powder, green chilli, garam masala powder, tomato puree, almond powder fry for 1 minute.
Then add Plain Yoghurt, coriander leaves, mint leaves and mix well If needed add little water leave it for low heat till the thin layer of oil appears on the bottom surface.
Stir often to prevent masala burning, Do not cook on a high heat, simmer heat
and cover the pan leave till done.
Remove pan from heat.
Cut Egg into Half and serve with gravy.
Garnished with Coriander and Mint leaves .
http://www.findtex.com.au/recipes/asian/texs-indian/
EGG WITCHES
INGREDIENTS
4 large eggs
4 tsp. light/reduced-fat cream cheese
4 thin cucumber slices
fresh salmon
2 cherry tomatoes, halved
Any other filling desired
INSTRUCTIONS
Place eggs in a pot, and cover with water. Bring to a boil and cook for 10 minutes.
Transfer eggs to a bowl, and cover with ice and cold water. Let sit for 20 minutes.
Gently crack eggs on the rim of the bowl and peel off the shells.
Halve eggs lengthwise. Discard yolks or save for another use.
Evenly fill 4 of the egg white halves with cream cheese. Top with cucumber, salmon, and tomato along with other filling.
Top with remaining 4 egg white halves, and secure with toothpicks (if needed).
adapted from http://www.hungry-girl.com/weekly-recipes/egg-wiches?fbclid=IwAR0_vZq-_jP-6xS5HRaTNcAZR6WafCxVzqrjdraT79jRHh-h8dwDAELRPso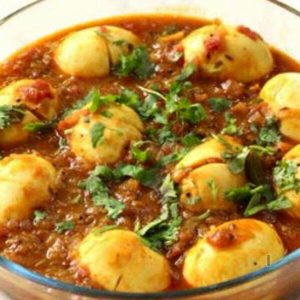 CURRIED EGGS
INGREDIENTS
6 boiled, peeled omega-3 egg
4 chopped tomato
2 finely chopped onion
4 sliced & slit green chilli
1 inch peeled, sliced ginger
3/4 teaspoon powdered turmeric
3/4 teaspoon red chilli powder
1 1/2 teaspoon coriander powder
1 teaspoon tamarind paste
1 handful curry leaves
1/4 cup olive oil
1 cinnamon stick
1 teaspoon black mustard seeds
100 ml Greek yoghurt
1 handful chopped coriander leaves
INSTRUCTIONS
1. Heat oil in a heavy-bottomed pan over medium heat. Add the mustard seeds and fry them for few seconds. Once they start to splutter, add the onions and sauté until they turn slightly pinkish in hue.
2. Now add the cinnamon and chopped green chillies. Fry for a minute or two. Add the chopped tomatoes and cook for 10 minutes.
3. Add the ginger, turmeric powder, red chilli powder, coriander powder and stir-fry for a minute. Cook these spices until the oil starts to separate. Add the tamarind paste and 1 cup of water. Simmer for a minute or two.
4. Add the yoghurt and curry leaves. Stir well and simmer for a minute. Add the eggs and simmer for 3 to 5 minutes over low heat. Stir gently ensuring the eggs stay intact. Garnish with coriander leaves. To make the garnishing more aromatic, fry curry leaves, crush and add it to the egg recipe, this makes it even more delicious and flavoursome. Serve.
If you tried my Christmas joint poached in stout. Do not throw out the liquid left behind. This will make a tasty stock.
Just let it cool and  remove any visible fat.
Use a little of this to poach a couple of eggs. I use my Omega 3 eggs.
We are allowed 2 eggs yolks per week and I like to save mine up for these little delights.
Any remaining stock can be frozen or used in stew etc.
EGG CURRY VERSION II
INGREDIENTS
4-5 hard-boiled eggs, shelled
3 small sized onions, roughly chopped
4-5 garlic cloves
2 medium size tomatoes
10-12 seeds of fenugreek/methi dana
1/4tsp turmeric
1-2tsp red chilli powder
3-4tsp coriander powder
1tsp cumin/jeera
an inch piece ginger
3-4tsp olive oil
2 green chillies
1 black cardamom
2 green cardamom
a small piece stone flower/dagad phool
Spices find recipe here http://www.findtex.com.au/uncategorised/spice-mix-sugar-salt-and-fat-free/
INSTRUCTIONS
Hard boil 4 eggs. Cool and peel. Pierce them at 3-4places. This helps the eggs to take up all the flavours in the curry.
Heat 3-4 tsp olive oil and add fenugreek seeds to it. Once it turns slight golden in colour add the onions, 1 green chilli, followed by garlic.
Add tomatoes and cook them slightly.
Sauté and add cumin seeds. Mix.
Cool the mix and add ginger and green chillies to that.
Grind this cooked mix.
Heat 2tsp of olive oil and add the whole spices, sauté on low heat for a few seconds for the spices to release their aromatic oils.
Add the ground mix. Mix properly and add turmeric, red chilli powder and coriander powder
Let the gravy release the oil around the edges and then add about 2 cups of boiling water to make a thick gravy. Add the boiled egg and let the curry simmer for 10-12mins.
Serve hot.