SOUTHWEST CHEESE CHICKEN WRAP
INGREDIENTS
For the cheese wraps:
12 oz/ 340 g Shredded cheddar jack cheese Bought in a block and shredded yourself at home
For the filling:
1 Olive oil
8 oz/ 142 g Shredded rotisserie omega-3 chicken
½ Red bell pepper chopped
½ Orange bell pepper chopped
½ Large jalapeno deseeded and finely chopped
½ Cumin
1 Chili powder
½ Oregano
1 Minced garlic
3 oz/ 85 g Cream cheese
⅔ Sour cream
½ Shredded cheddar jack cheese
1 Shredded purple cabbage
2-3 Chopped green onions
Ginger and pepper to taste
INSTRUCTIONS
Preheat the oven to 375°F/ 190°C.
Shred the cheddar jack cheese. Shredding it from the block works way better than the pre-shredded cheese for making the wraps.
Create circles of shredded cheese about 4-6 inches 10 – 15 cm across on a parchment lined baking sheet. Leave room between each circle, as they will expand a bit as they cook.
Bake for 10 minutes until the cheese has a lace-like appearance and has begun to brown slightly around the edges. Let the cheese cool until it can be easily handled without burning yourself.
While the cheese is cooking, heat the oil in a stoneware fry pan over medium-high heat on the stove, and add the chicken, bell peppers and jalapeno peppers to it.
Add the chili powder, cumin, oregano and ginger and pepper to taste to the fry pan with the chicken mixture and continue to cook for a few minutes until heated through and the peppers are beginning to soften.
Stir in the minced garlic, cream cheese and sour cream. Mix and cook until the cream cheese has melted.
Remove from the heat, and stir the green onions, purple cabbage and ½ cup of cheese into the mixture.
When the wraps have cooled, place a thick layer of filling in the centre of each one, and roll them closed to serve.
NUTRITION
Calories: 289 kcal Carbohydrates: 4 g Protein: 19 g Fat: 22 g Fibre: 1 g
Net Carbs: 3
Adapted from https://kimspireddiy.com/keto-low-carb-southwest-cream-cheese-wraps-ketogenic-diet-recipe-roll-ups-appetizers-side-dish-lunch-dinner-completely-keto-friendly-begin/?fbclid=IwAR018x1D2B8wSLa1ZdWTeErvWybLEgNMSwgZNuGfgQshQIa5ZXYLONFANnI
SOUTHWESTERN CHICKEN CASSEROLE
INGREDIENTS
12 ounces/ 340 g boneless, skinless omega-3 chicken breast halves, cut into strips
2 cloves garlic, minced
1 teaspoon chili powder
2 teaspoons canola oil
1 onion, halved and thinly sliced
1 red or green bell pepper, chopped
1 (10-ounce/ 280 g) package frozen chopped spinach, thawed, squeezed dry or fresh if possible
1 1/2 cup salsa find recipe here http://www.findtex.com.au/recipes/find-tex-originals/summer-salad/?fbclid=IwAR1dudXT7xPRTm_cmAac4_vzS34uTmAmv1PyWR2E19KsUvcl-eGn6N7nCxs
4 (6-inch/ 12 cm) no-added-salt corn tortillas, torn (optional)
3/4 cup reduced-fat, shredded Jack cheese
1/2 cup cherry tomatoes, chopped
1/2 avocado, pitted, peeled and chopped
cilantro leaves, for garnish
INSTRUCTIONS
Preheat oven to 350ºF/185ºC. Coat a large, non-stick fry pan with cooking spray.
In a medium bowl, combine chicken, garlic and chili powder. Add to fry pan and cook over medium-high heat for 4-6 minutes, or until chicken is cooked through and no longer pink, stirring frequently. Remove chicken from skillet; set aside.
Add olive oil to hot skillet. Add onion and pepper; cook over medium heat about 5 minutes or until tender, stirring occasionally. Stir in spinach.
Coat a baking dish with cooking spray. Spread about 1/2 cup salsa in bottom of dish. Top with half the tortilla pieces if using, half of chicken mixture, and half of vegetable mixture. Pour half of remaining salsa over vegetables and top with half the cheese. Repeat layers once, except cheese.
Bake, covered, for 30-35 minutes, or until heated through. Sprinkle with remaining cheese. Let stand for 5 minutes before serving. Garnish with cherry tomatoes, chopped avocado, and fresh cilantro.
Adapted from https://www.everydaydiabeticrecipes.com/Casseroles/Southwestern-Chicken-Casserole?fbclid=IwAR3Nl1XU6d8ZnitSqYIzzHENBiirVpzbJdnqVOCnMB-UA6xFKE71LuJodk4
KETO CHILLI
INGREDIENTS
2 Pounds/ 900 g Ground grass fed beef any ground meat can be used (make your own if possible.)
1 Head cauliflower riced in the food processor
2 1/2 Tsp ginger
1 small bottle Ginger Beer
5 Tbs olive oil
2 Tbs Bay leaves
1 Tbs Onion chopped in cubes
2 Tbs Serrano chilis chopped
8 Tbs Garlic cloves minced
2 Tbs Jalapeno peppers seeded and minced finely
4 Tbs chili powder
1 23 Oz/ 650 g can Cut up tomatoes including the juice
1 Bunch Cilantro finely chopped
1 1/2 Tsp black pepper
3 Tsp Cumin
1 Sprig Fresh basil or cilantro for Garnish
INSTRUCTIONS
Place chopped onion in a stoneware fry pan.
Place on high heat
Pour olive oil in, on top of the chopped onion and stir well
Allow to heat up and cook onion for 2-3 minutes
Add ground beef and brown for another 2 minutes
Place all other ingredients in a pressure cooker and stir well
Cover ingredients with water
Close the pressure cooker and cook on high for 20 minutes
Adapted from https://completelyketo.com/harlan-kilsteins-completely-keto-speed-chili/?fbclid=IwAR0ebD2p_R8RO9Gz1DVEZzYWAfQ7dfSl7THP_BWaoasO2zGayRqR0AhKUvw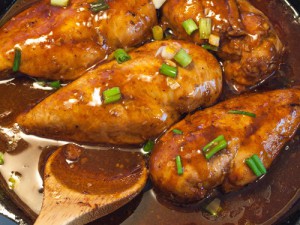 Spice up your dinner with this delicious Southwestern chili recipe. It goes well with any meat of your choice!
Ingredients:
2 tablespoons olive oil
1 to 2 garlic cloves, finely chopped
2 large onions, chopped
1 green pepper, chopped
1 cup mushrooms, sliced
1  pounds 1/2 kg roughly chopped Omega 3 Chicken, grass-fed beef, buffalo, ostrich, or lean game meat
1 bay leaf
2 tablespoons chili powder
2 tablespoons ground cumin
1 tablespoon dried oregano
1/2 teaspoon ground allspice
A pinch of red chili flakes
2 16-ounce cans tomatoes with liquid**
2 cans kidney beans
2 tablespoons fresh parsley, chopped
2 tablespoons fresh cilantro, chopped
3 scallions, thinly slivered on the diagonal
Procedure:
Heat the oil in a large heavy pot, over medium-low heat. Add garlic, onions, green peppers, and mushrooms. Cook for about 10 minutes, stirring occasionally.
Add ground meat and cook until browned. Add spices and toss to cover meat well.
Add tomatoes and their liquid, and simmer for 30 minutes. Add beans and simmer for 30 minutes more. Adjust seasoning according to taste.
Serve garnished with scallions, parsley, and cilantro.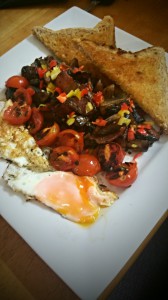 SPICY DINNER
Fresh home grown for tea. Nothing like this time of year and being able to just pick chillis off my own plant to eat with my meals. One aji limon pod and one red habanero pod finely diced and sprinkled on top of my mixed grill. Served with multigrain toast.
BBQ Chicken American style.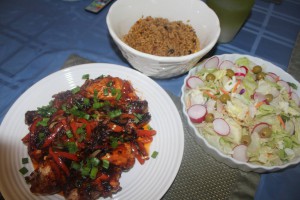 RED PEPPERS STUFFED
Red peppers stuffed with low fat chicken mince (home-made), basmati rice and quinoa and baked. Serve with a light salad.