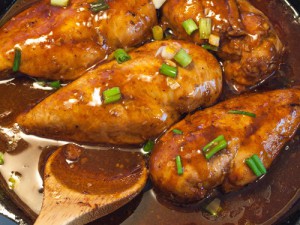 Spice up your dinner with this delicious Southwestern chili recipe. It goes well with any meat of your choice!
Ingredients:
2 tablespoons olive oil
1 to 2 garlic cloves, finely chopped
2 large onions, chopped
1 green pepper, chopped
1 cup mushrooms, sliced
1  pounds 1/2 kg roughly chopped Omega 3 Chicken, grass-fed beef, buffalo, ostrich, or lean game meat
1 bay leaf
2 tablespoons chili powder
2 tablespoons ground cumin
1 tablespoon dried oregano
1/2 teaspoon ground allspice
A pinch of red chili flakes
2 16-ounce cans tomatoes with liquid**
2 cans kidney beans
2 tablespoons fresh parsley, chopped
2 tablespoons fresh cilantro, chopped
3 scallions, thinly slivered on the diagonal
Procedure:
Heat the oil in a large heavy pot, over medium-low heat. Add garlic, onions, green peppers, and mushrooms. Cook for about 10 minutes, stirring occasionally.
Add ground meat and cook until browned. Add spices and toss to cover meat well.
Add tomatoes and their liquid, and simmer for 30 minutes. Add beans and simmer for 30 minutes more. Adjust seasoning according to taste.
Serve garnished with scallions, parsley, and cilantro.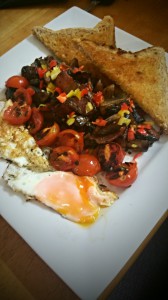 SPICY DINNER
Fresh home grown for tea. Nothing like this time of year and being able to just pick chillis off my own plant to eat with my meals. One aji limon pod and one red habanero pod finely diced and sprinkled on top of my mixed grill. Served with multigrain toast.
BBQ Chicken American style.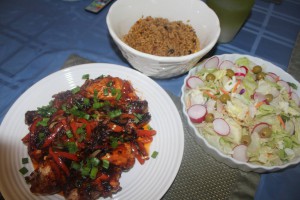 RED PEPPERS STUFFED
Red peppers stuffed with low fat chicken mince (home-made), basmati rice and quinoa and baked. Serve with a light salad.