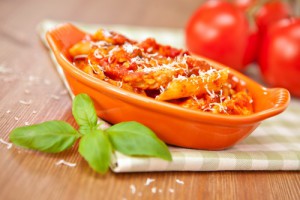 500 g of chicken legs or thighs skinned (Free range or omega 3)
1 tablespoon olive oil.
3 cloves garlic, chopped…
1 medium onion, diced (chopped into little squares)
1/2 cup tomato sauce no added salt.
1 cup water
2 medium bell peppers ( one green and one red)
3 green finger chillies, cut tip off to release heat while cooking
1 large sweet  potatoes, wash, peeled and quartered
1 large carrot, diced
1 Jerusalem artichoke wash, peeled and quartered
1/2 cup green peas
ginger and pepper or fish sauce to taste
1/4 cup oat bran
First, remove skin from the chicken, thoroughly wash the chicken and pat dry; lightly season with ginger and pepper. In a saucepan or a deep pan, heat about 2 tablespoons of oil over high heat and sear/fry the chicken pieces. Turn to cook both sides. Set aside.
In the same pan, sauté  the garlic, onion until cooked, you know it is when the onion turns transparent or opaque and quite soft. Add the tomato sauce and water bring to a boil and add the fried/seared chicken pieces back in the pan as well as the potatoes, carrots, sweet potato, Jerusalem artichoke and green chillies. Season with ginger and pepper.
Cover the saucepan and bring to boil, lower the heat and let cook for 5 minutes.
Uncover and add the bell peppers and green peas and cook until both chicken and vegetables are tender. Add oat bran last to thicken the sauce, cook for a minute before turning off the heat.
Serve with hot steamed rice.
serves 3-4
Adapted from: http://www.latestrecipes.net/2009/09/23/chicken-afritada/
Photo Credit: http://www.manilaspoon.com/2013/08/chicken-afritada.html
FRENCH CREAM CHICKEN
INGREDIENTS
500g diced omega-3 chicken thigh or chicken breasts
110g block of French Onion Cream Cheese – see notes below in method
200ml cooking cream
60g baby spinach leaves
INSTRUCTIONS
Place diced chicken well in a slow cooker or pan
Add cream cheese and stir for 2-3mins as it melts to coat the chicken
Add cooking cream and stir
Cover and use The Tea Towel Trick
Cook on HIGH for a further 1hr 15mins
Add spinach and stir through until wilted
Notes
If you cannot source the French Onion flavoured cream cheese you could use regular Philadelphia cream cheese and mix with 20g French Onion soup mix
The cooking cream is important as it resists splitting like normal cream. I like the Bulla brand myself
Inspired by the recipe "Chicken with Semi-Dried Tomato & Spinach – LOW CARB"
Adapted from http://www.slowcookercentral.com/recipe/french-cream-chicken-4-ingredients/?fbclid=IwAR3KrXYnIWG19rsu7MXVvwGJSj8WKraFxmqSMq8_Qu-X5qSUNeWY_WigfDk
COQ AU VIN (Fancy French Style chicken)
INGREDIENTS:
half tbsp olive oil
1 small onion, finely chopped
1 chicken leg, skinned, but still on bone (Omega-3 chicken if possible.) (or water)
4 baby onions/shallots, peeled and whole
50g button mushrooms
good pinch thyme
1 bay leaf
1 clove garlic, crushed
pinch pepper
125ml glass red wine (or white)
250ml chicken stock (using half stock cube and 250ml water)
1 tsp cornflour, dissolved in dash water
INSTRUCTIONS:
Add the olive oil to a saucepan on a medium heat, then add the chopped onion. Stir regularly for 8 minutes until brown.
Now add the chicken and the baby onions and stir until they start to brown. Add the mushrooms and stir for another couple of minutes.
Add the thyme, bay leaf, garlic and pepper.
Mix well and add the wine and stock. Bring to the boil, cover, then simmer gently for 1 hour.
Once the chicken has cooked, check the sauce and season if needed. Finally, add the cornflour and water mixture and stir in for 3–5 minutes until the sauce thickens a little. Serve.
Find the nutritional info and get top chef tips, click on link here.
Adapted from  https://www.diabetes.org.uk/guide-to-diabetes/recipes/coq-au-vin?utm_source=twitter&utm_medium=social-media&utm_campaign=Enjoy-food&utm_term=18112019&utm_content=organic
Walnut & Sesame Chicken with Cheeses Substitute Pasta
Serves 4
Preparation Time 15 minutes
Cooking Time 25 minutes
Ingredients
4 x 200g skinless chicken breast fillets
1 egg white, beaten
1 tablespoon reduced fat milk
½ cup chopped walnuts
1 tablespoon sesame seeds
1 cup (250mL) hot water
1 Cup of pasta of choice.
2 cups broccoli florets
2 cups cauliflower florets
1 cup baby spinach leaves
2 or 3 egg whites with equal amount of low fat milk.
Method
Combine the beaten egg white and milk, beat together until bubbles appear.
Dip each chicken breast into the egg mixture then coat with nuts and sesame seeds.
Place on a baking tray and cook at 200°C for 20-25 minutes or until chicken is cooked and the nuts are golden brown.
Meanwhile, cook Pasta according to pack instructions.
Beat the egg white and milk together until bubbles appear, pour over pasta and cook until done.
Add broccoli and cauliflower for the last few minutes of cooking,
Wilt the spinach through the pasta to serve
Serve pasta alongside the chicken.
Hint: Vary the type of nuts for something different