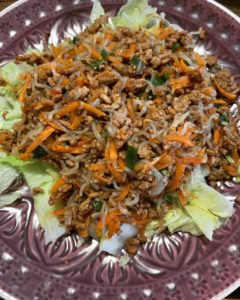 LOW CARB SAN CHOY BAU
INGREDIENTS
500g lean pork mince (ground pork)
1 carrot, grated
1/2 cup sliced spring onions
1 tablespoon minced garlic
1 tablespoon olive oil for frying
3 tbsp chilli sauce find recipe here http://www.findtex.com.au/diabetic-foods/chutney-etc/?fbclid=IwAR1b6OT4X_b7ZjKBzzO7tnVVcFoBUkSTxbWf_lSVEGiV5dDB6JREJW1ngwM
1 head of iceberg lettuce to serve
INGREDIENTS
In a frying pan or wok, heat oil. Add garlic and pork mince. Cook until brown. Add grated carrot and spring onions.
Add sauce.
Fry for a further 5-10mins. Serve in iceberg lettuce leaf "cups" or on a bed of shredded lettuce if you like
BROCCOLI SANG CHOI BAU
Ingredients
750 gm broccoli (about 4 heads), cut into pieces

200 gm shiitake mushrooms halved, and stalks trimmed

1 tbsp olive oil

1 Spanish onion finely chopped

30 gm ginger (about 6cm), finely grated

3 garlic cloves finely grated

1 cup (firmly packed) coriander, chopped, and 1⁄4 cup chopped stems plus extra leaves to serve

1 tbsp dried chilli flakes

2 tbsp lemon juice

Coarsely chopped almonds and iceberg lettuce leaves, to serve
INSTRUCTIONS
1.    Process broccoli and mushrooms in a food processor until coarsely chopped.
2.    Heat oil in a large wok over high heat. Add onion, ginger, garlic, coriander stems and chilli and stir-fry until fragrant (1 minute). Add broccoli mixture and stir-fry until starting to colour but still has some crunch (30 seconds to 1 minute), then add lemon juice and toss to coat. Remove from the heat and stir in the chopped coriander. Transfer to a serving bowl, top with almonds and serve with lettuce leaves and extra coriander leaves
Adapted from https://www.gourmettraveller.com.au/recipes/fast-recipes/broccoli-sang-choi-bau-15578
SAN CHOY BAU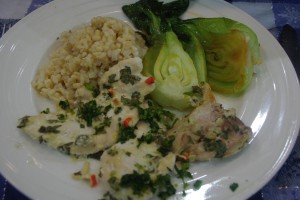 Ideal for an Asian-themed meal.
Serves 4
Cooking time: 10 minutes
Ingredients…
Olive oil spray*
1 small brown onion, finely chopped
2 garlic cloves, crushed
1 tbs grated fresh ginger
400g lean pork mince* or any white meat mince. (Even better just roughly chopped)
100g button mushrooms, thinly sliced
4 green shallots, finely chopped
1 large carrot, peeled and grated
1 cup shredded green cabbage or Chinese cabbage
2 tbs kecap manis (see Tip)
40ml (2 tbs) fresh lime juice
50g bean sprouts
8 large iceberg lettuce leaves, edges trimmed
1/2 cup chopped coriander leaves
1/3 cup plain, unsalted almonds
*Products available with the Heart Foundation Tick. Remember all fresh fruit and vegetables automatically qualify for the Tick.
Instructions
1. Heat a wok over a medium-high heat until hot. Spray the wok lightly with oil. Add the onion, garlic and ginger, and stir-fry for 1 minute. Increase the heat to high and add the mince. Cook, breaking up the mince, for 4 minutes or until it changes colour and most of the moisture has evaporated.
2. Add the mushrooms, green shallots, carrot and cabbage, and stir-fry for 3-4 minutes until the vegetables have softened. Add the kecap manis, lime juice and bean sprouts, and stir-fry until well combined.
3. Remove from heat. Spoon mixture into the lettuce leaves, top with the coriander and almond nuts. Serve immediately.
Tip Kecap manis is a thick, sweet Indonesian-style soy sauce. You can find it in the Asian section of the supermarket. If you can't find kecap manis, reduce 2 tablespoons of reduced low salt soy sauce in a small pan.
SANG BOW CHOW
Sprouts: Pre-digested foods refer to the foods that have been pre-digested for us either by another animal or machines or equipment. The nutrients are in pre-digested form, so they require very little digestion, and the nutrients are easily absorbed into the bloodstream. Thus, an elemental diet provides you nutritional needs while giving your digestive system at rest.
Sprouting refers to the process of germinating seeds to be eaten raw or cooked. The nutritional changes that occur while sprouting mainly happen due to the breakdown of complex compounds into simpler forms.
http://www.thefitindian.com/sprouts-for-weight-loss/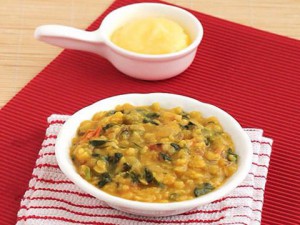 METHI DAL
It is a nutritious protein rich dish—easy to make and diabetic friendly
INGREDIENTS
Toor dal………………….1/4 cup  beans, peas or lentils soaked and drained.
Moong dal………………..1/4 cup rice and chapati
Methi leaves (fenugreek)…1 cup chopped
Cumin seeds………………1/2 tsp
Dry red chili (opt)…………1 pc
Onion finely chopped……..1 med
Gr chili chopped……………1 pc
Tomato chopped……………1 pc
Ginger grated……………….1 tsp
Garlic minced………………3-4 cloves
Turmeric powder……………1/4 tsp
Red chili powder…………….1/2 tsp
olive Oil……………………………2 tsp
INSTRUCTIONS
Rinse and clean toor dal and moong dal in running water.
Pressure cook the dals in 1 ¼ cup water on medium flame for one whistle and low flame for 2 whistles.
Let cool and when pressure cools keep aside.
Heat olive oil on med flame, Add cumin seeds, when they crackle add the red chili, finely chopped onion and sauté till onion turns light pink.
Add ginger, garlic and green chili and sauté for 25-30 seconds.
Add chopped tomato and methi leaves and stir well.
Cook for about 3 minutes
Add turmeric powder, red chili powder and salt enough for the methi. Mix well and add the cooked dal.
Cook for 1 minute and add ½ cup water and boil for 4-5 minutes or until medium thick consistency is achieved.
Turn off the flame, methi dal is now cooked, garnish it and serve hot.
Via  Thadani
Asian fried lean pork with fried rice and homemade Carolina Reaper chilli sauce.
Fried rice recipe;
Cook 1 cup of Basmati rice.
Heat 1 Tablespoon of olive oil in a wok
add 2 lightly beaten egg white to the wok and stir fry 1 minute. Add cooked rice and stir (better if left over from previous meal NB1).
Add 1 teaspoon of low salt soy sauce and stir fry until heated through for a few minutes.
Optional you can add shallots, onion, finely diced carrot sweet potato if you like.
Lean pork
Mix 1 teaspoon of low salt chicken stock (Home made without salt and fat is better) or water with 2 teaspoons of low salt soy sauce for marinade.)
In a bowl mix over 2 × 150 gram pieces of lean (fat free) pork cut in half into smaller 75 gram pieces, allow to sit for 15 minutes to bring it to room temperature.
Flour the pork with oatmeal and deep fry in oil until golden and crispy skin.
Chilli sauce recipe;
Mix juice from half a lemon with 1 tablespoon of Asian fish sauce and half a teaspoon of water, and stir in 1 garlic clove crushed and 1 chilli to taste.
Add copped chilli to sauce and serve in a small dish.
NB This contains salt in the soy and fish sauce, it was shared with me by a diabetic who finds it does not affect her sugar levels. I would not recommend it for every-day use but as a special treat.
NB 1 How to reduce the calories in rice:-
http://www.eurekalert.org/pub_releases/2015-03/acs-nlr021915.php#.VROD4KHwLTQ.facebook
ASIAN PORK MEAT BALLS 
INGREDIENTS
MEATBALLS
½ Kg lean ground pork (Any lean meat can be used)
1 large egg
¼ cup finely minced scallions
1 teaspoon minced ginger, or ¼ teaspoon ground
SAUCE
1 tablespoon olive oil
2 tablespoons water
1 teaspoon cider vinegar
½ teaspoon finely grated orange zest plus the juice
INSTRUCTIONS
Combine all Meatball ingredients in a large mixing bowl. Use your hands to mix and then form into golf ball-sized meatballs.
Place olive oil in a skillet over medium-high heat. Once hot, add meatballs and brown well on all sides, about 8 minutes.
Whisk together all remaining Sauce ingredients and add to the skillet. Reduce heat to a simmer and let meatballs simmer 5 minutes, stirring occasionally.
NB these can be steamed or placed in boiling water as a dumpling.
Adapted from StellaStyle.com
JULIANA'S CHINESE BEEF NOODLES
Method…
Make Asian stock
Flash fry the beef in olive oil. Remove any visible fat NB Grass feed best as it has less fat and a higher Omega-3 content. (Lean pork, skinned chicken or game can also be used.)
Place in 4 bowls evenly.
Cook vermicelli in boiling water for 2 minutes, drain and keep warm. (Gluten free Rice noodles or a past substitute can be used if you find that vermicelli effects your sugar level.)
In the same pan as beef was cooked add vegetables and flash stir fry for a few minutes for each batch. Add vegetables to the hot stock gradually,
When complete cook pour over bowls of meat and noodles and serve.
Yum!
Total calories; 1545
per serve… 390 calories
2 cups stock with garlic/ginger minced (15 calories)
280 g fillet beef, sliced… (900 calories)
120g sliced red onions. .. (50 calories)
160g green cabbage sliced thin (40 calories)
2 x baby bok choy (20 calories)
120g red capsicum (50 calories)
100g green capsicum (20 calories)
100g snow peas sliced vertically (or leave whole) 40 calories)
2 tablespoons hoi sin sauce (90 calories)
60 g vermicelli glass noodles (200 calories)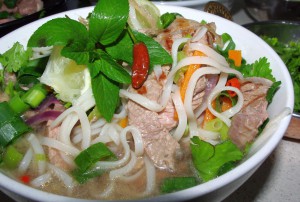 VIETNAMESE PHO BO BEEF SOUP
Ingredients
For the beef broth
40g/1½oz fresh ginger peeled, cut into 6 pieces
350g/12oz shallots peeled, sliced
4star anise
2 x 7.5cm/3incinnamon sticks
½ tspfennel seeds
900g grass fed beefshin, remove any visible fat,(any game meat shin works well or white meat)
1kg beef marrow bones
2 stickscelery, thickly sliced
2carrots, peeled, thickly sliced
2onions, peeled, thickly sliced
8cloves
1 tsp blackpeppercorns
5 litres of water
1 tbspginger
For the noodles
300g dried 1cm wide flatrice noodles
200g/7oz fillet steak (grass fed or game can be used)
2 tsp fresh Thai sweetbasil
2 tsp freshmint leaves
2 tspfresh coriander leaves
5 red bird's eye chillies, thinly sliced
2limes cut into wedges
8spring onions, trimmed and sliced, green and white parts separated
100g/3½oz bean sprouts
INSTRUCTIONS
For the beef broth, place the ginger and shallots onto a chopping board and bash them lightly with a rolling pin.
Heat a large, heavy-based frying pan over a high heat, then add the star anise, cinnamon sticks and fennel seeds. Dry fry for a few seconds, shaking the pan frequently to prevent the spices from burning, until the spices darken slightly and release their aromas. Tip onto a plate and set aside.
Return the pan to the heat and add the bruised ginger and shallots and fry for 8-10 minutes, shaking the pan occasionally, until the ginger and shallots are golden-brown. Transfer to the plate with the toasted spices.
Place the shin of beef celery, carrots, onions, cloves, black peppercorns, roasted spices, ginger and shallots into a large, deep pan and pour over the water. Bring to the boil, skimming off the scum as it rises to the surface.
Lower the heat, then add the ginger and allow the broth to simmer for 3-5 hours (the longer the better). Strain the broth into a clean pan or container. If preferred, chill the broth overnight so that the fat solidifies at the surface, making it easier to remove. If serving immediately, bring the broth back to the boil in a clean pan and keep warm.
For the noodles, bring a pan of water to the boil and add the dried rice noodles, ensuring that they are completely submerged in the water. Remove the pan from the heat and allow the noodles to soak for ten minutes, or until al dente. Drain and divide the noodles among four deep soup bowls.
Finely slice the beef as thinly as possible and arrange on top of the noodles. Place the basil, mint, coriander, red chillies and lime wedges into separate small bowls.
Add the white part of the spring onions to the hot broth.
Sprinkle the green part of the spring onions and the bean sprouts over the noodles and beef. Ladle over the hot stock and serve with the fresh herbs and chillies, with each diner adding them to their own bowl according to taste.
THAI BEEF SALAD
Prep time:  10 mins
Cook time:  40 mins
Total time:  50 mins
Serves 2
INGREDIENTS
300g grass fed fillet steak (porterhouse, eye fillet or scotch fillet)
½ cup cashews
2 tbsp. sesame seeds
2 limes, juiced
1 long red chilli, sliced
a splash fish sauce
1 cucumber, cut into fine ribbons
1 carrot, cut into fine ribbons
1 cup mixed lettuce leaves
1 cup bean sprouts, rinsed
½ bunch fresh herbs (coriander, basil or mint)
1 cup rice Konjac noodles, cooked NB1
olive oil
Ginger and pepper
INSTRUCTIONS
To make the sticky cashews heat a small fry pan over medium heat, drizzle a small amount of olive oil and toss through the cashews (careful not to burn them), add sesame seeds. Stir until the sesame seeds are coating the cashews. Remove cashews from pan and set aside to cool.
Place steak onto a sheet of greaseproof paper, generously season each side with ginger and pepper and drizzle with olive oil. Wipe pan clean and place back onto the heat; once hot add steak, cook on each side for three minutes. Remove from pan and allow to rest for five to ten minutes.
To make the dipping sauce combine limejuice, fish sauce, and chilli; alter according to taste. In a mixing bowl combine lettuce leaves, herbs, cucumber, carrot, bean sprouts and Konjac noodles, stir and coat with half the dipping sauce.
Divide salad onto two plates, top with thin slices of rested meat, fresh chilli, sticky cashews and extra dipping sauce.
Recipe by Erin Murnane APD
Adapted from http://daa.asn.au/recipes/thai-beef-salad-2/
NB1 16. Shirataki Noodles
Shirataki noodles are wonderful for diabetes and weight control.
These noodles are high in the fiber glucomannan, which is extracted from konjac root.
This plant is grown in Japan and processed into the shape of noodles or rice known as shirataki.
https://authoritynutrition.com/16-best-foods-for-diabetics/

Konjac Foods for People with Diabetes (Noodles. Pasta.)As medical research has demonstrated, the higher the viscosity of soluble fiber, the better the ability to control blood sugar level. The glucomannan fiber is the most viscous soluble fiber in nature, making it the best way to control the blood sugar level of diabetic people. At the same time, it is a very efficient way to control blood sugar level when you take it before each meal. Simply consume as a beverage before each meal.As stated, Konjac fiber is the most viscous fiber in nature. This allows the Konjac to move through the digestive tract very slowly which can slow down carbohydrate absorption. This slowed absorption will keep the blood sugar at a moderate level during the digestion process. Konjac also acts to trap food and waste residues as it moves through the digestive system. Konjac fiber can block substances that are easily reabsorbed such as excess bile acids. The digestive regulatory quality of Konjac fiber makes it a natural agent in the treatment and regulation of diabetes and high cholesterol.

Glucomannan is known to show hypoglycemic effects by inhibiting the uptake of glucose by the body. It is believed that it does this by preventing contact of the glucose with the intestinal walls for absorption. By reducing the amount of blood sugar, glucomannan can help patients with type II diabetes. Konjac fiber when absorbs lots water, it will form soft gel, the glucomannan will delays gastric emptying and slows the release of sugar into the bloodstream, which helps to lower levels of insulin and blood glucose. Additionally, glucomannan improves blood-lipid profiles and can lower systolic blood pressure. Because of these effects, glucomannan can greatly benefit individuals with metabolic syndrome or diabetes.
http://www.konjacfoods.com/noodles/19.htm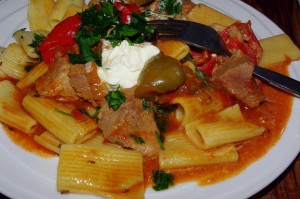 CHILLI CON CAME
Ingredients
750g lean mince (game or grass feed veal, beef finely chopped to slow digestion)
2 x red onions
garlic to taste ( lots of )
2 x red capsicums ( ate half of one while cutting up )
roasted cumin seeds to taste ( they get stronger as they cook )
fresh chilies
800g kidney beans
400 chick peas
paprika
vine ripe tomato sauce
Instructions
Reduced the onions and garlic in a pan with a little bit of water, add the mince brown of then add the rest; remembering the spices will thicken up as it cooks,
You can garnish with coriander and Greek yogurt
Makes 4 meals, serve with rice or a side of Greek salad
I serve with my favourite pasta.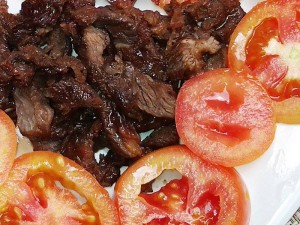 BEEF TAPA
Ingredients
1/2 kg grass fed beef sirloin, sliced thinly
1 Tbsp ginger (about 1
1 tbsp Freshly cracked ground black pepper (about 1 tbsp)
5 cloves crushed garlic
1/4 cup vinegar of your choice
2 tbsp. of olive oil for frying
Instructions
Clean the beef and dry it with paper towels.
Combine the crushed garlic and vinegar. Set aside.
Rub ginger and ground black pepper on each side of the meat.
Pour the vinegar and garlic mixture in a container.
Put the meat together with the vinegar and garlic mixture in a stainless steel container cover with a plate.
Cure for 2 days inside the refrigerator (not freezer)
Then fry with olive oil and serve with fried rice and fried eggs.