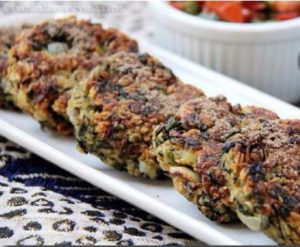 HEALTHY OATS CUTLETS
INGREDIENTS
Cumin seeds: ½ tsp,
Freshly grated ginger-garlic: 2 tbsp,
Fine chopped onions: ½ cup,
Fine chopped spinach: 3 cups,
Oats: 1 cup,
Fine chopped green chilly: 1,
Red chilly powder: ½ tsp,
Lemon juice: 2 tsp,
Boiled mashed sweet potatoes: ⅔ cup,
Multigrain bread crumbs: 2 slices,
Olive Oil
INSTRUCTIONS
Heat little oil in a pan.
Add cumin seeds, ginger and garlic and sauté till they turn pink.
Add fine chopped onions and cook till onion turns light brown in color.
Throw in chopped spinach and sauté till it become dry.
Now add oats, fine chopped green chilly and ginger. Mix everything and transfer it in a bowl and cover and let the mixture cool down.
Add boiled mashed sweet potatoes, bread crumbs, lemon juice and knead the mixture like a dough.
Put some oil in your hands and rub it between your palms.
Now take small amount of dough at a time and make patties.
In a preheated fry pan put some olive oil and put the patties.
Cook these patties for some time and flip them over and cook it from other side.
Cook these oats cutlets on both side till they become brown and crispy.
If you like sprinkle some chat masala on top.
Serve these oats cutlets with a spicy chutney find recipe here http://www.findtex.com.au/diabetic-foods/chutney-etc/
Notes
1. Use rolled oats in this recipe.
2. While making patties make sure that all the sides are fully sealed and smooth.
3. Instead of making it on pan you can bake these oats cutlets or even steam them.
http://www.findtex.com.au/recipes/asian/texs-indian/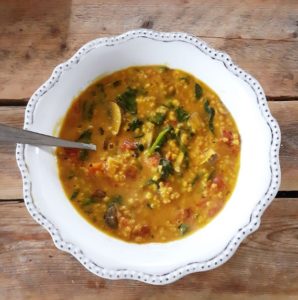 SAVORY OATS
INGREDIENTS
5cupssteel cut oats
400 gsliced portobello mushrooms
1candiced tomatoesor fresh if possible
1/2cupnutritional yeast
5teaspoonground turmeric
5teaspoonsgarlic powder
5teaspoonsonion powder
2cupsfresh spinach
5cupswater
INSTRUCTIONS
Put water and steel cut oats in a pot and turn on high heat to bring to a boil.
Add all other ingredients, except spinach, and bring to a boil.
Lower heat and simmer about 20 minutes.
Add spinach and simmer another minute or two.
Adapted from https://www.plantbasedmelissa.com/recipes/wfpb-savory-oats/?fbclid=IwAR2U-4kVxgLm7-PjqWuNn4qLmuhg4xdZuBgEzybYfFdqCyH7roDvsQLDMA4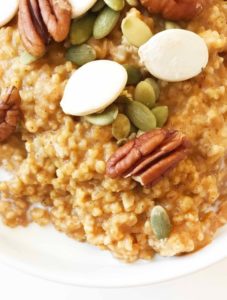 PUMPKIN, SPICE AND OATMEAL
INGREDIENTS
• 1 C. Steel-Cut Oats, Dry & Uncooked
• 2-4 C. Water
• 1/2 C. Fat-Free Milk (I use Heart Active)
• 1/2 C. Home-made Pumpkin Puree
• 1/2 Tsp. Ground Cinnamon
• 1/2 Tsp. Pie Spice Find recipe here http://www.findtex.com.au/uncategorised/spice-mix-sugar-salt-and-fat-free/
INSTRUCTIONS
1.Spray the inside of your slow cooker or instant pot with olive oil cooking spray.
Please, please, don't take this warning lightly! You will be scrubbing for hours… trust me.
2. Put all of the ingredients into the crock pot (with 4 cups of water for slow cooker or 2 cups of water for pressure cooker), secure the lid.
3. If using a crock pot set cook on low for about 8 hours (or say…overnight.)
4. If using an pressure cooker set the steam valve to 'sealed' and use the manual setting to cook on high pressure for 4 minutes. Once done, allow the pressure to drop naturally for 20 minutes.
5. Once done, all you need to do is stir and spoon the oatmeal into bowls to divide evenly.
6. Top with your choice of nuts or whatever you want! The possibilities are endless here.
7. Enjoy!
Servings: 4 • Serving Size: About 1 Cup • Calories: 114 • Fat: 2 g • Saturated Fat: 0 g • Carb: 22 g • Fibre: 3 g • Protein: 4 g • Sugar: 7 g • Sodium: 320 mg
Adapted from  https://theskinnyfork.com/blog/crock-pot-pumpkin-spice-oatmeal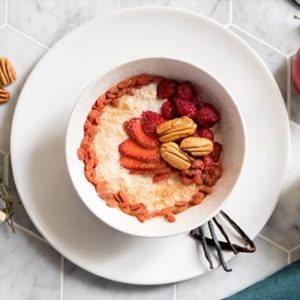 VANILLA, PECAN PORRIDGE WITH BERRIES
INGREDIENTS
1/2 cup oats
1 1/5 cups of milk/nut milk
teaspoon of cinnamon
handful of pecans
handful of berries
1/4 teaspoon of vanilla extract teaspoon of vanilla seeds
strawberries and raspberries to garnish
INSTRUCTIONS
Place your oats in a small saucepan
Add the cinnamon, vanilla, half of the berries and your liquid, setting a little extra aside for later if you like your porridge on the runny side.
Cook your oats until simmering then allow to thicken on low heat for about 2 minutes.
Turn off the heat and add half of your pecans (chopped).
After a couple of minutes, add your additional liquid if desired.
Pour into a bowl and top with you're the remaining pecans, cinnamon and fruits.
Adapted from http://www.manukahealth.co.nz/en-nz/get-inspired/recipes/vanilla-pecan-porridge-with-fruits-and-berries/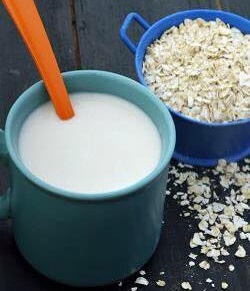 HOMEMADE OATS MILK
INGREDIENTS
1 cup quick cooking rolled oats
3 cups water
INSTRUCTIONS
Combine the oats and 3 cups of water in a mixer and blend till smooth.
Put the strainer in a deep bowl and put the muslin cloth over it.
Pour the mixture and strain it well to get smooth milk.
Serve immediately or store in an air-tight container in the fridge and use it within a day.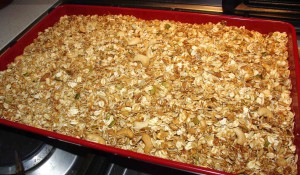 200 gms Quick 1-minute Oats
2 tablespoons of baking soda…
1 medium Jar of cherries, (Fresh if available). Chopped, reserve  cup juice (in baking isle)
1 Pk Mixed fruit, chopped (blueberries, raspberries, cherries, Dates etc.)
1 Pk chopped almonds
1 1/2 cups of milk
4 eggs whites
Mix oatmeal, baking soda, cherries, dried chopped fruit & Nuts in a large bowl.
Beat eggs whites, milk,  cup maraschino and cherry juice together and add to dry ingredients.
Pour into a lightly greased 9 x 12 inch baking pan, spreading evenly.
Bake at 350 F degrees for 30 – 45 minutes until top is dark golden and middle seems set.
Serve in a bowl with warmed milk and fresh fruit.
Variation: 2 cups cut oats soaked in water for 1 day. Mix in another 2 cups of minute oats, 1-1/2 cups milk, 3 eggs whites,  jar chopped maraschinos and half juice of jar, handful slivered almond,  cup or so of dried cranberries bake 50 minutes in 9 in square pan.
CARDOMAN AND CASHEW TOASTED MUESLI
Walked right past a commercially package of toasted muesli in the supermarket this morning. At over $8 a packet for one of those trendy gourmet style muesli's I knew I had a packed of rolled oats, some steel cut oats and nuts and seeds I can do better. I know exactly what went into it and it's cheaper and healthier. This makes a lot of muesli, and you could give it as a gift for Christmas.
I change my recipe all the time. Today it was.
Rolled oats + steel cut oats at 1:4
raw almonds
roast almonds.
Cardoman pods, seeded
vanilla essence
freshly ground cinnamon
olive oil just a splash
sesame seeds (lots, as the oils will help in the toasting)
sunflower seeds
pumpkin seeds
a sprinkle of ginger
Mix together and place in a preheated oven at 160 C
About an hour in the oven, turn every 15 minutes till as crunchy and brown as you want.
ROLLED OAT BREAKFAST WITH FRUIT NB1
Ingredients
2/3 C rolled oats
1 C low-fat milk (Heart Active)
1/3 C water
1 apple, core removed, coarsely grated with skin on
1 tsp orange rind, finely grated
2 Tbs sultanas
pinch ground cinnamon
Method
Place all ingredients into a large microwave-safe bowl and mix well
Cook in the microwave on HIGH (100% power) for 3 minutes
Stir, then cook on HIGH for a further 2 minutes
Set aside for a few minutes and sprinkle with extra cinnamon, to taste.
NB1 some diabetics find that the fructose in fruit affects their sugar. Rolled oats are a good diabetic choice as they are high in soluble fibre. I just place 2 tablespoons of oats in a little water. Microwave for 45 seconds on high, stir and repeat for another 45 seconds. Add a little Heart Active milk and enjoy.
A Soluble Fiber Primer
Oat cereals:Oats are high in soluble fiber, making oat cereals a better choice than bran for this particular dietary component. A bowl of oatmeal made from 3/4 cup of dry oats contains 3 g of soluble fiber. A serving of cooked oat bran cereal (3/4 cup) has 2.2 g, and 1 cup of oat flakes has around 1.5 g.
http://www.todaysdietitian.com/newarchives/120913p16.shtml
LEGUME PORRIDGE
INGREDIENTS
6 cups Water
100g Premium French style lentils
100g Pearl barley
100g Super blend lentils, quinoa and beans
100g Red lentils
INSTRUCTIONS
Please all ingredients into slow cooker for 15mins.
Tip: add some dates and walnuts
Nutrition Information (per serve)
| | |
| --- | --- |
| Energy | 652 kJ (156 calories) |
| Protein | 9.5g |
| Total Fat | 1.3g |
| Carbohydrates | 23.4g |
| Saturated Fat | .2g |
| Sugars | .6g |
| Dietary Fibre | 6.3g |
| Sodium | 5.1mg |
https://daa.asn.au/recipes/legume-porridge/
Many dietitians seem to think that fruit must be included in every meal. I learnt very early in my diabetic journey that fruit put my sugar levels up so I use fruit in moderation. Some here may be able to modify this to fit into their diabetic plan Perfect Porridge
PERFECT PORRIDGE
INGEDIENTS
2/3 C rolled oats
1 C low-fat milk
1/3 C water
1 apple, core removed, coarsely grated with skin on
1 tsp orange rind, finely grated
2 Tbs. sultanas
pinch ground cinnamon
INSTRUCTIONS
Place all ingredients into a large microwave-safe bowl and mix well
Cook in the microwave on HIGH (100% power) for 3 minutes
Stir, then cook on HIGH for a further 2 minutes
Set aside for a few minutes and sprinkle with extra cinnamon, to taste.
Dietitians Note
Variations
– Replace apple with frozen berries.
– Vary the dried fruit to include chopped apricots, figs or dates
Nutritional Information (per serve)
| | |
| --- | --- |
| Energy (kJ) | 1225 (293Cal) |
| Protein (g) | 9.4 |
| Total Fat (g) | 4.5 |
| Saturated Fat (g) | 1.4 |
| Carbohydrates (g) | 50.7 |
| Dietary Fibre (g) | 6.2 |
| Sodium (mg) | 59 |
Adapted from http://diabetesnsw.com.au/recipe/perfect-porridge/
Quinoa Porridge
Ingredients:
1/2 cup (170g) raw quinoa NB2
1 cup milk of your choice (Hearty active)
1 cup water
1 green apple, grated (leave skin on for extra fibre)
1/4 cup (40g) raisins
1 tbsp. chia seeds
1 tbsp. flax seeds
1 tsp. cinnamon
Method:
Place raw quinoa in a bowl or jar covered with water and let soak overnight (alternatively, you can buy ready to use quinoa in your supermarket)
Pour quinoa into a sieve, rinse with running water and add to a medium sized saucepan
Add in all remaining ingredients and let simmer for 15-20mins until cooked.
Once it becomes think like porridge, transfer desired amount into a bowel.
Suggested toppings: Dash of almond milk, blueberries, pumpkin seeds, pomegranate, and slices of orange.
If you are time poor you can make this the night before and store in jars. In the morning just grab a jar plus a spoon and you are good to go!
Adapted from http://daa.asn.au/recipes/quinoa-porridge/
NB1 Quinoa is often suggested as a substitute for rice, while it relatively low GI it is at the top end of low.  Bottom Line: The glycemic index of quinoa is around 53, which is considered low. However, it is still relatively high in carbohydrates.
https://authoritynutrition.com/11-proven-benefits-of-quinoa/
Also try Kodri (also known as Foxtail Millet, Varai, Varagu, Khododhan, Kodra, Kodon, or Paspalum scrobiculatum) is a couscous-like / rice-like grain which is commonly eaten in India (largely grown in Gujarat, Maharashtra, Madhya, Pradesh, Andhra, Pradesh, Tamil Nadu, Odisha and Bihar) – and it's delicious!
https://www.google.com.au/webhp?sourceid=chrome-instant&ion=1&espv=2&ie=UTF-8#q=KODRI
NB2 It is claimed the recooking cooled rice increases the fibre (the resistant starch in rice), I think that it is more likely that the soluble starch has gone down the sink. It may also work for Quinoa. But there is some science behind the claim:-
http://www.eurekalert.org/pub_releases/2015-03/acs-nlr021915.php#.VROD4KHwLTQ.facebook
QUINOA HAZELNUT PORRIDGE
Ingredients
1 cup uncooked quinoa
3 cups water
1 teaspoon ground cinnamon
1 ½ cups skim milk
1 red apple, cored and chopped (skin on)
1 tablespoon sultanas
1/2 cup roughly chopped hazelnuts
Instructions
Place the quinoa in a saucepan with the water and cinnamon.
Bring to the boil then reduce the heat and simmer for 15 minutes.
Add milk, apple and sultanas, cook for another 5 minutes then stir in hazelnuts.
Serve immediately.