GARLIC HERB MUSHROOMS
INGREDIENTS
2 lbs/900 g. cremini mushrooms
1/4 cup white wine, or water
6 cloves fresh garlic, minced
2 Tbsps fresh thyme chopped
1 Tbsp chopped rosemary
2 Tbsps fresh parsley chopped
2 Tbsps olive oil
1/4 tsp fresh ground pepper, or to taste
1/2 tsp ginger, or to taste
INSTRUCTIONS
Trim the mushroom stems and using a mushroom brush clean thoroughly to remove any dirt.
In a large stoneware fry pan over medium-high heat, melt the oil.
Add in the mushrooms, and cook, stirring gently, until mushrooms are golden brown and tender, about 5-10 minutes, depending on size and personal preference.
Stir in your minced garlic, thyme, rosemary, ginger and black pepper.
Pour in your wine/water and continue to cook for an additional minute or two, or until the liquid is cooked down by half.
Garnish with chopped parsley and serve warm.
Adapted from https://cleanfoodcrush.com/healthy-garlic-herb-mushrooms/?fbclid=IwAR1kz2-oeIze2YlxfswfMfoFrPRnGlszsptojYZzhr2ndggDDH0S5hjihB8
%MCEPASTEBIN%
MUSHROOM RISSOLES
INGREDIENTS
350 g button mushrooms, stemmed and cleaned (24-28)
2 teaspoons lime juice
½ teaspoon sea salt
2 eggs
½ teaspoon garlic powder
¼ teaspoon cayenne powder
¼ teaspoon sea ginger
½ cup multigrain bread crumbs (optional)
2-4 tablespoons olive oil
INSTRUCTIONS
Place whole mushrooms in a shallow bowl with broth, lime juice, and ginger. Set aside to marinate, about 10 minutes.
In a separate bowl, eggs, garlic powder, cayenne, and ginger. Coat mushrooms in seasoned flour mixture.
Heat a sauté pan and add oil. Add mushrooms and cook until crisp, about 2 minutes per side over medium-high heat. Remove from pan and coat in bread crumbs when warm.
Adapted from https://followyourheart.com/recipes/sriracha-mushroom-poppers/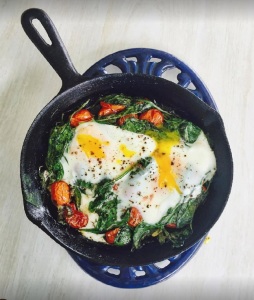 MUSHROOM SHAKSHUKA
INGREDIENTS
1 small red onion, finely chopped
2 Tbsp. Extra Virgin Olive Oil
2 large red or yellow capsicum, cut into 0.5cm dice
2 cups mushrooms, finely sliced
4 cloves garlic, crushed
2 – 4 Tbsp. harissa paste (depending on how hot)

recipe found here

http://www.findtex.com.au/diabetic-foods/chutney-etc/
1 Tbsp. no added salt tomato paste
1 ½ tsp. ground cumin
½ tsp. dried chilli flakes (optional)
5 large ripe tomatoes (800g) – or 2 x 400g tins of chopped peeled tomatoes
3 cups baby spinach leaves
Ginger and pepper
4 – 6 free range eggs
Small handful of coriander, roughly chopped (NB1)
INSTRUCTIONS
Heat the olive oil in a frying pan on medium heat and cook the onion until softened, about 4 – 5 minutes.
Add half mushrooms and cook for 2 – 3 minutes.
Add the tomato paste, harissa, cumin, chilli, ginger, pepper and garlic and cook for about 5 more minutes. Add a splash of water if it dries out and becomes too thick.
Make little wells in the sauce and break the eggs into these, and simmer for 8 – 10 minutes until cooked. Swirls the egg whites a bit with the sauce and try not to break the yolks. If you cover the pan it will speed up the process.
The eggs are ready when the whites are firm and cooked, and the egg yolks are soft.
Spoon out the eggs with the sauce and serve.
Nutrition Information (per serve)
| | |
| --- | --- |
| Energy | 2373 kJ (567 calories) |
| Protein | 30g |
| Total Fat | 24g |
| Carbohydrates | 40g |
| Saturated Fat | 3g |
| Sugars | 34g |
| Dietary Fibre | 26g |
| Sodium | 671mg |
Adapted from https://daa.asn.au/recipes/mushroom-shakshuka/
NB1 Your hatred for coriander could have a scientific explanation
Enter genetics as a likely culprit.
A few years ago the largest genetic testing company 23andMe surveyed 50,000 of their customers asking whether they liked the taste of coriander or found it to be soapy.
The results when comparing the DNA of the coriander haters to that of coriander lovers found "a SNP (or genetic variation) called rs72921001 to be associated with the trait in a subset of about 25,000 people with European ancestry. (About 13 percent of 23andMe customers with European ancestry answered that cilantro tastes soapy, and 26 percent dislike it.)"
https://www.sbs.com.au/topics/science/humans/article/2016/04/21/your-hatred-coriander-could-have-scientific-explanation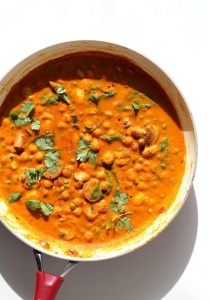 MUSHROOM MATAR MASALA
INGREDIENTS
½ large onion, chopped
5 cloves garlic
2 cm ginger
1 green chili (remove seeds to reduce heat if needed)
1 tsp olive oil
2 large tomatoes
¼ cup raw cashews (soaked for 15 mins if needed), or ⅓ cup for creamier sauce
½ to 1 tsp garam masala http://www.findtex.com.au/diabetic-foods/sugar-free-masala/
½ tsp paprika
1 tsp dried fenugreek leaves (kasuri methi)
225 gm sliced white mushrooms
¾ cup or more peas
1 cup chopped spinach (optional)
cayenne to preference
cilantro for garnish
½ cup chick peas cooked
INSTRUCTIONS
Blend onion, garlic, ginger, chili with a few tbsp. of water to a puree in a blender.
Heat oil in a large skillet over medium heat. Add the above puree. Cook for 5 to 7 mins or until the onion smell is cooked. Stir occasionally.
Meanwhile, blend tomatoes and cashews in the same blender until smooth. Blend for two 1 min cycles so the cashews are blended in. Add the pureed tomato puree, garam masala, paprika, and fenugreek to the skillet. Cook for 7 to 8 minutes. Stir occasionally.
Add mushrooms, peas, other veggies, ½ cup or more water. Add the ½ cup cooked chickpeas as well as seen in the pictures. Mix well.
Cover and cook for 10 mins or till the mushrooms are cooked to preference.
Fold in spinach if using, taste adjust for heat by adding some cayenne.
Garnish with cilantro and serve over konjac rice, rice, cooked grains or with flatbread if you require a few carbs, or as a sauce.
Adapted from http://www.veganricha.com/2016/08/mushroom-matar-masala.html
Try Konjac rice
Konjac Foods for People with Diabetes (Noodles. Pasta.)As medical research has demonstrated, the higher the viscosity of soluble fiber, the better the ability to control blood sugar level. The glucomannan fiber is the most viscous soluble fiber in nature, making it the best way to control the blood sugar level of diabetic people. At the same time, it is a very efficient way to control blood sugar level when you take it before each meal. Simply consume as a beverage before each meal.As stated, Konjac fiber is the most viscous fiber in nature. This allows the Konjac to move through the digestive tract very slowly which can slow down carbohydrate absorption. This slowed absorption will keep the blood sugar at a moderate level during the digestion process. Konjac also acts to trap food and waste residues as it moves through the digestive system. Konjac fiber can block substances that are easily reabsorbed such as excess bile acids. The digestive regulatory quality of Konjac fiber makes it a natural agent in the treatment and regulation of diabetes and high cholesterol.Glucomannan is known to show hypoglycemic effects by inhibiting the uptake of glucose by the body. It is believed that it does this by preventing contact of the glucose with the intestinal walls for absorption. By reducing the amount of blood sugar, glucomannan can help patients with type II diabetes. Konjac fiber when absorbs lots water, it will form soft gel, the glucomannan will delays gastric emptying and slows the release of sugar into the bloodstream, which helps to lower levels of insulin and blood glucose. Additionally, glucomannan improves blood-lipid profiles and can lower systolic blood pressure. Because of these effects, glucomannan can greatly benefit individuals with metabolic syndrome or diabetes.
http://www.konjacfoods.com/noodles/19.htm
Char Siu Mushrooms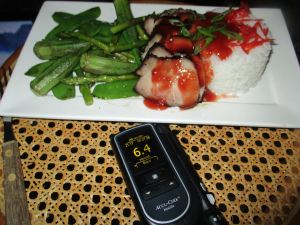 I always check before a meal to see if I have cooked the correct balance of vegetables, protean and carbs. 2 hours later reading was 6.7 Homemade Chinese Char Siu is so much healthier than take away
Preparation time: 30 minutes minutes
Cooking time: 10 minutes minutes
Serve Size: Serves 4
600g button mushrooms
1/2 cup salt-reduced char siu sauce*
2 tbs dry sherry
1 garlic clove, crushed
1 small red chilli, deseeded & finely chopped
2 tbs extra light olive oil
8 green onions, thinly sliced
Steamed basmati or brown rice, to serve
*Note: Char sou is a thick, sweet Chinese barbecue sauce available at most supermarkets & Asian grocery stores There is a lot of this in this recipe I would reduce it to a table spoon.
1. Place mushrooms into a large bowl. Combine char sui sauce, sherry, garlic chilli in a small jug & pour over mushrooms. Mix well to coat all
mushrooms in marinade. Cover & set aside to marinate for 15 minutes.
2. Heat a wok over high heat. Add oil, mushrooms & any remaining
marinade & stir-fry for 2-3 minutes or until mushrooms are tender.
3. Add green onions to wok & toss well to combine. Serve mushrooms with
steamed rice.