Healthy eating, in fact meal preparation, should not be a chore it should in fact be an enjoyable experience. All it needs is a little planning.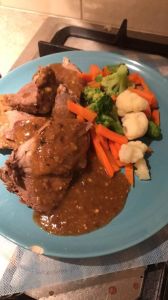 MUTTON (GOAT) CHOP BHUNA
INGREDIENTS
1 kg mutton chops (In some parts of India goat is referred to as mutton. Young goat.}
2 tomatoes (cubed)
2 onions (thinly sliced)
125g yogurt (beaten)
4 green chilies (sliced)
2 tbsp. ginger, garlic paste
2 tbsp. tomato puree
1 tbsp. masala powder try one from here findtex.com.au/diabetic-foods/sugar-free-masala/
2 tbsp. red chili powder
1 tbsp. turmeric powder
½ tbsp. nutmeg mace powder
¼ cup olive oil
ginger to taste
INSTRUCTIONS
Flatten chops with hammer.
Fry onion in olive oil. When soft add ginger, garlic paste, cook for 2-3 minutes and add chops, cook till water of chops dry.
Include tomatoes, green chilies and yogurt.
After 5 minutes add ginger, red chili powder, nutmeg and tomato puree, stir, after two minutes add masala powder.
Include 2 glasses of water.
Cover and cook on low heat until tender and a dry masala formed.
Garnish and serve with steamed vegetables or a salad.
Adapted from http://www.therecipespk.com/mutton-chop-bhuna/
www.findtex.com.au/recipes/asian/texs-indian/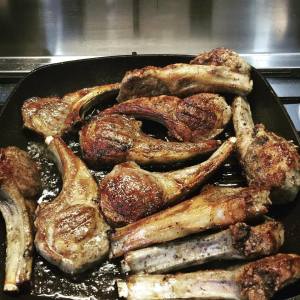 LAMB LOLLIPOPS WITH YOGHOURT TZATZIKI DIP
INGREDIENTS
4 lean grass-fed lamb cutlets visible fat removed
¼ cucumber
2 tbsp extra virgin olive oil
1 cup Jalna Greek Natural Yoghourt
2 tablespoons freshly chopped dill
1 bunch asparagus, ends trimmed
Freshly grated, reduced- fat parmesan cheese
INSTRUCTIONS
In a small bowl, whisk yoghurt with dill and cucumber.
Rub lamb cutlets with 1 tbsp olive oil. Cook on a grill plate over high heat until cooked through, 3-5 minutes per side. Set aside on a plate.
Using the same grill pan, add asparagus and sauté until stalks become slightly tender, about 3 minutes.
Grate the cucumber and add to the Jalna Greek Yoghourt, top with dill and stir to combine.
To serve, drizzle 1 tbsp olive oil over the asparagus top with shaved parmesan and serve alongside lamb lollipops with yoghourt dipping sauce.
Nutrition Information (per serve)
| | |
| --- | --- |
| Energy | 2200 kJ (526 calories) |
| Protein | 32g |
| Total Fat | 36g |
| Carbohydrates | 19g |
| Saturated Fat | 13g |
| Sugars | 19g |
| Dietary Fibre | 3g |
| Sodium | 200mg |
Adapted from https://daa.asn.au/recipes/lamb-lollipops-with-yoghourt-tzatziki-dip/
BASIC ONE PAN STEW I make this at least once a week and sometimes three times a week depending on what I have at hand. It works well with any grass-fed meat, chicken or fish, it is also a great way to use leftovers and works well for cheaper cuts. The vegetables used depends on what I have in the garden or what is in season. Now I am using the last of my winter garden, broccoli, cauliflower and cabbage. It uses a mix of Mediterranean and Indian techniques. INGREDIENTS
Any grass-fed meat also works well with fish
6 button mushrooms brushed clean
1 onion
10 cm cut of sweet potato
1 medium carrot
2 serves of broccoli including the stalk and young leaved.
2 serves of cauliflower including the stalk and young outer leaves
2 serves of cabbage.
1 tomato or tomato past
Garlic to taste
Diabetic herbs and spices to taste
INSTRUCTIONS
Prepare all the vegetables and the meat, cut into small chunks and set aside in separate dishes.
If using fresh un-cook meat heat a large 30 cm stoneware fry pan with a little olive oil.
Seal the meat. Remove and set side, leave the oil in the fry pan.
In the same pan add the onions and mushrooms. At this point I use a northern Indian method of cooking onions, it involves adding a little water from time to time and constantly moving until the onions and mushrooms begin to break down. Alternately cover the frypan with a 30-cm stock pot lid and cook until the onions take on some cooler.
Add all the other ingredients, add fish at this stage if using, cover with water and replace the 30-cm stock pot lid.
Bring to the simmer and cook for 40 minutes.
Serve and enjoy.
Any leftovers can be used in an omelet or breakfast crape.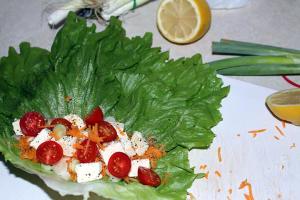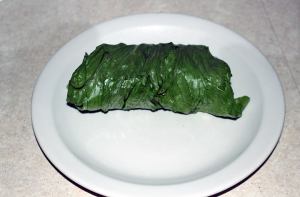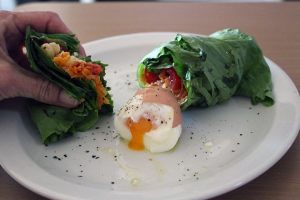 BASICS OF HEALTHY COOKING The basics of cooking healthy * make 1 or 2 vegetables the hero * almost always think something onion * add a grain or seed or pulse for protein * add something green like spinach *  build it around a herb *  season it with a zesty vinaigrette (hot or cold) for lift more than balance * add a cheese or yoghurt for texture in moderation * add a nut or seed for crunch and bulk *  learn some basic spice mixes- it's easy *  apply this formula to any dish.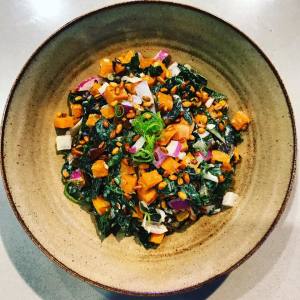 SIMPLE EATING Eating doesn't always have to be complicated … little toms, fetta or ricotta, spring onion, grated carrot with a dash of olive oil and a squeeze of lemon juice. Wrap in a lettuce leaf and add a soft boiled egg. The home grown are the best of course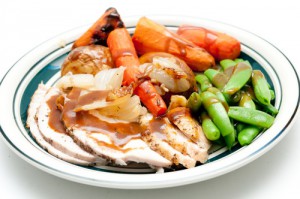 I recently was in a store and became involved in a conversation between two of the sales people. They were saying how they hated cooking and that they never seemed to have anything available when it becomes meal time. I asked them if they had a freezer at home full of meat etc. Of course they are like everyone else and the answer was of course yes. I believe that many foods stored in freezer in fact end up in the bin as they never get defrosted. All is required is to think a day ahead and pull tomorrows nights  meal out of the freezer the night before. This is especially true with meat. Many of my vegetables are fresh but the meat is often frozen. After all if I kill a beast than I am committed to cutting it up and freezing the individual meals in freezer bags. All is required is for me to pull out a bag the night before and defrost it in the fridge for the next day. (In winter I place this bag in the microwave overnight just to protect it from my cat.) When I am ready to cook the meat is defrosted and ready to cook. I was told by a top chef that one of the secrets of cooking meat is that it should be at room temperature before you put it in the pan. Pull your meat from its defrosting place an hour before you cook it to give it time to rest and come to room temperature, you can use this time to marinate the meat in herbs and spices to your own taste. Lemon juice, orange juice, apple cider vinegar, garlic, onions or a mixture of some or all of the above are other marinades that are worth a try.   Here are some of my favourite receipts.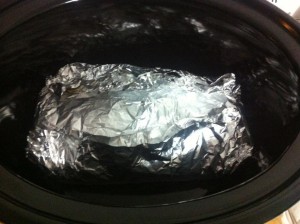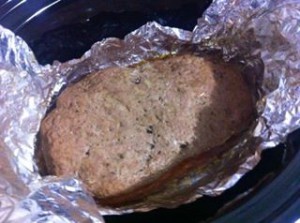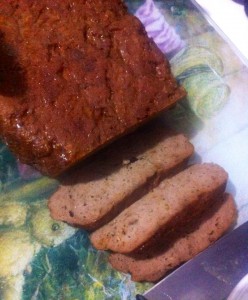 SLOW COOKED MEAT LOAF Made the lamb meat loaf last night. red cabbage for crunch, garlic and lemon and Greek yoghurt plus chilies Everyone happy and one well impressed husband. Cooked in a slow cooker with a little water. Served with steamed vegetables. I have tried this with baking paper but it goes soggy p.s. any lean meat chicken veal pork or game.   Steamed Chicken. 1. Pull the skin of your chicken. (I use my omega 3 chickens) 2. Rub the surface with your marinade. My marinade depends on the season and what is available from my garden but you can not go past mixed herbs, garlic and onions. 3. Set your chicken aside for at least twenty minutes 4. Time to hit the garden, as it is winter I will collect:- Carrots Jerusalem artichokes Broccoli Silver beat Pumpkin (which has been cut and stored in the fridge) 5. Prepare your vegetables. Peel and wash. I add sweet potato at this time as I cannot grow these in my temperate climate. 6. Place in the bottom of a stock pot, (purchased on E-Bay). 7. The greens go into a separate stock pot as they require less time to cook) As it is winter I have bags of summer green beans in the freezer, it is time to pull one of these bags out to defrost. A bag of sweet corn is also taken from the fridge. 8. To the vegetables add water and place the chicken on top to steam. 9. About 40 minutes before you are ready to serve turn on the heat beneath the pot with the chicken. 10. When at the boil turn back to simmer. 11. Ten minutes before serving add heat to your greens and again turn back to simmer once at the boil. 12. Serve and enjoy. Note that I have 6 vegetables in this dish. I was once told that as a gardener if you cannot get 5 vegetables on the plate you are not trying. While it is at time difficult, especially in winter to achieve this, it can be done with purchased vegetables. We must add sweet potato and sweet corn which cannot always be grown by the home gardener due to climate and space.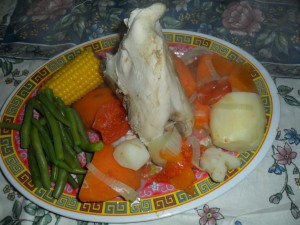 N.B. This Amego-3 chicken is lean and mean with little to no fat. Veal, Pork and Lean Lamb Basically I follow the above recipe except I grill the meat to seal it before adding to the simmering vegetables to complete its cooking. I find this also tenders the meat.   SLOW COOKED VEAL, OLIVES, FENNEL AND VEGETABLES.  Preparation: 15 minutes Cooking: 3 hours Serves: 4 Ingredients: 2 deboned racks of veal, 8 chops each (Game also works well) any visible fat removed 4 tbsp. extra virgin olive oil Freshly ground black pepper 6 sprigs of lemon thyme, finely chopped 2 cloves of garlic, finely chopped 1 small brown onion, diced 3 globes of fennel, trimmed and each cut into 6 wedges ½ tsp coriander seeds 2 tbsp. Red wine 3 tomatoes 20 baby black olives 1 tbsp. finely grated orange zest 2 tbsp. chopped parsley 4 serves of sweet potatoes 4 small serves of white potatoes 4 serves of carrots 4 serves of pumpkin 4 serves of fresh greens for steaming. Additional extra virgin olive oil for drizzling   Instruction:
Season the Veal with 2 tbsp.  extra virgin olive oil, a little pepper, half the lemon thyme and half the garlic.
Cover the bottom of a slow cooker with water
Add the wine and the tomatoes, stir well and season with pepper.  Place the veal and vegetables in the slow cooker set on high. Cover with a lid and cook on for 3 hours
20 minutes before serving prepare a steamer and steam the green vegetables.
Adapted from http://daa.asn.au/recipes/135701/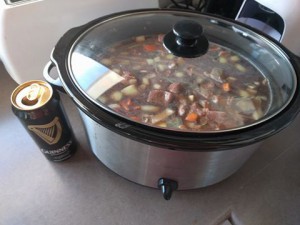 GUINNESS LAMB STEW INGEDIENTS 1.5 kg diced lamb (works well with any lean meat including game) 2 medium onions diced 4 carrots diced 2 small sweet potatoes diced 4 serves of pumpkin 1 bay leaf 1 sprig of fresh rosemary 5 cloves of garlic peeled and smashed 2 tablespoons no added salt tomato paste 1 cup of Guinness 2.5 cups water Ginger and black pepper. And cup of frozen peas at the end. INSTRUCTIONS Place everything in the slow cooker set on low. Cook for 7 hours Remove 2 cups of liquid and mixed it with a tablespoon of Gravox and then add back to slow cooker to thicken.
GRILLED SWEET CORN WITH LIME AND CHILI
Ingredients
4 Sweet corn ears
1 tbsp.olive oil
1 tbsp.chili powder
Lime wedges
Instructions: 1.Preheat grill on medium high. 2.Brush corn with oil and place directly on grill, turning every 5 to 10 minutes until nicely cooked and charred in places, 30 to 40 minutes 3.Slather hot corn with mayonnaise and sprinkle with chili powder. 4.Squeeze lime over corn and enjoy hot. Adapted http://www.healthyfithouse.com/grilled-sweet-corn-with-lime-and-chili/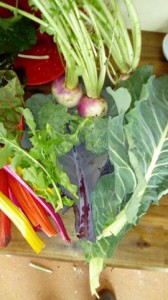 100% Home grown! Everything in this stir fry is home grown, goat, broccoli, turnips, purple & green cabbage, coloured silver beet, rocket and stinging nettle.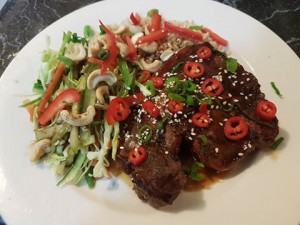 BBQ LAMB with brown basmati rice and a fresh coleslaw. Brown vinegar and olive oil dressing