Sea Bream is regarded a one of the top three fish for bottom fishermen both for the taste and their fighting ability.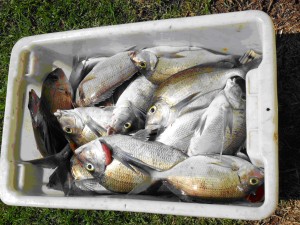 Care needs to be taken in cleaning these fish as they can have a strong iodine taste if not cleaned correctly.
Their stomach cavity has a thick black lining which needs to be scrubbed clean as soon as possible after catching. They are also a fish that needs to be filleted and skinned to be fully enjoyed.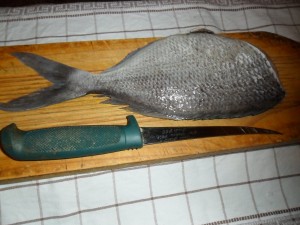 They also have a blood line on the shoulder which must be cut out.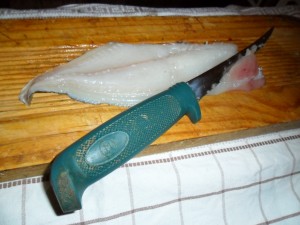 With your knife remove the skin starting at the tail to produce a clean fillet. Remove the bones especially along the centre line. If the fish is large enough you can cut along the line producing four fillets while removing these bones.
I season these with a little spicy season all and set aside in the fridge for at least twenty minutes.
I like to crumb these fillets with a healthy twist:-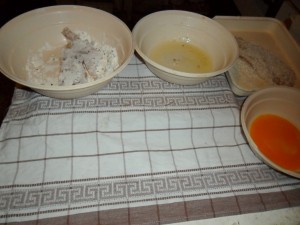 Here I have multigrain flour in bowl one.
Egg white in bowl two, the yolk is also shown in bowl 4 this I microwave for Tex and the Minister for pest control
Bowl three can contain any of the following:-
Multigrain bread crumb;
Rolled out
Oat bran
Instant mashed potato, (not preferred for diabetics)
Cover the fillets in the flour than the egg white and finally the bread crumbs or simular.
Set aside in the fridge for a further 20 minutes as this allows the egg white to set.
The left over bread crumbs etc can be mixed together, add milk if necessary to make a bread cake.
Cook on a BBQ until golden brown. (Or try a dry fryer)
I use basmati rice with this dish which is easy to make:
1. In a pot add 1 cup of rice to 2 cups of rice.
2. Bring to the boil.
3. Turn back to simmer.
4. After five minutes give the rice a good stir.
5. After a further five minutes the rice should be cooked.
I always boil too much rice as the excess will be used as fried rice or be used in my bread. (See my bread section)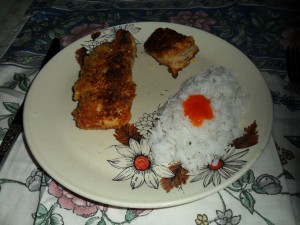 Here I served the rice with a tomato source.
I have listed below some things that can be added to the rice to spice it up a little.
You can also steam or grill the fillets with a slice of lemon:-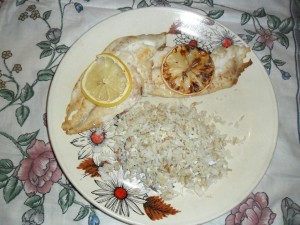 I also prepare this with fried rice. The basic receipt is:-
1. In frying pan or wok place a little olive oil and heat until smoking hot.
2. Add the boiled rice.
3. Stir.
4. Add one egg white per serve.
5. Continue stirring until cooked.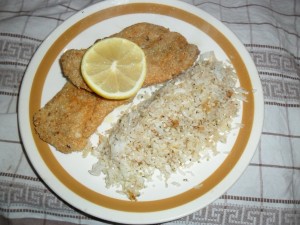 If it to your taste the following can be added to both your boiled rice and fried rice to add extra taste and nutrition:-
Sweet corn
Grated carrot
Grated sweet potato
Grated Jerusalem artichokes
Peas
Beans
Brussels sprouts cut fine
Broccoli cut fine
Silver beet cut fine
Cabbage cut fine
Chopped onion
Herbs individual or mixed to taste
Capsicum
Chilli
TEX'S QUICK FISH
For a quicker fish recipe, cover the dish of rolled fish with vented plastic wrap and microwave on 100 percent power (high) for 8 to 10 minutes, rotating the dish a half turn mid-way through cooking. Tomato and onions fried in a stone ware fry pan makes a perfect complement to lean sole, flathead, snapper, freshwater fish or any fin fish in this dinner recipe.
MORWONG IN SOURDOUGH BATTER
Every deep sea fisherman knows that the only way to prepare Morwong (deep sea Bream) for the table is filleted and skinned and cooked in batter.
This unfortunately is not a diabetic friendly way for diabetics to eat fish and I have found that my sugar is effected after such meals.
You can of course discard the batter and eat the steamed fish inside. After all the purpose of the batter is to seal the fish and let it steam in its own juices.
I have been experimenting been experimenting with batters to see if I can lower its GI. I think I have found it.
Sourdough has a low GI because the yeast feeds on any available sugars and available soluble starch in the dough. So here is what I have found:-
Prepare your favourite batter (not beer batter) at least 2 hours before you use it. Add 1 teaspoon of dried yeast and set aside in a warm place to "ferment".
Prepare your Morwong as per:-
http://www.findtex.com.au/recipes/find-tex-originals/sea-bream-and-rice/
I dip the fish fillets in the batter, ensure that it is completed coated and cook in a stone ware fry pan (or the BBQ) with a little olive oil.  Olive oil should lower the GI of the sourdough.
I have found that this has very little effect on my sugar level. NB. This may not work for all diabetics, if you try this and find that it effects your sugar levels than do not try it again. What works for me may not work for every diabetic.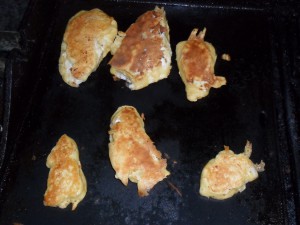 PANFRIED FLATHEAD
I do not know about you but I just get like fried fish for a change from steamed. While not perfect here is my healthy version.
Prepare 3 trays
Wholemeal four
Omega 3 Egg white
Multigrain bread crumbs.
Coat your flathead fillets evenly with the contents of each bowl.
Set aside in the fridge for 20 minutes to allow the gg white to set.
Fry with a little olive oil close to smoking point.
Serve with a salad.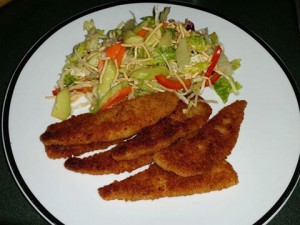 Crumbed Whiting with a nice salad.
TANDOORI SALMON WITH BASMATI  RICE
INGREDIENTS
1/4 cup Greek plain yoghurt, plus extra 1/4 cup, to serve
1 tablespoon tandoori paste
4 x 125g skinless salmon fillets
2 red capsicums, seeded, cut into wedges
1 head of broccoli, cut into florets
1 teaspoon cumin
2 bunches asparagus, trimmed
2/3 cup basmati rice
2 tablespoons chopped coriander
2 teaspoons finely grated lemon zest, plus lemon  wedges, to serve
 INSTRUCTIONS
Preheat oven to 180°C. Line a baking trays with baking paper. Combine yoghurt with tandoori paste in a shallow glass or ceramic dish. Add salmon and turn to coat. Cover dish and place in fridge to marinate for 15 minutes.
Place capsicums and broccoli in a steamer; sprinkle with cumin and spray with olive oil. Steam veg for 15 minutes, or until tender, adding asparagus for last 5 minutes of cooking time.
Meanwhile, drain salmon of excess marinade and place on the other prepared baking tray; roast for 10–12 minutes, or until cooked to your liking.
Meanwhile, boil rice in a large saucepan of water for 12 minutes, or until just tender, then drain and return to pan. Add coriander and lemon zest; stir to combine and cover to keep warm.
Divide salmon, rice and steamed vegetables among 4 plates; top with a dollop of yoghurt, season with cracked black pepper and serve with a lemon wedge.
FISH FILLETS IN BAKING PAPER WITH FENNEL AND ORANGE SALAD
INGEDIENTS
4 x 40 cm squares of baking paper
2 tbs. of olive oil
4 x 150 g snapper fillets (any oily fish can be used)
2 oranges, sliced
2 fennel bulbs and fronds, chopped
4 tbs. orange juice
4 sprigs of fresh dill
1 small carrot (raw), grated
Pepper to taste
INSTRUCTIONS
Preheat oven to 200°C.
Place squares of baking paper on work surface.
On each square of baking paper: drizzle ¼ teaspoon of olive oil; place fish fillet in centre of paper; season with pepper; arrange ½ a sliced orange, ½ a fennel bulb and a sprig of dill over fish fillet; pour 1 tablespoon of orange juice and drizzle ¼ teaspoon of olive oil over the fish and produce.
Bring sides of the paper up and fold over a few times to seal.
Fold in ends and tuck under parcel.
Place the fish parcels on a baking tray and bake in oven for 15 minutes or until the fish is white and flaky.
Sprinkle over grated carrot and season with pepper.
Nutritional information per serve
Total energy 1937 kJ / 461 cal
Protein 46 g
Total fat 13 g
Saturated fat 2 g
Total carbohydrate 29 g
Fibre 9 g
Sodium 250 mg
(includes 2 small potatoes)
Serving suggestions
Serve parcels with steamed sweet potatoes, green vegetables and a slide of lemon.
Adapted from http://www.diabetessa.com.au/recipes/fish-fillets-in-baking-paper-with-fennel-and-orange-salad.html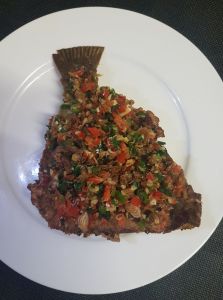 Mediterranean Pan Seared Sea Bass Recipe with a Garlic Bell Pepper Medley
INGREDIENTS
4 pieces Sea Bass fillet, no skin (any fin fish can be used.)
Extra virgin olive oil
1 Green Bell Pepper, cored and chopped
1 Red Bell Pepper, cored and chopped
3 Shallots, chopped
4 garlic cloves, minced
1/2 cup pitted Kalamata olives, halved or chopped
1/2 lemon, juice off
2-3 cups cooked rice or pearl couscous or orzo pasta, prepared according to package (optional) NB1
Spice Mixture 
1/2 tbsp ground coriander
1/2 tbsp garlic powder
1 tsp Aleppo pepper
1 tsp ground cumin
1/2 tsp black pepper
INSTRUCTIONS
In a small bowl, combine the spices to make the spice mixture. Set aside for now.
In a medium-sized skillet, heat 2 tbsp olive oil over medium-high heat until hot and shimmering but not smoking.
Add the bell peppers, shallots, and garlic. Season with 1 tsp of the spice mixture you prepared earlier. Cook, stirring regularly, for 5 minutes or until the peppers have softened. Turn the heat to lowest, and stir in the chopped olives. Leave on low heat as you prepare the fish.
Pat fish dry and season with the remaining spice mixture on both sides as well.
In a large stoneware fry pan heat 1/4 cup extra virgin olive oil over medium-high until shimmering but not smoking. Add the fish pieces (you can reduce heat to medium, if needed). Push down on the middle (thickest part) for 30 seconds or so. Cook fish on one side, until nicely browned, about 4 to 6 minutes. Using a spatula, carefully turn fish over and cook on other side for 3-4 minutes until nicely browned as well.
Remove fish from heat, immediately drizzle lemon juice. Serve hot with the bell pepper medley spooned on top. Add a side of cooked pearl couscous or basmati rice, if you like a salad.
Nutrition Facts
Serving Size 6-oz Fillet with Pepper Medley (Does not include couscous or pasta)
Serves 4
Amount Per Serving
Calories
312
% Daily Value*
Total Fat 25.9g
40%
Trans Fat 0g
Sodium 623.1mg
26%
Total Carbohydrate 11.6g
4%
Sugars 5.2g
Protein 10.9g
22%

Vitamin A 9%
Vitamin C 166%
Calcium 4%
Iron 8%
Vitamin D 1%
Magnesium 10%
Potassium 12%
Zinc 4%
Phosphorus 14%
Thiamin (B1) 8%
Riboflavin (B2) 8%
Niacin (B3) 8%
Vitamin B6 28%
Folic Acid (B9) 12%
Vitamin B12 2%
Vitamin E 5%
Vitamin K 11%

NB1 Some T2 diabetics may prefer a salad
Adapted from https://www.themediterraneandish.com/mediterranean-pan-seared-sea-bass-recipe/