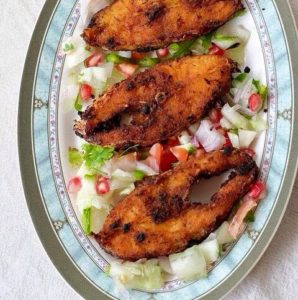 KERALA FISH FRY RECIPE
INGREDIENTS:
4 fish steak pieces (King fish or pomfret work well)
1/2 tsp of red chilli powder
1/2 tsp of black pepper powder
1 tsp of minced garlic (3-4 flakes)
1 tsp of grated ginger (a 1″ piece)
1 tsp of vinegar or lime juice
2 tsp of shallots (small onions), crushed, optional
1/4 tsp of turmeric powder
A few curry leaves
Ginger to taste
Oil for frying (I use Olive oil)
INSTRUCTIONS:
Cut and clean the fish pieces.
Let the cleaned fish drain in a colander placed inside the sink (or another vessel if you wish). We need the fish to be as dry as possible before placing in the marinade
To prepare the marinade, there are two options:
You can add all the ingredients into a spice grinder and grind to a paste.
If you are using readymade ginger garlic paste (I don't recommend this, freshly made paste is better for this recipe), then you can just mix everything in a bowl.
If the paste is too thick, add a teaspoon of water. The marinade should be a thick paste and not watery; with this proportion of ingredients, I usually don't need to add any water.
Using your fingers, generously slather the marinade all over the fish pieces.
Plate in a bowl or plate, cover and set aside for 30 minutes. You can leave it overnight in the refrigerator if you don't intend to cook it immediately.
When ready to fry the fish, heat oil in a pan until it almost begins to smoke. We always pan fry the fish with just enough to cover the fish halfway and that works great.
Once the oil is hot enough, gently place the fish pieces into the oil.
Keep heat at medium and cover the pan while frying to prevent the spluttering oil and marinade getting all over you and the stove
The moisture from the fish and the heat from the oil will fry-steam the fish in this method.
Once the first side of the fish is a dark golden brown, gently flip over and keep covered until the other side is cooked.
Needless to say, you must not allow the fish to overlap while cooking.
Serve fish fry hot with sliced onions and lime wedges
LEMON AND BASIL GRILLED HALIBUT
INGREDIENTS
1 tablespoon olive oil
2 tablespoons fresh lemon juice
1 clove (or 1 teaspoon) minced garlic
1/2 teaspoon dried basil
1/8 teaspoon ginger
1/4 teaspoon black pepper
1 teaspoon dried parsley
1/8 teaspoon red pepper flakes
2 halibut fillets (3 ounces/ 85 g each) (Any fin fish can be used)
INSTRUCTIONS
In a bowl, whisk together olive oil, lemon juice, garlic, basil, ginger, pepper, parsley, and red pepper flakes. Place the halibut in a zip-top plastic bag and drizzle evenly with marinade. Seal bag and shake gently to coat fish. Marinate in the refrigerator for 1 hour, turning occasionally.
Preheat grill to medium-high heat (around 350°F/180°C). Place fish on grill, baste with any remaining marinade, then grill fish 4–6 minutes on each side, or until fish flakes easily when pierced with a fork.
Yield: 2 servings.
Serving size: 1 fillet.
Nutrition Facts Per Serving:
Calories: 161 calories, Carbohydrates: 2 g, Protein: 10 g, Fat: 9 g, Saturated Fat: 1 g, Cholesterol: 27 mg, Sodium: 199 mg, Fiber: <1 g
Exchanges per serving: 3 lean meat.
Adapted from https://www.diabetesselfmanagement.com/recipes/main-dishes/lemon-basil-grilled-halibut/?fbclid=IwAR3BWKaxq9QE6ajo9rj5WGZyhQda5QAucR8BQD1OkA08l9FWoJ9IgVN6leU
LIGHT LEMON AND HERB FISH WITH MIXED-BEAN SALAD
INGREDIENTS
2 tablespoons chopped flat-leaf parsley, plus extra 1 tablespoon
1 tablespoon chopped dill, plus extra 1 tablespoon
1 teaspoon finely grated lemon zest
2 tablespoons lemon juice, plus extra 1 tablespoon
1 clove garlic, crushed
olive oil spray
4 x 150g firm white fish fillets
200g green beans, trimmed, cut in 5cm lengths
2 large vine-ripened tomatoes, seeded, thinly sliced
400g can four-bean mix, rinsed, drained
lemon wedges, to serve
INSTRUCTIONS
Step 1 Combine parsley, dill, lemon zest, lemon juice and garlic in a small bowl. Cut 4 x 30cm-square pieces of baking paper, then cut 4 x 30cm-square pieces of foil. Layer each piece of baking paper on a piece of foil; spray with olive oil. Place 1 fish fillet in the centre of each piece of foil; drizzle each with a quarter of the herb mixture.
Step 2 Fold edges of foil to enclose fish and form a parcel. Preheat a grill pan or barbecue to high. Cook parcels for 10–12 minutes, or until fish is just cooked.
Step 3 Meanwhile, bring a medium saucepan of water to the boil; immerse green beans to blanch until just tender. Refresh green beans in cold water; drain well.
Step 4 Place green beans, tomato, mixed beans and extra parsley, dill and lemon juice in a large bowl; season with cracked black pepper and stir to combine.
Step 5 Divide mixed-bean salad among plates, top with fish and serve with lemon wedges.
Nutritional information (per serve)
Kilojoules 1,174kJ
Calories 281cal
Protein 38.4g
Total fat 4.3g
Saturated fat 1.2g
Carbohydrates 16.9g
Sugars 4.3g
Dietary fibre 8g
Sodium 148mg
Calcium 86mg
Iron 2.2mg
Adapted from https://daa.asn.au/recipes/light-lemon-and-herb-fish-with-mixed-bean-salad/?fbclid=IwAR0hYxjX1eQsK3WCqpJegXYqQzTHD1moIEc_Ws-umdjP9UGWa3Zb4USlMQ8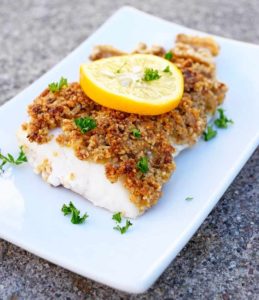 WALNUT CRUSTED COD
INGREDIENTS
1/2. wild cod (fresh or frozen/thawed)
3/4 cups walnut pieces
1 tsp. onion powder
1 tbsp. lemon zest
fresh lemon wedges for serving
fresh, chopped parsley for garnish
INSTRUCTIONS
Put the walnuts in a food processor and blend until you have a nice almond meal consistency. It doesn't have to be too finely ground, just evenly ground. You actually don't want to overdo it with the processor, or you might end up with walnut butter instead!
Add in the onion powder and lemon zest and pulse several times with the processor to mix them in.
Place the fish on a plate and pack on the walnut topping. It will become slightly moist and sticky, but it will still be workable. You do not have to cover the fillet entirely, and do not coat both sides of the fish (it won't bake properly). This is meant to be a topping, not a breading.
When the top of the cod is covered, transfer to a baking dish.
Bake at 350 F/180 C. for about 20-25 minutes or until the fish is fully cooked. Baking time will vary a bit by oven.
Then turn your oven to broil and continue cooking for another 5-10 minutes, or until the walnuts are a golden brown from roasting.
Transfer to plate, allow to cool slightly.
Serve with some fresh lemon juice (wedges) and some fresh, chopped parsley for garnish.
Recipe Notes
Please note that the nutrition data is a ballpark figure. Exact data is not possible.
Nutrition Facts
Clean Eating Walnut Crusted Cod
Amount Per Serving (0.33 the recipe)
Calories 323 Calories from Fat 180
% Daily Value*
Total Fat 20g 31%
Saturated Fat 1g 5%
Cholesterol 65mg 22%
Sodium 83mg 3%
Potassium 769mg 22%
Total Carbohydrates 6g 2%
Dietary Fiber 2g 8%
Sugars 1g
Protein 31g 62%
Vitamin A 1.2%
Vitamin C 10.5%
Calcium 6.6%
Iron 8.3%
* Percent Daily Values are based on a 2000 calorie diet.
Adapted from https://www.thegraciouspantry.com/clean-eating-walnut-crusted-cod-recipe/?fbclid=IwAR3vO5u_rZOHGqcpvmmDFe0eruUUyvg7A3gnKBs9eY6td7zaf3s7v5WIxTQ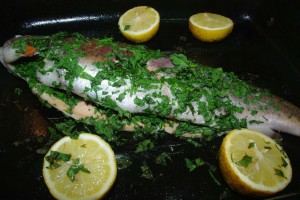 Preparation time: 10 minutes Cooking time: 20 minutes serving size: 4 4 potatoes peeled, thinly sliced (Sweet potato can be used here) olive oil spray 2 thick slices day-old sourdough bread, crusts removed, torn 1/4 cup pistachio kernels 1/4 cup basil leaves 2 tablespoons chopped chives 1 tablespoon lemon juice 4x 150g firm white fish fillets steamed greens, to serve Preheat oven 160C  Line 2 oven trays with baking paper. Place potatoes in a single layer on a tray. Spray with olive oil. Bake for 20 minutes or until golden. Process bread, pistachios, basil, chives and lemon in a food processor until mixture resembles fine crumbs. Season with pepper. Coat on one side of one fillet with a quarter or crumb mixture. Repeat with remaining fish then place on a second tray. Spray with olive oil spray. Bake for 12 minutes. Divide potatoes between 4 serving plates, topping each with a piece of fish. Serve with steamed green vegetables and if desired, a wedge of lemon.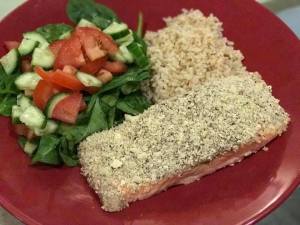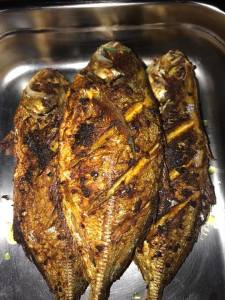 BAKED FISH
INGREDIENTS
Whole Fin Fish – 1
Turmeric Powder – 1/4 tsp
Chilli Powder – 2 tsp
Coriander Powder – 2 tsp
Ginger garlic Paste – 2 tsp
Pepper Powder – 1 tsp
Olive Oil – 1 tbsp.
Onion – 1/2
Garlic – 3 cloves
Cilantro – 1/2 bunch
Lemon – 1/2
INSTRUCTIONS
1. Wash the fish and make small slits on both sides.
2. Marinate the fish with chilli powder, turmeric powder, coriander powder, pepper powder and ginger garlic paste.
3. After marinating for half an hour, stuff the onions, garlic, lemon slices and cilantro into the body of the fish.
4. Sprinkle few drops of oil over the body of the fish.
5. Bake the fish in an oven preheated to 350F/180C for 20 minutes. (Depends on the size of the fish)
6. Set the oven to broil mode and broil it for 5 minutes.
7. Flip the fish and broil the other side for another 5-10 minutes until the skin of the fish is nicely browned.
8. Garnish with cilantro and lemon rings and serve.
SALMON TOPPED WITH CRUSHED NUTS.
FRIED FISH INGREDIENTS 1 kilo fish ½ cup wholemeal flour (or your favourite diabetic flour) ½ teaspoon baking soda 1 teaspoon coriander powder 1 teaspoon cumin powder ½ teaspoon garlic paste ½ teaspoon ginger paste ½ teaspoon green chilli paste 1 teaspoon garam masala (no sugar variety) 2 teaspoon dry fenugreek (methi) 2 tablespoons lemon juice ½ teaspoon crushed chillies ginger to taste Olive oil for frying INSTRUCTIONS In a large bowl add fish and all the ingredients, add a little water and mix it. The batter should look thick. Let the fish marinate for couple of hours. In a large wok , heat some oil and fry the fish on medium heat until golden and cooked through. You can also shallow fry it. Enjoy your fish with mint and yoghurt chatni. Via Foodbreak's
PANFRIED FLATHEAD I do not know about you but I just get like fried fish for a change from steamed. While not perfect here is my healthy version. Prepare 3 trays
Wholemeal four
Omega 3 Egg white
Multigrain bread crumbs.
Coat your flathead fillets evenly with the contents of each bowl. Set aside in the fridge for 20 minutes to allow the gg white to set. Fry with a little olive oil close to smoking point. Serve with a salad. Also try my sourdough batter:- http://www.findtex.com.au/recipes/find-tex-originals/sea-bream-and-rice/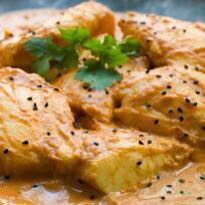 FISH CURRY WITHOUT OIL INGREDIENTS
1 whole fish (any oily fin fish will do – King Fish, sardines etc)
1 tsp chilli powder
1 tsp coriander powder
1/4 tsp turmeric
1/2 tsp pepper cones
2-3 shallots 2-3 (or onions)
Few curry leaves
2 green chillies
2 tomatoes (medium size),
2-3 tamarind sticks
1 medium size lemon
INSTRUCTIONS
Soak tamarind in 1 cup of water.
Chop the green chillies, tomatoes. Peel the shallots. Keep all aside.
Grind chilli powder, coriander powder, turmeric, pepper cones into a paste.
Add shallots to this paste and blend grind again to make a coarse paste.
Filter the impurities and strain the tamarind water in a bowl.
In a source pan, add the paste, tamarind water, green chillies, and tomatoes.
Bring it to a boil.
Then add fish and curry leaves. Mix well.
Let it simmer for about 10 minutes.
FAST AND FIERY GRILLED CATFISH INGREDIENTS
1 tablespoon chopped fresh basil
1 teaspoon crushed red pepper
1 teaspoon garlic powder
½ teaspoon ginger
1/2teaspoon black pepper
4 (6-ounce) farm-raised catfish fillets (Or wild caught) (Any oily fin fish can be used)
2 tablespoons olive oil
INSTRUCTIONS
Preheat the grill (BBQ) to medium-high heat. Coat a hinged grill basket with non-stick olive oil cooking spray.
In a small bowl, combine the basil, crushed red pepper, garlic powder, ginger and black pepper; mix well.
Rinse the fish with cold water and pat dry with a paper towel. Rub the oil over both sides of the fish, then rub both sides with the seasoning mixture, coating evenly.
Place the fish in the grill basket and grill (BBQ) for 7 to 9 minutes, or until cooked through and firm to the touch, turning the basket over once during cooking.
Notes If you do not have a hinged grill basket, before preheating the grill, coat the grill racks with non-stick cooking spray. No stick equals no mess!
Adapted from https://www.everydaydiabeticrecipes.com/Fish/Fast-n-Fiery-Grilled-Catfish     CRISPY SKIN MULLET WITH MARINATED ZUCCHINI High in omega-3 Ingredients
4 fillets of mullet, pin-boned
and skin on
2 large zucchinis
Olive oil
¼ cup pine nuts
1/3 cup raisins
zest of one lemon
¼ cup mint leaves, chopped roughly
2 tbsp red wine vinegar
Ginger and pepper
Method  Preheat oven to 150˚C. Toast pine nuts on a tray until light golden brown in colour, for approximately five minutes.
Cut zucchini in half lengthways and then into slices. Pat slices dry. Fry in a stoneware fry pan with a good spray of olive oil, the zucchini pieces in small batches, until dark golden. Remove and drain on absorbent paper.
Layer the zucchini in a bowl or platter, sprinkling each layer with pine nuts, raisins, lemon zest and mint. When all has been used, pour over red wine vinegar and two tablespoons of fresh extra virgin olive oil.
Keep until needed, but don't refrigerate.
To cook the fish, heat oil in a heavy based fry pan. Pat the skin of the fillet with paper towel to dry, and season both sides lightly with ginger. Place fillets skin-side down into the oil, pressing down lightly.
Cook on a low to medium heat until the skin is dark golden and lifts easily, for approximately four minutes.
If the skin is sticking to the pan when you try to flip them, it's not ready. Leave them for another 30 seconds to one minute and they should come off cleanly. Flip the fillets and cook for one minute on the flesh side, or until cooked to your liking.
Serve with the marinated zucchini.
Note this is not a balanced meal, add a salad for completion.\
HEALTHY FISH STICKS: BETTER THAN FISH FINGERS Serves 4 (For the kids who are not diabetic) Ingredients
1 kg fresh fin fish fillet, cut into 16 (2 cm) strips
4 egg whites
1/4 cup oat meal
1/2 cup multigrain breadcrumbs
1/2 tsp ginger
1/2 tsp black pepper
1/4 cup olive oil, divided
Malt vinegar (optional)
Tartar sauce (optional)
Method
Season the fish with some ginger and pepper, then set it aside.
Add the egg whites to a shallow bowl, then whisk them together.
In another shallow bowl place the oat meal and breadcrumbs.
Heat 1/8 cup of the oil in a deep frying pan over medium-high heat.
Dip each strip of fish into the egg whites, then press it into the breadcrumb mixture, coating evenly.
Place half of the fish into the hot oil, then cook it for about 4 minutes or until it turns golden brown.
Using tongs, flip the strips to the other side, then cook for another 4 minutes or until golden brown. Set the cooked fish sticks aside and cover them with foil to keep them warm.
Heat the remaining oil, then cook the rest of the fish in the same way.
Serve the fish sticks with malt vinegar or light tartar sauce (optional).
Nutrition Serving size = 4 fish sticks
398 Calories
21 g Fat
664 mg Sodium
11 g Carbohydrate
4 g Fibre
42 g Protein
Try my sourdough batter http://www.findtex.com.au/recipes/find-tex-originals/sea-bream-and-rice/
QUINOA CRUSTED FISH AND SWEET POTATO CHIPS
Serves 4 INGREDIENTS  For fish:
1-2 free-range eggs, lightly whisked
2 tsp finely grated lemon rind
1 cup quinoa flakes
850g (approximately) fish fillets, skinned and pin boned (e.g. snapper or flat head) cut into roughly 16 equal-size pieces.
ginger and pepper to taste
2 tbs extra virgin olive oil for frying
Sliced lemon to serve
For sweet potato chips:
2 large sweet potatoes, peeled, sliced into chips
1 tbs extra virgin olive oil
3 sprigs rosemary, roughly chopped
1 tsp paprika
For yoghurt dressing:
150g natural yoghurt
1 tablespoon capers, rinsed, drained
1 tsp finely grated lemon rind
Juice ¼ lemon and use finely grate for lemon rind
2 tablespoons chopped fresh continental parsley
1 garlic clove, crushed
INSTRUCTIONS To make sweet potato chips:
Preheat oven to 200°C. Line a baking tray with non-stick baking paper. (160°C for air fryer preferred)
Cut the sweet potato into chips – roughly 1.5cm thick.
In a large bowl, place olive oil, paprika, rosemary and sweet potato, and mix with your hands until potato is evenly coated with oil, herbs and spices.
Place potato in a single layer, on the tray. Bake for 40 minutes or until golden.
Prepare the dressing and fish while chips are baking.
To make yoghurt dressing: In a small jar or bowl, combine the yoghurt, capers, lemon juice, lemon rind, parsley and garlic in a bowl. Shake or mix and set aside. To make fish:
Set out one plate and one bowl on the kitchen bench.
Place eggs, lemon rind, ginger and pepper in a bowl and whisk together.
Place quinoa flakes on a plate
Pat the fillets dry with paper towels. Coat the fillets in the egg mixture first, and then roll the fish in the quinoa flakes patting down firmly.
Set crumbed fish on a large plate and place in the refrigerator and cook when you 20 minutes remaining of baking sweet potato.
Heat the oil in a frying pan over medium heat and shallow-fry the fish for 60 seconds until golden and crispy, then turn over and cook for a further 60 seconds or until crispy on both sides.
Drain off excess oil from the fish fillets using paper towels, then serve while hot with fresh lemon wedges, sweet potato chips and a side salad.