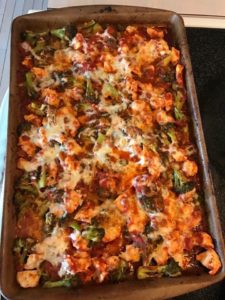 ROASTED BROCCOLI PARMESAN WITH CHICKEN
INGREDIENTS
• 28 oz/ 800 g raw, boneless, skinless omega-3 chicken breast
• 1 medium bunch (about 20oz/600 g) broccoli with stems (Plus any other winter vegetables.
• 4 cloves garlic, peeled and smashed
• 1/2 teaspoon ginger
• 2 teaspoons olive oil
• 2 & 1/2 cup Italian marinara sauce
• 1 cup shredded low-fat mozzarella cheese
INSTRUCTIONS
1. Preheat oven to 450°F/ 220°C.
2. Dice chicken and cook until pink is gone. (Don't overcook chicken & keep chicken warm but don't let it dry out)
3. Trim about 2.5 cm off broccoli stems and discard. Slice the broccoli stalks in half lengthwise.
4. Place the broccoli and the garlic cloves on a baking pan and spray both sides of the broccoli florets and stems with olive oil. Season both sides with ginger and roast cut side up about 10 minutes, until the broccoli is browned on the bottom. Turn the broccoli and garlic and roast an additional 10 minutes until tender and browned and crisp.
5. Add the chicken, Top with marinara sauce and mozzarella. Return to the oven and bake until hot and the cheese is melted, about 10 minutes
GARLIC AND HERB ROAST CHICKEN BREAST WITH GRAPES
INGREDIENTS
For Chicken
2 1/2 lb/1 kg omega-3 chicken breast skin removed
1 tsp/2 g ground allspice
1 tsp/2.3 g paprika
1 tsp/ 2.3 g ground black pepper
1/2 tsp/ 1.2 g nutmeg
1 head garlic (about 14 cloves), peeled and minced
Large handful of chopped fresh parsley (about 2 ounces)
extra virgin olive oil
7 to 8 small shallots, peeled and halved
7 celery sticks, cut into large pieces
For Grapes
1 lb/450 g seedless red grapes
extra virgin olive oil
INSTRUCTIONS
Roast grapes. To do so, preheat oven to 450 degrees F/230 degrees C. Add grapes to a medium baking pan. Drizzle with a little extra virgin olive oil. Roast in heated oven for 15 minutes, then remove from heat and transfer grapes to a plate for now. Leave the oven on.
Flavour Chicken with Spice Mixture, Garlic and Fresh Parsley. In a small bowl, mix together the spices. Season chicken with spice mixture on all sides. In a large bowl, combine garlic, parsley and about 1/3 to 1/2 cup extra virgin olive oil. Add the chicken into the bowl and apply the garlic and parsley mixture all over.
Prepare chicken Breast for Roasting. In the same pan you used earlier to roast the grapes, add shallots and celery to make a bed for the chicken. Simply drizzle a little extra virgin olive oil. Place chicken breasts breast on top.
Roast chicken Breast. In your already heated oven, position oven rack to the bottom third. Place the pan with the chicken breast in. Immediately lower heat down to 350 degrees F/180 degree C (from previous 450 degrees F/230 degrees C.) Roast for 45 minutes or until chicken's internal temperature registers 165 degrees F/80 degree C and it's juices run clear (could be up to 1 hour.)
Add Grapes Back In. At the very last 5 minutes of roasting the turkey, carefully add grapes back in the pan to warm through
Remove from Oven and Let Rest. Cover very loosely with foil and let chicken rest undisturbed for 15 to 20 minutes before serving.
Adapted from https://www.themediterraneandish.com/roast-turkey-breast-recipe/?fbclid=IwAR1U5ihYgbTg5hN98rVk3Kb5vQkgdlYYvZnh6cM1X-MSUe1YoQu1e5BpWhg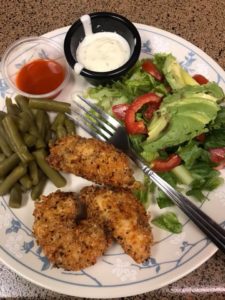 ALMOND-CRUSTED CHICKEN FINGERS
INGREDIENTS
Olive oil cooking spray
½ cup sliced almonds
¼ cup almond flour or you favourite diabetic flower
1½ teaspoons paprika
½ teaspoon garlic powder
½ teaspoon dry mustard
¼ teaspoon ginger
⅛ teaspoon freshly ground pepper
1½ teaspoons extra-virgin olive oil
4 large egg whites
½ Kg chicken Tenderloins, (see NB1)
INSTRUCTIONS
Preheat oven to 475°F/250°C. Line a baking dish with foil. Set a wire rack on the baking dish and coat it with cooking spray.
Place almonds, flour, paprika, garlic powder and dry mustard in a food processor; process until the almonds are finely chopped and the paprika is mixed through the mix, about 1 minute. With the motor running, drizzle in oil; process until combined. Transfer the mixture to a shallow dish.
Whisk egg whites in a second shallow dish. Add chicken tenders and turn to coat. Transfer each tender to the almond mixture; turn to coat evenly. (Discard any remaining egg white and almond mixture.) Place the tenders on the prepared rack and coat with cooking spray; turn and spray the other side.
Bake the chicken fingers until golden brown, crispy and no longer pink in the centre, 20 to 25 minutes.
Serve with a salad and/or steamed vegetables
NB1 Ingredient note: Chicken Tenderloins, virtually fat-free, are a strip of rib meat typically found attached to the underside of the chicken breast, but they can also be purchased separately. Four 1-ounce tenders will yield a 3-ounce cooked portion. Tenders are perfect for quick stir-fries, chicken satay or kid-friendly breaded "chicken fingers."
Adapted from http://www.eatingwell.com/recipe/253077/almond-crusted-chicken-fingers/
SLOW COOKED CHICKEN WITH 20 TO 40 GARLIC CLOVES.
INGREDIENTS
1 medium skinless chicken
1 large onion, sliced
1 tablespoon olive oil
2 teaspoons ginger
2 teaspoons paprika
1 teaspoon pepper
20-40 garlic cloves, peeled, but intact
INSTRUCTIONS
In a slow cooker place the sliced onion on the bottom of the cooker.
In a large mixing bowl, toss chicken parts with olive oil, ginger, paprika, pepper, and all the garlic cloves. Place into slow cooker, on top of the onion.
Add ½ cup of water.Cover and cook on low for 6-8 hours on low, or on high for 4-6. The longer you cook chicken-on-the-bone, the more tender it will be.
Serves the chicken with a salad or steamed vegetables.
Adapted from https://www.ayearofslowcooking.com/2009/04/crockpot-20-to-40-clove-garlic-chicken.html
ROASTED GARLIC CLOVE CHICKEN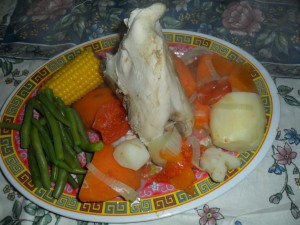 INGREDIENTS:
8 chicken thighs skin removed
Ginger to taste and freshly ground black pepper
1 head garlic, separated into whole cloves, papery skin removed (about 20 cloves); (I use more but I do like garlic)
3 tablespoons olive oil
2 teaspoons herbes de Provence (herbs and spices to taste, chilli can be used here)
1 teaspoon flour
1/4 cup water
1/2 lemon, juiced
bread, for serving, (Make your own)

DIRECTIONS:
Preheat the oven to 350 degrees F.
Rinse and pat dry the chicken. Ginger and pepper liberally and allow to temper on a cutting board while you prepare the garlic.
In a large oven proof saute pan over medium heat, cook the whole garlic cloves in olive oil, stirring occasionally, until lightly golden, about 10 minutes. Remove the garlic from the pan and set aside.
Increase the heat to medium high.
Add the water and the chicken sprinkle on herbes de Provence the add garlic back to the pan and place hot pan in oven. Bake the chicken until cooked through, about 25 minutes.
Squeeze lemon juice over the chicken.
Serve with steamed vegetables or Basmati Rice
Enjoy.
Onions, chillies, herbs and spices can be added.
I would also bake this with vegetables.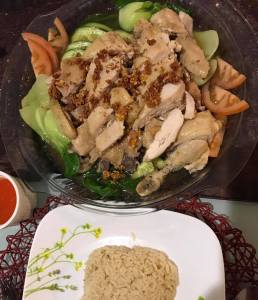 ONE-PAN GREEK CHICKEN
INGREDIETS
2 Tbsp. olive oil
8 bone-in skin-off omega-3 chicken thighs (any chicken cuts can be used)
Ginger, to taste
pepper, to taste
8 garlic cloves
1 large onion, diced
1 cup artichoke hearts, roughly chopped
1 cup green beans, cut into 2″ pieces
1 lemon, thinly sliced
juice of 1 lemon
1 Tbsp. dried oregano
1 cup water
1/2 cup mixed Greek olives
1/4 cup feta crumbles, for garnish
INSTRUCTIONS
Preheat oven to 350F/180C degrees.
In a large, oven-proof skillet heat olive oil until shimmering. Season chicken thighs on both sides with ginger and pepper then add to skillet. Brown chicken about 4 minutes. Flip thighs over and add 4 whole garlic cloves. Let cook about 2 minutes until garlic begins to brown. Turn garlic to prevent burning. Remove thighs and garlic to a plate and set aside. Repeat with remaining thighs and garlic.
Remove any fat from pan then add 1 tablespoon fat back to pan. Add onion and cook until softened, about 3–4 minutes. Add artichoke hearts, green beans, lemon slices and oregano and cook another 3 minutes. Pour water into pan and scrape up any brown bits. Place the chicken thighs and garlic back into pan along with the Greek olives and add juice of second lemon to pan. Transfer to oven and cook 50–55 minutes until chicken is cooked through.
Crumble feta cheese over the dish and take entire pan to the table. Serve solo or with rice, pasta and/or a salad.
Adapted from http://everydaydishes.com/simple-food-recipes/one-pan-green-chicken/
http://www.findtex.com.au/uncategorised/mediterranean/
EASY GREEK CHICKEN
Ingredients
5 chicken thighs, bone in and skin off
¼ cup olive oil
3 garlic cloves, minced
¼ teaspoon black pepper
1 teaspoon dried oregano
¼ teaspoon crushed red pepper
½ teaspoon dried thyme
2 lemons, one cut into wedges and one juiced and zested
Instructions
Preheat your oven to 375F (190C) degrees.
Add the chicken thighs, olive oil, garlic, pepper, oregano, crushed red pepper, thyme, lemon juice and zest in a large bowl together and combine well.
Place the chicken thighs in your cast iron skillet.
Toss the lemon wedges in the leftover marinade and add to the skillet in between the chicken pieces.
Roast for 35-40 minutes or until browned.
Adapted from https://therecipecritic.com/2017/04/easy-greek-lemon-chicken/
GARLIC CRUSTED CHICKEN
INGREDIENTS
2 tablespoons olive oil
1 teaspoon dried oregano
1 teaspoon dried basil
1/2teaspoon ginger
1 teaspoon black pepper
4 (No 5) Chickens (Skinned removed) (Or fresh free range birds from the supermarket or Omega 3 chickens)
16 cloves garlic, coarsely chopped
INSTRUCTIONS
Preheat the oven to 350 F 180 C. Coat a roasting pan with non-stick olive oil cooking spray.
In a small bowl, combine the oil, oregano, basil, ginger, and pepper; mix well.
Place the Cornish hens, skin removed, in the roasting pan. Place the garlic evenly over the hens, then spoon the oil mixture over them.
Roast uncovered for 1-1/4 to 1-1/2 hours, or until no pink remains in the hens and their juices run clear, basting every 20 minutes.
Divide and serve with steamed vegetables.
Adapted from    https://www.everydaydiabeticrecipes.com/Chicken/Garlic-Crusted-Cornish-Hens-6594
GARLIC & ROSEMARY CHICKEN TRAY BAKE
Ingredients:
Olive-oil spray
2 small sweet potatoes, peeled, sliced NB1
2 medium  potatoes, sliced (Precooked and cooled overnight.) NB2
4 skinless chicken drumsticks
4 skinless, boneless chicken thigh fillets
Zest and juice of 1 orange, plus extra zest, to garnish
2 red onions, cut into wedges
1 cup roasted red capsicum
2 tablespoons olive oil
3 tablespoons balsamic vinegar
4 sprigs rosemary or thyme
1 garlic bulb, broken into cloves
50g gluten-free chorizo, diced
2 cups chopped Silver beet
Method:
Preheat oven to 200°C. Spray a large ovenproof baking dish with olive oil. Cook potatoes in boiling water for 5 minutes; drain
Cut several slits in chicken pieces and toss with orange zest.
Place potatoes, onions and capsicum in a large bowl. Mix orange juice with oil and vinegar in a small bowl; add to vegetables and toss to coat.
Place vegetables in prepared baking dish and top with chicken. Break rosemary (or thyme) into small sprigs; place two-thirds into chicken slits. Add garlic and remaining rosemary to dish. Sprinkle chorizo over; toss well.
Bake for 45 minutes, tossing halfway through. Stir through Silver beet in final 10 minutes of cooking time. Season with freshly cracked black pepper; garnish with extra zest and serve.
NB1It has been claimed that the way we cook sweet potato can affect it's GI
Glycemic Index of Sweet Potato
The way you prepare sweet potatoes makes a difference in their GI. The GI of a 150-g sweet potato, boiled with its skin for 30 minutes, is 46. That number rises to 94 if the same sweet potato is baked for 45 minutes. These dramatic differences come from the way the starches in sweet potatoes gelatinize during cooking. Foods that turn viscous, or jelly-like, in your digestive tract have a lower GI because the gelatinous substance slows the release of the nutrients in the food. Baking your sweet potatoes instead of boiling them changes the quality of their starches and transforms this root vegetable from a moderate-GI food to a high GI-food.
NB2 Diabetes Diet: Benefits of Eating Digestive Resistant Starches
Potatoes, yams and pastas that are cooked, and cooled (heating and cooling alters the chemical structure).
http://www.informationaboutdiabetes.com/lifestyle/lifestyle/diabetes-diet-benefits-of-eating-digestive-resistant-starches
http://www.livestrong.com/article/295025-the-glycemic-index-for-sweet-potatoes/
Thanks to http://www.gisymbol.com/garlic-rosemary-chicken-tray-bake/
ROAST CHICKEN WITH MUNG BEAN STUFFING.
Ingredients
1 whole free range chicken skin removed
1 lemon, juiced
Cracked black pepper, to season
2 large zucchini (courgettes), roughly chopped
6 medium squash, roughly chopped
3 large carrots, roughly chopped
2 medium beetroots, roughly chopped
2 cups broccoli florets
2 cups green beans
2 cups Brussels sprouts
1 tbsp chopped fresh coriander
1 tbsp chopped fresh parsley
Mung bean stuffing
1 cup dried mung beans
2 cups (500ml) water
Seasonings (⅛ tsp turmeric, pinch ground cumin, cracked black pepper and ginger to taste)
1 tsp extra virgin olive oil
1 onion, finely diced
1 clove garlic, crushed
½ red capsicum, diced
¼ yellow capsicum, diced
2 free range  or Omega-3 egg whites, beaten
Instructions
To cook mung beans, place them in a saucepan with water and seasonings, bring to the boil and simmer for 30 minutes. Drain and set aside
To make stuffing, heat olive oil in a frying pan, add the onion, garlic and diced capsicum and sauté until soft, then add to the mung bean mixture. Stir through the beaten egg whites to bind the mixture.
To prepare chicken, stuff cavity with the stuffing, brush the chicken with lemon juice and season with black pepper.
Cover the chicken in foil and bake in a roasting tray for 60 minutes at 180°C/350°F. (I like to cover the bottom of the tray with water, so this is more steamed than roasted)
Once the chicken has been cooking for 1 hour, add the roughly chopped carrots, squash, zucchini, and beetroots and cook for a further 20 minutes under the foil.
Remove the foil to brown the chicken, toss the veggies and cook for a further 20 minutes.
To make the meal, steam the broccoli, green beans and Brussels sprouts.
Carve the chicken and serve with a scoop of stuffing and a generous ½ plate of roasted and steamed veggies.
Top with freshly chopped coriander and parsley.
SLOW COOKED CHICKEN
INGREDIENTS
1 omega 3 bone-in chicken skin off
250 gms. whole mushrooms, washed
2 large carrots, peeled and cut into chunks
2 to 10 cloves of garlic, crushed (obviously, depends on your garlic preferences)
1 cup water
½ cup onions, sliced, diced or minis
Any in season vegetables
½ cup red wine
¼ cup balsamic vinegar
INSTRUCTIONS
Place the chickens in the bottom of the slow cooker insert.
Add the carrots and the other vegetables, then the mushrooms.
Mix the remaining ingredients and pour over the chicken and vegetables.
Cover slow cooker, and cook on Low setting for 6 to 8 hours.
Serve with steamed green vegetables.
Adapted from https://www.slowcookerkitchen.com/crock-pot-balsamic-chicken/