Preparation time: 10 minutes minutes
Cooking time: 20 minutes minutes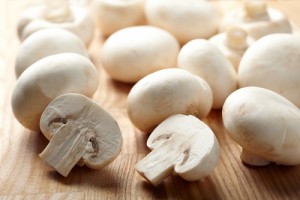 Original At http://daa.asn.au/for-the-public/smart-eating-for-you/recipes/browse/
Serving Size: Serves 6
1 cups basmati rice, soaked.
2 tbs olive oil
400g button mushrooms, thinly sliced
6 green onions, thinly sliced
100g dried dessert figs, chopped (see tip)
2 oranges, rind finely grated, juiced
1 cups shredded cooked chicken (without skin)
1 cup roasted unsalted almonds
1/3 cup flat-leaf parsley leaves, chopped
1. Cook rice following the absorption method on the packet (for a quick microwave method, see tip below). Rinse under cold water then drain well. Spread the cool rice out onto a baking tray. Cover and refrigerate 1 hour, if time permits.
2. Heat 1 tablespoons oil in a large non-stick frying pan over medium-high heat. Add mushrooms and green onions. Cook, stirring occasionally, for 3 minutes or until mushrooms are tender. Add the figs, orange rind and 2 tablespoons orange juice. Cook for 1 minute.
3. Reduce heat to medium. Add the rice, chicken and almonds. Cook, tossing gently, for 3-4 minutes or until heated through.
4. Whisk together remaining 1 tablespoons oil, 1/3 cup orange juice, parsley and pepper until well combined. Pour the dressing over the pilaf and stir to combine. Serve warm or at room temperature.
Tip: Dried dessert figs have a soft moist texture. You will find them in the baking aisle with other dried fruit. If unavailable, place dried figs in a heatproof bowl, cover with boiling water and stand for 5 minutes to soften slightly.
Microwave Tip: Place a sheet of baking paper on the microwave turntable to catch spills. Pour water over rinsed rice until it sits 2.5cm to 3cm above the level of rice. Cover with two layers of plastic wrap or a lid. Microwave on High (100%) for 5 minutes, stir and then on Medium (50%) for 7 minutes. Stand for 5 minutes. Remove the lid and stir with a fork.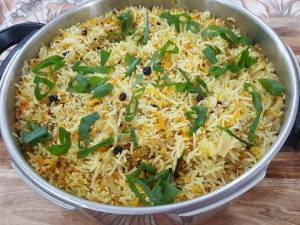 BASMATI RICE AND RED LENTIL PILAU
As a side dish in moderation.
INGREDIENTS AND INSTRUCTIONS
Sauté in olive oil
cauliflower, pumpkin and pea korma
1 chopped onion
1 tablespoon fresh garlic
1 teaspoon fresh ginger
2 small carrots peeled and grated
add
1 teaspoon brown or black mustard seeds,
1 teaspoon smashed coriander seeds,
1 teaspoon smashed cumin seeds, and
1 teaspoon curry powder of your choice
1/4 teaspoon chilli powder (if desired)
3/4 cup chopped cashew nuts
Add in 1 cup of washed and drained basmati rice NB1 and 1/2 cup of washed and drained red lentils and stir.
Add in
1/3 cup currants
2 cups of water or more if needed (should cover the rice and a bit more)
Bring to simmer and simmer covered for 5 minutes without touching lid or mixing. Turn heat off. Add more water if it doesn't look right and leave uncovered for at least 20 minutes.
Sprinkle with finely sliced shallots
NB1 Day old precooked Basmati rice can be used.
CAN WE LOWER THE GI OF RICE?
http://www.findtex.com.au/diabetic-foods/can-we-lower-the-gi-of-rice/
Chicken Marsala
INGREDIENTS
1/4 cup Wholemeal flour
6 boneless, skinless chicken breast halves (1kg pounds total), pounded to 1/4-inch thickness
2 tablespoons olive oil
1/2 pound fresh mushrooms, sliced
1/4 teaspoon ginger
1/4 teaspoon black pepper
3/4 cup a dry red wine
INSTRUCTIONS
Place the flour in a shallow dish. Add the chicken and coat evenly; set aside.
In a large skillet, heat the oil over medium heat. Cook the chicken in batches for 3 to 4 minutes per side, or until golden and no pink remains. Remove the cooked chicken to a platter and keep warm.
Add the mushrooms to the skillet; sprinkle with ginger and pepper, and sauté for 3 to 5 minutes, or until tender. Return the chicken to the skillet, add the wine, and reduce the heat to low.
Cook for 3 to 5 minutes, or until the sauce thickens and the chicken is heated through. Serve immediately.