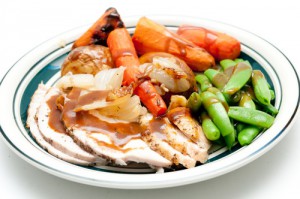 Original At http://daa.asn.au/for-the-public/smart-eating-for-you/recipes/browse/
Preparation time: 10 min minutes
Cooking time: 30 min minutes
Serving size: 4
Ingredients
1 tablespoon olive oil
2 large brown onions, finely sliced
300g lean chicken breast (skin and visible fat removed), diced
1 tablespoon Moroccan spice blend
3 cloves garlic, finely chopped
1 cup basmati rice, rinsed and drained
3 cups of fresh peas
1/2 cup chopped dates
2 cups diced pumpkin
700ml water
2 cinnamon sticks (optional)
Natural yoghurt, lemon wedges, fresh coriander sprigs, to serve
Steamed green beans with toasted flaked almonds, to serve
Method
1. Heat half the oil in a large heavy based frying pan with a lid and cook onions over medium heat for 10 minutes or until reddish brown. Set aside half the onions. Add remaining oil and chicken and stir until golden all over. Add spices and stir until fragrant.
2. Add garlic, rice, peas, dates and pumpkin and stir to coat in spices. Add water and scrape the bottom of the pan. Make sure the stock covers the meat, add cinnamon sticks and bring to the boil. Reduce heat to low, cover with a lid and simmer for 5 minutes, remove lid and stir gently and cover for another 5 minutes.
3. Top with reserved onions and fresh coriander. Serve lemon wedges and natural unsweetened yoghurt on the side.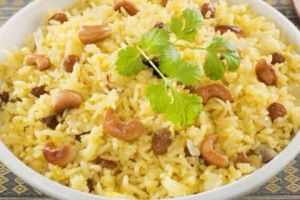 INSTANT BIRYANI
TOTAL TIME
45 m
PREP TIME
20 m
CALORIES
283
Made using basmati rice, onions, tomatoes and a variety of aromatic spices, this North Indian recipe can be easily prepared in minutes! You can try this side dish as a lunch/dinner.
INSTANT BIRYANI
Courtesy: awesomecuisine
INGREDIENTS
250 gm soaked basmati rice
1 teaspoon crushed to paste garli.
4 finely chopped green chilli
1 finely chopped onion
2 finely chopped tomato
1/4 teaspoon powdered turmeric
1 bay leaf
2 cardamom- black
2 clove
2 teaspoon yoghurt (curd)
3 teaspoon olive oil.
1 pinches salt.
1 handful chopped coriander leaves
1 handful chopped mint leaves
1 teaspoon crushed to paste ginger
1/4 teaspoon fennel seeds
2 cup water
INSTRUCTIONS
STEP 1
for making this famous biryani recipe, heat oil in a pan over medium flame. Add bay leaf, cloves, and cardamom. Sauté for a minute.
STEP 2
after the above ingredients are sautéed; add onions, ginger garlic paste, mint leaves, coriander leaves, green chillies, tomatoes, salt and turmeric powder.
STEP 3
Stir to mix well. Add curd and mix again.
STEP 4
After cooking the ingredients for 5 minutes, pour 2 cups of water and add washed rice.
STEP 5
Cover the pan with a lid and cook till the rice is done.
STEP 6
Remove and serve hot after garnishing the easy biryani recipe with chopped coriander
Via Thadani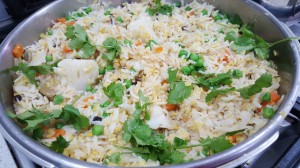 RICE-MUNG-BEAN WITH VEG another side dish for your diabetic party
Ingredients
1 onion chopped
1 garlic clove crushed
½ cup currants NB1
1 cardamom pod crushed
½ cup mung beans soaked overnight and drained
½ tsp. turmeric (Optional)
½ cup Quinoa soaked overnight and drained
½ cup Basmati rice soaked overnight and drained
1 carrot diced
½ cup cauliflower florets.
2 cups water
1 cup of fresh peas
Olive oil spray
Instructions
Just sautéed onions in Olive oil, then added crushed garlic and ginger and 1/2 cup currants (Omit if these affect your sugar).
Add bruised cardamom pods, a dried curry mix of any kind, turmeric (if you want it yellow) and then rinsed and soaked basmati rice and soaked mung bean
Add diced carrots and some cauliflower florets. Covered with 1 and 1/2 volume of water, Close the lid on pressure cooker and cooked on high for 5 minutes. Lifted lid, added a cup of peas and cooked for another 2 minutes. Fast release. Sprinkled with fresh coriander.
(If without a pressure cooker just cook cover, bring to boil, and cook for 10 minutes on low heat.)
NB1 if currents affect your sugar leave them out.
NB2 this may not be suitable for all diabetics, do not use if this will affect you, remember moderation
QUINOA RISOTTO WITH BEANS, LEMON AND PARMESAN 
This risotto from Chrissy's book, Superlegumes (published by Murdoch Books) uses a mix of rice and quinoa to up the dietary variety, taste and texture. Prep: 15 minutes • Cook: 35 minutes • Serves: 4
INGREDIENTS
300g (10oz) podded fresh or frozen broad (fava) beans
4 cups water
1 tbsp. (20ml) olive oil
1 leek, white part only, thinly sliced
2 garlic cloves, crushed
2 teaspoons thyme leaves
¾ cup basmati rice soaked overnight NB1
½ cup white quinoa, soaked overnight, rinsed and drained NB2
⅓ cup dry white wine
1 cup podded fresh or frozen green peas
¼ cup finely grated parmesan cheese, plus extra to serve
1 teaspoon finely grated lemon zest
Mint leaves, to garnish
INSTRUCTIONS
Cook the broad beans in a saucepan of boiling water for 1 minute. Refresh under cold running water. Drain. Peel off the skins and discard. Set aside.
Put the water in a large saucepan and bring to the boil over high heat. Reduce the heat to low and keep the water at a simmer.
Heat the oil in a large heavy-based saucepan over medium heat. Add the leek and cook, stirring, for 5 minutes or until soft. Add the garlic and thyme leaves and cook, stirring, for 1 minute or until fragrant. Add the rice and white quinoa and stir for 1–2 minutes or until the grains are well coated in the oil. Add the wine and simmer until reduced by half.
Gradually add the simmering water, a cup at a time, stirring constantly and making sure the stock is absorbed before you add more. This will take 15–20 minutes; the rice should be al dente yet creamy.
Stir in the peas and broad beans. Simmer for 2–3 minutes or until the vegetables are just tender, then remove from the heat and stir in the parmesan and lemon zest. Cover and set aside for 3 minutes. Season to taste with sea salt and freshly ground black pepper. Serve garnished with mint, with extra parmesan.
NB1 CAN WE LOWER THE GI OF RICE?
http://www.findtex.com.au/diabetic-foods/can-we-lower-the-gi-of-rice
NB2 11 Proven Health Benefits of Quinoa
6. Has a low glycemic index, which is good for blood sugar control
The glycemic index is a measure of how quickly foods raise blood sugar levels.
It is known that eating foods that are high on the glycemic index can stimulate hunger and contribute to obesity (18, 19).
Such foods have also been linked to many of the chronic, Western diseases that are so common today, like type 2 diabetes and heart disease (20).
Quinoa has a glycemic index of 53, which is considered low (21).
However, it's important to keep in mind that it is still pretty high in carbs, so it is not a good choice for a low-carb diet.
Bottom Line: The glycemic index of quinoa is around 53, which is considered low. However, it is still relatively high in carbohydrates.
https://authoritynutrition.com/11-proven-benefits-of-quinoa/
Adapted from http://www.gisymbol.com/glycemic-index-foundation-news-nov-2016/
Roasted Chicken Stuffed With Vegetables
Ingredients:
1 whole chicken (around 2 kilos) Skin removed
3 cups water
1tbs cup soy sauce
1 lemon
1 teaspoon ground pepper
ginger to taste
some vegetables to stuff inside the chicken
Procedure:
Skin the chicken
2. Rub the chicken with ginger and pepper then the juice from the lemon and soy sauce, let it stand for 30 minutes
3. Pour in the water and let it stand for an hour.
4. Preheat the oven at 200C for 10 minute.
5. Then remove the chicken from marinating sauce. Stuff the vegetables inside and rub it again with ground pepper, soy sauce and lemon juice to taste.
6.Roast the chicken until it is done (around 40 minutes each side at 180C.)
7. Serve with steamed greens.