Let face it we all like a pie, here is a healthy low fat version.
FISH AND VEGETABLE PIE. NB1
INGREDIENTS for two
Olive oil spray
2 Serves steamed salmon
2 serve steamed sweet potato
2 serves and fresh vegetables I used carrot and cabbage.
For sourdough pastry
1 cup soaked oats
1 cup of plain flour of choice
1 cup Teff flour
2 tsp. dried yeast
2 egg whites
INTRUCTIONS
Place pastry ingredients in a bread maker.
Set bread maker on dough (option 8 on most machines.
When dough is complete roll out pastry on floured surface.
Spray the pie dish is olive oil
Line the pie dish with dough and prepare the lid for the pie
Allow to stand for 1- 2 hours to allow a second rise.
Preheat oven to 180 -200 C
Prepare your filling, mash together with a potato masher.
Fill pie base and place on the lid.
Brush top with egg white if you want a golden brown colour
Place in oven for 40 minutes
NB 1 T2's on a low carb diet just eat the filling as the pie casing can be used as a steamer.
Easy Fish 'N' Vegie Pie
Preparation time: 35 minutes
Cooking time: 25 minutes
Serving size: 4
2 tsp olive oil
1 small onion, finely chopped
1 tsp dried basil
800g mashed sweet potato (approximately 1 large sweet potatoes)
180g can tuna in spring water, drained (Fresh is better if you can get it)
1 cup corn kernels or peas
1 cup fresh diced vegetables
1 cup fresh chopped tomatoes (Fresh if possible)
olive oil spray
Preheat oven to 180°C. Heat oil in a non-stick frying pan over medium heat. Add onion and basil and cook until onion is softened. Add to mashed potato and combine.
Place tuna into a large oven-proof dish, or 4 individual oven-proof dishes. Top with a layer of corn or peas, then layers of vegetables and tomato. Spread pesto evenly over top.
Cover with potato mixture. Fluff potato with a fork. Spray with oil. Bake for 25 minutes until potato is golden. Garnish with chopped parsley, if desired.
http://daa.asn.au/recipes/easy-fish-n-vegie-pie/
LEFT OVER STEW PIE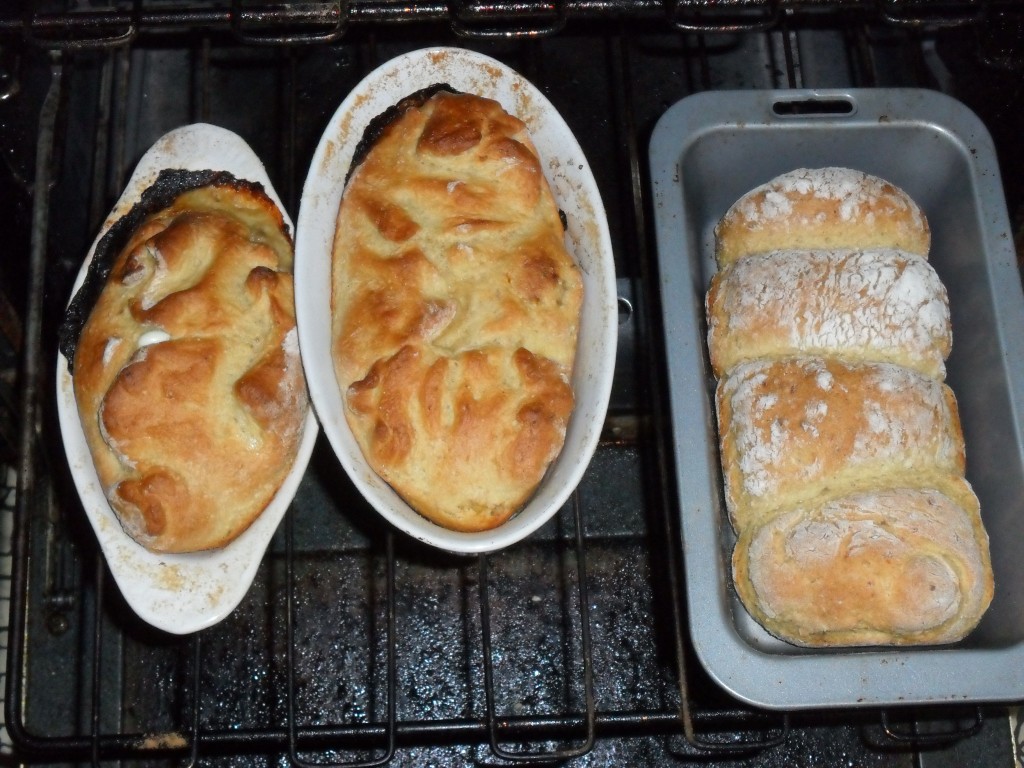 Ingredients
Pastry
1 cup oats
3/4 cup water
21/2 cups of bread flour
1/3 cup oat bran
1 serve of pumpkin or Sweet potatoes or Jerusalem artichoke.
1/2¢ cup cooked Basmati rice
2 egg whites
2 tsp dried bread yeast
Herbs and spices to taste e.g. onion flacks, garlic granules, mixed herbs dried or fresh.
Filling
Left over Stew curry etc.
Directions
Soak oats overnight in enough water to wet all oats.
Put Pastry ingredients in a bread maker.
Select dough only option, option 8 on my bread maker and start bread maker.
Drink beer or Goulburn roses for 90 minutes.
Preheat oven at 450 F
Using olive oil spray wet all internal surfaces of boats with oil.
On a floured surface tip dough from the bread maker. Cut into about quarters.
Using a floured rolling pin, remember to flour your hands, roll out dough until about twice the estimated size of boat.
Put dough in boat.
Put filling in dough.
Roll over excess dough.
Brush upper surface with milk.
Repeat until all boats filled.
Any left over dough can be rolled into dinner rolls.
Place in preheated oven for 40 minutes.
Return to beer (Goulburn Rose)
LENTIL, ROAST PUMPKIN AND RICOTTA OPEN PIE
INGREDIENTS
500g butternut pumpkin, peeled, seeded, diced
1 medium red capsicum, seeded, diced
1 medium red onion, peeled, cut into thin wedges
1 teaspoon Moroccan seasoning (Check sugar and salt content before use)
olive oil spray
200g punnet grape tomatoes, halved (Fresh is better from the garden)
400g can no-added-salt lentils, rinsed, drained (Dried soaked overnight rinsed and drained)
1/2 cup (115g) reduced-fat ricotta
2 tablespoons chopped flat-leaf parsley
4 reduced-fat short-crust pastry sheets, just thawed (Optional) (A gluten free pastry can be used.)
1 egg white, lightly beaten
INSTRUCTIONS
Step 1 Preheat oven to 200°C. Line 2 large baking trays with baking paper. Place pumpkin, capsicum and onion on one of the prepared trays. Sprinkle veg with Moroccan seasoning and spray with olive oil. Roast veg for 25 minutes, or until tender; set aside to slightly cool.
Step 2 Place roast veg, tomato, lentils, ricotta and parsley in a large bowl; stir gently to combine filling and season with cracked black pepper.
Step 3 Cut an 18cm circle from each pastry sheet. Brush pastry rounds with egg white. Place one-quarter of the filling in the center of each round, leaving a 3cm border. Fold up each pastry border to enclose filling, leaving pie tops open.
Step 4 Put pies on the other prepared tray. Bake for 15 minutes, or until pastry is crisp and golden.
Nutritional information (per serve)
Kilojoules: 2,070kJ
Calories:  495cal
Protein:  18.7g
Total fat: 18.6g
Saturated fat: 10.6g
Carbohydrates: 58.7g
Sugars: 11.5g
Dietary fiber: 8.5g
Sodium: 565mg
Calcium: 131mg
Iron: 3.3mg
http://www.healthyfoodguide.com.au/recipes/2014/may/lentil-roast-pumpkin-and-ricotta-open-pies