MAKE YOUR OWN FLAX MEAL IN THE VITAMIX
INGREDIENTS
1/2 Cup Flax Seeds (any colored flax seeds will work)
INSTRUCTIONS
If your Flax Seeds haven't been in the Fridge or Freezer, you may consider placing them into the Freezer for 15-30 minutes before blending them to avoid overheating the oils.
Place the Flax Seeds into the VitaMix
Give the seeds a quick blend Starting at Variable Speed 1, Working your way quickly to Variable Sped 10, and on to High.
After you start to see the Flax Seeds crush into meal, stop the VitaMix and give the Flax a quick stir with the blunt edge of a knife or spatula. This will make sure that everything is blended evenly.
Repeat the blending steps again, but very quickly and for just a few seconds. You do not want to over process the Flax.
Store any unused Flax Meal in an airtight container in the Fridge or Freezer.
NOTES
Flax can go rancid very quickly – especially once they have been ground. We highly recommend that you store Flax in the Fridge or Freezer to extend its shelf life.
1 pic onedrive Sweet potato pancakes 1
Sweet potato pancakes
SWEET POTATO PANCAKES NB1
INGREDIENTS
250g sweet potato (one small) peeled
200g zucchini (one small) peeled
ginger and pepper
1 tablespoon olive oil
Greek style yoghurt, to serve
INSTRUCTIONS
Coarsely grate the sweet potato and zucchini into a bowl and then mix well. Remove excess moisture from the mixture by squeezing it with your hands. Season with ginger and pepper.
Pour half oil into a medium-size stoneware fry pan and heat, swirling the pan to coat the bottom. Add spoonful's of the mixture to the fry pan and then flatten each one carefully with a spoon or spatula. Cook until golden brown before very carefully flipping over and cooking the other side – this part is critical as there is nothing really binding the mixture together.
After cooking a few pancakes, you will need to add the other half of your oil to cook the rest of the pancakes. Serve hot with a dollop of yoghurt.
Nutrition Information (per serve)
| | |
| --- | --- |
| Energy | 463 kJ (111 calories) |
| Protein | 3.1g |
| Total Fat | 5g |
| Carbohydrates | 11.8g |
| Saturated Fat | 0.8g |
| Sugars | 5.4g |
| Dietary Fibre | 3g |
| Sodium | 51mg |
Adapted from https://daa.asn.au/recipes/sweet-potato-pancakes/
NB1 the method by which we cook vegetables can affect their GI. Here are two hints.
Resistant starch and day-old potatoes has been discussion before, yams including sweet potatoes, the same can be said for pasta and it is claimed that also rice.
Diabetes Diet: Benefits of Eating Digestive Resistant Starches
Potatoes, yams and pastas that are cooked, and cooled (heating and cooling alters the chemical structure).
http://www.informationaboutdiabetes.com/lifestyle/lifestyle/diabetes-diet-benefits-of-eating-digestive-resistant-starches
2. Also Glycemic Index of Sweet Potato
The way you prepare sweet potatoes makes a difference in their GI. The GI of a 150g sweet potato, boiled with its skin for 30 minutes, is 46. That number rises to 94 if the same sweet potato is baked for 45 minutes. These dramatic differences come from the way the starches in sweet potatoes gelatinize during cooking. Foods that turn viscous, or jelly-like, in your digestive tract have a lower GI because the gelatinous substance slows the release of the nutrients in the food. Baking your sweet potatoes instead of boiling them changes the quality of their starches and transforms this root vegetable from a moderate-GI food to a high GI-food.
http://www.livestrong.com/article/295025-the-glycemic-index-for-sweet-potatoes/
CHEESY CAULIFLOWER PATTIES
INGREDIENTS
1 head cauliflower
2 large eggs
1/2 c cheddar cheese, grated (I also use a goat cheese for extra flavour)
1/2 cup of multigrain bread crumbs. (Gluten free bread can be used)
1/2 t cayenne pepper (more of less to taste)
salt
olive oil
INSTRUCTIONS
Cut cauliflower into florets & cook in boiling water until tender about 10 minutes. Drain. Mash the cauliflower while still warm. Stir cheese, eggs, bread crumbs, cayenne & salt to taste.
Coat the bottom of a griddle or skillet with olive oil over medium-high heat. Form the cauliflower mixture into patties about 3 inches across. Cook until golden brown & set, about 3 minutes per side. Keep each batch warm in the oven while you cook the rest. Enjoy!
INTRODUCING TEFF, Gluten free and diabetic friendly.
Cultivation and uses
In 1996, the US National Research Council characterized teff as having the "potential to improve nutrition, boost food security, foster rural development and support sustainable landcare."[2]
Teff is high in protein, carbohydrates and fiber.[13]
https://en.wikipedia.org/wiki/Eragrostis_tef
Teff and Millet – November Grains of the Month
Teff is, however, high in resistant starch, a newly-discovered type of dietary fiber that can benefit blood-sugar management, weight control, and colon health. It's estimated that 20-40% of the carbohydrates in teff are resistant starches. A gluten-free grain with a mild flavor, teff is a healthy and versatile ingredient for many gluten-free products.
http://wholegrainscouncil.org/whole-grains-101/teff-and-millet-november-grains-of-the-month
I made sough dough pancakes.
TEFF SOUGH DOUGH PANCAKES
Mix ½ cup of Teff, a teaspoon of dried yeast with enough water to make a thick dough.
Set aside in a warm place for several hours. (I left for 6 hours)
Fry in a stone ware fry pan with a little olive oil spray until golden turn and cook the second side.
I found it an interesting gingery nutty taste and did not affect my blood sugar due to it's high Fibre and resistant starch.
If you are looking for a good quality carbohydrate, give Teff a go. I will be using it again maybe as a batter and in my bread making.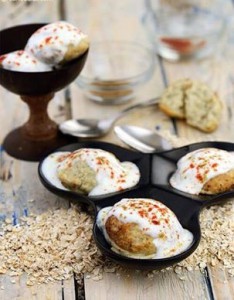 OATS AND RAISIN COOKIES
INGREDIENTS 
3/4 cup rolled oats
1/4 cup whole wheat flour (gehun ka atta) (Chick pea or gluten free)
1/4 cup brown sugar
1/4 cup chopped raisins (kismis)
3 tbsp. low-fat milk (99.7% fat-free)
INSTRUCTIONS
Combine all the ingredients in a bowl and mix gently till the mixture binds well.
Place a sheet of aluminium foil on a baking tray.
Divide the mixture into 9 equal portions and shape each portion into a 50 mm. (2") diameter flat round cookie.
Arrange the cookies on the baking tray lined with aluminium foil and bake in a pre-heated oven for at 180°c (360°f) for 35 to 40 minutes, turning once after 20 minutes.
Cool and store in an air-tight container.
Nutrient values per biscuit
Energy 78 calories
Protein 1.4 gm.
Carbohydrate 13.1 gm.
Fat 2.2 gm.
Fibre 0.3 gm.
Via Thadanii
GLUTEN-FREE PANCAKES
Ingredients:
3 eggs
1/2 Cup milk……
1 Tablespoon Vanilla
1 Tablespoon Vegetable Oil
1 Tablespoon Ground Flax Seed
1/2 Teaspoon Salt
1 Cup Brown Rice Flour
Directions:
Beat egg in a mixing bowl, stir in milk, vanilla, oil, flax seed, and salt. Add the rice flour and mix till no lumps remain. Cover dish and leave at room temperature for one hour.
Heat a lightly oiled Skillet at medium heat and drop batter by 1/4 cup onto the skillet till bubbles form around the edge then turn to the other side. Serve with your favourite toppings.
This recipe makes 7 to 8 pancakes.
They can be topped with Blueberries.
Gluten free broccoli feta fritters
Ingredients:
3 cups broccoli, steamed & finely chopped
3 spring onions, finely chopped
2 tbs fresh dill, finely chopped
2/3 cup almond flour
2 eggs whites, beaten
1 tbs olive oil
1/2 tsp sea salt
1/4 tsp ground pepper
1/3 cup of low fat milk (I use Heart Active)
Directions:
Make sure to dry the broccoli with paper towel as best you can, without mashing it.
Using your hands, combine all ingredients in a bowl.
Heat a non-stick pan on medium high.
When it gets hot, use an ice cream scooper (or whatever spoon you have) to place mixture on the pan. Slightly flatten each fritter with the spatula.
Cook on LOW HEAT for 5 mins on each side (like pancakes).
You can also bake them on a parchment paper lined baking sheet at 400 F. for 15-20 mins or until golden brown.
Recipe yields 9 fritters.
CAULIFLOWER CRUST
| | | |
| --- | --- | --- |
| Here is another way to get you kids to eat Greens. |   | |
Ingredients
2 eggs whites
2 tbs natural or Greek yoghurt or low fat cheese (Ricotta)
2 cups riced cauliflower (grate the cauliflower on a cheese grater) (Any vegetable or mix will do)
2 garlic cloves, minced
1/4 cup fresh basil (or any herbs or spices you like)
Olive Oil spray
Directions
In a medium bowl, combine coarsely minced cauliflower, basil, eggs whites and yoghurt. Divide into 4 amounts and place in a heated stone fry pan with a little olive oil spray.
Cook until golden brown, turn and cook the other side.

JULIANA'S SWEET POTATO FRITTERS.
Just mix grated sweet potatoes with beaten egg and some Cajun style dressing (thyme, oregano, cayenne and paprika). Shallow fry. Serve with Greek yoghurt/fresh coriander dip.
These can also be steamed or dropped into boiling water
This is not a complete meal but worth keeping for a party snake or a snake on its own or just to make a change from steamed sweet potato. Not an everyday dish.