ROAST PUMPKIN, CARROT & GARLIC SOUP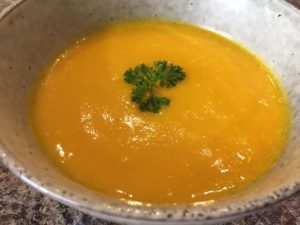 INGREDIENTS
1 kg pumpkin chopped into chunks.
1 brown onion diced.
4 medium carrots chopped into chunks.
4 garlic cloves whole
6 cups of veg or chicken stock or water.
1/2 cup milk
ginger & pepper
INTRUCTIONS
Spray baking dish, add all chopped vegetables & garlic cook at 180°C (160°C fan)/350°F/gas 4 for 25 mins or until just cooked.
Meanwhile add stock & milk to saucepan and bring to the boil, take off heat until veggies are cooked.
Add veggies to stock bring to the boil then simmer for 10 mins.
Take off heat and let cool slightly, slowly add ingredients from saucepan to blender a bit at a time be careful not to scale yourself and blend till puréed.
Add ginger & pepper to your taste.
Garnish with cream and parsley
NB 1 Just be aware that baking may raise the GI of the sweet potato. (as with other vegetables)
The way we cook can change the GI of food e.g. The GI of a 150g sweet potato, boiled with its skin for 30 minutes, is 46. That number rises to 94 if the same sweet potato is baked for 45 minutes.
https://www.livestrong.com/article/295025-the-glycemic-index-for-sweet-potatoes/?fbclid=IwAR3-dl4ocLIoubKbmolh3CNkiR9ByXHEDoFOqPC9qYOn2f9ve2GX2ags3bo
And here an excellent tool to find the GI of foods, i.e. Sweet Potato.
SAVORY PUMPKIN HUMMUS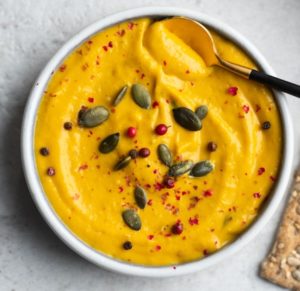 INGREDIENTS
1 can (15 ounces/ 425) solid-pack pumpkin or freshly cooked pumpkin
3 tablespoons chopped fresh parsley, plus additional for garnish
3 tablespoons tahini
3 tablespoons fresh lemon juice
3 cloves garlic
1 teaspoon ground cumin
1/2 teaspoon ginger
1/8 teaspoon black pepper
1/8 teaspoon ground red pepper, plus additional for garnish
Assorted vegetable sticks
INSTRUCTIONS
Combine pumpkin, 3 tablespoons parsley, tahini, lemon juice, garlic, cumin, ginger, black pepper, and 1/8 teaspoon ground red pepper in food processor or blender, process until smooth.
Cover and refrigerate at least 2 hours to allow flavours to develop.
Sprinkle with additional ground red pepper, if desired. Garnish with additional parsley.
Serve with assorted vegetable sticks.
Nutrition Information:
Calories: 38 calories, Carbohydrates: 4 g, Protein: 1 g, Fat: 2 g, Saturated Fat: 0 g, Cholesterol: 0 mg, Sodium: 101 mg, Fiber: 1 g
Exchanges per serving: 1/2 fat, 1 vegetable.
MOROCCAN STYLE CREAMY PUMPKIN, SWEET POTATO AND CAULIFLOWER SOUP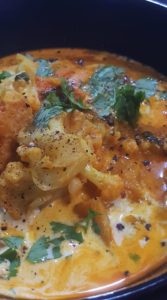 INGREDIENTS
1.5 cup diced pumpkin or butternut pumpkin (any combination)
1 cup diced sweet potato
1 cup cauliflower florets/stems
Olive oil for frying vegetables
1.5 teaspoons freshly crushed garlic
1 teaspoon minced fresh ginger
Spices : *
1 teaspoon freshly ground cinnamon stick
1 teaspoon freshly milled cumin
1 teaspoon freshly milled coriander
1 teaspoon sweet paprika
1/4 teaspoon allspice ground
1/4 teaspoon cloves
1 teaspoon turmeric powder
1/4 teaspoon cayenne pepper
3 cups chicken stock freshly made if possible  or water
Turkish biber salcasi find recipe here http://www.findtex.com.au/diabetic-foods/chutney-etc/.
150 ml cream.
2 tablespoons chopped green coriander.
salt
freshly ground pepper
INSTRUCTIONS
In oil, lightly cook the vegetables and onions for about 5 minute.
Add 1 teaspoon garlic and ginger to pan and cook gently for another 3 minutes.
Add all spices and cook for a further 5 minutes.
Add the chicken stock, biber salcasi and half the coriander leaves and cook covered, on medium heat for about 20 minutes or until the vegetable are soft but still intact.
Add additional 1/2 teaspoon garlic.
Add 3/4 of the cream in the saucepan and stir over medium heat for a few minutes, using remainder for serving in the bowl.
Add salt and freshly ground pepper to taste.
On serving add the green coriander on top plus more freshly ground black pepper. And the extra cream
* Its important to freshly grind your spices. Never buy already ground spices.
ROASTED BUTTERNUT PUMPKIN SOUP
INGREDIENT
1 small butternut squash
2 carrots
3 stalks of celery
Any other in season vegetables
1 large onion
5 cloves of garlic
6 sage leaves
6 sprigs of thyme
1 sprig of rosemary
1/4 teaspoon cayenne red pepper powder (or less, if you do not want a little kick)
ginger and pepper to taste
2 tablespoon olive oil
3 and 1/2 water
INSTRUCTIONS
Preheat the oven to 350 F/180 C.
Peel, pit and chop the butternut squash into 2cm squares. Add to a large roasting pan.
Chop the carrots, celery and onions in big chunks and add to the pan.
Peel the garlic and add cloves whole.
Add the herbs, red pepper powder, ginger and pepper. Add olive oil and toss to coat.
Roast for 1 hour (or up to 1 hour and 15 minutes, if the veggies are not yet soft).
Once the vegetables and herbs are roasted, place in saucepan with the water. Remove the stems from the herbs. Add other vegetables chopped.
Simmer on low for 10 minutes.
Adapted from https://www.aheadofthyme.com/2015/12/roasted-butternut-squash-soup/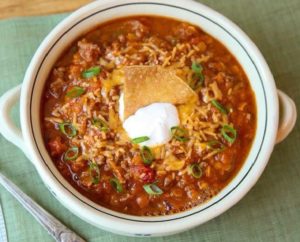 SPICY CHILI WITH PUMPKIN & LENTILS
INGREDIENTS
½ kg Ground grass fed Beef, or any lean ground meat
1 cup Pumpkin Puree
1 (8 Oz) Can Tomato Sauce
1 (15 Oz) Can Diced Tomatoes in Juice
3/4 cup Dried Lentils
1 Medium Onion chopped
1 Garlic Clove minced
1/3 cup Hot Salsa
2 cups water
1 Green Pepper chopped
1 Jalapeno Pepper chopped
2 tsp Cumin
1/2 tsp Oregano
1 tsp Chili Powder
1/2 tsp Cayenne
Garnishes: Scallions, cheese or Greek yogurt
INSTRUCTIONS
Brown the meat in a skillet and drain the fat
Transfer to a large pot and add the remaining ingredients.
Stir well, cover, and cook over medium heat for one hour, then low heat for at least one more hour or until ready to eat.
Top with desired garnishes and enjoy!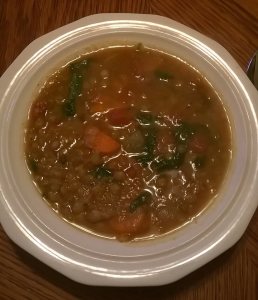 CHICKPEA, PUMPKIN AND BABY SPINACH CURRY
INGREDIENTS:
2 tablespoons extra virgin olive oil
1 medium onion finely chopped
2 cloves garlic crushed
1 teaspoon chilli powder
1 teaspoon ground coriander
2 teaspoons ground cumin
500 g (17½ oz) plain no added salt tomato pasta paste
1½ cups cooked chickpeas (garbanzos) NB1
320 g (11 oz) peeled pumpkin (butternut squash), chopped into small pieces NB2
120 g (4 oz) baby spinach leaves
2 teaspoons freshly chopped coriander (cilantro)
INSTRUCTIONS:
Heat oil in a large saucepan and sauté onion for about 5 minutes until soft. Stir in garlic and cook for 30 seconds.
Mix in chilli powder, coriander, cumin, tomato pasta sauce and ½ cup of water. Stir well.
Add chickpeas and pumpkin pieces and bring to boil.
Reduce heat and simmer for around 15 minutes or until pumpkin is tender.
Stir through baby spinach leaves until they start to wilt, followed by coriander, and serve immediately.
Per serve: 
Energy 1203 kJ (287 Cal); protein 9 g; fat 13 g; saturated fat 2 g; cholesterol 0 mg; carbohydrate 29 g; sugars 15 g; fibre 10 g; calcium 118 mg; iron 4.1 mg; sodium 639 mg
Adapted from https://www.gisymbol.com/recipes/chickpea-curry-with-pumpkin-and-baby-spinach/
NB1 The favorite choice for the term "Chickpeas" is 1/2 cup of Chickpeas (Garbanzo Beans, Bengal Gram) (Mature Seeds, Canned) which has about 27 grams of carbohydrate. The total carbohyrate, sugar, fiber and estimated net carbs (non-fiber carbs) for a variety of types and serving sizes of Chickpeas is shown below.
https://www.fatsecret.com/calories-nutrition/food/chickpeas/carbohydrate
Glycemic Index for: Chickpeas
Food: Chickpeas
Glycemic Index: 28
Glycemic Index Rating: Low
http://carbs-information.com/glycemic-index/chickpeas-gi-value.htm
NB2 The favorite choice for the term "Pumpkins" is 1 cup of Pumpkin which has about 8 grams of carbohydrate. The total carbohyrate, sugar, fiber and estimated net carbs (non-fiber carbs) for a variety of types and serving sizes of Pumpkins is shown below.
https://www.fatsecret.com/calories-nutrition/food/pumpkin/carbohydrate
Glycemic Index for: Pumpkin
Food: Pumpkin
Glycemic Index: 75
Glycemic Index Rating: High
http://carbs-information.com/glycemic-index-vegetables/pumpkin-gi.htm
SWEET POTATO AND PUMPKIN SOUP WITH GINGER
INGREDIENTS
1tablespoon olive oil
1small onion, chopped
1tablespoon minced fresh ginger
½ kg butternut squash, peeled and diced
½ kg sweet potatoes, peeled and diced
Any other fresh in season vegetables
6cups water
INSTRUCTIONS
Heat the oil in a heavy soup pot or Dutch oven over medium heat. Add the onion and cook, stirring, until tender, about 5 minutes.
Add the ginger and stir together until fragrant, about 1 minute. Add the squash, sweet potatoes, other vegetables and water or stock, and bring to a simmer.
Reduce the heat, cover and simmer 45 minutes, or until all of the ingredients are thoroughly tender.
Using an immersion blender, puree the soup (or you can put it through the fine blade of a food mill or use a regular blender, working in batches and placing a kitchen towel over the top to avoid splashing).
Return to the pot and stir with a whisk to even out the texture. Heat through.
adapted from https://cooking.nytimes.com/recipes/1016504-sweet-potato-and-butternut-squash-soup-with-ginger?smid=fb-nytdining&smtyp=cur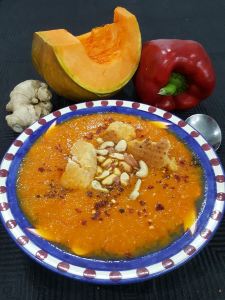 ROASTED BUTTERNUT PUMPKIN SOUP
INGREDIENTS
1.5kg/3lb 5oz peeled and deseeded butternut squash, cut into 3cm/1¼in cubes
1 large onion, roughly chopped
2 medium carrots, peeled and chopped
1 red pepper, deseeded and cut into cubes
4 tbsp. olive oil
5cm/2in piece fresh root ginger, peeled and chopped
1.5 liters/2½ pints water
freshly ground black pepper
add any other vegetables at hand.
INSTRUCTIONS
Preheat the oven to 200C/180C Fan/Gas 6.
Tip the prepared squash into a large, resealable freezer bag with the onion, carrots and red pepper. Add half the oil and pepper and toss everything together until the vegetables are evenly coated. Tip into a large roasting tin and spread out to form a single layer.
Roast in the oven for 40 to 45 minutes, or until tender and tinged brown.
Place the large, deep-sided saucepan over a medium heat, add the remaining oil and, when it is hot, add the ginger and fry for a minute. Pour in the stock and bring to the boil, then stir in the roasted vegetables
Remove the saucepan from the heat and, using a hand blender, blend the mixture until smooth. Return to the heat to warm through and serve hot with crusty multigrain bread and some nuts.
Adapted from http://www.bbc.co.uk/food/recipes/roasted_butternut_squash_10281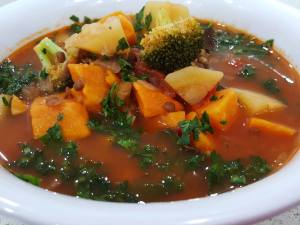 BLACK BEAN AND PUMPKIN SOUP
INGREDIENT
2 tablespoons olive oil
1 medium onion, chopped
1 medium sweet yellow pepper, chopped
3 garlic cloves, minced
1 cup black beans, soaked overnight, rinsed and drained
1 cup solid-pack pumpkin cubed
1 cup diced tomatoes, undrained
3 cups water
2-1/2 cups cubed cooked chicken breast
2 teaspoons dried parsley flakes
2 teaspoons chili powder
1-1/2 teaspoons ground cumin
1-1/2 teaspoons dried oregano
Cubed avocado and thinly sliced green onions, optional
Any other in season vegetables from the garden
INSTRUCTIONS
In a large fry pan, heat oil over medium-high heat. Add onion and pepper; cook and stir until tender. Add garlic; cook 1 minute longer.
Transfer to a slow cooker; stir in the other ingredients. Cook, covered, on low 4-5 hours. If desired, top with avocado and green onions.Yield: 10 servings
Nutritional Facts
1 cup: 192 calories, 5g fat (1g saturated fat), 28mg cholesterol, 658mg sodium, 21g carbohydrate (5g sugars, 7g fiber), 16g protein. Diabetic Exchanges: 2 lean meat, 1-1/2 starch, 1/2 fat.
Adapted from https://www.tasteofhome.com/recipes/black-bean–n–pumpkin-chili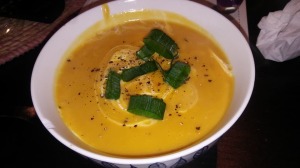 PUMPKIN, SWEET POTATO, CUMIN AND RED LENTIL SOUP WITH YOGHURT.
INGREDIENTS
1kg pumpkin, peeled and diced into 2cm cubes
750g kumera (red sweet potato), peeled and diced into 2cm cubes
1 large red onion, peeled and diced
1 cup (200g) red lentils
2 litres water
2 teaspoons ground cumin + extra ground cumin for garnish
1 cup Greek Yoghurt
Coriander leaves, to garnish
Toasted sourdough bread, to serve/ Burgen Whole Grain & Oats
INSTRUCTIONS
Put pumpkin, kumara, onion, lentils, cumin and water in a large pot and bring to the boil. Reduce heat and simmer 15 minutes or until vegetables are tender.
Puree mixture with a hand held blender or in a food processor, until smooth.
Stir ½ cup yoghurt through soup. Taste and season with ginger and pepper.
Serve with a dollop of remaining yoghurt on top, garnished with coriander and toasted bread on the side.
Note: Add more water for a thinner consistency, more vegetables and/or lentils for a thicker consistency. Add other vegetables, such as carrots or green peas towards the end of cooking for added colour and texture.
Nutrition Information (per serve)
| | |
| --- | --- |
| Energy | 1500 kJ (359 calories) |
| Protein | 17g |
| Total Fat | 6g |
| Carbohydrates | 50g |
| Saturated Fat | 3g |
| Sugars | 22g |
| Sodium | 58mg |
Adapted from https://daa.asn.au/recipes/pumpkin-kumera-cumin-red-lentil-soup-with-yoghourt/
SWEET POTATO AND PUMPKIN SOUP WITH ROASTED CASHEWS, YOGHURT AND CORIANDER TOPPING.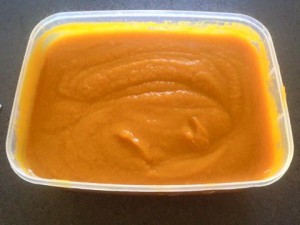 PUMKIN SOUP WITH A TWIST
Ingredients
1 tablespoon olive oil
2 med sliced leeks white part only
3 garlic cloves sliced
I cinnamon stick
1 tablespoon cumin seeds
2/3 cloves
0.75 kg Queensland blue pumpkin skin removed (Any pumpkin can be used.)
0.75 Sweet potato peeled
Enough water cover vegetables
Instructions
Add olive oil to large pot add leeks garlic sweat of
Add all spices stir until you can smell their aroma mmm yum
Ad pumpkin and sweet potato to mixture stir to coat add stock cook until tender, remove cinnamon stick and blend together serve with hot multigrain bread and a spoonful of Greek yogurt.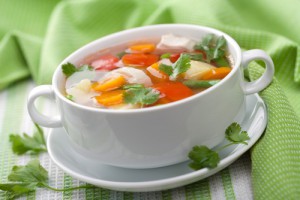 1 Small Pumpkin  roasted
3 Tps Olive Oil
7 Cups Chicken Broth (Vegetable broth would also work for this or water)…
2 C  Dry Sherry
2-3 Large Shallots
Parsley  torn
2 C Sliced Mushrooms – Sliced
3-4 Stalks Celery – chopped
3 T Cajun Seasoning
Garlic Salt
ginger and Pepper to taste
Pumpkins seeds (use the seeds from the pumpkin cleaned)
Directions:
Slice Pumpkin in half, clean out and reserve seeds. Place pumpkin halves face down in glass baking dish with 1/2C water. Bake at 350 for 45 minutes or until soft.
Rinse pumpkin seeds and toss in bowl with 1Tps Olive Oil, pepper and garlic salt. Spread on baking sheet and roast at 375 for about 20 minutes or desired crispiness. Remove from oven and set aside to cool when finished.
Add 1Tps of Olive Oil to a Soup Pot/Stockpot then add Shallots and Celery. Sauta 3-4 minutes. Carefully add Sherry and let cook about 2-3 minutes to cook out alcohol.  Next add Chicken stock and simmer. When the pumpkin is finished roasting and has cooled enough to handle, remove the skin and chop the pumpkin into chunks and add to the broth. Simmer about 20 minutes. Transfer the soup to a blender. Puree the soup in a blender until creamy. Return the soup to the pot and add the Cream.
In a Saute pan, add 1T Olive Oil and sliced mushrooms. Sauta about 5 minutes until golden. Remove from pan and set aside.
Add the Mushrooms and Cajun seasoning to the soup. Season with ginger and pepper to taste. Serve in a bowl and sprinkle with chopped parsley and pumpkin seeds.
NB A diabetic soup tend to by chunky to avoid sugar spikes and Hypos. Soups are usually the broth from a stew which contains dissolved sugars starch fats and small particles of food which will be absorbed quickly.
It is our job as diabetics to slow this absorption through the use a fibre and large particles of food. The teeth cannot chew food as small as a blender. A diabetic soup is therefore more like a watery stew than a broth.
Autumn Soup
This will feed a ravenous family of 4 or a genteel family of 6.
500 grams lean meat cubed (About 2 cm square), (chicken, game, veal, pork). Ask your butcher or cut into cubes yourself
1 cup chopped onion
1 cup chopped celery
4 cups hot water (not boiling)
2 cups diced sweet potato cubes – soup size
2 cups of pumpkin cubed.
1 cup thinly sliced carrots
½ tsp dried basil leaves*
1 tsp dried oregano*
Freshly ground pepper
3 tomatoes cut into eights and sliced in half
Mix meat, onion celery add water, sweet potatoes, carrots, and pumpkin in a 5 litre casserole. Bring to a good simmer and cook for 30 minutes, stir occasionally.
Add tomatoes, pepper, basil and oregano. Cook another 10 minutes.
Nutrition (1 serve): 1063 kj (253 cal) / carbohydrate 12.6 g
Tex's Soup
2 garlic cloves, minced
2 carrots, peeled and cubed
1 cup butternut squash, peeled and cubed or other pumpkin.
1 small sweet potato, peeled and cubed
½ yellow onion, quartered
2 tablespoons extra virgin olive oil
4 cups low salt chicken stock, store-bought or homemade or just water
2-3 cups shredded chicken or ½ Kg uncooked chicken breasts cut into cubes
¾ teaspoon dried parsley
½ teaspoon dried thyme
½ teaspoon dried rosemary
¼ teaspoon dried oregano
¼ teaspoon cracked pepper
1 cup water
2 cups baby spinach cut roughly
PUMPKIN SOUP
Ingredients
3/4 pumpkin (Any type)
1 large sweet potato
4 carrots (skin on)
5 baby onions (probably equivalent to one really big onion or 2 medium)
1 Cup of water
1 Tbs curry powder
Other vegetables can be added e.g. peas
Instructions
Chop all ingredients and add to a pot.
Add 1 the curry powder
Boil it all together with enough water to come half way up veggies till soft, removed about half liquid and set aside in bowl. Mash with old fashion potato masher and added extra cooking liquid if needed
Garnish with Greek yoghurt
This can be cooked in a slow cooker