CHICKEN SOUP
INGREDIENTS
Small handful of fresh flat-leaf parsley, roughly chopped
Small handful of fresh mint leaves, roughly chopped
Grated zest of 1/2 a lemon 2 garlic cloves, crushed
Olive oil cooking spray
1 small leek, thinly sliced
2 x 165 g skinless chicken breast fillets
5 litres chicken stock, made with 1 reduced salt stock cube (or water)
100 g broccoli, cut into florets
200 g asparagus, trimmed and chopped
120 g frozen peas or fresh
400 g tin borlotti beans, drained
100 g sugar snap peas, sliced
INSTRUCTIONS
Make the pistou. Put the parsley, mint, lemon zest and half the garlic in a food processor with 1 tsp water and process until smooth.
Mist a large saucepan with olive oil cooking spray, then put over a medium heat. Add the leek and the remaining garlic, and cook, stirring, for 5 minutes or until softened.
Add the whole chicken breasts and the stock to the pan with the leek, and simmer, covered, for 15 minutes or until the chicken is cooked through. Transfer the chicken to a board with a slotted spoon. Set aside to rest for 5 minutes, then slice thinly.
Add the broccoli, asparagus, peas and borlotti beans to the soup and bring to the boil. Reduce the heat and simmer, uncovered, for 3 minutes. Add the sugar snaps and sliced chicken, then simmer, uncovered, for 2 minutes or until the vegetables are just tender.
Serve the soup topped with the pistou.
Enjoy!
Nutrition in original
Adapted from Chicken, borlotti bean & vegetable soup with pistou | Diabetes UK
EGG ROLL SOUP
INGREDIENTS
1 pound/ 450 g ground pork
1 teaspoon olive oil
1 medium yellow onion, diced.
1 orange bell pepper, cut into thin, short strips (about 1″/ 25 mm long)
3-4 cloves garlic, finely minced
1 – 1 1/2 teaspoons grated ginger
small head green cabbage, shredded (about 8 cups)
6 cups chicken broth or water
1 tablespoon soy sauce
1/2 teaspoon pepper
green onions, chopped (optional for garnish)
toasted sesame seeds (optional for garnish)
INSTRUCTIONS
Using a large pot, brown the ground pork on medium heat until just done. If desired, drain the fat.
To the pot add olive oil, onion, bell pepper, garlic, and ginger. sauté for 5 minutes or until onions are slightly translucent.
Add the broth/ water, cabbage, soy sauce and pepper. Mix well to combine.
Bring the soup to a low simmer and cook for 15-20 minutes or until the cabbage is wilted.
Serve into bowls and top each bowl with sliced green onions & toasted sesame seeds.
NUTRITIONAL INFORMATION
Yield: 6 servings, Serving Size: approx. 1 1/2 cups
Amount Per Serving: Calories: 255, Total Carbohydrates: 9g, Fiber: 3g, Net Carbohydrates: 6g, Total Fat: 17g, Protein: 16g
Adapted from This Keto Chinese Pork Egg Roll Soup is so Flavorful | Hip2Keto Recipe
SLOW COOKED GREEN ENCHILADA CHICKEN SOUP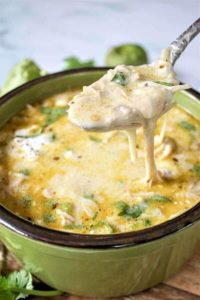 INGREDIENTS
INSTRUCTIONS
In Crock Pot add Chicken breasts or thighs, green enchilada sauce and chicken broth…cook on low for 6-8 hrs.
About 30 min before serving Remove Chicken and Shred. the add shredded chicken, Jack Cheese, Cream Cheese, 1/2 and 1/2 and green salsa to crock pot. stir until cheeses are melted.
You can top with sliced Avocado, Cilantro, green onion and sour cream.
HOT AND SOUR SOUP
INGREDIENTS
¼ Cup dried wood ear mushrooms (black fungus)
1/3 Cup dried shiitake mushrooms
4 Cups water
1 Cup enoki mushrooms
1 medium carrot
½ block (250 g) firm tofu, cubed
½ Tablespoon soy sauce (salt-reduced or dark soy sauce is preferred)
2 Tablespoons Chinese black vinegar.
INSTRUCTIONS
Gently rinse wood ear mushrooms and dried shiitake mushrooms with water. Soak each of them with 2 cups of warm water in two big bowls. Rehydrate for 30 minutes or until tender.
Next, peel the carrot and chop into cubes. Slice shiitake mushrooms into strips. Remove tough ends of wood ear mushrooms, then chop into bite-sized pieces.
Reserve the marinating water from the shiitake mushrooms, 2 cups in total.
Cooking
Add water plus the 2 cups of marinating water (from above) into a pot. Heat over medium-high heat. Add all mushrooms, carrot and tofu to the pot. Cook until the water is simmering.
Add soy sauce and turn down to medium-low heat. Remove the pot from the stove. Add the vinegar and stir to mix well. Serve hot.
Decorate with sliced Chinese shallots.
TIPS 
Use gluten free soy sauce for a gluten free dish.
For more protein, add whisked egg or shrimps (prawns) into the soup.
DID YOU KNOW? 
Dark soy sauce is less salty than regular soy sauce. Dark soy sauce is darker, thicker and sweeter due to the added molasses. It is often used for seasoning and dipping. You can use dark soy sauce to replace regular soy sauce in stir-fries, stews and casseroles.
This soup is one of the Chinese restaurant favourites at all times.
Did you know about the mushrooms used in this recipe?

Wood ear mushrooms are named as such because they look like ears. When they are fresh or rehydrated, they have a great spongy texture. They are often sold dry in all local Asian stores.
Dried shiitake mushrooms are much more flavoursome than the fresh variety. Fresh shiitake mushrooms can be replaced in this recipe, but you may need a full cup of them to get a similar flavour. They are also available in all local Asian stores.
Enoki mushrooms are also called winter mushrooms or golden needle mushrooms with thin white stalks topped with little white buttons at the end. They are often available fresh in local Asian stores.
NUTRITION 
Per serve 683 kJ/163 calories; 13 g protein; 5 g fat (includes 0.7 g saturated fat; saturated : unsaturated fat ratio 0.16); 13 g available carbohydrate; 4 g fibre; 123 mg sodium; 348 mg potassium; sodium : potassium ratio 0.35
Adapted from GI News
LOW CARB ITALIAN WEDDING SOUP
INGREDIENTS
Meatballs:
Soup:
2 tbsp olive oil
1/4 cup chopped onion
4 celery stalks chopped
1 tsp ginger
1/2 tsp pepper
3 cloves garlic minced
1 tsp dried oregano
6 cups water
2 cups riced cauliflower
2 cups packed spinach leaves
Additional ginger and pepper
Parmesan for sprinkling
INSTRUCTIONS
Meatballs:
In a large bowl, mix together the ground meat, almond flour, cheese, Italian seasoning, ginger, and pepper add the egg and combine well using your hands.
Form into small meatballs and place on a waxed paper-lined tray. Refrigerate until ready to add to the soup.
Soup:
In a large saucepan or stock pot, heat the oil over medium heat until shimmering. Add the onion, celery, ginger, and pepper and sauté until vegetables are tender, about 7 minutes. Add the garlic and cook another minute.
Stir in the water and oregano. Bring to just a boil and then reduce the temperature and simmer 10 minutes.
Add the cauliflower rice and the meatballs and cook until the meatballs are cooked through and float to the top, about 5 minutes.
Add the spinach leaves and cook until wilted, 2 minutes more. Season to taste
Recipe Notes
Serves 6. Each serving has 3.87 g NET CARBS.
Food energy: 303 kcal
Total fat: 20.16 g
Calories from fat: 181
Cholesterol: 73 mg
Carbohydrate: 5.73 g
Total dietary fiber: 1.86 g
Protein: 29.48 g
Nutrition Facts
Low Carb Italian Wedding Soup
Amount Per Serving
Calories 303 Calories from Fat 181
% Daily Value*
Fat 20.16 g 31%
Cholesterol 73 mg 24%
Carbohydrates 5.73 g 2%
Fiber 1.86 g 7%
Protein 29.48 g 59%
* Percent Daily Values are based on a 2000 calorie diet.
Adapted from https://alldayidreamaboutfood.com/low-carb-italian-wedding-soup/?fbclid=IwAR2qiOGmGPrN0J4duUvxf1KBz3Fp1XS6m2a3yVd3L-V41h4FAwJ9Iq7zm9o
CHICKEN AND VEGETABLE SOUP
INGREDIENTS
For Chicken Stock
Chicken with bones half kg / 500 grms.
Bay leaves 3 to 4
Diced onion 1 large
Carrot 1 large diced
Ginger 4 to 5 pieces
Whole black pepper 15 to 20
Water 2 & half litre
For Soup
Olive Oil 2 tbsp
Garlic finely chopped 1 tsp
Onion chopped 1 medium sized
Peas 1 cup
Carrot 1 cup cubes
Cabbage 1 cup sliced
Sweet potato 1 cup cubes
Boiled & shredded chicken 1 cup
Ginger 1 tbsp
Black pepper powder or freshly crushed 1 tsp
2 beaten eggs
Chicken stock that we prepared before
INSTRUCTIONS
For Chicken Stock
Put all ingredients in a cooking pot, when it starts to boil foam will appear on top remove it with the help of a spoon, by removing this u will get a clear stock.
When all foam removed cover with lid and cook on medium heat for 15 minutes.
After 15 minutes take out chicken pieces from stock, shred it and set aside. let the stock simmer on medium low heat for 30 to 40 minutes with lid on.
Stock is ready drain it through a sieve and keep aside.
For Soup
Fry garlic and onion in olive oil until translucent.
Add in peas and carrot and stir fry for 20 second.
Add in cabbage and fry for 10 second.
And now mix in sweet potatoes and chicken.
Pour in chicken stock, ginger and let it cook with lid on after 30 minutes mash 50% of the sweet potatoes (this step will thicken our soup because we are not going to adding corn-starch).
Add black pepper mix well and simmer for 10 minutes.
Then on boiling soup pour in the eggs and stir a little.
Adjust ginger and pepper according to your taste.
Adapted from https://www.therecipespk.com/chicken-and-vegetable-soup-recipe/?fbclid=IwAR0QP2aGv-_dRUIlP8b-9D6WNh7mt08HU8s1Lmik4ayXJvlynAdvCLD3nN4
QUICK CHICKEN and VEGETABLE SOUP WITH GREMOLATA
INGREDIENTS
1 tablespoon olive oil
1 leek, chopped
2 x 400 g packets fresh pre-chopped soup vegetables or fresh if possible
5 cups reduced-salt chicken stock
2 cups shredded or chopped BBQ chicken
4 small slices rye bread,/Burgen Whole Grain and Oats toasted, to serve (optional)
Gremolata
¼ cup chopped flat-leaf parsley
2 tablespoons lemon thyme leaves
1 garlic clove, crushed
3 tablespoons fresh grated Parmesan
INSTRUCTIONS
Place the olive oil in a large, heavy-based pan on medium-high heat. Add the chopped leek; sauté for 2–3 minutes, or until just softening. Add vegetables; cook, stirring for 1–2 minutes.
Add stock to pan and bring the mixture to the boil. Cover and reduce the heat and simmer for 10 minutes. Add chicken, stir to heat through. Add an additional ½–1 cup of water, if the soup needs more liquid. Season with cracked black pepper.
Meanwhile, make gremolata: Combine all the ingredients in a small bowl. Season and mix well.
Divide soup between serving bowls. Top with gremolata and serve with rye toast (optional).
NUTRITION 
Per serve 1691 kJ/405 calories; 34 g protein; 14.6 g fat (includes 4.8 g saturated fat; saturated : unsaturated fat ratio 0.5); 28 g available carbs (includes 9 g sugars and 19 g starch); 11.5 g fibre; 414 mg sodium
Adapted from https://ginews.blogspot.com/2020/07/the-good-carbs-kitchen.html?fbclid=IwAR3YKEj75LTPyGdcVR6xwugy5yGhvxb9M_F28r-91y8RgEXQwUmUJuCT3gs
CHICKEN AND VEGETABLE SOUP
INGREDIENTS
4 Pieces of chicken of your choice either a boneless chicken breast or bone in legs and thighs
1 Whole tomato peeled
3 Parsnips peeled and cut up
6O oz/170 portabella mushrooms
1 Large onion peeled and used whole
3 large zucchini, cut up
4 Stalks of celery cut up
2 Carrots peeled and cut up
1 Tbs ginger
1/2 Tsp ground black pepper
INSTRUCTIONS
Using a large pot boil water almost at 3/4 level of the pot
Add chicken
After it boils skim the fat at the top, if you are using boneless chicken there won't be much
Place all of the vegetables, ginger and pepper in the pot and allow to come to a rolling boil
Keep on medium heat for 5 minutes and then simmer on low-medium heat for about two hours covered.
Adapted from https://completelyketo.com/harlan-kilsteins-completely-keto-chicken-vegetable-soup/?fbclid=IwAR0iecOARQal4FqG7DFDlSY_ekPrWWdJjrpJ6faVtVIG2-Jj3oI6wxvDZaA
MUSHROOM SOUP
INGREDIENTS:
1/2 cup mushroom, chopped
1/4 cup carrot minced (boiled)
1/2 cup onion, chopped
1 green chilli
Pepper to taste
1 bay leaf
1 tsp all spice
1/4 inch garlic minced
1/2 cup water
1/2 tbsp olive oil
ginger to taste
Pepper to taste
INSTRUCTIONS
1. Heat olive oil (use olive oil special for cooking purpose) on medium heat in a stainless-steel pan.
Add all spice and bay leaf. Wait till you sense the flavour of all spice and bay leaf.
Add onion. Once onion is done, changes colour, add mushrooms. Avoid over cooking of mushrooms.
Add carrot after approximately 2-3 minutes.
Add 1/2 a cup of water to it. Bring it to boil.
Remove bay leaf.
Add ginger and Garlic.
Mixed everything well, on medium heat.
After a minute, add finely cut green chilli.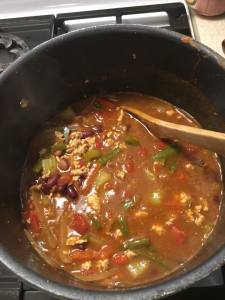 RATATOUILLE
INGREDIENTS
1 whole eggplant, diced into bite-sized pieces
2-3 zucchini, sliced into chunks
1-2 red capsicum, cut into 2cm squares
2 onions, diced into bite-sized pieces
2 cloves garlic, finely chopped
Any other in season vegetables
2 tins of chopped tomatoes
Dried oregano & dried chilli flakes (optional) – decent sprinkle
ginger & pepper to taste
3-4 tablespoons extra virgin olive oil
INSTRUCTIONS
Put the oil in a large saucepan (stockpot size) and add the onion, zucchini, eggplant, capsicum and garlic and sauté until starting to brown slightly.
Then add the ginger, pepper, oregano and chilli flakes and stir well until all the veggies are coated.
Then add the tins of tomatoes, stir again and simmer for about 20 minutes.
Test some of the vegetable to check it's cooked through, and ENJOY!
Adapted from https://www.marchininutrition.com.au/single-post/2017/11/25/The-easiest-tastiest-most-versatile-recipe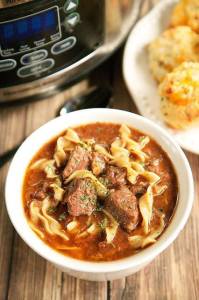 BEEF AND PASTA SOUP
Serves 6
Preparation time 20 mins
Cooking time 5 hours
INGREDIENTS
Beef stock
2L of water
4 medium carrots, peeled & roughly chopped
2 medium brown onions, peeled & roughly chopped
½ bunch of celery or 3 Cups, roughly chopped
1.5 kg of beef bones
Soup
1 kg of topside beef, diced
2 tbs. of olive oil
700 g of passata NB1
140 g of tomato paste, no added salt
1.5 cups of risoni pasta (dry)
¼ cup of fresh parsley, roughly chopped
Pepper for seasoning
INSTRUCTIONS
In a large stock pot, add 2L water and bring to the boil. Add carrots, onions and celery and bring to the boil. Add beef bones and simmer for 2 hours on medium heat. Remove the scum and fat from the top of the stock every hour.
Using a strainer, separate the beef bones and vegetables from the stock.
Heat oil over med-high heat, in a deep large non-stick fry pan. Cook beef in batches, for 5 minutes or until browned. Set aside on plate.
Add stock to large stock pot, bring to boil. Add beef and simmer for 1.5 hours. Remove the scum and fat from the top of the soup.
Add passata and tomato paste, simmer for 1 hour.
Add pasta and vegetables used for stock. Boil for 15 minutes or until pasta is cooked.
Separate into serving bowls, top with fresh parsley and season with pepper.
Nutritional information per serve
Total energy 1958 kJ / 446 cal
Protein 44 g
Total fat 15 g
Saturated fat 4 g
Total carbohydrate 34 g
Fibre 7 g
Sodium 194 mg
About this recipe
A traditional Greek dish that is packed full of nutrients and minerals! Lean beef is a good source of zinc, iron and protein. Zinc is important for our immune system and helps in the formation of strong bones; iron helps the red blood cells carry oxygen around the body; and protein is important for the growth and repair of cells. A tasty soup that will give your immune system a boost.
Adapted from http://www.diabetessa.com.au/recipes/beef-and-pasta-soup.html
NB1
Try Konjac noodles
Konjac Foods for People with Diabetes (Noodles. Pasta.)As medical research has demonstrated, the higher the viscosity of soluble fiber, the better the ability to control blood sugar level. The glucomannan fiber is the most viscous soluble fiber in nature, making it the best way to control the blood sugar level of diabetic people. At the same time, it is a very efficient way to control blood sugar level when you take it before each meal. Simply consume as a beverage before each meal.As stated, Konjac fiber is the most viscous fiber in nature. This allows the Konjac to move through the digestive tract very slowly which can slow down carbohydrate absorption. This slowed absorption will keep the blood sugar at a moderate level during the digestion process. Konjac also acts to trap food and waste residues as it moves through the digestive system. Konjac fiber can block substances that are easily reabsorbed such as excess bile acids. The digestive regulatory quality of Konjac fiber makes it a natural agent in the treatment and regulation of diabetes and high cholesterol.Glucomannan is known to show hypoglycemic effects by inhibiting the uptake of glucose by the body. It is believed that it does this by preventing contact of the glucose with the intestinal walls for absorption. By reducing the amount of blood sugar, glucomannan can help patients with type II diabetes. Konjac fiber when absorbs lots water, it will form soft gel, the glucomannan will delays gastric emptying and slows the release of sugar into the bloodstream, which helps to lower levels of insulin and blood glucose. Additionally, glucomannan improves blood-lipid profiles and can lower systolic blood pressure. Because of these effects, glucomannan can greatly benefit individuals with metabolic syndrome or diabetes.
http://www.konjacfoods.com/noodles/19.htm
Also Try Kelp Noodles Asian Salad
http://www.furtherfood.com/recipe/kelp-noodles-asian-salad-recipe-mango-macadamia-nuts-lime-zest-diabetes-diet/
Also try one from this page:-
http://www.findtex.com.au/diabetic-foods/zucchini-fritters-with-chili-lime-mayo/
What do you do when your cauliflower has bolted? Make cauliflower soup!
SIMPLE GARLIC CAULIFLOWER SOUP
INGREDIENTS
3 cloves garlic, sliced
2 Tbsp. olive oil
1 small head cauliflower, chopped
5 cups water
1 Tbsp. thyme leaves
1 tsp ginger
1/4 tsp pepper
INSTRUCTIONS
In a large pot over medium heat, cook garlic in olive oil, stirring until golden, about 2 to 3 minutes. Remove and reserve garlic.
Add cauliflower, water, thyme, ginger and pepper to pot. Simmer until tender, about 15 to 20 minutes.
Pour mixture into a blender and puree until smooth. Divide soup among four bowls. Top with garlic, a drizzle of olive oil, and additional thyme before serving.
Adapted from http://www.informationaboutdiabetes.com/recipes/soup/simple-garlic-cauliflower-soup
VEGETABLE SOUP
6 different vegetables + tomatoes and quick to make.
No packet was torn or can opened (other than tomato paste) to make this soup, No dehydrated vegetables used. And no stock cube or powder was used as I just use water. .
You may noticed that I deliberately didn't cook it too long as I don't mind my veg a bit crunchy. Will make again
HUNGARIAN BEEF COULASH SOUP
INGREDIENTS
1kg/2lb 4oz braising steak or venison (any lean meat can be used
2 tbsp. wholemeal flour (or you favourite flour)
vegetable oil
2 medium onions, diced
4 medium carrots, diced
2 celery sticks, leaves and all, diced
1 red pepper, seeded and diced
5 garlic cloves, crushed
4 tbsp. good sweet Hungarian paprika
2 tbsp. caraway seeds, crushed
60g/4 tbsp. low or no added salt tomato purée (fresh if possible)
3 bay leaves
2 litres/3½ pints water
4 serves of sweet potatoes, peeled and chopped into small cubes
ground ginger to taste
freshly ground black pepper
Greek yoghurt and flat-leaf parsley, to garnish
INSTRUCTIONS
Trim the meat and cut it into bite-sized chunks. In a large bowl, mix the flour with a teaspoon each of ginger and pepper. Add the beef and toss so that all the chunks are dusted with flour.
Heat a tablespoon of oil in a large sauté pan and brown the beef in small batches, setting each batch into the slow cooker while you brown the next. Take care not to crowd the pan or the beef will steam rather than brown.
Once beef is done heat a little oil in the pan, add the onions, carrots, celery, red pepper and garlic. Cook gently for about 10 minutes until they start to soften.
Add the beef, paprika, caraway seeds, tomato purée and bay leaves, then add to slow cooker.
Add some stock to the pan and deglaze picking up all the lovely juices, then add to slow cooker.
Add remaining stock and potatoes to cooker and place on low for 6hrs.
Serve the soup in bowls with a generous swirl of yoghurt and a good sprinkling of parsley. I also serve with a heavy multigrain bread.
NOTE: This recipe can all just be thrown in the cooker if you are short on time and set on low for 6 hrs.
SHARKFIN MELON SOUP
It looks like sharkfin soup! And yes I use dried jujube for my soup! The CHINESE use jujube extensively in our diet.
The interior looks a like spaghetti melon except it's white and without much flavour. Therefore we use pork or chicken stock, jujube and dried scallops to perk up the flavour of the soup. The kids loves it because they looks like "noodles" without the guilt. Sharkfin melons has good nutritional value.
THIS IS VEGETARIAN, VEGAN, GLUTEN FREE, SUGAR AND DAIRY FREE
LOW CALORIE, LOW SALT, HIGH PROTEIN

INGREDIENTS (Makes 8 – 10 serves)
Tip: You can either finely dice or course chunky cut the Vegies
1 Bunch of Celery including tops
3 Large Carrots
2 Capsicums (Bell Peppers) mix it up red, green, yellow to add colour
2 Onions, Red, Brown, White also to add colour
Garlic to taste (2 – 6 cloves)
2 Litres (3 pints) water
3 fresh diced Tomatoes
1 cup dried Navy Beans
1 cup dried Red Kidney Beans
1 cup dried Broad Beans
1 Packet of Soup Starter Mix (Beans, Peas and Pulses)
500gms (1lb) Baby Spinach Leaves
Any fresh vegetables from the garden.
METHOD
Soak the dried beans and soup mix in water overnight.
The next day rinse the soaked beans etc thoroughly and add to the water in a large stockpot and place on stove top to start heating.
Add Tomatoes.
Cut up all vegetables and add to mix with the firmer vegetables going in first.
Bring pot to the boil then turn down and simmer until all vegetables are cooked to your liking.
Add spinach leaves just before serving.
NB A diabetic soup tend to by chunky to avoid sugar spikes and Hypos. Soups are usually the broth from a stew which contains dissolved sugars starch fats and small particles of food which will be absorbed quickly.
It is our job as diabetics to slow this absorption through the use a fibre and large particles of food. The teeth cannot chew food as small as a blender. A diabetic soup is therefore more like a watery stew than a broth.
SATERDAY NIGHT USE WHAT EVER YOU HAVE IN THE FRIDGE SOUP
My no wastage "Eat whatever is in the fridge or pantry vegetable soup"
This one has onion, garlic, carrots, celery, tomato paste (Leggo's no added salt), veg stock with cubes, yellow swede, cabbage, zucchini, 1 beetroot, dried kidney beans (soaked and cooked) dried Cannellini beans (soaked and cooked), herbs from the garden (parsley, oregano and basil), salt and pepper and gluten free pasta.. Garnished with grated ginger and parsley.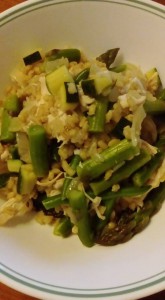 FARMHOUSE SOUP
INGREDIENTS
200g dried chickpeas
400g Veal Shin
1 onion, sliced
2 rosemary sprigs
2 bay leaves
3 large parsley sprigs
1 large carrot, sliced
1 medium sweet potato, peeled and diced
1 parsnip, peeled and sliced
1 leek, white part only, washed and sliced
1 tup Leggo's no added salt tomato paste
100g cooked Basmati Rice
300g broccoli florets
200g sliced green beans (Fresh if you have them)
INSTRUCTIONS
Place the chickpeas and 1.5 litres water into a large saucepan, bring to the boil, then cover and cook for 1 minute. Turn off the heat and leave to stand for 1 hour. (If leaving for a longer period, place in the refrigerator.)
Drain the chickpeas and add 1.5 litres fresh water. Bring to the boil, add the Veal shin, onion and herbs, cover and simmer gently for 1 1/2 hours. Remove and discard the bay leaves and herbs. Cool the soup and refrigerate it so that any fat will rise to the surface for easy removal. Remove fat from the top of the soup and remove the Veal Shin.
Remove the meat from the bones and set aside. Return the soup to the stovetop, add the carrot, sweet potato, parsnip, leek, tomatoes paste and Basmati rice. Bring to the boil, then reduce the heat, cover and simmer for 30-40 minutes, or until the rice is cooked.
Add the Veal Shin meat, broccoli and beans and cook for a further 5 minutes. Serve in large bowls.
INSTRUCTIONS
Prepare Miracle Rice (if using) by draining, soaking in water for 5 minutes, draining again, and then boiling dry. Set aside.
In large stockpot (I used 5 litre), heat oil and sauté onions and garlic unit tender.
Add ground beef to stockpot and season with salt and pepper. Cook until browned.
Stir in tomatoes, tomato paste, and water. Bring to a simmer.
Add the cabbage and stir in. Cover and cook on medium low for about 30 minutes or until cabbage has softened.
Stir in prepared Miracle Rice if using. Add additional chicken broth, if desired. Simmer for another 5-10 minutes.
Adapted from https://www.diabetesdaily.com/blog/recipe/unstuffed-cabbage-soup/
Cauliflower and Garlic Soup
Ingredients
3 cloves garlic, sliced
2 tbsp olive oil
1 small head cauliflower, chopped
5 cups low-sodium chicken broth or water
1 tbsp thyme leaves
1/4 tsp pepper (And any other herbs spices to taste)
Method
In a large pot over medium heat, cook garlic in olive oil, stirring until golden, about 2 to 3 minutes. Remove and reserve garlic.
Add cauliflower, chicken broth, thyme, and pepper to pot. Simmer until tender, about 15 to 20 minutes.
Divide soup among four bowls. Top with garlic, a drizzle of olive oil, and additional thyme before serving.
Nutrition Information per Serving
111 Calories
7 g Fat
6 mg Cholesterol
675 mg Sodium
5 g Carbohydrate
2 g Fibre
6 g Protein
NB This basically contains 1 vegetable and is not a balanced meal just a comfort food.
Tuscan Bean and Kale Soup
Ingredients:
1 pound dried cannellini beans
2 Tbsp. olive oil
1 large onion, minced
2 large garlic cloves, minced
1 Tbsp. minced fresh sage
2 tsp. minced, fresh rosemary
7 cups low salt chicken or vegetable stock or water.
A bunch of kale, ribs removed, coarsely chopped
Ginger and freshly ground black pepper
Procedure:
In a large saucepan, cover the dried beans with water (completely) and soak overnight. Drain and rinse.
Heat 2 tablespoons of oil in a large pot over moderate heat. Add onion and sauté until soft, about 5 minutes.
Add garlic, sage and rosemary and sauté for 1 minute.
Add beans and stock. Cover and adjust heat to maintain a gentle simmer, cooking until the beans are almost tender – about 1 hour, then add the kale.
Cover and continue simmering until the beans and vegetables are tender.
Remove pot from heat and mash some of the beans against the side of the pot until soup is a nice, hearty consistency, adding water if necessary. Season to taste with salt and pepper.
Add ginger and pepper to taste.
SPICY KALE A LENTIL SOUP
Ingredients
2 cups chopped kale, stalks removed
1 carrot, chopped or sliced
1 clove garlic, crushed
½ cup dried brown/green lentils
1 chilli or chilli paste, to taste
Sprinkle paprika
4 cups water
1 cup chopped pumpkin
2 mushrooms cut into quarters
Bring to boil your water in a medium pot with lid on.
Turn down to a simmer and add lentils, chilli and garlic. Simmer for 20 mins.
Add carrot, pumpkin, mushrooms and simmer for a further 10 mins or until softened. Season with ginger and pepper to taste and any other spices to taste).
Add kale and simmer a further couple of minutes.
Serve immediately.
Method
Bring to boil your water in a medium pot with lid on.
Turn down to a simmer and add lentils, chilli and garlic. Simmer for 20 mins.
Add carrot, pumpkin, mushrooms and simmer for a further 10 mins or until softened. Season with ginger and pepper to taste and any other spices to taste).
Add kale and simmer a further couple of minutes.
Serve immediately.
This recipe makes six servings.
EGGPLANT TOMATO 
Ingredients
1 large eggplant, stalk removed and cut into dice
1 medium onion, peeled and finely chopped
3 large cloves garlic, peeled and finely sliced
1.2 Kg chopped tomatoes,
2 bay leaves
1 tbsp apple cider vinegar
50ml red wine
1 tbsp Leggo's Tomato paste no added salt tomato paste
1/2 tsp cayenne pepper
Instructions
Heat 1tbs of olive oil in a large frying pan, then add the eggplant, sprinkle over one teaspoon of ginger, then fry over a high heat until golden on all sides. Spoon the eggplant onto a plate.
Add 1 tbs of olive oil to the pan, then add the onion, garlic, then and 200 millilitres of water. Boil until the water evaporates and the onion starts to turn golden, then add the tomatoes and bay leaves and boil on a high heat for about 15 to 25 minutes until the juice evaporates to a thick sauce.
Stir in the vinegar, wine, tomato paste, and cayenne pepper and simmer for five to 10 minutes until thick again. Add the eggplant, stir well and check the seasoning, then heat until boiling to serve. The sauce keeps well in the fridge for a few days or up to three months in the freezer.
RED LENTIL SOUP
Ingredients
3 cups of red lentils
1 largeonion
5 mediumcarrots
1 mediumpotatoes
1 largesweet potato
Freshginger root, 1 inch long
4 medium cloves ofgarlic
1 teaspoon curry powder
1 teaspoonturmeric
cayenne pepper, to taste
Instructions
Boil 3 quarts of water in a large pot.
Add lentils.
Add all vegetables (washed, uncut, and unpeeled) to the boiling water.
Add ginger (peeled but uncut) and 3 cloves of garlic.
Add turmeric, curry powder, and cayenne pepper to taste.
Cook vegetables, ginger, and garlic until ready for about 30 minutes. Use a ladle to take them out on a big plate, and let them cool for about 20 minutes (while lentils continue simmering).
Mash roughly the cooled vegetables, ginger, and garlic
Return to pot and reheat.
Add finely minced clove of garlic.