SAUSAGE BISCUITS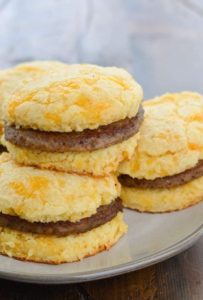 INGREDIENTS:
3 oz/ 85 g cream cheese, softened
1c shredded cheddar cheese.
2 eggs
2cups almond flour
1 tps baking powder
1/4 c heavy whipping cream
1Tbs olive oil
Sausage:
1 ½ lbs/ 680 g breakfast sausage made into 12 patties
INSTRUCTIONS:
Preheat oven to 180°C/350°F.
In a mixing bowl combine cream cheese, cheddar cheese and eggs. Stir until combined and no clumps.
Add almond flour, baking powder , heavy cream and olive oil.
Stir just until combined. Do not over mix as biscuits will be tough.
Chill the dough at least 15 minutes.
Lightly dust area with almond flour. Turn dough out and flatten to about ½ inch / 1.25 cm. Using cutter, cut 12 biscuits out.
Place on greased baking sheet and bake 15-18 minutes.
Cook sausage patties on medium heat until cooked through.
To assemble – cut the biscuits in half and place sausage patties on them.
Can be frozen and heated later.
SOURDOUGH CRACKERS
INGREDIENTS
1 cup leftover sourdough starter discard, unfed
1 cup all purpose flour
1/4 cup olive oil, plus more for brushing
1/4 cup Bagel Seasoning
INSTRUCTIONS
Preheat oven to 180°C (350°F).
In a large bowl, mix together the starter, flour and oil until the mixture begins to come together and a dough forms.
Knead it together with your hands until the dough is smooth.
Cover with a towel and allow to rest for 20 minutes.
Divide the dough in half and roll out the dough to a thin, rectangular shape on a piece of parchment paper. Shape doesn't matter, here. Repeat with the remaining dough.
Transfer the parchment to a baking sheet and brush the top of the dough with olive oil.
Sprinkle half the Everything Seasoning over the dough.
Cut the dough into squares with a pizza cutter or sharp knife and slide them apart to make a little room to spread while baking.
Transfer the baking sheet to the oven and bake 15-20 minutes until golden brown and crisp.
Allow the crackers to cool completely and then break apart if they've baked together in any of the spaces.
Notes
Crackers can be made up to 5 days in advance. Store in an airtight container at room temperature.
Nutrition of original
calories: 91 kcal, carbohydrates: 12 g, protein: 2 g, fat: 4 g, saturated fat: 2 g, trans fat: 1 g, cholesterol: 10 mg, sodium: 483 mg, potassium: 12 mg, fiber: 1 g, sugar: 1 g, vitamin a: 118 IU, calcium: 3 mg, iron: 1 mg
Adapted from Everything Sourdough Crackers – The Suburban Soapbox
KETO CRACKERS
INGREDIENTS
⅓ cup almond flour
⅓ cup sunflower seeds
⅓ cup pumpkin seeds
⅓ cup flaxseed ground or whole
⅓ cup chia seeds
⅓ cup sesame seeds
1 tbsp poppy seeds
1 tbsp psyllium husk powder ground
1 tbsp Bagel seasoning
1 tbsp onion flakes
¼ cup olive oil
1 cup boiling water
INSTRUCTIONS
Preheat the oven to 300°F/ 150°C. Line a large baking sheet with parchment paper.
Mix all dry ingredients in a bowl. Add boiling water and oil and mix all ingredients together. Set aside for 5 or so minutes to let the dough absorb the liquid. After sitting and the water has been absorbed, stir the dough again for a few strokes to fully combine all ingredients and evenly distribute the seeds.
Place the dough on a large baking sheet lined with parchment paper. Add another paper on top of the dough and use a rolling pin to flatten it evenly into a rectangle shape. Press or roll the dough as thin as possible and to all the outer edges of the baking sheet.
Remove the upper parchment paper. Place the baking sheet on the middle/lower rack of your oven for about 40-45 minutes. Seeds tend to be heat sensitive so check occasionally for browning.
Turn off the oven and leave the crackers to dry in the oven until the oven is fully cool, up to 2 hours
Once the seed crackers are dried and completely cool, break into pieces and enjoy.
Notes
Storage: Store leftover crackers in an airtight container at room temperature for 1-2 days. Seed crackers must be fully cooled and fully dried before storage.
Leftover tip: If your leftover crackers have become slightly limp or soft, simply place them on a lined baking sheet and into a 300°F/ 150°C oven for 5 or so minutes to redry them. Start with 5 minutes, but up to 10 minutes back in the oven will crisp up the crackers again.
Nutrition
Calories: 67 kcal | Carbohydrates: 3 g | Protein: 2 g | Fat: 6 g | Saturated Fat: 2 g | Trans Fat: 1 g | Sodium: 311 mg | Potassium: 51 mg | Fiber: 2 g | Sugar: 1 g | Vitamin A: 2 IU | Vitamin C: 1 mg | Calcium: 42 mg | Iron: 1 mg
Adapted from Keto Crackers – CRUNCH CRUNCH CRUNCH Crackers (thekelliekitchen.com)
CHEESY GARLIC "BREADSTICKS"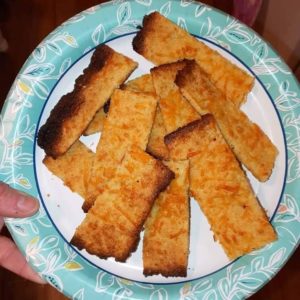 INGREDIENTS
1 cup shredded mozzarella
1 cup grated parmesan cheese.
1 egg
1 tsp garlic powder
INSTRUCTIONS
Preheat your oven to 180°C (160°C fan)/350°F/gas 4. and line a baking sheet with parchment paper.
In a bowl, combine all of the ingredients together until well incorporated.
Place the mixture onto your parchment paper and flatten it out like you would a pizza crust.
Bake for about 15 minutes, and then switch the oven to grill and move the baking sheet to the top rack for a few minutes to brown the cheese a little.
Slice with a pizza cutter and enjoy!
Enjoy!
EASY HOME MADE FIVE SEED CRACKERS
INGREDIENTS
1 cup sunflower seeds
3/4 cup pumpkin seeds
1/2 cup chia seeds
1/2 cup sesame seeds (I used a mix of black and white sesame seeds)
1/4 cup flaxseed (linseed)
1 1/2 cups water
1 tbsp dried herbs of your choice
1 tsp chilli flakes (optional)
INSTRUCTIONS
Preheat oven to 340° F/170° C fan forced.
Mix all ingredients together and leave for 10-15 minutes for the seeds to soak up the water.
Give everything a good stir, then split the mixture over two lined baking trays and spread thinly. The ideal thickness is about 3-4 mm. Too thin and the crackers will be very fragile, too thick and they'll be more like a seed cookie than a cracker.
Bake for one hour (switching the trays around halfway through), or until golden brown and crisp. If they don't feel crisp after an hour, return to the oven for another 5-10 minutes.
Remove from the oven, allow to cool, then break into irregular shards. Store in an airtight container.
NUTRITION INFORMATION
Calories: 192 kcal | Carbohydrates: 9.1 g | Protein: 7.5 g | Fat: 15.4 g | Saturated Fat: 2 g | Cholesterol: 0 mg | Sodium: 238.8 mg | Fiber: 6.4 g | Vitamin C: 0.8 mg | Calcium: 160 mg | Iron: 3.4 mg
Adapted from
Easy home made five seed crackers | Quite Good Food
SEED CRACKERS
INGREDIENTS
1 cups unsalted grounded nuts (you can make these in a food processor)
Added 1 cup of water,
1/2 ts onion powder,
1/2 garlic powder,
1/2 ts ginger
2 Tbs sesame seeds
2 Tbs Psylliam husk.
INSTRUCTIONS
Spread onto a baking tray, spread thinly.
Cut with pizza cutter into size. ¾ inch / 2 cm cut.
Baked at 180 for 40mins, turned & baked further 10 till golden.
SEED AND NUT BAR
INGREDIENTS
2 cups unsalted raw nuts, such as almonds, macadamia nuts and walnuts
½ cup sunflower seeds
½ cup pepitas (pumpkin seeds)
2 tbsp chia seeds
2 tbsp sesame seeds
2 tsp ground cinnamon
2 tbsp macadamia oil
2 tsp natural vanilla extract
INSTRUCTIONS
Preheat the oven to 150°C (300°F). Line a 23 x 33 cm (9 x 13 inch) baking tray with baking paper.
Roughly chop the nuts, sunflower seeds and pepitas together in a food processor. Transfer to a large bowl and stir in the chia, sesame seeds and cinnamon.
Stir the oil and vanilla in a small saucepan over low heat until well combined. Pour over the dry ingredients and stir well.
Wet your hands and press the mixture firmly onto the tray. Press with the back of a spoon to smooth the surface. Bake for 20 minutes or until deep golden brown. Cool completely on the tray, then refrigerate until chilled. Cut into bars or squares. These will keep for up to 2 weeks in an airtight container in the fridge.
Per serving (1 nut & seed bar)
804 kJ (192 cal), 5 g protein, 9 g carbs 2 g fibre, 15 g fat (2 g sat fat; saturated: unsaturated fat ratio 0.15), 3 mg sodium
Adapted from https://www.gisymbol.com/recipes/seed-nut-bar/?fbclid=IwAR0BP4pIuvDYMFebeHtG8UMl8J_uX1iu72bE6gAV9Fuv0vhHPlx1jBSzjDg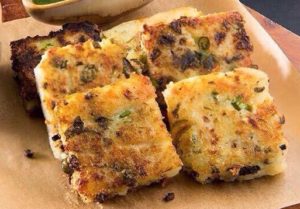 SOOJI VEGGIE SQUARES
INGREDIENTS
½ cup sooji/ Semolina
¼ cup Onion Chopped
¼ cup Fresh Peas
¼ cup Beans Chopped
¼ cup Carrot Chopped
¼ cup Mushroom Chopped
2-3 cup Water
Ginger to taste
1-2 teaspoon Mixed Herbs
1 cup 200 gms Boiled Mashed sweet Potatoes
2 Green Chillies Chopped
2 tablespoon Mint Leaves Chopped
2 tablespoon Coriander leaves Chopped
2 tablespoon Cheese Grated
INSTRUCTIONS
Heat oil in a pan and add all of the veggies to it. Let the onion, peas, beans, carrot and mushroom to sauté first.
After 3-4 minutes when the veggies are well sauté add half cup of semolina in the same pan and roast it with the vegetables on slow-to-medium heat.
When the semolina is well roasted add 2 and a half cup of water in it and mix well.
Then add ginger to taste and a teaspoon of mixed herbs in the pan.
Now, cook all the veggies and semolina for another 5 minutes and after that switch off the heat of the pan.
When the heat is off then add 200 gms of boiled mashed sweet potatoes in them and mix it in the pan.
Now add chopped green chillies, mint leaves and coriander leaves on it. Sprinkle some grated cheese in the mix and mix them well.
Now, cooking paper on a flat surface and take out the mixture on it. Spread the mixture evenly with around 2 cm think.
After the sooji squares are well spread cover and refrigerate it for 30 mins.
After 30 minutes take them out of the refrigerator and cut into 4 cm squares.
The veggie squares are ready to fry.
Heat oil in a frying pan and when it starts to smoke carefully add the fries in it.
Shallow fry the veggie squares from all the sides and serve hot.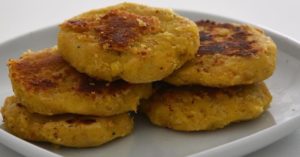 CHICKPEA FALAFEL
INGREDIENTS
1/2 cup chickpeas
1/2 cup onion, chopped
3 tbsp flour
1 tbsp olive oil
1 tsp salt
1/8 tsp black pepper
INSTRUCTIONS
1-Pre-soak the chickpeas in 3 cups of water overnight.
2-Rinse the chickpeas and combine them with onions in a small saucepan. Cover with water and boil at high heat for 15 minutes.
3-Drain the chickpeas and the onions and use a food processor to blend them (use the pulse setting). Mix with flour.
4-Shape the mix into six balls and then flatten them to make the patties.
5-Fry the patties at medium heat for 3 minutes until golden brown then flip them and fry for another 2 minutes on the other side. Serve hot.
Makes 6 portions
99 Calories per portion
Total Fat 3.4g
Total Carbohydrate 14g
Dietary Fibre 3.2g
Total Sugars 2.2g
Protein 3.7g
http://www.findtex.com.au/uncategorised/texs-vegetarian/
ALMOND CRISP COOKIES AND CRACKERS
Almond Crisps
Here's what we've been looking for—simple crackers or cookies that taste good, are super-easy, and super-low in carbs. These are substantial enough to use with dips or spreads and the variations are limited only by your imagination.
INGREDIENTS
1 egg white from a large egg
1 cup (4 ounces) almond flour or almond meal
INSTRUCTIONS
Preheat oven to 325 F/ 160 C. Place a piece of parchment paper on a baking sheet. You will also need something for pressing the crisps, like a flat meat pounder or a measuring cup with a flat bottom, and some plastic wrap.
Whisk egg white until blended. Add almond flour or almond meal and mix well.
Form dough into 48 small balls. They should be about 2 cm across.
Place balls about 10 cm apart (to make room for tool used to press crisps) on parchment lined pans. Cover with a sheet of plastic wrap and flatten balls into thin circles, roughly 2 inches across, with a flat implement. Carefully remove plastic. Place in preheated oven and bake for about 10 to 12 minutes or until golden brown and crisp. Repeat with remaining balls. Store in an airtight container.
Makes 48 crisps
Net carbohydrate per crisp: 0.2g; Protein: 0.6g; Fibre: 0.3g; Fat: 1.2g; Calories:14
Total weight: 3¼ ounces or 92 grams
Weight per crisp: 0.06 ounces or 2 grams
Preparation time: 10 minutes active, 20 minutes total (depending of number of pans used)
Almond Parmesan Crisps
Gourmet crackers to serve with soups or dips and spreads. They taste like Pringles!
Make basic Almond Crisps, above. Add 3 tablespoons (⅜ ounce) of finely grated Parmesan cheese and a dash of freshly-ground black pepper to mixture.
Makes 48 crackers.
Per serving—Net carbohydrate: 0.2g; Protein: 0.7g; Fibre: 0.3g; Fat: 1.3g; Calories: 16
Total weight: 4 ounces or 120 grams
Weight per cracker: 0.08 ounces or 2.5 grams
Preparation time: 10 minutes active, 20 minutes total
Almond Crisp Cookies
INGREDIENTS
1 egg white from large egg
1 cup (4 ounces) almond flour or meal
1 teaspoon vanilla, lemon, or other extract
INSTRUCTIONS
Make according to directions for Almond Crisps, above.
Makes 48 cookies.
Per serving—Net carbohydrate: 0.2g; Protein: 0.6g; Fibre: 0.3g; Fat: 1.2 g; Calories: 14
Total weight: 4 ounces or 114 grams
Weight per cookie: 0.08 ounces or 2.5 grams
Preparation time: 10 minutes active, 20 minutes total
Adapted from https://www.carbwarscookbooks.com/almond-crisp-cookies-and-crackers/
LOW-CARB CUCUMBER HUMMUS BITES
INGREDIENTS
1 cucumber, sliced into thin rounds
1/2 – 1 cup hummus NB1
4 oz. (110 gms.) sharp cheddar cheese into thin rectangular pieces (large enough to cover the cucumber rounds)
1/4 tsp smoked paprika, for garnish
INSTRUCTIONS
Top each cucumber slice with a dollop of hummus (about 1/2 tbsp. worth) and a piece of cheese.
Sprinkle with smoked paprika to garnish.
Adapted from http://www.sofabfood.com/low-carb-cucumber-hummus-bites-tailgate/?utm_campaign=shareaholic&utm_medium=facebook&utm_source=socialnetwork
NB1 Try one from the following: –
http://www.findtex.com.au/recipes/vegetarian/classic-hummus/
http://www.findtex.com.au/recipes/vegetarian/lentil-hommus/
http://www.findtex.com.au/recipes/vegetarian/hummus/
http://www.findtex.com.au/diabetic-foods/diabetic-friendly-dips/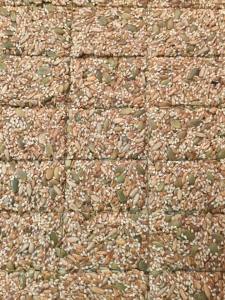 SEEDY BISCUITS
INGREDIENTS
• ½ cup linseeds (flaxseeds)
• ½ cup sunflower seeds
• ½ cup pumpkin seeds NB1
• 2½ tablespoons chia seeds
• 2 tablespoons sesame seeds
• 1 tablespoon extra-virgin olive oil
• 1 cup (250 ml) water
INSTRUCTIONS
1. Combine linseeds, sunflower, pumpkin, chia and sesame seeds in a medium bowl.
2. Pour in olive oil and water and allow to sit for at least 15 minutes until all the water has been absorbed
3. Meanwhile, heat oven to 170 C degrees
4. Line a large baking tray – or 2 smaller trays approx. 23c m x 32 cm – with greaseproof paper
5. When the mix is ready, spread evenly over trays using a spatula
6. The mix will be approx. 3-4 mm thick
7. Bake in oven for 20 minutes
8. Remove from oven, transfer to a cutting board and cut into desired cracker sizes
9. Place back in the oven for a further 20 minutes
10. Remove from oven again, carefully turn the crackers over, remove paper, then put back in the oven for another 10-15 minutes
11. Cool before eating or transferring to glass jars for storage
Nutrition Information (per serve)
Energy 121 kJ (29 calories)
Protein 1g
Total Fat 2g
Carbohydrates 0.6g
Saturated Fat 0.2g
Dietary Fibre 0.9g
Sodium 15mg
Adapted from https://daa.asn.au/recipes/seedy-crackers/
NB1
How to make Pumpkin seeds
(http://www.simplyrecipes.com/recipes/toasted_pumpkin_seeds/)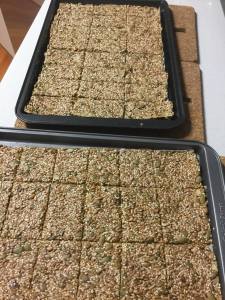 FLAX BISCUITS
Ingredients
1 cup ground (or milled) flax seeds
2 eggs
1/2 cup grated parmesan or Romano cheese
1 tsp minced fresh rosemary
Instructions
Preheat oven to 350 degrees (F) 180C and spray a cookie sheet (or two) with olive oil spray.
Add all of the ingredients to a medium bowl. Stir until fully combined. Let sit for about 5 minutes.
Spray a clean countertop or large cutting board with nonstick spray. Spray your rolling pin with olive oil spray.
Form your dough into a ball and place on the oiled counter. Roll it out as thin as you dare. The thinnest ones of the batch were the best.
Use a biscuit or cookie cutter if you have one, or just use a sharp knife to cut a grid of 3 cm squares. Use a small spatula or pie server to transfer the individual squares (or any shape) onto your pan. Keep rerolling and cutting your scraps until the dough is all gone.
Bake for 10 minutes, turn and bake another 3 minutes. If you want them super crispy, turn the oven off and then put the crackers back in after it's cooled a bit but is still warm. Leave them in for about an hour and they will continue to dry out until super crispy.
Serve with your favorite diabetic dip
http://www.ibreatheimhungry.com/2012/01/low-carb-rosemary-sea-salt-flax.html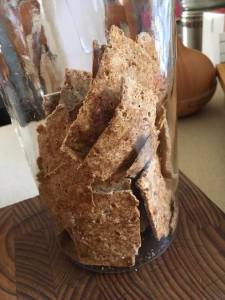 EASY ALMOND PULP CRACKERS
INGREDIENTS:
1 cup wet almond pulp (the amount leftover from making almond milk.)
3 tablespoons olive oil
1 tablespoon ground flax or chia seeds
2 tablespoons fresh herbs, or 2 teaspoons dried herbs, such as chives, rosemary, or parsley
1 garlic clove, minced (optional)
Water, as needed
INSTRUCTIONS:
Preheat the oven to 350F 180C.
In a large mixing bowl, combine the almond pulp, oil, ground flax or chia seeds, herbs, and garlic, if using, and stir well.
If the dough looks dry, add water one tablespoon at a time, just until it can easily be pressed together between your fingers.
Transfer the mixture to a sheet of parchment paper and place another sheet of parchment paper on top.
Use a rolling pin to roll the cracker mixture about 1/8-inch thick, or as thin as you'd like your crackers to be. (The thinner they are, the crispier they'll be.)
Adapted from http://detoxinista.com/2015/01/easy-almond-pulp-crackers-vegan-paleo/