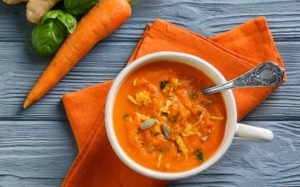 GINGER CARROT SOUP WITH STEAMED VEGETABLES
INGREDIENTS
2 Scallions (Sliced with white and green parts separated)
2 tablespoons chopped and peeled Fresh Ginger
2 cloves Garlic (Smashed)
5 Carrots (Chopped)
Freshly Ground Pepper
1 cup water more if required
1 can Cannellini Beans (Undrained) or dried soaked overnight
1/2 Acorn Squash (seeded and chopped into pieces)
3 cups Broccoli Florets (Roughly Chopped)
Any other vegetables available
INSTRUCTIONS
Prepare a steamer. Add the scallion whites, ginger and garlic and cook, add in the carrots and season generously with salt and pepper. Cover and bring to a boil over high heat. Uncover and cook, until the carrots are very tender, 18 to 20 minutes.
Add the squash, broccoli and other vegetables and cook
Puree the ingredients with water to make a soup. Divide the soup among bowls. Drizzle with olive oil and top with the vegetable and scallion greens.
Adapted from. https://odiabetic.com/food/carrot-ginger-soup-roasted-vegetables?fbclid=IwAR0AsFzA5Td1-0D274FU4U7dShaqv58aY2MRMfNttX1qpAvn-udkIj0sxd8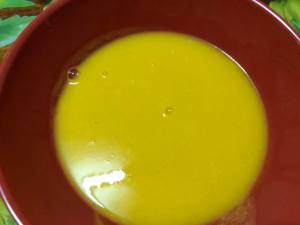 KUMQUAT AND LENTIL SOUP
INGREDIENTS (4 people):
– 250 gr of split red lentils (Masoor Dhal),
– 2 carrots,
– 1 onion,
– 1 heap of sweet kumquats (a dozen), NB1
– 1 tbsp of olive oil
INSTRUCTIONS
1) Soak the lentils for at least 6 hours and rinse them well;
2) When the lentils are ready, heat 1 tbsp of olive oil and cook the chopped carrots and onion on medium heat for 5-10 minutes;
3) Add the lentils and cover in water. Cook for 20-30 minutes until the lentils start melting. Add water as necessary;
4) When the lentils are cooked, blend all the ingredients in a blender;
5) Squeeze the kumquats, add the juice to the soup and stir well.
Adapted from Healthy Eating Fiji
NB1 Kumquat Tree Care: Tips For Growing Kumquat Trees
Kumquat (Fortunella japonica syn. Citrus japonica), sometimes spelled cumquat or comquot, is a small citrus fruit that grows in climates too cool for other citrus plants. The fruit is sweet and tart at the same time and is eaten without removing the peel. If you are interested in trying your hand at growing kumquat trees, you should gather as much kumquat tree info as possible to avoid any kumquat tree problems later down the road.
https://www.gardeningknowhow.com/edible/fruits/kumquat/growing-kumquat-trees.htm
MEXICAN CARROT SOUP
INGREDIENTS
1 brown onion, finely chopped
1 tsp Mexican spice blend (use one that contains no sugar)
1 kg (1lb 2oz) carrots, peeled and chopped into chunks
5 cups chicken or vegetable stock or water
1 ripe avocado, peeled and sliced
250g (9oz) queso asadero or firm mozzarella, cut into 1cm (½in) dice
1 cup fresh coriander leaves
To serve
crème fraiche or light sour cream
Chipotle powder
Toasted corn tortillas (some may use lettuce instead)
INSTRUCTIONS
Sweat the onions, covered, in a little oil until soft. Add spices, cook for 1 minute, then add carrots and stock. Simmer for 30 minutes, or until carrots are very tender. Puree soup until smooth, and season to taste.
Divide avocado and mozzarella between shallow soup bowls, then ladle over soup. Add a dollop of crème fraiche and garnish with coriander leaves and chipotle powder and serve immediately.
Per serve
2270 kJ/ 542 calories; 21g protein; 30g fat (includes 14g saturated fat; saturated : unsaturated fat ratio 0.88); 40g available carbs (includes 17g sugars and 23g starch); 14 fibre; 1855mg sodium; 1080mg potassium; sodium : potassium ratio 1.72.
Adapted from http://ginews.blogspot.com.au/
CARROT SOUP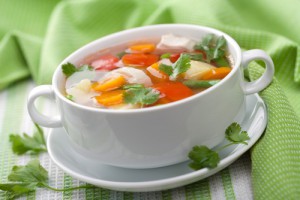 Serves 4
10 medium chopped carrots
2 chopped celery stalks
I litre water
3 tsp minced garlic
1 1/2 cups Tahini
2 tblsp fresh minced parsley
1  cup unsalted crushed almonds
Tamari Sauce
In a large saucepan simmer vegetables in water until barely tender. Add garlic, puree soup in blender, add tahini and parsley and blend thoroughly. Stir in cashews and season with Tamari sauce to taste. Serve warm.
NB A diabetic soup tend to by chunky to avoid sugar spikes and Hypos. Soups are usually the broth from a stew which contains dissolved sugars starch fats and small particles of food which will be absorbed quickly.
It is our job as diabetics to slow this absorption through the use a fibre and large particles of food. The teeth cannot chew food as small as a blender. A diabetic soup is therefore more like a watery stew than a broth.
CARROT WALNUT AND YOGHURT SOUP
Serves 4
INGREDIENTS:
1 tbsp olive oil
3–4 large carrots, peeled & chopped (mix with sweet potato and some greens)
1 medium onion, chopped
2 tbsp fresh basil, chopped
½ tsp cinnamon powder
450 ml water
150 ml yoghurt
Ginger to taste
Black pepper to taste
½ cup walnuts, ground
 INSTRUCTIONS
Heat oil in a pan.
When hot, add in the onion.
Sauté for a minute, then add in the carrot etc.
Stir fry for 7-10 minutes till the carrot is tender.
Add in the basil leaves, cinnamon powder water along with ginger and black pepper powder to taste.
Bring it to a boil, then simmer and cook for 7-10 minutes.
Take it off the heat and let it cool completely.
Place this soup in a blender along with yogurt and walnuts. Blend well.
Pour it out into individual soup bowls.
Refrigerate for 1-2 hours. Serve cold.
Adapted http://www.diabeticlivingonline.in/food/lets-cook-walnuts