Persian Shirazi Salad
Ingredients
2 medium tomatoes
3 cucumbers
1/2 medium white onion
1 cup finely chopped parsley
1 cup finely chopped mint
3 tablespoons olive oil
3 tablespoons lemon juice
1/2 teaspoon ginger
1/2 teaspoon black pepper
Instructions
Deseed the tomatoes and chop them into bite size cubes. Dice the cucumbers as well.
Finely chop the white onion and set aside.
Mix the lemon juice, olive oil, ginger and black pepper together and give a quick whisk.
Toss all ingredients together and serve fresh.
Nutrition Information of original:
Yield: 4
Serving Size: 1
Amount Per Serving: Calories: 360Total Fat: 11gSaturated Fat: 2gTrans Fat: 0gUnsaturated Fat: 9g Cholesterol: 0mg Sodium: 304mg Carbohydrates: 66g Fiber: 2g Sugar: 41g Protein: 2g
Adapted fromhttps://www.scrambledchefs.com/persian-shirazi-salad/?fbclid=IwAR0FrCJgKyMemb5xePnWWhNqTMylSIENjxfBAnjlsIP_W2rbrIJb6Eq3KuE
http://www.findtex.com.au/recipes/asian/texs-indian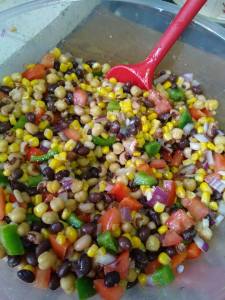 BLACK LIME AND BEAN SALAD
INGREDIENTS
2 x 400g (14oz) cans of 3-bean mix, drained (Fresh or dried if possible)
1 x 400g (14oz) can of unsweetened corn kernels, drained (Some may prefer to omit)
15 green beans, trimmed and cut into 3cm/1½in pieces (or 1 cup defrosted frozen green beans)
1 avocado, cut into 2cm/¾in cubes
2 tbsp olive oil
1 tbsp lime juice
3 tsp Spices mix try one from http://www.findtex.com.au/uncategorised/spice-mix-sugar-salt-and-fat-free/
Black Lime Powder NB1
½ cup coriander leaves, roughly chopped
INSTRUCTIONS
1. If using fresh beans, blanch for 2 minutes in boiling water, then drain and add to the serving bowl with 3-bean mix and corn kernels.
Whisk together olive oil, lime juice and black lime powder.
Stir dressing through salad with avocado and coriander and serve.Per serve 
2000kJ/480 calories; 17g protein; 20g fat (includes 3.5g saturated fat; saturated: unsaturated fat ratio 0.21); 47g available carbs (includes 9g sugars and 38g starches); 17g fibre; 815mg sodium; 840mg potassium; sodium: potassium ratio 0.97
Adapted from http://ginews.blogspot.com.au/
NB1 Black lemons are dried limes and owe their misnomer to English translation from Arabic. They're used in the Middle East as a souring agent in chutneys, soups and stews, and even ground into flatbreads. The powder made from black lemons has a sweet-tart flavour that is unique and has no substitute. Try it in your next stew or soup: simply pierce them with a paring knife, then add to your dish – the cooking will take care of the rest!
https://www.worldspice.com/spices/black-lemon
ASURE WHEAT GRAIN, PUMPKIN, PEPITA, MINT AND ORANGE SALAD
INGREDIENTS
1 cup quinoa, rinsed in a fine sieve (Substitute Asure Wheat if preferred NB1)
375 ml(1½ cups) water
1 tbsp extra virgin olive oil
1½brown onions, diced
1½tbsp white wine vinegar
2 tbsp orange juice, plus 1 tsp orange zest
200 g pumpkin, peeled and grated
2 tbsp torn mint leaves
2 tbsp toasted pumpkin seeds
Freshly ground black pepper
INSTRUCTIONS
Bring the quinoa, water and a pinch of sea salt to the boil in a saucepan over high heat. Reduce the heat, cover and simmer for 12 minutes, or until all the water has been absorbed. Allow to cool slightly before spooning into a large bowl to cool completely.
Heat the oil in a saucepan over low heat and sauté the onion with a pinch of sea salt for 7 minutes, or until caramelised. Add the vinegar and orange juice and simmer for 2 minutes. Add the pumpkin and heat through for 3 minutes. Remove from the heat and allow to cool slightly. Add the mixture to the quinoa with the mint, pumpkin seeds, orange rind and season with sea salt and freshly ground black pepper. Mix well and serve as a warm salad, or leave to cool completely.
Adapted from http://www.sbs.com.au/food/recipes/quinoa-pumpkin-and-orange-salad
NB1 Asure wheat is the Turkish product which is designed for making the Turkish Ashure pudding. It's this brand (Tamex) https://www.zaffrongrocery.com.au/asure-wheat-1kg-tamex.html
LEBANESE STYLE SALAD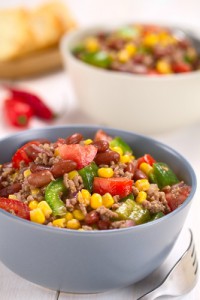 2 tbsp Tahini
3 tbsp fresh lemon juice
1 Ige clove garlic, minced and mashed to a paste with  tspn of salt
1|3 cup olive oil
1 /8 tsp cayenne, or to taste
425g cans tuna packed in spring water, drained and flaked (Fresh cooked Tuna or Salmon can be used)
1 kg. onions, thinly sliced
1/3 cup olive oil
1/3 cup pine nuts
1 cup chopped fresh flat leafed parsley leaves plus sprigs for garnish
Any fresh salad vegetables from the garden
Dressing:
In a blender blend together the tahini, lemon juice, garlic paste, and cayenne and with the motor running add the oil in a stream, Blending until the dressing is emulsified, and season the dressing with salt.
Tuna Salad:
In a bowl toss the tuna lightly with half the dressing and mound the mixture on a large platter. In a large head skillet cook the onions in oil over mod heat, stirring occasionally, for 15 min or until they are golden brown, season with salt/pepper. With a fork scatter the onions over the tuna. In the pan cook pine nut over mod low heat, stirring, until they are golden brown and scatter over onions. Drizzle the salad with the remaining dressing and sprinkle it with the chopped parsley. Garnish the salad with the parsley sprigs and serve with pita pockets.
AMY'S CHERMOULA SALAD
6 carrots, peeled and cut diagonally into 2.5 cm slices (sweet potato can be added)
2 garlic cloves, peeled
3 white anchovy fillets
3 tbsp capers, rinsed
large handful coriander leaves
2 large handfuls flat-leaf parsley leaves
pinch of ground saffron
½ tsp paprika
¼-½ tsp cayenne pepper
½ tsp ground cumin
½ tsp freshly ground black pepper
1 lemon, juiced
60 ml(¼ cup) extra-virgin olive oil
400 g can chickpeas, drained and rinsed
Ginger
AFGHAN SALAD
INGREDIENTS
2-3 large tomatoes, finely chopped (260g)
50g fresh coriander, roughly chopped
20g fresh mint, roughly chopped
1 lemon, juice and finely grated zest
1 tbsp. extra-virgin olive oil
good pinch pepper
1 large red onion, finely diced (180g)
half cucumber, finely diced (160g)
2 large carrots, grated (250g)
INSTRUCTIONS
Add the tomatoes to a bowl with the coriander, mint, lemon juice, olive oil and pepper and mix well.
Add the red onion, cucumber and carrot. Mix well and serve.
Adapted from https://www.diabetes.org.uk/afghan-salad?utm_source=facebook&utm_medium=social-media&utm_campaign=enjoyfood&utm_term=afghansalad&utm_content=organic
FISH WITH LEMON, HERBS AND A MIXED BEANS SALAD
INGEDIENTS
2 tablespoons chopped flat-leaf parsley, plus extra 1 tablespoon
1 tablespoon chopped dill, plus extra 1 tablespoon
1 teaspoon finely grated lemon zest
2 tablespoons lemon juice, plus extra 1 tablespoon
1 clove garlic, crushed
olive oil spray
4 x 150g firm white fish fillets
200g green beans, trimmed, cut in 5cm lengths
2 large vine-ripened tomatoes, seeded, thinly sliced
400g can four-bean mix, rinsed, drained (Or dried beans soaked overnight.)
lemon wedges, to serve
Instructions
Step 1 Combine parsley, dill, lemon zest, lemon juice and garlic in a small bowl. Cut 4 x 30cm-square pieces of baking paper, then cut 4 x 30cm-square pieces of baking paper. Layer each piece of baking paper on a piece of paper; spray with olive oil. Place 1 fish fillet in the centre of each piece of paper; drizzle each with a quarter of the herb mixture.
Step 2 Fold edges of paper to enclose fish and form a parcel. Preheat a grill pan or barbecue to high. Cook parcels for 10–12 minutes, or until fish is just cooked.
Step 3 Meanwhile, bring a medium saucepan of water to the boil; immerse green beans to blanch until just tender. Refresh green beans in cold water; drain well.
Step 4 Place green beans, tomato, mixed beans and extra parsley, dill and lemon juice in a large bowl; season with cracked black pepper and stir to combine.
Step 5 Divide mixed-bean salad among plates, top with fish and serve with lemon wedges.