SALMON FISH WITH LEMON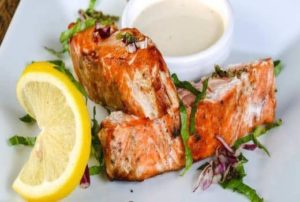 INGREDIENTS
250 gm salmon fish
2 lemon
2 teaspoon spice black pepper
3 teaspoon dill leaves
INSTRUCTIONS
Wash The Fish Fillets and pat dry them.
Then take a lemon and carefully cut it into 6 thin slices, keep aside.
Place your chopped salmon on a clean tray with 2 sheets on foil spread on it, then top your salmon with the lemon slices. In the meantime, preheat the oven.
Now to your salmon, add some lemon juice followed by spice black pepper and dill.
Carefully spread another foil on the salmon to wrap it up.
Transfer the baking tray to your oven and bake at 200 °C (400° F) for 15 to 20 minutes or until the salmon is cooked.
Serve hot and enjoy!
Tips
To make this dish more flavoursome, marinate the fish with a paste of ginger garlic and lemon juice along with some green chillies.
You can add your choice of herbs to infuse a nice aroma.
To make it creamy, you can add some grated cheese and bake the fish!
BAKED FISH
INGREDIENTS
2 (5 ounces/ 150 g each) boneless, skin-on white fish (halibut, tilapia, cod, flatehead, snapper or white fish of choice)
1 teaspoon olive oil
1 large clove garlic, minced
2 teaspoons lemon zest
Juice 1/2 lemon, divided
1 tablespoon chopped flat leaf parsley
Ginger and pepper, to taste
INSTRUCTIONS
Preheat oven to 200 °C/ 180 °C (400° F) Gas 6.
In a large non-stick baking dish, add fish skin side down and drizzle with oil.
Top with garlic, lemon zest and 2 tbsp juice and parsley, dividing evenly. Season with ginger and pepper.
Bake for 12 to 15 minutes, until fish flakes easily when tested with a fork. Drizzle with remaining lemon juice and serve.
Nutrition Information
Serves: 2| Serving Size: 5 ounces/ 150 g fish
Per serving: Calories: 176; Total Fat: 7 g; Saturated Fat: 2 g; Monounsaturated Fat: 4 g; Cholesterol: 25 mg; Sodium: 257 mg; Carbohydrate: 2 g; Dietary Fiber: 0 g; Sugar: 0 g; Protein: 30 g
Nutrition Bonus: Potassium: 662 mg; Iron: 1%; Vitamin A: 8%; Vitamin C: 15%; Calcium: 6%
Adapted from Easiest Baked Fish | MyFitnessPal
ASIAN-STYLE OVEN BAKED FISH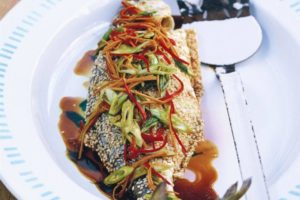 INGREDIENTS
2 whole fish, about 450 g each (see note)
2 tablespoons olive oil
1 tablespoon sesame seeds
2 cm piece ginger, peeled, cut into wafer- thin strips.
1 red chilli, seeds removed, cut into thin strips.
1/3 cup (80 ml) soy sauce
1 tablespoon white wine vinegar
2 shallots (spring onions), sliced diagonally, to garnish.
INSTRUCTIONS
Preheat the oven to 425° F (220° C).
Clean and scale the fish.
Make 2 slashes in the thickest part of the fish flesh. Brush a roasting pan with 1 tablespoon of the oil and place fish in the pan. Brush the flesh with remaining oil, season with ginger and pepper, and sprinkle with the sesame seeds.
Bake for 20-25 minutes or until the fish are cooked through (the flesh will flake away easily when tested with a fork).
Meanwhile, place the ginger, chilli, soy, vinegar and 2 tablespoons of water in a pan. Cook over low heat until the ginger and chilli have started to soften.
Place the fish on a large plate and pour the Asian-style dressing over top. Garnish with shallots and serve with a salad.
FISH BAKE (Under 10 g Carbs)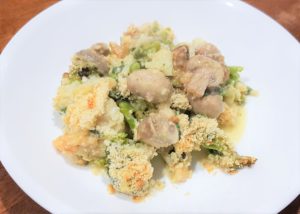 SERVES 1
-1 Piece of fish, I used 120 g of any fin fish (< 1g carbs)
-50 g Mushrooms (0.2 g carbs)
-60 g Broccoli (0.2 g carbs)
-60 g Cauliflower (1.1 g carbs)
-30 g Baby peas (2.2 g carbs)
-15 g Baby spinach (0.1 g carbs)
-15 g Spring onion (0.7 g carbs)
-17 g Light Tasty shredded cheese (0.1 g carbs)
-15 g Finely grated parmesan cheese (0.3 g carbs)
-20 g Almond meal (0.8 g carbs)
-60 ml Light cream (<1 g carbs)
-1/2 tsp Minced garlic (1 g carbs)
-1 ½ tsp Dijon mustard (< 1 g carbs)
INSTRUCTIONS
1. Cut all veggies.
2. Pre heat oven to 180°C (160°C fan)/350°F/gas 4.
3. leave out mushrooms, steam all other veggies.
4. Cut fish into bite size pieces
5. Place all ingredients including the mushrooms (except Almond meal and Parmesan) into an oven proof dish
6. Mix Almond meal and Parmesan together and add it to the top of fish
7. Bake in oven for approx. 20min (may need more time if make more serves) until fish is cooked
BAKED COD
INGREDIENTS
3 tablespoons lemon juice
3 tablespoons olive oil
1/4 cup all-purpose flour (multigrain if possible)
1/2 teaspoon ginger
1/4 teaspoon paprika
1/4 teaspoon lemon-pepper seasoning
4 cod fillets (6 ounces/ 170 g each) (any fin fish can be used)
2 tablespoons minced fresh parsley
2 teaspoons grated lemon zest
INSTRUCTIONS
Preheat oven to 400°F/ 200°C. In a shallow bowl, mix lemon juice and oil. In a separate shallow bowl, mix flour and seasonings. Dip fillets in lemon juice mixture, then in flour mixture to coat both sides; shake off excess.
Place in a baking dish coated with olive oil cooking spray. Drizzle with remaining lemon juice mixture. Bake 12-15 minutes or until fish just begins to flake easily with a fork. Mix parsley and lemon zest; sprinkle over fish.
Test Kitchen Tips
 Tilapia, catfish, haddock, cod and other lean types of fish may be frozen for up to 6 months. Oily fish, such as mackerel, salmon and grouper, shouldn't be frozen for more than 3 months.
 Go for freshly squeezed lemon juice when preparing this dish. Bottled lemon juice, which is from concentrate, won't provide the same bright, fresh flavour. Buy four lemons to get the job done.
Nutrition Facts of original
1 fillet: 232 calories, 10g fat (6g saturated fat), 87mg cholesterol, 477mg sodium, 7g carbohydrate (0 sugars, 0 fibre), 28g protein. Diabetic Exchanges: 4 lean meat, 2 fat, 1/2 starch.
Adapted from https://www.tasteofhome.com/recipes/lemon-parsley-baked-cod/?fbclid=IwAR3J_UndLMLA2AojFqFzCeCTkGlil1JzwwYtqQATTw7Emv03tD0K6kU8ALc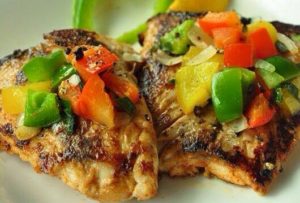 BAKED PEPPER FISH
INGREDIENTS
100 gm fish, boneless
3 spring onion, cubes
1 spring onion greens, chopped
1/2 red pepper, cubes
1/2 yellow pepper, cubes
1/2 green pepper cubes
2-3 cloves garlic
1 tbsp red chilli sauce find recipe here http://www.findtex.com.au/diabetic-foods/chutney-etc/?fbclid=IwAR2uRokzRhTNJnvq4RkRHVMVXOsIynmFcmnjuF-mzXyeqT03yQdUscwD6H4
Half lemon juice
Ginger
Black pepper powder
1 tsp olive oil
INSTRUCTIONS
1.Pre heat oven at 200 degrees C. Mix the red chilli sauce and fish pieces in a bowl.
2.In a baking tray place the fish pieces, top it with crushed garlic, onions, greens and all the peppers.
3. Sprinkle ginger and black pepper powder and lemon juice on it.
4. Drizzle olive oil on it.
5. Bake it for 5 minutes and serve hot.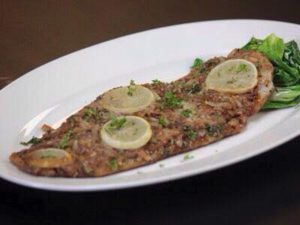 FISHPOUCH
INGREDIENTS
1 Firm-fleshed white-fish fillet, such as halibut, cod, haddock, snapper (the fillet should be between 2 – 3 cm thick) 1(6-ounce)
2 Extra-virgin olive oil 1 tsp
3 Freshly ground black pepper 2-3 pinches
5 Finely chopped ginger 1 tsp
6 Finely chopped garlic 1 tsp
7 Bokchoy 1 bunch
8 Fresh herbs, such as chives, parsley, tarragon, or chervil
10 Thin lemon slices 3
11 chopped walnuts 30 gm
INSTRUCTIONS
1. Heat the oven to 400°F/200°C and arrange a rack in the middle.
2. Draw out a large piece of parchment paper about 60 cm and, with one of the longer edges closest you, fold it in half from left to right. Using scissors, cut out a large heart shape.
3. Place the fish in the centre of one half of the parchment heart. (The heart should be large enough that there is at least a 5 cm border around the fillet.)
4. Set the parchment heart on a baking sheet. Drizzle the fish with half of the olive oil, rub the oil all over the fillet, and season with ginger and pepper.
5. Lay half of the bay leaf and a few sprigs of herbs (if using) on top of the fish. Arrange them on top of the herbs.
6. Place the lemon slices over everything and drizzle with the remaining oil.
7. Fold the parchment heart over to cover the fish. (The edges of the heart should line up.) Starting at the rounded end, crimp the edges together, folding them over themselves and leaving the last 5 cm at the pointed end unfolded. Slightly tilt the package up and pour in the wine or water. Finish crimping the edges, then twist the pointed end around once and fold the "tail" under.
8. Place the baking sheet in the oven and bake 10 minutes for a 2 cm fillet or 12 minutes for a thicker fillet.
9. Remove the baking sheet from the oven and transfer the parchment package to a dinner plate. Serve immediately, cutting into the parchment tableside using scissors or a knife.
Serves 4-6
1 cup Tahini
clove garlic, crushed
juice of 1 lemon
1/2tsp soy sauce
1/8 tsp cayenne pepper
4-6 fish fillets
1 tbsp olive oil
1-2 large onions, sliced
1 tbsp parsleys, chopped
1/2 lemon, cut into wedges
Preheat oven to 200 degrees Celsius. Combine first five ingredients in a blender, process until smooth and set aside. Season fish with black pepper to taste. Heat oil in a heavy, non-stick pan over medium heat. Saute fish 1 min. per side. Transfer fish to an oiled baking dish. Saute onions in the same pan for 3-4mins until tender and lightly browned. Sprinkle onions over fish. Spoon tahini sauce over fish. Bake 10-1 5 minutes or until fish flakes easily. Sprinkle with parsley and serve with lemon.
COD WITH LEMON AND OLIVES
INGREDIENTS
3/4 – 1 lb 400 gms cod (Any oily fin fish can be used)
1/4 cup white wine
juice and zest of 1 lemon
1 cup assorted olives
1 to 2 Tbsp capers, drained
ginger and freshly cracked black pepper
1/2 tsp red pepper flakes
olive oil
fresh parsley
INSTRUCTIONS
Set oven to 400F/200C
Lay out the fish in a pan with sides, or a casserole dish. Add the wine and lemon juice to the pan.
Scatter the olives and capers around, then sprinkle everything with the ginger and pepper, red pepper flakes, and zest.
Drizzle with olive oil and bake for about 20-30 minutes until the fish flakes and is done through. The exact time will depend on your oven, and the thickness of your fish. Use your judgement, the fish is done when it is opaque throughout, and flakes when you cut it open.
Adapted from https://theviewfromgreatisland.com/minimal-monday-cod-lemon-olives/?fbclid=IwAR06pbcqyHqiPIX2o8CSXXzZ6Tx_pQ-sEaN6qR5BvpWaL_3J03Bjzfi9X6g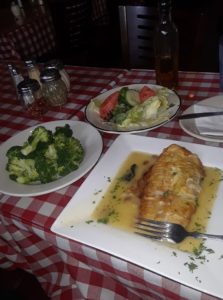 TROUT BAKED
INGREDIENTS
2 tablespoons olive oil
1 tablespoon lemon juice
1 tablespoon white wine vinegar
1/3 cup onions chopped coarsely
1 teaspoon garlic powder
4 (6-ounce) rainbow trout fillets
Topping:
1/2 cup olive oil
1 tablespoon white wine vinegar
1/3 cup onions chopped coarsely
1 tablespoon lemon juice
3 tablespoons capers
16 medium sized black olives
4 large sprays fresh dill, for garnish (optional)
INSTRUCTIONS
Preheat oven to 350 F 180 C degrees.
Combine olive oil, lemon juice, vinegar, onions and garlic in a liquid measuring cup.
Place fillets in a 30cm baking dish, lightly oiled with olive oil.
Pour liquid from measuring cup over trout fillets.
Bake for 13 to 15 minutes or until fish flakes easily when tested with a fork.
Spoon below olive, caper topping mixture over fish before serving.
In a skillet add about 1/3 of the olive oil and onions.
Sauté onions for about 3 minutes, adding the vinegar and lemon juice.
Remove from heat and combine remaining olive oil, capers and black olives.
Then drizzle over baked trout fillets. Makes 4 servings.
Adapted from https://www.heart-healthy-recipes.net/bakedtrout.html
Smoked salmon salad with tahini dressing
Preparation time: 10 minutes
Cooking time: 15 minutes
Serving size: 4
Ingredients
560g sweet potatoes
450g hot-smoked salmon, flaked into bite-sized pieces NB 1
160g baby spinach leaves
1/3 cup chopped fresh parsley
1/3 cup torn fresh mint leaves
6 red radishes, trimmed, sliced
Tahini dressing
1 tbs tahini
1/3 cup low-fat plain yoghurt
2 tbs lemon juice
1 small clove garlic, crushed
Directions
Place sweet potatoes into a saucepan of cold water. Bring to the boil, then simmer for 15 minutes or until tender. Drain. Set aside.
Meanwhile, arrange salmon, spinach, parsley, mint, radish and zucchini on 4 individual serving plates, or a large platter.
Make Tahini dressing: Combine tahini with 1 tbs boiling water in small bowl. Stir to combine. Add yoghurt, lemon juice and garlic. Drizzle over salad. Serve with new potatoes.
Note 1 Smoked salmon may contain sugar and salt which may be used in the curing process.