Serves 4-6
1 cup Tahini
clove garlic, crushed
juice of 1 lemon
1/2tsp soy sauce
1/8 tsp cayenne pepper
4-6 fish fillets
1 tbsp olive oil
1-2 large onions, sliced
1 tbsp parsleys, chopped
1/2 lemon, cut into wedges
Preheat oven to 200 degrees Celsius. Combine first five ingredients in a blender, process until smooth and set aside. Season fish with black pepper to taste. Heat oil in a heavy, non-stick pan over medium heat. Saute fish 1 min. per side. Transfer fish to an oiled baking dish. Saute onions in the same pan for 3-4mins until tender and lightly browned. Sprinkle onions over fish. Spoon tahini sauce over fish. Bake 10-1 5 minutes or until fish flakes easily. Sprinkle with parsley and serve with lemon.
COD WITH LEMON AND OLIVES
INGREDIENTS
3/4 – 1 lb 400 gms cod (Any oily fin fish can be used)
1/4 cup white wine
juice and zest of 1 lemon
1 cup assorted olives
1 to 2 Tbsp capers, drained
ginger and freshly cracked black pepper
1/2 tsp red pepper flakes
olive oil
fresh parsley
INSTRUCTIONS
Set oven to 400F/200C
Lay out the fish in a pan with sides, or a casserole dish. Add the wine and lemon juice to the pan.
Scatter the olives and capers around, then sprinkle everything with the ginger and pepper, red pepper flakes, and zest.
Drizzle with olive oil and bake for about 20-30 minutes until the fish flakes and is done through. The exact time will depend on your oven, and the thickness of your fish. Use your judgement, the fish is done when it is opaque throughout, and flakes when you cut it open.
Adapted from https://theviewfromgreatisland.com/minimal-monday-cod-lemon-olives/?fbclid=IwAR06pbcqyHqiPIX2o8CSXXzZ6Tx_pQ-sEaN6qR5BvpWaL_3J03Bjzfi9X6g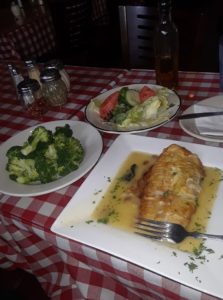 TROUT BAKED
INGREDIENTS
2 tablespoons olive oil
1 tablespoon lemon juice
1 tablespoon white wine vinegar
1/3 cup onions chopped coarsely
1 teaspoon garlic powder
4 (6-ounce) rainbow trout fillets
Topping:
1/2 cup olive oil
1 tablespoon white wine vinegar
1/3 cup onions chopped coarsely
1 tablespoon lemon juice
3 tablespoons capers
16 medium sized black olives
4 large sprays fresh dill, for garnish (optional)
INSTRUCTIONS
Preheat oven to 350 F 180 C degrees.
Combine olive oil, lemon juice, vinegar, onions and garlic in a liquid measuring cup.
Place fillets in a 30cm baking dish, lightly oiled with olive oil.
Pour liquid from measuring cup over trout fillets.
Bake for 13 to 15 minutes or until fish flakes easily when tested with a fork.
Spoon below olive, caper topping mixture over fish before serving.
In a skillet add about 1/3 of the olive oil and onions.
Sauté onions for about 3 minutes, adding the vinegar and lemon juice.
Remove from heat and combine remaining olive oil, capers and black olives.
Then drizzle over baked trout fillets. Makes 4 servings.
Adapted from https://www.heart-healthy-recipes.net/bakedtrout.html
Smoked salmon salad with tahini dressing
Preparation time: 10 minutes
Cooking time: 15 minutes
Serving size: 4
Ingredients
560g sweet potatoes
450g hot-smoked salmon, flaked into bite-sized pieces NB 1
160g baby spinach leaves
1/3 cup chopped fresh parsley
1/3 cup torn fresh mint leaves
6 red radishes, trimmed, sliced
Tahini dressing
1 tbs tahini
1/3 cup low-fat plain yoghurt
2 tbs lemon juice
1 small clove garlic, crushed
Directions
Place sweet potatoes into a saucepan of cold water. Bring to the boil, then simmer for 15 minutes or until tender. Drain. Set aside.
Meanwhile, arrange salmon, spinach, parsley, mint, radish and zucchini on 4 individual serving plates, or a large platter.
Make Tahini dressing: Combine tahini with 1 tbs boiling water in small bowl. Stir to combine. Add yoghurt, lemon juice and garlic. Drizzle over salad. Serve with new potatoes.
Note 1 Smoked salmon may contain sugar and salt which may be used in the curing process.