Serves 4-6
1 cup Tahini
clove garlic, crushed
juice of 1 lemon
1/2tsp soy sauce
1/8 tsp cayenne pepper
4-6 fish fillets
1 tbsp olive oil
1-2 large onions, sliced
1 tbsp parsleys, chopped
1/2 lemon, cut into wedges
Preheat oven to 200 degrees Celsius. Combine first five ingredients in a blender, process until smooth and set aside. Season fish with black pepper to taste. Heat oil in a heavy, non-stick pan over medium heat. Saute fish 1 min. per side. Transfer fish to an oiled baking dish. Saute onions in the same pan for 3-4mins until tender and lightly browned. Sprinkle onions over fish. Spoon tahini sauce over fish. Bake 10-1 5 minutes or until fish flakes easily. Sprinkle with parsley and serve with lemon.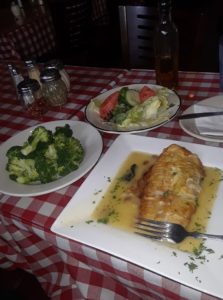 TROUT BAKED
INGREDIENTS
2 tablespoons olive oil
1 tablespoon lemon juice
1 tablespoon white wine vinegar
1/3 cup onions chopped coarsely
1 teaspoon garlic powder
4 (6-ounce) rainbow trout fillets
Topping:
1/2 cup olive oil
1 tablespoon white wine vinegar
1/3 cup onions chopped coarsely
1 tablespoon lemon juice
3 tablespoons capers
16 medium sized black olives
4 large sprays fresh dill, for garnish (optional)
INSTRUCTIONS
Preheat oven to 350 F 180 C degrees.
Combine olive oil, lemon juice, vinegar, onions and garlic in a liquid measuring cup.
Place fillets in a 30cm baking dish, lightly oiled with olive oil.
Pour liquid from measuring cup over trout fillets.
Bake for 13 to 15 minutes or until fish flakes easily when tested with a fork.
Spoon below olive, caper topping mixture over fish before serving.
In a skillet add about 1/3 of the olive oil and onions.
Sauté onions for about 3 minutes, adding the vinegar and lemon juice.
Remove from heat and combine remaining olive oil, capers and black olives.
Then drizzle over baked trout fillets. Makes 4 servings.
Adapted from https://www.heart-healthy-recipes.net/bakedtrout.html
Smoked salmon salad with tahini dressing
Preparation time: 10 minutes
Cooking time: 15 minutes
Serving size: 4
Ingredients
560g sweet potatoes
450g hot-smoked salmon, flaked into bite-sized pieces NB 1
160g baby spinach leaves
1/3 cup chopped fresh parsley
1/3 cup torn fresh mint leaves
6 red radishes, trimmed, sliced
Tahini dressing
1 tbs tahini
1/3 cup low-fat plain yoghurt
2 tbs lemon juice
1 small clove garlic, crushed
Directions
Place sweet potatoes into a saucepan of cold water. Bring to the boil, then simmer for 15 minutes or until tender. Drain. Set aside.
Meanwhile, arrange salmon, spinach, parsley, mint, radish and zucchini on 4 individual serving plates, or a large platter.
Make Tahini dressing: Combine tahini with 1 tbs boiling water in small bowl. Stir to combine. Add yoghurt, lemon juice and garlic. Drizzle over salad. Serve with new potatoes.
Note 1 Smoked salmon may contain sugar and salt which may be used in the curing process.