AVOCADO SALSA
INGREDIENT
1 medium avocado, peeled, cored and diced
1 cup chopped onion
1 cup peeled seeded chopped cucumber
1 Anaheim pepper, seeded and chopped
1/2 cup chopped fresh tomato
2 tablespoons chopped fresh cilantro, plus additional for garnish
1/2 teaspoon ginger
1/4 teaspoon hot pepper sauce
INSTRUCTIONS
Combine avocado, onion, cucumber, Anaheim pepper, tomato, 2 tablespoons cilantro, ginger and hot pepper sauce into a medium bowl and gently mix. Cover and refrigerate at least 1 hour before serving. Garnish with additional cilantro.
NUTRITION Information:
Yield:
32 servings (about 4 cups)
Serving size:
2 tablespoons
Calories: 13 calories, Carbohydrates: 1 g, Protein: 1 g, Fat: 1 g, Saturated Fat: 1 g, Cholesterol: 0 mg, Sodium: 38 mg, Fiber: 1 g
Exchanges per serving: Free.
TACO SALAD
INGREDIENTS
1 pound/ 450 g extra-lean ground beef
1 (1-ounce) packet reduced-sodium taco seasoning mix find recipe here http://www.findtex.com.au/…/spice-mix-sugar-salt-and…/
2 tablespoons water
1 head romaine lettuce, chopped
1/4 cup pitted black olives, chopped
3 scallions, sliced
1 pint cherry tomatoes, sliced in half
3 bell peppers (assorted colours), chopped
1/2 avocado, chopped
DRESSING (see Note)
1/4 cup olive oil
1/4 cup water
1/2 teaspoon garlic powder
2 tablespoons lime juice
1/4 teaspoon chili powder (optional)
1/2 teaspoon ginger
1/2 cup chopped fresh cilantro
INSTRUCTIONS
In a medium stoneware fry pan over medium-high heat, brown ground beef with the taco seasoning and water, cooking until meat is crumbled and no pink remains. Let cool.
In a large bowl, combine all remaining salad ingredients. Add cooked ground beef; mix well.
To make the dressing, place all dressing ingredients in a blender or food processor, blend until smooth. Before serving, add dressing and toss to coat well.
Notes
A single serving of dressing in this recipe is equal to 1 Tablespoon.
Adapted from Tasty Taco Salad | EverydayDiabeticRecipes.com
CHICKEN SALAD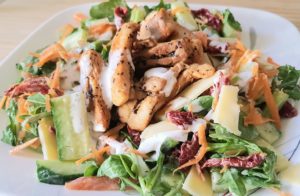 INGREDIENTS
120 g Chicken skin removed (0)
Sprinkle basil (0.4 g C)
Sprinkle Smoked paprika (0.5 g C)
30 g Snap peas (1.4 g C)
30 g Sundried tomato, (2 g C)
70 g Cucumber (0.8 g C)
45 g Celery (0.5 g C)
35 g Carrot (1.8 g C)
30 g Cheese, (0)
30 g Baby Rocket (0.2 g C)
40 ml Greek style yoghurt dill & feta dressing (0.8 g C)
Total 8.4g Carbs
KETO COLESLAW
INGREDIENTS
10 oz 300 g white cabbage, core removed
10 oz 300 g purple cabbage, core removed
¼ cup fresh dill, finely chopped
1 medium 100 g carrot, peeled
⅓ cup 80 g mayonnaise.
1 tbsp Dijon mustard
2 tsp lemon juice lemon juice
1 tbsp apple cider vinegar
1 tsp celery seeds
Ginger
Freshly ground black pepper
INSTRUCTIONS
Shred the carrots using a box grater and cabbages using a knife. Place everything into a large mixing bowl and add the minced dill. Mix until combined.
In a small mixing bowl, combine the mayo, mustard, vinegar, lemon juice, and seasoning.
Pour the dressing into a bowl with the veggie mix and toss until all vegetables are coated in dressing. Taste and adjust ginger, if needed.
Place into the fridge for 30 minutes to combine the flavours and serve.
Nutrition Facts of original
Keto coleslaw
Amount Per Serving (1 serving)
Calories 129 Calories from Fat 99
% Daily Value*
Fat 11 g 17%
Carbohydrates 9 g 3%
Fiber 3 g 13%
Sugar 5 g 6%
Protein 2 g 4%
Vitamin A 3435 IU 69%
Vitamin C 49 mg 59%
Calcium 59 mg 6%
Iron 1278 mg 7100%
* Percent Daily Values are based on a 2000 calorie diet.
Adapted from Keto coleslaw (Gluten-free) | Here To Cook
LEMON CAESAR SALAD
INGREDIENTS
1 head Romaine lettuce, washed and trimmed, cut into bite size pieces
1-1/2 cups grape tomatoes (375 mL)
1/4 cup lemon juice (60 mL)
1 garlic clove, minced
1 1/2 tsp Worcestershire sauce (7 mL)
1 tsp dry mustard (5 mL)
1 tsp lemon zest (5 mL)
1/4 tsp freshly ground pepper (1 mL)
1/3 cup grated Parmesan cheese (75 mL)
1 (2 oz/75 mL) can anchovies
1 cup olive oil (250 mL)
4 thick slices whole grain bread, cut into cubes (Burgen Whole grain and oats.)
2 Tbsp olive oil (30 mL)
2 Tbsp Parmesan cheese (30 mL)
dash of pepper
1 Tbsp Italian parsley, very finely chopped (15 mL)
INSTRUCTIONS
In a large salad bowl, prepare lettuce and toss with tomatoes. Cover and refrigerate while preparing the dressing.
Combine lemon juice, garlic, Worcestershire sauce, dry mustard, lemon zest, freshly ground pepper and Parmesan cheese in a food processor. Blend on high speed for 30 seconds. With processor running, add olive oil in a fine stream and continue to blend until smooth.
Preheat oven to 350F (180C). Toss bread with olive oil, Parmesan cheese, pepper and Italian parsley. Spread on lightly oiled baking sheet and bake about 20 minutes, until croutons are golden.
Pour desired amount of dressing over salad, add croutons and toss lightly. Top the salad with additional Parmesan cheese shavings. Serve immediately.
Recipe Yield: Yield: 4 to 6 servings.
Nutritional Information Per Serving:
Calories: 490
Fat: 46 grams
Saturated Fat: 4.5 grams
Fiber: 3 grams
Sodium: 570 milligrams
Cholesterol: 15 milligrams
Protein: 9 grams
Carbohydrates: 13 grams
Adapted from https://diabeticgourmet.com/diabetic-recipe/lemon-caesar-salad?fbclid=IwAR0ogWk4AGJDV5ps2Miq4E7mSb4mL9B_Z8Y-OMkqnet9lMP1EmXd9li1OzY
TANGY CABBAGE AND APPLE SALAD
INGREDIENTS
1/4 headgreen cabbagethinly sliced
1/2 orange bell pepperthinly sliced
1/2 red bell pepperthinly sliced
1/2 yellow bell pepperthinly sliced
1 applecut into thin wedges
1 cup mayo
1/2 lemon juiced
1tbsp sherry vinegar
1tsp Dijon mustardheaping
1/4 cupfresh mintfinely chopped
INSTRUCTIONS
Place the cabbage, peppers and apple wedges in a large bowl and set aside.
In a small bowl, whisk to combine the mayo, lemon juice, sherry vinegar and Dijon mustard. Pour the mixture over the salad. Toss to coat.
Divide the slaw between four salad bowls and serve immediately or chill until ready to serve. The slaw will keep for up to 24 hours in the fridge.
Adapted from http://www.rhubarbandcod.com/green-cabbage-recipes/?fbclid=IwAR1_vBMs-lDy6W7w2RZf1KTHCDw_sdzq9sNcCBDpIx7A9p7t3SX-R5fKKnY
CRUNCHY BROCCOLI SALAD WITH MUSTARD DRESSING
Ingredients
4 cups chopped broccoli
1 (15 oz/425 g) can garbanzo beans, drained and rinsed (or 1 1/2 cups)
Heaping 1/2 cup dried cranberries, or more if you like
1/2 cup roasted sunflower seeds
1/3 cup diced red onion
ginger, to taste
Mustard Dressing:
1/3 cup olive oil
1 tablespoon apple cider vinegar
1 teaspoon mustard of choice
ginger and pepper, to taste
Instructions
Add all salad ingredients to a large bowl and mix until combined.
Add all dressing ingredients to a small jar and whisk until combined.  Pour over salad and mix again until combined.  Season with ginger, to taste, if desired.  Salad can be served immediately or refrigerated for up to 4 days.
Nutrition orf original
Serving Size: 1/6 of Salad
Calories: 313
Sugar: 12 g
Sodium: 499 mg
Fat: 19 g
Saturated Fat: 2 g
Trans Fat: 0 g
Carbohydrates: 32 g
Fibre: 7 g
Protein: 8 g
Cholesterol: 0 mg
Adapted from https://www.shelikesfood.com/crunchy-broccoli-salad/?fbclid=IwAR2JaJ_Q7SFS3YZ_Bx4boBBDR2_PsbKOlOnlRjHvWPNehB_SnQRl9NEK9pY
SWEET CHILLI CHICKEN AND NOODLE SALAD
INGREDIENTS:
200g dried rice stick noodles
2 cups chopped cooked skinless chicken breast, trimmed of fat
1 red capsicum, cut into thin strips
200g snow peas, cut into thin strips
5 green shallots, thinly sliced
1 small bunch coriander, roughly chopped
Any other in season vegetables.
2 tbs lime juice
2 tbs HARISSA PASTE find recipe here http://www.findtex.com.au/diabetic-foods/chutney-etc/?fbclid=IwAR2BwI3I3Nzl0RalCVlNMHa6IMus8pSFhO83Z-U2lHvAXfU_HUxBHPl0FXI
2 tsp Olive oil
2 tsp toasted sesame seeds, to garnish
INSTRUCTIONS:
1. Prepare noodles as directed on packet. Drain, rinse under cold water then drain again and chop roughly with kitchen scissors.
2. Combine noodles, chicken, capsicum, snow peas, shallots and coriander.
3. To make dressing, whisk together lime juice, sweet chilli sauce and olive oil.
4. Add dressing to noodle salad and toss gently to mix well.
5. Garnish with toasted sesame seeds.
Tip: To toast sesame seeds, stir over heat in a small dry frypan until light golden. Be careful not to burn them.
Nutrients Per Serve of original: Energy 1320kJ; Total Fat 5.6g (Saturated Fat 1.1g; Monounsaturated Fat 2.2g; Polyunsaturated Fat 1.8g); Protein 34g; Carbohydrate 30g; Fibre 2g; Sodium 480mg
Adapted from https://www.gisymbol.com/recipes/sweet-chilli-chicken-and-noodle-salad/?fbclid=IwAR2ZD8tp6WttPBJpC–16efZTAX495KWWRpyuUXkBkDo0XJFku_eIHomWPM
THIA CHICKEN SALAD
INGREDIENTS
1/2 Napa cabbage, thinly sliced (about 4 cups)
1/4 small red cabbage, thinly sliced (about 2 cups)
2 medium carrots, grated (about 1 cup)
3 green onion, thinly sliced
1/4 cup minced cilantro
2 cups cooked, shredded chicken breast
3 tbsp slivered almonds, toasted
The dressing
1 lime, juiced
3 tbsp natural peanut butter
2 tsp apple cider vinegar
1 tsp chili and garlic sauce
INSTRUCTIONS
In a large bowl, combine the Napa cabbage, red cabbage, carrot, green onion, cilantro and chicken breast. Toss with the dressing. Garnish with the toasted almonds. Serve.
Dress with lime or lemon juice.
Nutrition Facts Of original
Serving Size
1 3/4 cups
Amount Per Serving
As Served
Calories 235.6 cal Calories from fat 90
% Daily Value
Total Fat 10.2g
16%
Saturated Fat 1.5g
8%
Cholesterol 35.1mg
12%
Sodium 634.7mg
26%
Carbohydrate 17.3g
6%
Dietary Fiber 3.3g
13%
Sugars 8.0g
Protein 19.5g
Percent Daily Values are based on a 2,000 calorie diet. Your daily values may be higher or lower depending on your calorie needs:
Calories
2000
Total Fat
Less than
65g
Sat Fat
Less than
25g
Cholesterol
Less than
300mg
Sodium
Less than
2,400mg
Total Carbohydrate
300g
Dietary Fiber
25g
Adapted from https://www.cookincanuck.com/thai-chicken-salad-recipe/?fbclid=IwAR3XGpaco12LE8-F51sL7aCGHUl6V8zE2kWmu0rHnBjxa5Fg3tZXqd5eAQM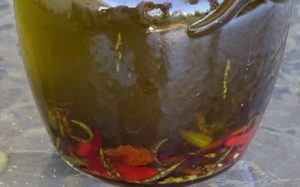 HERBAL CHILLI OIL
INGREDIENTS
2-20 fresh, semi-dried, or dried chillies;
4 rosemary sprigs;
4 bay leaves;
10 black peppercorns;
1-2 roast garlic cloves (optional);
500 ml EVO;
1 heat-proof bottle.
INSTRUCTIONS
Sterilise your bottle by boiling water in it in the microwave for a minute and leave upside down on the draining rack to dry.
Pour the oil into a saucepan and slowly warm it. Chop off the chilli stalks and split the chillies lengthwise.
You can deseed them if you want a milder flavour. Gloves are recommended. Add the chilli, rosemary, bay, peppercorns, and garlic to the oil.
Heat the oil until the water in the chillies and rosemary starts to bubble slightly.
Hold the heat there for 5 minutes.
It's important that you don't get the oil too hot or the chillies will burn.
Leave to cool and bottle before allowing to infuse for up to a week in the fridge. The longer you leave it the hotter it will be.
You can decant it at any time, or just leave it on the lees. This oil will keep for up to a month in the fridge.
Adapted from https://www.lovefood.com/recipes/60234/niamh-shields-homemade-chilli-oil-recipe
INDONESIAN GADO
INGREDIENTS
– sautéed cabbage and carrot NB1
– Omeg-3 chicken eggs boiled (we have quail)
– red capsicum
– Bok choy or Pak choy sautéed quickly with olive oil and ginger NB1
– bean sprouts
– broccoli florets quickly boiled
– tomatoes quartered
– cucumbers sliced lengthways
– red onion raw sliced
– green shallots chopped
– fresh coriander
– extra roast unsalted peanuts scattered on top
Can also do
– Day old boiled potatoes (leftovers)
– zucchini
– lettuce
– anything available
THE SAUCE
– Heat up 2 tablespoons olive oil
– Sauté 1 large diced brown onion
– Grate in about a tablespoon of garlic and 1 teaspoon of fresh ginger.
– Add 1 teaspoon chopped fresh chilli (or a teaspoon of chilli flakes or to taste
– Mix and cook for a minute
–  add 2 tablespoons lime or lemon juice.
INSTRUCTIONS
Mix the sauce and add enough water to make a nice liquid sauce. Cook on low simmer for 20 minutes, lid on.
Take lid off, grate in 1 teaspoon more of each fresh ginger and fresh garlic, and correct for more water.
Arrange main ingredients on a platter and pour some sauce on top, but leave more for individual requirements.
NB1 Steamed may be a better diabetic option.
200g seasoned tofu, cut in large cubes…
Olive oil
lettuce leaves
green or red shredded cabbage
4 medium sweet potatoes, steamed and sliced
500g green beans, blanched
2 medium cucumbers, peeled, deseeded and sliced
4 hard-boiled eggs, peeled and quartered
2 cups bean sprouts
2 medium tomatoes, cut in wedges
chopped almonds
sliced red chillies (optional)
Any fresh salad vegetables from the garden
Heat tofu briefly in microwave or panfry. To assemble salad, line each plate with lettuce leaves and cabbage. Arrange vegetables, eggs, tofu and sprouts on top. Drizzle with dressing (below) and sprinkle with peanuts and chillies.
serves 4
variation: Add cooked chicken, pork or fish to the salad.
THAI NOODLE SALAD
INGREDIENTS
1/2 cup edamame beans (fresh if possible)
1 packet of vermicelli rice noodles NB1
1 Coleslaw green mix from supermarket, leave out the dressing.
1 packet mixed leaves
1 cup snow peas, sliced on an angle
1 red capsicum, sliced
2 spring onion stems, chopped
1 avocado, sliced
1 large handful coriander, chopped with stalks
1 large handful of mint, removed from stem
½ cup of bean shoots
Salad dressing
1 tsp rice wine vinegar
juice of 1/2 lemon
1/4 cup extra virgin olive oil
INSTRUCTIONS
In a bowl, pour boiling hot water over rice noodles and edamame. Sit for 5 minutes or until cooked. Drain well.
In a separate serving bowl, add noodles, edamame, coleslaw mix, leaves, capsicum, avocado, spring onion, mint, coriander and snow peas and toss ingredients.
Mix salad ingredients and pour over salad. Toss well.
Finish by laying bean shoots on top of salad. Serve with dressing.
Adapted from https://daa.asn.au/recipes/zesty-thai-noodle-salad/
NB1  Try Kelp Noodles Asian Salad
http://www.furtherfood.com/recipe/kelp-noodles-asian-salad-recipe-mango-macadamia-nuts-lime-zest-diabetes-diet/
or try Konjac Noodles:  In Japan, a noodle made from a flour called 'konjac' has been a dietary staple for 2000 years. It contains zero net calories and zero net carbs and has a glycemic index score of zero, meaning it will not spike your blood sugar levels at all.
https://miraclenoodle.com/blogs/miraclenoodle-blog/105467078-how-to-beat-the-glycemic-index
OR
Konjac Foods for People with Diabetes (Noodles. Pasta.)As medical research has demonstrated, the higher the viscosity of soluble fiber, the better the ability to control blood sugar level. The glucomannan fiber is the most viscous soluble fiber in nature, making it the best way to control the blood sugar level of diabetic people. At the same time, it is a very efficient way to control blood sugar level when you take it before each meal. Simply consume as a beverage before each meal.As stated, Konjac fiber is the most viscous fiber in nature. This allows the Konjac to move through the digestive tract very slowly which can slow down carbohydrate absorption. This slowed absorption will keep the blood sugar at a moderate level during the digestion process. Konjac also acts to trap food and waste residues as it moves through the digestive system. Konjac fiber can block substances that are easily reabsorbed such as excess bile acids. The digestive regulatory quality of Konjac fiber makes it a natural agent in the treatment and regulation of diabetes and high cholesterol.Glucomannan is known to show hypoglycemic effects by inhibiting the uptake of glucose by the body. It is believed that it does this by preventing contact of the glucose with the intestinal walls for absorption. By reducing the amount of blood sugar, glucomannan can help patients with type II diabetes. Konjac fiber when absorbs lots water, it will form soft gel, the glucomannan will delays gastric emptying and slows the release of sugar into the bloodstream, which helps to lower levels of insulin and blood glucose. Additionally, glucomannan improves blood-lipid profiles and can lower systolic blood pressure. Because of these effects, glucomannan can greatly benefit individuals with metabolic syndrome or diabetes.
http://www.konjacfoods.com/noodles/19.htm