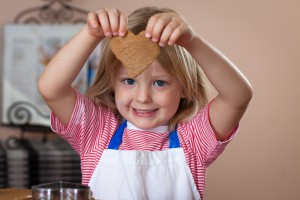 2 Granny Smith apples
1 cup EQUAL SPOON FOR SPOON (Over time you can eliminate this)
1/3 cup canola oil (Try Olive oil)
80g canola spread
3 eggs
1/2 cup low-fat milk
2 cups self-raising flour (Try 1 cup self raising flour and  cup multigrain flour)
1 teaspoon ground mixed spice
1 teaspoon bicarbonate soda
1/3 cup mixed dried fruit
1/3 chopped pecans
Preheat oven to 18oC (36oF). Grease a 10cm x 20cm loaf tin. Line base and sides with baking paper.
Peel and coarsely grate the apple and discard the core.
Combine the Equal, oil, canola spread, eggs and milk in a blender or food processor and blend until smooth. Transfer to a large bowl.
Sift the flour, spice and bicarbonate soda over the egg mixture and stir with a spoon until combined. Stir in the dried fruit and apple.
Spoon the mixture into the tin and sprinkle with the pecans. Bake for 30 minutes or until lightly browned and firm in the centre. Turn onto a wire rack to cool.
 JR's easy spiced date and dried fruit loaf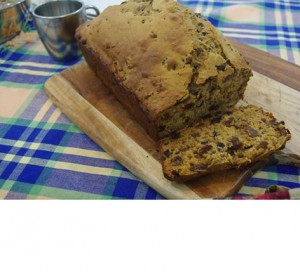 JR's Directions. We made this last night. Honestly one of the best fruit loaves/cakes we have ever made here and enjoying it for breakfast too. It won't last long.
There is no butter/oil in this cake.
I have changed the recipe, so it is my own. (I cut the sugar and used dates and fresh orange zest as well as fruit. Also used currants/raisins/sultanas separately as there is excess sugar in standard mixed fruit) I recommend you make your own mixed spice mix regularly. Worth the effort!
(Make tea with 2 Earl grey tea bags with 450 ml boiling water.)
Mix in a large bowl
80g pitted dates chopped into small pieces
80g good sultanas
80g good raisins
80g good currants
zest of 1 orange
Do not use mixed fruit in a carton.
Soak the fruit in a tea mixture for at least 4 hours, stirring occasionally. Overnight  is better.
Drain the liquid in a separate bowl and to the fruit add
300g self raising flour sifted
1/2 teaspoon bicarb of soda (for an extra lift)
2 eggs whipped (or 10 quail eggs if you have them:-)
zest of 1 lemon
1 teaspoon of good mixed spice
(or combine your own mix with ground allspice, ground cinnamon, ground nutmeg, ground mace, ground cloves, ground coriander, ground ginger)
Mix till combined
Add the liquid gradually and mix well.
Add to pre-greased loaf tin (25 cm x 12 cm), you can use baking paper for easy lifting
Cook at 180 degrees fan forced for 45 minutes.
Remove from tin after 5 minutes
Cut and enjoy.
Tex's Notes, there will be natural sugars in the fruit. Try yeast instead of bicarb of soda and allow to rise in a warm place for 1.5 hours to reduce the sugar content of the final cake.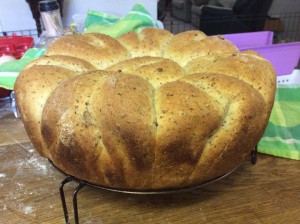 NOLA'S SEED LOAF. 9qt camp oven..
RECIPE…
4 level cups Multigrain Bread Mix
1 hand full pumpkin pita seeds
1 hand full sesame seeds
1 hand full chia seeds
1 hand full linseed crush.
1 small packet of yeast about a tablespoon
Warm water about 2 and a 1/2 cups
Plastic wrap.
METHOD. No Knead.
Add the yeast to a little water.
Mix all dry ingredients in a large glass bowl as this will triple in size.
Mix through
Make a dip in the middle and add water and yeast mix, give it a stir to get all Yeast into dry mix.
Use a flat table knife to mix all into a sticky dough if too dry add a little more warm water. Not too wet. It will look like a gluggy mess.
Leave in bowl and cover with plastic wrap and sit in warm place for around 2 1/2 to 3 hours.
It will triple in size, it will look bubbly..
Turn out onto well floured table or bench, flour your hands, it will be very sticky and stringy looking. The yeast has done the job for you in rising time.
Press out flat gently with floured hands, fold back onto itself. Press out flat again,.fold back ONTO itself. Press out again and fold back ONTO itself ,yes do this three times..
DO NOT STRETCH AND KNEAD
MAKE INTO A BIG BALL GENTLY FOLDING UNDER EDGES.
CUT INTO EIGHT SEGMENTS
MAKE INTO SMALL BUNS AND PLACE IN YOUR LARGE CAMP OVEN ON BAKERS PAPER AND BOTTOM TRIVET. In flower pattern.
SIT IN WARM PLACE…LET RISE AGAIN ABOUT FOR ABOUT ONE HOUR. COVER LOOSELY WITH THE PLASTIC WRAP. Until double in size again.
Remove wrap
Small cuts across the top of the buns will help it spread and rise.
HEAT OVEN TO 200c if using inside. Place lid on pot and cook for 50 mins…..
Remove lid and cook for a 10 mins. This helps brown off the top.
If cooking on camp fire you will use your own method of heating.
Check by tapping it should sound very hollow and nice browning.
Turn out onto cooling rack and let sit until cold.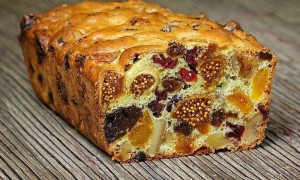 ULTIMATE FRUIT CAKE
Ingredients  NB 1
Fruit
100grams dried figs
100grams dried apricots
100grams cranberries
100grams sultanas or raisins
100grams dates Pit and cut in halves
100grams chopped walnuts
1cup unsweetened apple juice
1tsp baking soda / bicarbonate of soda
Dough
2 cups wholemeal self-raising flour
1 tsp ground cinnamon
1/2 tsp ground cloves
1/2 tsp ground nutmeg
3 large eggs whites lightly beaten
I cook this in my bread maker.
NB1 some diabetics may find the sugar in the fruit may affect them. If this happens discard. Remember moderation.
CINNNAMON WALNUT CRUNCH CAKE.
Serves 6
Walnuts are a rich source of Omega-3 (good fat) and cinnamon is a spice that many say reduces blood sugar.
Ingredients
Cake
2/3 cup  flour (you can replace up to 1/4 the amount with whole wheat flour)
1/2 cup toasted walnuts
1 tsp cinnamon
1/8 tsp ground cardamom (OPTIONAL)
1 tsp baking powder
1 tsp, baking soda (1/2 into dry mix, ½ into wet mix)
1/4 cup olive oil
3 large eggs whites at room temperature
1 tsp pure vanilla extract
1 tsp cider vinegar
Topping
1/2 cup toasted walnuts
2 Tbsp
1 tsp ground cinnamon
Preparation
Preheat oven to 180 degrees C
Dry Mixture
In a food processor or bread maker
Combine 1/2 cup of the nuts, and 1/3 cup flour.
Add the nuts broken into small pieces
Add the remaining 1/3 cup flour and spices.
Pulse until combined.
Add baking soda and baking powder and pulse until combined.
Wet Mixture
Place the olive oil into a bowl.
Add vanilla extract.
Combine the vinegar.
Add remaining 1/2 tsp of baking soda and stir.
Wet & Dry
Mix the wet and dry with the eggs whites and mixture.
Start with the dry.
MIX ONLY UNTIL JUST INCORPORATED otherwise you wind up with bread.
Spoon the batter into baking pan.
Chop the remaining walnuts and using clean fingers, combine with the cinnamon.
Distribute evenly over the batter and bake for 26-28 minutes (17-22 minutes for cupcakes) or until tester comes out dry from the centre.
Fruit is Not Forbidden But Some Fruit Choices are Better Than Others
http://diabetes.about.com/od/nutrition/ss/Fruits-to-Avoid-if-You-Have-Diabetes.htm#showall