PORTOBELLO MUSHROOM BURGER
INGREDIENTS
For the Spicy Cauliflower Patty… (Makes 6-8 patties)
1 cup quinoa cooked in 1 cup broth or water (NB1)
1/2 head cauliflower (about 6 cups florets)
1 tsp ground cumin
1/4 tsp ground chili
1 cup ground almonds, or almond meal
1 tbsp. dried yeast
2 chia or flax egg (1 tbsp. chia seeds mixed with 3 tbsp. water, allow to sit for them to absorb water)
Pinch of black pepper
For the "buns"
Portobello mushrooms (enough for 2 per person)
1 tbsp. EVO
½ tbsp. tamari
1 tsp rice wine vinegar
1 tsp sesame seeds
For the slaw…
¼ red cabbage, shredded
¼ white cabbage, shredded
1 carrot, grated
Any other in season vegetable
2 tsp apple cider vinegar
Smashed avocado
1 avocado
juice of 1/2 a lemon
Pinch of black pepper
INSTRUCTIONS
1.Preheat oven to 350ºF (180ºC).
Add cooked quinoa, cauliflower, cumin, chili, almond meal, nutritional yeast, chia egg, and pepper to the food process. Process until mixture is combined well.
Line a baking tray with parchment paper, take 1/4 cup of patty mixture and form into 6-8 patties on the baking tray, aiming to keep them about the same size as your Portobello buns.
Bake in the oven for 25-30 minutes or until cooked through and golden.
In a small bowl mix together olive oil, tamari and rice wine vinegar. Brush tops of Portobello mushrooms with this and sprinkle with sesame seeds. Place on another lined baking tray and place in the oven for 8-10 minutes.
While your buns and patties are baking, put together all of the slaw ingredients (cabbage, carrot, other vegetables and apple cider vinegar) in a medium bowl and mix well.
In another small bowl, smash together avocado, lemon juice, salt and pepper.
Once patties are cooked, remove from oven and assemble your burgers!
Adapted from http://www.foodmatters.com/recipe/portobello-mushroom-burgers-with-spicy-cauliflower-patties?utm_source=fmsocial&utm_medium=fmsocial&utm_content=fmsocial
NB . Quinoa Glycemic Index
A 150g serving of cooked quinoa has received a glycemic index rating of 53 from the Glycemic Index Foundation.
http://www.med-health.net/Quinoa-Glycemic-Index.html
CHICKEN & MUSHROOM BURGERS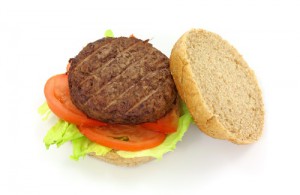 Original At http://daa.asn.au/for-the-public/smart-eating-for-you/recipes/browse/
Preparation time: 10 minutes minutes
Cooking time: 25 minutes minutes
Serving Size: Serves 4
2 tbs olive oil
400g large button mushrooms, chopped
400g lean chicken mince (make your own, other lean meat can be used here)
6 green onions, thinly sliced
2 tsp smoked paprika
2 egg whites, beaten
11/2 cups soft multigrain breadcrumbs, made from day old multi-grain bread
1/4 cup flat leaf parsley, finely chopped
4 small multigrain baguettes, halved leaving attached at one long end
100g mixed salad leaves
2 Lebanese cucumbers, thinly sliced
1. Heat 1 tablespoon oil in a large non-stick frying pan over high heat. Add the mushrooms and cook, stirring often, for 6-8 minutes or until the mushrooms are tender. Set aside to cool for 10 minutes. Drain the mushrooms to remove any moisture.
2. Combine the mushrooms, chicken mince, green onion, paprika, egg whites, breadcrumbs and parsley in a bowl. Season well with plenty of pepper, mix well to combine. Shape the mixture into small rissoles. Place onto a tray, cover and refrigerate 1 hour if time permits (this helps hold rissoles together when cooking).
3. Heat remaining oil in a large non-stick frying pan over medium heat. Cook the rissoles, in batches for 4 minutes on each side or until just cooked through.
4. Place rissole in a baguettes. Top with salad leaves and cucumber. Season with pepper and secure the baguette top.
TURKEY BURGERS WITH SWEET POTATO FRIES
INGREDIENTS
For the sweet potato fries: NB1
·          2 large sweet potatoes, washed
·          4 tbsp olive oil
·          2 tsp smoked paprika
·          Ginger
For the burgers:
·          1 slice multigraain bread bun,
·          500g turkey or chicken breast, skin removed beaten out flat.
·          2 spring onions, finely sliced
·          ½ tsp ginger
To serve (optional):
·          4 multigrain rolls, cut in half
·          Lettuce, rinsed
·          Tomato, sliced
INSTRUCTIONS
Pre-heat oven to 200°C/400°F/gas 6.
Rub the breast with the onions and ginger.
Place the breast on a plate lined with parchment paper then chill in the fridge until needed.
For the fries, peel the sweet potatoes if you prefer or you can leave the skin on, then cut sweet potatoes into fries. Place in a large bowl and add the olive oil and smoked paprika. Toss until fries are well coated. Spread fries in a single layer onto 1 or 2 large baking sheets and scatter with sea salt flakes. Roast for 15 minutes, then gently toss or turn fries over and roast for further 15 minutes.
When sweet potato fries have been in the oven for about 15 minutes, heat a large non-stick pan or griddle on medium high heat drizzled with a bit of olive oil. Once hot, cook the breasts for 5 minutes, when golden brown, turn and cooked through. Remove from heat.
To assemble burgers, break the roll add the lettuce, tomato and breast. Position roll bun on plate then serve burger with a side of piping hot sweet potato fries.
NB1 Glycemic Index of Sweet Potato
The way you prepare sweet potatoes makes a difference in their GI. The GI of a 150-g sweet potato, boiled with its skin for 30 minutes, is 46. That number rises to 94 if the same sweet potato is baked for 45 minutes. These dramatic differences come from the way the starches in sweet potatoes gelatinize during cooking. Foods that turn viscous, or jelly-like, in your digestive tract have a lower GI because the gelatinous substance slows the release of the nutrients in the food. Baking your sweet potatoes instead of boiling them changes the quality of their starches and transforms this root vegetable from a moderate-GI food to a high GI-food.
http://www.livestrong.com/article/295025-the-glycemic-index-for-sweet-potatoes/