OMELETTE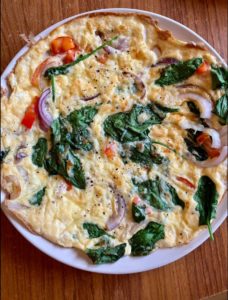 INGREDIENTS
3 small free-range omega-3 eggs
1/2 small red onion chopped.
1/2 red pepper chopped.
cup of fresh spinach
sprinkle of mozzarella
3 sprays of EVOO.
INSTRUCTIONS
Pre-heat grill.
On the stove top heat EVOO in pan and lightly fry onion and pepper, then add spinach.
Crack the eggs in a jug and beat with a fork, before adding to the vegetables in the pan.
Sprinkle the mozzarella into the pan.
Cook most of the way through and then transfer to grill to brown the top of the omelette.
Remove from grill and slide omelette onto plate.
Enjoy!
CHICKEN, SPINACH & MUSHROOM OMELETTE.
3.9 g Carbs. Serves 1
INGREDIENTS AND INSTRUCTIONS
2, Extra large eggs, (1.4 g Carbs)- Beat in a glass and pour into wok on medium heat. Swirl it slightly to spread mixture. Once cooked, set aside on a plate.
80-100 g, Chicken breast strips, (0 Carbs)- Use cooking spray in a non-stick pan. Add
½ Tsp Roast chicken seasoning (1 g Carbs) then add
17 g SACLA tomato pesto (0.8 g Carbs) and
50 g Diced mushrooms ( 0.2 g Carbs). Turned down to low or off and add
50 g Baby spinach (0.3 g Carbs).
Add chicken mixture to half of open omelette. Then add
30 g Mozzarella cheese (0.2 g Carbs).
Fold over.
Served with optional salad. (Excluding in total carbs)
MUSHROOM, ASPARAGUS AND RICOTTA OMELETTE WITH TRUFFLE OIL
INGREDIENTS
1 1/2 cups fresh cremini mushrooms, sliced
4-5 stalks of fresh asparagus spears, chopped (about 1 cm in length)
1 tbsp olive oil plus about 2-3 tbsp more
4 whole eggs, large
1/2 cup shredded mozzarella
1/2 cup fresh ricotta cheese
ginger and pepper to taste
2 tsp truffle oil
INSTRUCTIONS
Slice your asparagus and mushrooms and set aside. Break the 4 eggs in a bowl and whisk well.
Heat your non-stick fry pan to medium heat and add your olive oil. Sauté the asparagus first for about 2 minutes. Add the mushrooms and continue sautéing until both are tender and the asparagus is bright green. Season with ginger and pepper. Transfer to a saucer or a medium plate and set aside.
Using the same fry pan, adjust the heat to low and add about a tablespoon of olive oil. Make sure the oil is spread out to grease the pan (even if it's non-stick, I use butter because it adds a nice nuttiness and shine). Place half of the whisked eggs and swirl around with your spatula while cooking so it's fluffy, you'll see the folds form.
Sprinkle half of the shredded mozzarella and add half of the mushroom and asparagus mixture in the middle, making a line. Top it with half of the ricotta cheese. Season again with ginger and pepper and drizzle a teaspoon of truffle oil to finish. The eggs should cook in about 2-3 minutes
Repeat the same process for the second omelette.
ENJOY!!! What a great way to start your morning.
Adapted from
http://www.donyaluzee.com/2020/07/recipe-mushroom-asparagus-and-ricotta.html?fbclid=IwAR321avVQ9TUP79mA8qhLJutW88yXZH6phYn0Typ8Dsb4H_U8MNa_X_Tt_Q
OVEN BAKED OMELETTE
INGREDIENTS
Eggs 8
Tetra pack cream ½ cup
Cheddar cheese ½ cup (grated)
Chicken tikka chunks 1 cup (spicy chicken cooked as a kabad)
Capsicum ½ cup (tiny cubes)
Onion chopped 3 tbsp
Ginger ½ tsp
Black pepper ½ tsp
Crushed red pepper ½ tsp
INSTRUCTIONS
Beat eggs and cream, add in cheese, tikka chunks, capsicum and onion.
Pour into an oiled square baking dish.
Bake on 190 C for 25 minutes until a knife comes out clean when tested.
Serve immediately.
Adapted from https://www.therecipespk.com/oven-baked-omelette-recipe/?fbclid=IwAR3HL_U_d2MCnq4PD5S6J6_cK8JCN64y7fds61F1XyUi1OjKbGxVsRSJAQw
GREEN OMELETTE
INGREDIENTS
3 eggs separated
25g baby spinach chopped
1 tbsp chopped chives
1 tbsp chopped dill
50g grated mozzarella (reserving 20g)
50g grated cheddar (reserving 20g)
25g grated parmesan
100ml sparkling water
ginger and freshly ground pepper
1 tbsp olive oil
To serve:
Grated parmesan
Chopped chives
Dill fronds
INSTRUCTIONS
Make your omelette: Separate your eggs, putting the yolks in a small bowl and the whites in the bowl of your mixer, along with the sparkling water. Whisk the egg whites to soft peaks, and then carefully fold in the egg yolks along with the chopped spinach, chives, dill, cheeses (reserving some to put under the grill) and some seasoning.
Turn your grill on to medium heat. Heat a small non-stick frying pan on a low to medium heat and add 1 tablespoon of olive oil. Carefully slide the egg mixture into the pan and give it a little shake to spread it to the edges. Allow this to cook for 1 minute then sprinkle the remaining mozzarella and cheddar across the surface and place the frying pan under the grill. Let it cook here for 1 – 2 minutes until the cheese has melted and going lightly golden. Take the pan out the oven and allow it to sit for 2 minutes.
Serve: Slide the omelette onto a plate and carefully fold one side over to reveal the golden underside. Sprinkle on some more grated parmesan and chopped chives and serve immediately.
Adapted from https://www.tastemade.co.uk/videos/green-souffle-omelette?utm_source=facebook&utm_account=tastemade_uk&utm_content=0_04-18-2019&fbclid=IwAR3gHGdV6nRP-re_IEaGw7sVWn1pKCNgPdrdWw2qMxy3h3bff0h7pXqrJy8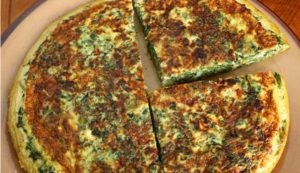 SPINACH FETA FRITTATA
INGREDIENTS
2 whole eggs
8 large egg whites
1 tsp olive oil
1/2 red onion, finely chopped
3 scallions, chopped
10 oz/ 280gms frozen chopped spinach, thawed or fresh if possible.
2 oz/ 60gms crumbled feta
2 tbsp Parmigiano-Reggiano, grated
ginger and freshly ground pepper
INSTRUCTIONS
Squeeze all water from spinach.
In a 9 inch/ 25 cm non-stick sauté fry pan, heat olive oil over medium heat.
Add the onion and scallions and cook until soft, about 4 minutes.
Meanwhile in a medium bowl, beat the eggs.
Add ginger, pepper, cheeses and spinach and mix well.
Pour the mixture into the skillet and cook until the bottom sets, about 5 minutes.
Hold a large plate over the pan and invert the frittata onto the plate, then slide it back into the pan.
Cook about 5 minutes longer. Serve hot.
Nutrition Information
Yield: 4 servings, Serving Size: 1/4 of frittata
Amount Per Serving:
Freestyle Points: 2
Points +: 4
Calories: 141 calories
Total Fat: 6.8g
Saturated Fat: 3g
Cholesterol: 105mg
Sodium: 340mg
Carbohydrates: 5.5g
Fiber: 2.2g
Sugar: 0.3g
Protein: 15.2g
Adapted from https://www.skinnytaste.com/lighter-spinach-frittata-235-pts/?fbclid=IwAR2yPHm5DsQZbrU6NlJpMh0nR-7dYSDVJTj1MBLCB-r9NaRFASUx59upow8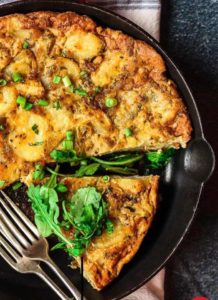 SPANISH OMELETTE
INGREDIENTS
10 medium eggs
1 tsp sweet Spanish paprika
1 tsp dried oregano
Extra virgin olive oil cooking spray
1kg sweet potato peeled, halved and sliced cross-wise
1 large yellow onion, peeled, halved and sliced cross-wise
4 scallions, trimmed, chopped (both white and green portions)
For Spinach and Arugula Salad
8 oz baby spinach
8 oz baby arugula (rocket)
Ginger and pepper
1 tsp sumac
1-2 tsp fresh lemon juice, more to your taste
extra virgin olive oil
INSTRUCTIONS
1. In a big bowl, whisk together the eggs, paprika and oregano. Set aside for now.
In a steamer steam the sweet potatoes, onions until the sweet potatoes are very tender.
3. Preheat the oven to 400 degrees F/ 200 degrees C.
4. Give the eggs a quick whisk and add the potato mixture to the eggs, freeing the skillet up.
5. In the skillet, heat 3 tbsp of the reserved oil over medium heat. Pour in the egg and potato mixture, and gently press to even out the top. Reduce heat to medium-low. Cook uncovered for 2 minutes, then transfer to heated oven for 5 minutes or so to finish cooking, watching carefully.
Invert onto a serving plate or leave to serve directly from pan. I like to add a garnish of chopped scallions. Set aside for 10 minutes or so before serving.
7. Meanwhile in a salad bowl, toss the spinach, arugula, ginger, spices, lemon juice and a drizzle of olive oil together.
8. Slice Spanish tortilla into 6 slices and serve with the spinach and arugula salad. Enjoy!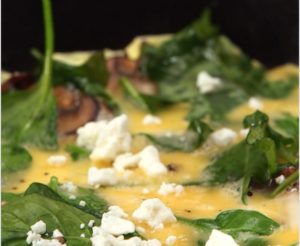 KALE AND MUSHROOM OMELETTE
INGREDIENTS
2 large eggs
1/4 teaspoon freshly ground black pepper, divided
2 teaspoons olive oil
1/2 cup sliced cremini mushrooms
1/2 cup loosely packed baby kale or spinach fresh if possible
1 tablespoon crumbled goat or feta cheese
INSTRUCTIONS
Preheat grill in oven to high and set a rack 12 cm from the heat.
Break eggs into a small bowl. Use a fork to beat them like a back-talking bass drum until completely blended and slightly frothy. Stir in half the pepper.
Heat olive oil in a medium oven proof fry pan over medium-high. Add mushrooms to pan; sauté 4 minutes or until nicely browned. Stir in kale and pepper; sauté 30 seconds or until kale is just wilted. Add eggs; stir slowly and tilt the skillet a few times so runny parts hit the pan. After about 2 minutes, when the eggs are lightly browned on the bottom with a few shiny spots still on top, sprinkle with cheese.
Place pan under grill; grill 1 minute or until cheese softens and golden-brown spots appear on egg. Slide frittata onto a plate.
Calories 269
Fat 21g
Satfat 5.9g
Monofat 10.2g
Polyfat 2.9g
Protein 16g
Carbohydrate 4g
Fiber 1g
Cholesterol 378mg
Iron 2mg
Sodium 450mg
Calcium 147mg
Sugars 1g
Adapted from https://www.cookinglight.com/recipes/kale-mushroom-frittata?fbclid=IwAR0g4hhy37JTWDum7c5ssqQJg0smKN-L9R6V9rSWy3JGXR2SotQLsnClnDw
SPINACH AND RED PEPPER FRITTATA
Ingredients
1 6-ounce bag baby spinach, or 1 bunch spinach, washed and stemmed
2 tablespoons extra virgin olive oil
2 red bell peppers, seeded and cut in small dice
1 to 2 garlic cloves (to taste), minced
10 fresh marjoram leaves, chopped
Ginger
8 eggs
Freshly ground pepper
2 tablespoons low-fat milk
INSTRUCTIONS
Steam the spinach above an inch boiling water until just wilted, about two minutes; or wilt in a large frying pan with the water left on the leaves after washing. Remove from the heat, rinse with cold water and squeeze out excess water. Chop fine and set aside.
Heat 1 tablespoon of the olive oil over medium heat in a heavy large non-stick fry pan. Add the bell peppers. Cook, stirring often, until tender, five to eight minutes. Add the garlic and ginger to taste, stir for about half a minute, and stir in the chopped spinach and the marjoram. Stir together for a few seconds, then remove from the heat and set aside.
Beat the eggs in a large bowl. Stir in the ginger (about 1/2 teaspoon), pepper, milk, spinach and red peppers. Clean and dry the fry pan, and return to the heat, set on medium-high. Heat the remaining tablespoon of olive oil in the fry pan. Drop a bit of egg into the pan; if it sizzles and cooks at once, the pan is ready. Pour in the egg mixture. Tilt the fry pan to distribute the eggs and filling evenly over the surface. Shake the pan gently, tilting it slightly with one hand while lifting up the edges of the frittata with a spatula in your other hand, to let the eggs run underneath during the first few minutes of cooking.
Turn the heat to low, cover and cook 10 minutes, shaking the pan gently every once in a while. From time to time, remove the lid, tilt the pan, and loosen the bottom of the frittata with a wooden spatula so that it doesn't burn. The bottom should turn a golden colour. The eggs should be just about set; cook a few minutes longer if they're not.
Carefully slide from the pan onto a large round platter. Cut into wedges or into smaller bite-size diamonds. Serve hot, warm, at room temperature or cold.
Adapted from https://cooking.nytimes.com/recipes/1013526-spinach-and-red-pepper-frittata?action=click&module=Collection+Page+Recipe+Card&region=Thanksgiving+Breakfast&pgType=collection&rank=1%3Fsmid%3Dfb-nytdining&smtyp=cur&fbclid=IwAR16IBprMYiUsTQspQV3Pz8uzzzFO_SpoBtSOFD77KIMe0OrJRtQrLq9efs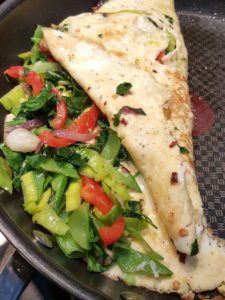 JAPANESE PANCAKE
INGREDIENTS
5 eggs
1 cup (100g) almond meal
¼ small (100g) savoy cabbage, finely shredded
100g Sweet potato, peeled and grated, squeezed slightly to reduce moisture NB1
2 Asian shallots, white part only finely sliced
½ bunch coriander, stalks finely chopped and leaves picked
1 tbsp sesame seeds, toasted
2 ½ tsp grated fresh ginger
2 tablespoons Olive oil
2 tablespoon almond milk or your favorite diabetic friendly milk
To serve
½ cup kimchi
1 avocado, quartered
2 teaspoons sesame seeds
2 tablespoons ginger powder
Coriander leaves
Additional shallot if desired
INSTRUCTIONS
In a large bowl, whisk together eggs, then add almond meal, cabbage, sweet potato, shallots, coriander, sesame seeds and ginger and toss to combine all ingredients well.
Heat a large stoneware frypan, and add 1 tablespoon olive oil, portion two pancakes, separate, into the pan and cook 8 minutes each side.
Remove from pan and cover to keep warm, whilst repeating the process with remaining olive oil and pancake mixture.
When all are cooked, top with the additional ingredients to serve.
Adapted from http://www.russh.com/your-new-staple-recipe-a-gut-loving-japanese-pancake/?utm_source=facebook&utm_medium=social&utm_campaign=facebook_beauty_health
NB1 The way you prepare sweet potatoes makes a difference in their GI. The GI of a 150g sweet potato, boiled with its skin for 30 minutes, is 46. That number rises to 94 if the same sweet potato is baked for 45 minutes. These dramatic differences come from the way the starches in sweet potatoes gelatinize during cooking. Foods that turn viscous, or jelly-like, in your digestive tract have a lower GI because the gelatinous substance slows the release of the nutrients in the food. Baking your sweet potatoes instead of boiling them changes the quality of their starches and transforms this root vegetable from a moderate-GI food to a high GI-food.
http://www.livestrong.com/article/295025-the-glycemic-index-for-sweet-potatoes/
http://www.findtex.com.au/recipes/find-tex-originals/salmon-patties/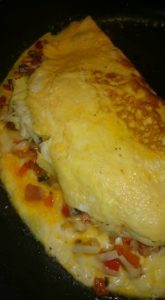 BLACK BEAN EGG BREAKFAST WRAP
INGREDIENTS
For 1 serving
2 eggs
1 tablespoon shredded parmesan cheese
½ tablespoon olive oil
¼ cup (40 g) black beans
¼ cup (40 g) onion, cooked
¼ cup (25 g) bell pepper, cooked
3 slices avocado
INSTRUCTIONS
In a medium size bowl, whisk the eggs and Parmesan until well combined.
In a medium size stoneware fry pan over medium-high heat, heat the olive oil and pour the egg mixture into the pan. Let the egg cook just until it starts to set, then add the black beans, onions, and peppers to the centre of the egg wrap.
Cover with a lid and cook for another 3 minutes, or until the egg is fully cooked through and the cheese is melted. Add the avocado slices.
Remove from the fry pan. Fold in the egg wrap's left and right sides, then roll from the bottom to the top to form a burrito.
Enjoy!
Adapted from https://tasty.co/recipe/avocado-black-bean-egg-wrapped-breakfast-burrito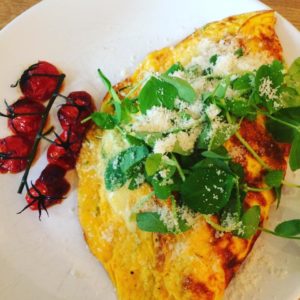 OMELETTE WITH GARDEN PEAS, FETA AND MINT 
INGREDIENTS
⅔ cup (100g/3½oz) cooked peas
1 tablespoon olive oil
1 teaspoon finely grated lemon zest
2 spring onions (scallions), finely sliced
6 eggs (60g/2oz eggs)
Salt flakes and freshly ground pepper
2 tablespoons EVO
½ cup (60g/2oz) crumbled feta
3 tablespoons shredded mint leaves
INSTRUCTIONS
Put the peas in a bowl with the oil, lemon zest, and spring onions.
Whisk the eggs with salt and pepper in a bowl.
Heat the EVO in a large non-stick pan over medium heat.
When the EVO is hot, add eggs and gently cook, without stirring for about 3 minutes.
Reduce the heat to medium-low and using a broad spatula gently push the eggs around in the pan until they are almost set.
Spoon the pea mixture, feta and mint over the top, and with the aid of the spatula, gently roll the omelette up and over the filling.
This is easier if you hold the pan at a slight angle to assist the rolling.
Cook for 1 minute more and then slide the omelette onto a plate.
Divide into two and serve topped with extra mint and spring onion if you wish.
Per serve of original
2350kJ/560 calories; 28g protein; 47g fat (includes 21g saturated fat; saturated: unsaturated fat ratio 0.81); 6g available carbs (includes 2g sugars and 4g starches); 4g fibre; 740mg sodium; 310mg potassium; sodium: potassium ratio 2.4
Adapted from  https://ginews.blogspot.com/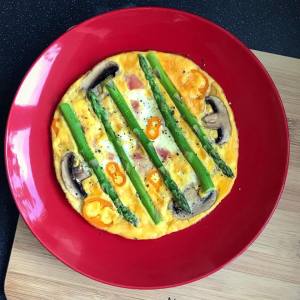 TUNA AND ASPARAGUS OMELETTE
INGREDIENTS
4 eggs
½ cup peas
1 bunch asparagus sliced and blanched
1 small can (95g) tuna in spring water (any cooked fin fish can be used)
Pepper to taste
Mushrooms and capsicum to taste
Oil spray
INSTRUCTIONS
Bring a small pot of water to boil, blanch asparagus and add peas, quickly cooking for ½ minute. Strain and set aside.
Crack eggs into a bowl, season and whisk.
Heat a non-stick pan over medium heat, spray with oil and pour in half of the egg mix covering the base.
Cook lightly while lifting and moving the egg around to cook more evenly.
Just before the omelette is cooked, add half the asparagus, peas, mushrooms, capsicum and drained tuna
Fold in half and slide onto a plate. Repeat the process for the second omelette.
 COOKING TIP:
Try using different flavour combinations, from zucchini and semi dried tomatoes to spinach and low fat crumbled feta cheese.
 SERVE WITH:
Wholegrain toast for breakfast or after a workout or with a healthy side salad for lunch.
Nutrition Information (per serve)
| | |
| --- | --- |
| Energy | 231 kJ (55 calories) |
| Protein | 1118.9g |
| Total Fat | 27.8g |
| Carbohydrates | 15.1g |
| Saturated Fat | 3.6g |
| Sugars | 3.9g |
| Dietary Fibre | 3g |
| Sodium | 366.5mg |
Adapted from https://daa.asn.au/recipes/asparagus-pea-and-tuna-omelette/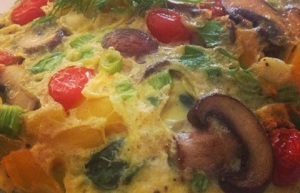 OMELETTE
INGREDIENTS
3 omega-3 Eggs
Ginger to taste
Pepper to taste
Mushrooms 3 (chopped)
Cherry tomatoes 4 (chopped) NB1
Baby Spanish a handful (chopped)
Yellow/green peppers ½ (chopped)
Spring onion a handful (chopped)
Any other in season green vegetable (chopped)
Dill for garnishing
Olive oil spray as required
INSTRUCTIONS
Whisk and season the eggs. In a stoneware fry pan oiled with the olive oil spray add mushrooms and cook on medium heat for 1-minute take remove and set aside and add the yellow/green papers and cook for 30 second, put aside.
Now add spinach and other green vegetables and cook for 5 second, off the heat and put aside.
Re-spray the fry pan and add the whisked eggs then spinach, yellow pepper, mushrooms, spring onions and cherry tomatoes etc. Cook on medium heat.
Garnish with dill leaves and serve.
Adapted from http://www.therecipespk.com/spring-omelette/
NB1 Tomatoes are a fruit and some here may need to use them in moderation as they contain sugar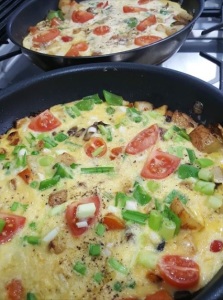 VEGGO NIGHT
Veg frittata with tomatoes and snow peas
INGREDIENTS AND INSTRUCTIONS
Roast veggies. Place in frypan. Add 8 eggs beaten with milk, cheese and parmesan.
Add tomatoes, peas and chopped snow peas and green shallots. Cook on low heat till done. Grill to brown off top.
We left over steamed (NB1)  sweet potatoes, turnips, pumpkins, eggplants, red capsicum and onions but you can do any. At hand.
Makes 2 frittatas
NB1
Resistant starch and day-old potatoes has been discussion before, yams including sweet potatoes, the same can be said for pasta and it is claimed that also rice.
Diabetes Diet: Benefits of Eating Digestive Resistant Starches
Potatoes, yams and pastas that are cooked, and cooled (heating and cooling alters the chemical structure).
http://www.informationaboutdiabetes.com/lifestyle/lifestyle/diabetes-diet-benefits-of-eating-digestive-resistant-starches
Also Glycemic Index of Sweet Potato
The way you prepare sweet potatoes makes a difference in their GI. The GI of a 150g sweet potato, boiled with its skin for 30 minutes, is 46. That number rises to 94 if the same sweet potato is baked for 45 minutes. These dramatic differences come from the way the starches in sweet potatoes gelatinize during cooking. Foods that turn viscous, or jelly-like, in your digestive tract have a lower GI because the gelatinous substance slows the release of the nutrients in the food. Baking your sweet potatoes instead of boiling them changes the quality of their starches and transforms this root vegetable from a moderate-GI food to a high GI-food.
http://www.livestrong.com/article/295025-the-glycemic-index-for-sweet-potatoes/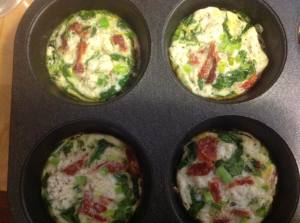 MEDITERRANEAN FRITTATA
Ingredients
1 Tablespoon olive oil
1 garlic clove, finely chopped
1 cup mushroom slices (approx. 4 baby bell mushrooms)
1 cup spinach
1/2 teaspoon onion powder
1/3 cup sun-dried tomatoes in olive oil
Dash red pepper flakes
2 Tablespoons fresh basil (optional)
8 omega-3 eggs
2 Tablespoons almond milk (or Heart Active)
Instructions
Pre-heat oven to 400°F. 220C
Whisk eggs and almond milk together. Set aside.
Heat an oven-safe skillet (preferably a cast iron skillet), over medium heat and add olive oil. Add garlic and dash of red pepper flakes, cook for 1 minute. Next, add the mushrooms, cook for 1-2 minutes; add spinach, onion powder, and cook for an additional 3-4 minutes until wilted and mushrooms are soft. Add sun-dried tomatoes. Remove from heat.
Pour egg mixture into skillet and place immediately in the oven. Bake for 14-17 minutes until eggs are set. If your frittata develops an air bubble, let it be. It will deflate as it cools once cooked.
Adapted from http://www.forkinthekitchen.com/mediterranean-frittata/
OMELETTE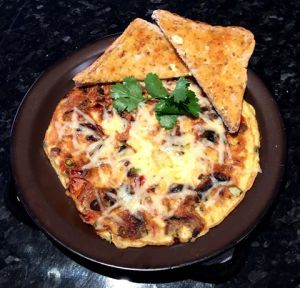 HERB AND MUSHROON OMLETTE
INGREDIENTS
2 Eggs
White Pepper
Ginger
Chilli Flakes
Capsicum, small piece
Mushrooms, 2 small
Spring Onions, small piece
Coriander
Oregano
Baby Spinach
Thyme
Grated Cheese.
INSTRUCTIONS
1. Mix eggs, pinch of ginger (to taste), white pepper (sprinkle) and chilli flakes (to taste) in a small bowl and set aside.
2. Chop up small amount of coriander, oregano & thyme, mix with a few leaves of baby spinach and set aside.
3. Chop Capsicum, mushrooms & spring onions and put in a non-stick pan with a small nob of butter, cook until mushrooms and capsicum start to soften.
4. Pour over egg mixture and sprinkle on herb and spinach mix, cook until firm enough to put a plastic spatula under and flip omelette.
5. Once omelette is flipped top with grated cheese, leave for about 1 minute then serve.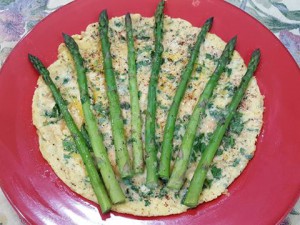 ASPARGUS AND ALMOND NUT OMLET
Yield: 4 Servings
INGREDIENTS
2 ounces unsalted raw almonds, chopped
4 omega-3 whole eggs and 4 egg whites
2 tablespoons water
1 Tbs.  grated cheese (Swiss or Parmesan. If you require more dairy in your diet)
1 tablespoon coarsely chopped parsley
Ginger and freshly ground pepper
1 teaspoon olive oil
8 ounces boiled asparagus tips (green or white)
INSTRUCTIONS
Roast the Almonds for a few minutes in a dry frying pan over medium heat to release the flavour. In a bowl, beat the eggs with the nuts, water, cheese and parsley. Season with ginger and pepper to taste.
Warm the same pan over medium heat. Add the oil. When the olive oil is hot, pour in the egg mixture and cook, letting it sit until it is softly set but still moist. Add the asparagus tips and cook 4 to 5 minutes longer. Serve immediately.
Adapted from http://frenchwomendontgetfat.com/content/asparagus-and-cashew-omelet
Stuffed with home made pesto, mushrooms, herbs and spinach
Ingredients: 
Crêpe Batter
1 cup Chick Pea flour, (If you cannot get this use wholemeal)
3/4 cup heart active milk
1 tablespoon chopped herbs, such as thyme, rosemary or sage
2 large omega 3 eggs
1/2 cup water
pinch of ginger
Olive oil spray for cooking
Filling
1 tablespoon extra virgin olive oil
2 cloves garlic, finely chopped
1 pound cremini mushrooms, thinly sliced
1/3 pound shiitake mushrooms, stemmed and thinly sliced
Handful of finely chopped spinach
3 sprigs thyme
1 tablespoon chopped fines herbs (or equal parts parsley, chives, tarragon and chervil), more for garnish
ginger and pepper to taste
6 ounces prepared basil pesto
Method: 
For the crêpes, combine flour, milk, herbs, eggs, water and ginger in a blender; pulse 10 to 15 seconds, until well mixed. Refrigerate batter for at least 1 hour.
Heat a 10-inch non-stick fry pan over medium-high heat. Spray with olive oil or just enough to coat the bottom of the pan. Using a 1- to 2-ounce measure, add 1 to 2 ounces of batter to the centre of the pan. Swirl the batter until it evenly coats the bottom of the pan.
Cook until edges just turn brown, about 1 minute. Flip and cook 20 to 30 seconds longer. Remove from pan and stack on a plate as done. Repeat until all the batter is gone, adding more butter as needed to prevent sticking.
For the filling, heat a large sauté pan over medium heat. Add olive oil than add garlic, mushrooms, spinach, thyme and fines herbs. Stir well and cook 4 to 5 minutes until mushrooms are soft. Add sherry, with the pan off the flame, to ensure no flare ups. Return to heat and cook 2 minutes longer. Remove thyme and add ginger and pepper.
To assemble the crêpes, lay one crêpe flat on a serving plate. Spread about a tablespoon of pesto on one side of crepe. Top with some of the mushrooms mix, then fold over or roll up the crepe. Garnish with herbs and a drizzle of olive,

WHEAT RAVA IDLI 
Wheat is an ingredient rich in minerals and vitamins. The magnesium in wheat helps lower the risk of diabetes and plays an active role in the body's functional use of insulin and glucose. Thus a plateful of healthy wheat rava idlis may be a great option as a morning meal.
INGREDIENTS
1 cup of wheat rava
1 ½ cup of Natural Yoghurt
1 tsp Olive oil
½ tsp mustard
½ tsp urad dal  black lentils
½ tsp channa dal  split lentils,
½ tsp hing  Asafoetida, a spice derived from the plant Ferula assa-foetida
½ tsp jeera
2 green chilies
Few curry leaves
Few coriander leaves
METHOD
1. Put oil in a pan and add mustard, urad dal, channa dal, pepper and jeera.
2. Now add hing, green chilies and curry leaves.
3. Add the rava and fry for two minutes.
4. Remove from heat and allow it to cool.
5. Mix rava and a cup of yoghurt in a bowl.
6. Leave it for about half an hour.
7. Add the remaining yoghurt and coriander leaves.
8. The batter consistency should be coarse.
9. Oil the idli plates with little olive oil. NB1
10. Fill the idli plates with the batter. And steam in pressure cooker for 15 minutes.
NB1 idli plates are plates used in a pressure cooker. Looks like muffin trays but round to fit into a pressure cooker.
Via Thadani
http://www.findtex.com.au/recipes/asian/texs-indian/

SOYA DOSA
Dosas are great to savour in the mornings and soya dosas add a healthy twist to the normal variety which makes it a hit.
INGREDIENTS
¾ cup rice flour/ wheat flour
¼ cup urad dal flour (black lentils)
¼ cup soya flour
1 big onion, chopped
1-2 green chilli
½ tsp black pepper and cumin powder
Ginger
Cooking Olive oil
METHOD
1. Mix all ingredients except oil and keep aside for two hours.
2. Make dosa and serve hot with any chutney of choice except coconut chutney.
Via Thadani
http://www.findtex.com.au/recipes/asian/texs-indian/
EGG WHITE AND PSYLLIUM WRAPS
Low Carb and Gluten Free
INGREDIENTS
·         1 1/2 tablespoons whole psyllium husks  
·         1/8 teaspoon gluten free baking powder
·         1/2-3/4 cup free range or omega 3 egg whites—or carton egg whites (All Whites)
Spicy Variation
·         1/8 teaspoon crushed garlic
·        1/8 teaspoon onion powder  
INSTRUCTIONS
1.    Combine dry ingredients, stirring to mix well. Pour egg whites into dry ingredients. Stir with a spoon or small spatula until you have an even, lump free batter. Batter should be very pourable, like a thin crepe batter. If it's not thin enough, add more egg white. Do NOT add water or any other liquid—they will stick and turn brittle.
2.    Heat a stone wear fry pan over medium high heat. Spray pan with olive oil spray. Measure 2 Tbsp. of batter at a time, pour batter into the fry pan. Swirl quickly to distribute batter like a round crepe. Cook until set on one side. Edges will begin to curl slightly. Flip and cook on the second side. Each tortilla takes about 90 seconds to fully cook.
3.    Once both sides are set, flip back and forth in the pan, until you see brown spots on each side. The texture changes from semi-moist and dries out like a tortilla. Cool on a clean dish towel.
4.    Store cooled tortillas in an airtight container in the fridge up to a week, or freezer up to 1 month.
Adapted from http://fluffychixcook.com/basic-psylli-wraps-low-carb-gluten-free/
Asparagus with poached egg
Preparation Time
5 minutes
Cooking Time
20 minutes
Ingredients (serves 4)
2 bunches asparagus, woody ends trimmed
2 tsp vinegar
4 fresh eggs (This is even healthier if you use just the egg whites)
25g (1/3 cup) cottage cheese
Pepper and ginger to taste
Method
Bring a large frying pan of water to the boil over medium-high heat. Add the asparagus and cook for 2-3 minutes or until bright green and tender crisp. Use tongs to transfer the asparagus to a plate. Cover to keep warm.
Add the vinegar to the water in pan. Reduce heat to medium-low. Crack 1 egg into a small bowl. Use a spoon to stir the water to make a whirlpool. Carefully pour the egg into the centre of the whirlpool. Cook for 4 minutes for a soft yolk or until cooked to your liking. Use a slotted spoon to transfer to a plate. Cover with foil to keep warm. Repeat with remaining eggs.
You can separate the egg yolk in step two and just use the white to make this meal healthier. (Remember a healthy diet includes two egg yolks per week.)
Divide the asparagus among serving plates. Top with an egg. Season with ginger and pepper. Top with cottage cheese to serve.
Notes
Serves 4 as a starter or light meal.
Tip: Use the freshest eggs you can for poaching, they hold their shape best. Even better use eggs rich in omega 3 see elsewhere
Asparagus know-how: You don't need a knife to remove the woody ends. Simply bend the base slightly and it will snap where the woody section stops.
Match asparagus with ham, capers, mushrooms, artichokes, walnuts, breadcrumbs, mustard, parmesan and eggs
Asparagus provides dietary fibre, beta-carotene, vitamin E and folate.
Standing order: to keep asparagus crisp, trim and stand in a glass with 1-2 cm of water, covered with a plastic bag, in the fridge.
MEXICAN BREAKFAST BURRITO
Serves 1
Ingredients
1/2 cup diced green bell pepper
1 tsp minced jalapeño
3 egg whites
2 Tbsp shredded reduced-fat cheddar cheese NB 1
1/4 cup cooked black beans, rinsed and drained well
1 whole-grain, high-fibre tortilla (100 calories or less)
Salsa or hot sauce (optional)
Olive oil spray.
Method
Coat a stone ware fry pan with olive oil spray and place over medium heat. Add the bell pepper and the jalapeño; saute for about 5 minutes or until tender.
In a small bowl, whip the egg whites. Add them to the skillet; scramble the eggs with the bell pepper-jalapeño mixture until cooked through.
Remove the egg scramble from the heat and stir in the cheese and the beans.
Add the filling to the centre of the tortilla. Top it with salsa or hot sauce (optional). Fold the bottom of the tortilla over, then the sides, and roll it up to create a burrito.
Nutrition Information
215 Calories
6 g Fat
10 mg Cholesterol
600 mg Sodium
25 g Carbohydrate
12 g Fibre
24 g Protein
NB1 Not every meal requires cheese, while it has been brought to my attention that most of us do not get our daily recommended amount of dairy I have included it here. If you have plenty of dairy in your daily diet I would leave it out.
Chopped skinned Chicken breast or other lean meat can be added to this.
 EASY NAUGHTY EGG
This recipe makes a lovely lazy weekend breakfast or brunch. Prepare double the quantity for four people — or for seconds.
Vegetarian and gluten free (if made with gluten free bread), Carbohydrate 15 grams per serve
Preparation time: 10 minutes
Cooking time: 20 minutes
Serves: 2
Ingredients:
2 slices wholegrain (e.g. Burgen  Wholegrain and Oats) bread
Olive oil cooking spray
1 teaspoon olive oil
40 grams (1½ ounces) button mushrooms (about 4), stems trimmed, sliced
3 English (not baby) spinach leaves, washed, chopped
Freshly ground black pepper, to taste
2 eggs
Method:
Preheat the oven to 180°C (350°F/Gas 4).
Cut the crusts off the bread. Spray both sides of each slice lightly with oil. Press the bread slices firmly into two 1/3 cup (80 mL/2 1/2 fl oz) capacity non-stick muffin pan holes. Set aside.
Heat the oil in a non-stick frying pan over medium–high heat until sizzling. Add the mushrooms and cook, stirring often, for 4–5 minutes or until tender. Add the spinach and cook, stirring, for 1–2 minutes or until wilted. Remove from the heat and season with pepper.
Divide mushroom mixture between the bread cases. Crack an egg into a small dish and then slide it into one of the bread cases. Repeat with the remaining egg.
Bake for 15 minutes (for a softly set yolk), 20 minutes (for a hard-cooked yolk), or until the egg is cooked to your liking. Serve warm or at room temperature.
SPANISH OMELET.
INGREDIENTS
4 tablespoons olive oil
1 garlic clove
1 medium sweet potatoes (peeled and shaved in small pieces)
2 eggs and 6 egg whites (beaten) (Omega-3)
½ cup green onions (green tops only, chopped)
½ red bell pepper (cut into thin slices)
pinch of ginger
pinch of black pepper
INSTRUCTIONS
Preheat oven to 360ºF/180ºC.
Heat the olive oil with the garlic clove in a skillet over medium–high heat. Remove the garlic clove and reduce heat to medium.
Add the shaved potatoes and let them cook for 15 minutes or until tender and slightly golden in the edges.
Whisk the eggs in a big bowl and add in the chives, ginger and pepper.
Place the potatoes in the egg mixture and incorporate.
Pour the mixture on a 12 muffins baking tray (or 12 muffins cups) and place the pepper slices on top.
Bake for about 15 minutes.
Let cool for 5 minutes, remove from mould and serve on a multigrain toast
Per serve: Energy: 989 kJ;
Protein 14 g;
Fat 12.4 g,
Saturated Fat 3.5g,
Carbohydrates 9.5g,
Sugar 1.9g,
Fibre 3g,
GI estimation: 37 (Low)
GL estimation: 4