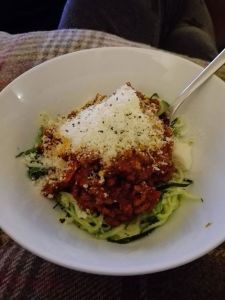 MEATBALLS WITH ZUCCHINI SPAGHETTI
INGREDIENTS
500g lean grass-fed beef mince
1 tsp crushed garlic
1 small onion, grated
1 apple, peeled and grated
1 small carrot, grated
125g ricotta cheese, drained
1/3 cup fresh breadcrumbs
¼ cup freshly grated parmesan cheese
½ cup freshly chopped parsley
1 egg
1 pinch of nutmeg
1 pinch of paprika
4 cups no added salt fresh tomato sauce or paste
SPAGHETTI
1 leek, cut into thin strips
6 zucchinis, sliced into spaghetti using a mandolin or spiraliser
1 tsp olive oil
black pepper
squeeze of lemon
INSTRUCTIONS
Preheat the oven to 180°C. Combine mince, garlic, onion, apple and carrot in a bowl, and mix until all ingredients are combined.
Add ricotta, breadcrumbs, parmesan, parsley, egg and spices to the bowl and mix until well combined. Shape into meatballs and place into an ovenproof dish.
Pour tomato sauce over meatballs and cover and bake for ten minutes. Remove lid and bake for a further 15 minutes or until meatballs are cooked through.
Meanwhile cook the leek in a pan over medium heat with olive oil. Add the zucchini and toss through for a few seconds until warm. Season spaghetti with a little lemon and black pepper, divide between serving plates and top with the meatballs.
Serve sprinkled with fresh chopped parsley and a little grated parmesan.
Nutrition Information (per serve)
| | |
| --- | --- |
| Energy | 2420.6 kJ (579 calories) |
| Protein | 45.8g |
| Total Fat | 24.4g |
| Carbohydrates | 37.6g |
| Saturated Fat | 9g |
| Sugars | 26g |
| Dietary Fibre | 12.8g |
| Sodium | 1182mg |
Adapted from http://daa.asn.au/recipes/meatballs-with-spaghetti/
SPAGHETTI CASSEROLE
Ingredients …
1 lb. Ground meat (I like turkey) any white low fat meat or left over stew works well.
1 box uncooked spaghetti noodles
1 teaspoon ginger
1 teaspoon Oregano
1 teaspoon garlic powder
1 Cup Milk
1 Egg white
1 (26 ounce) jar pasta sauce Leggos no added salt
1 can diced Italian style tomatoes (Fresh if you have them)
3 egg whites
3 tabs milk
any other pizza toppings, you can add like Black olives, onions, green peppers, etc…
Directions:
Boil water, add noodles.
Once noodles are cooked, drain and put in a casserole dish.
Brown meat in a separate frying pan.
In a separate bowl, combine milk & egg whites & whisk. Poor over pasta & add jar of sauce, can of tomatoes, garlic powder, ginger & oregano. Mix all together well.
On top of pasta mixture, lay the ground meat,
Bake in the oven at 350 (180) for 30 minutes.